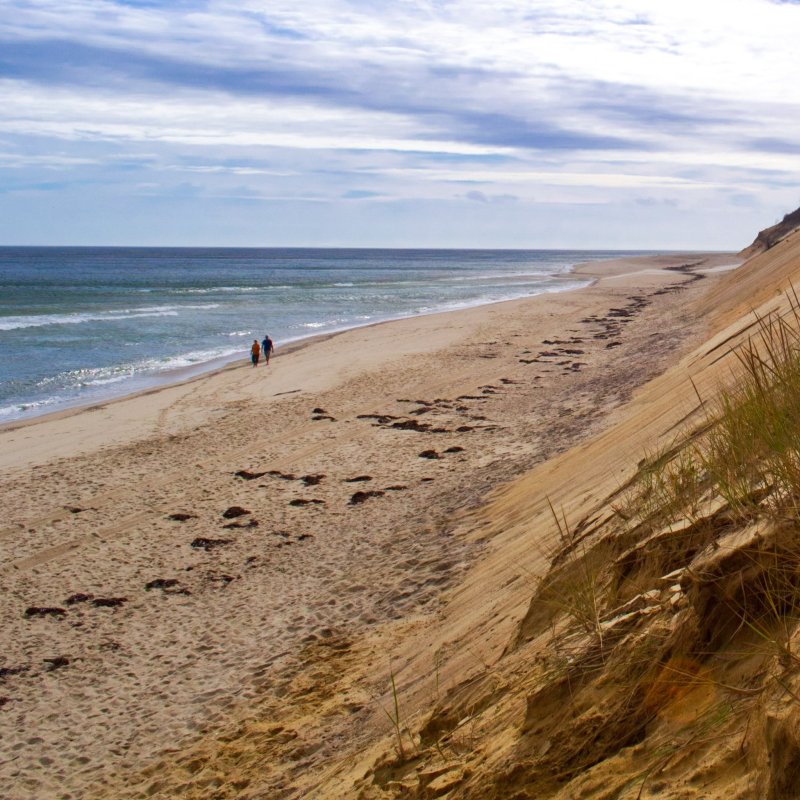 Cape Cod is a crooked, hook-like peninsula jutting out of the Massachusetts coastline into the chilly Atlantic Ocean. A popular vacation destination, Cape Cod is known for its fabulous beaches, amazing seafood, and quaint villages. With sheltered Cape Cod Bay on the north side and the southern side exposed to the Atlantic Ocean, each beach has developed its own personality.
Whether you are looking for a quiet beach with a gentle surf or a fun, more social atmosphere, you will find a beach on the Cape to suit your tastes. Soft sand, beautiful dunes, and cool ocean breezes await you.
The beaches below are listed in the order you'd find them on a drive along the north side, turning at Provincetown, and continuing on the south side. Keep in mind that the bayside water tends to be a few degrees warmer — in the low 60s as opposed to the mid-50s. The water is cold, but it feels great after soaking up some sunshine.
1. Sandy Neck Beach Park, Barnstable
Sandy Neck Beach Park offers the best off-roading on the Cape. Off-road vehicle day permits can be obtained from the town of Barnstable. If you have never driven your four-wheel drive on the beach, you should give it a try. Cruising over the sand is liberating, and parking your ride and enjoying the beach from the back will be a memory you will want to recreate over and over again.
This beach has it all: 6 miles of toes-in-the-sand fun, horseback riding, nature trails, a lighthouse, camping, and more. Sandy Neck Beach is the perfect spot for an active group looking for an adventure, but it's great for those who just want to sit in the sand and watch the world go by, too.
2. Mayflower Beach, Dennis
Consistently noted as one of the best beaches on Cape Cod, Mayflower Beach is a long stretch of soft sand. The beach is very roomy when the tide is out, but it can become a little congested at high tide. This family-friendly beach is hemmed in by dunes and private homes. You'll find a snack shack and restroom facilities. Due to the popularity of this beach, the parking lot fills up very early. You'll need to arrive first thing in the morning or queue up and wait for a parking space to open after lunch.
In August, the town of Dennis sponsors a Sandcastle Contest at Mayflower Beach. This fun event has visitors and locals building everything from movie characters to intricate castles. If you are not into construction, watching the building process and cheering on your favorite team will still make for lasting memories.
3. Cold Storage Beach, East Dennis
A well-kept secret on the Cape is the beauty and quiet of Cold Storage Beach. Building sandcastles and jetty climbing are popular activities here. Cold Storage is connected to Sea Street Beach, and you will find that both are family friendly, with lifeguards on duty. There is no snack shack, but there are bathrooms.
4. Nickerson State Park, Brewster
Nickerson State Park is the perfect alternative to an ocean beach. Nickerson offers lakefront beaches, canoeing, kayaking, and camping. If you prefer a more shaded feel, you will be right at home. Nickerson State Park is one of those places visitors return to year after year, renting the same campsite, relaxing in their spot on the beach, and communing with nature. You can even rent a yurt for a unique overnight stay.
5. Coast Guard Beach, Eastham
Part of the Cape Cod National Seashore, Coast Guard Beach is a classic Cape family beach. The gentle surf makes for exceptional boogie-boarding fun, and the wide beach gives you plenty of room to spread out. There is no beach drop-off, so you'll have to park at the Little Creek lot and hop on a shuttle to get to the beach.
Plovers also love this beach, and you will find that some areas are roped off during nesting season. Harbor seals can be spotted in the water almost daily. They are fun to watch, but they can draw sharks, so check the website for closures.
6. LeCount Hollow Beach, Wellfleet
LeCount Hollow Beach is surrounded by towering dunes, providing a beautiful view of the Cape's beachy beauty. Be prepared to hike up and down those beautiful dunes to reach the beach, though. But what a beach — wide with soft sand, perfect for volleyball, football, and other beach sports. LeCount is popular with young beachgoers who enjoy the toes-in-the-sand activities the area offers. Bring your boogie board and join the fun!
7. Cahoon Hollow Beach, Wellfleet
This is a beach for the young and young at heart. Cahoon Hollow Beach is difficult to access from the parking lot. You must climb down a steep, narrow path on a 75-foot dune to reach the beach. The reward, however, is a spectacular wide area with great swimming. The real downside is climbing back up the dune at the end of the day. Planning what to bring is key — dragging a wagon full of beach toys is not an option here.
The Beachcomber, a popular post-beach hangout, offers ice-cold beverages and surfside snacks.
8. Race Point Beach, Provincetown
Provincetown is located at the very tip of Cape Cod. Maintained by the National Park Service, the town's Race Point Beach is a good surfing beach. The undertow can be strong, making swimming difficult. The tanning opportunities are glorious, however, so pack a chair and a good book for your visit.
If your goal is to get a tan, walk the beach, or surf, this is the place to see and be seen. The Provincetown Fast Ferry makes a quick 1-hour-and-35-minute trip from Boston to the center of the Provincetown action — no car needed.
9. Longnook Beach, Truro
Longnook Beach is located on the Atlantic side of the Cape, so the water can be New England warm — low 60s. Truro is a more isolated part of the peninsula, and Longnook is hemmed in by impressive sand dunes. This is a fun beach for families traveling with older children. There are no lifeguards, and the path to the beach is down a 50-foot dune.
Venture too far down the main beach, however, and you could potentially run into a few groups of nude sunbathers. The beach's isolated location is the perfect spot away from prying eyes.
10. Lighthouse Beach, Chatham
Lighthouse Beach, sometimes called South Beach, is a mecca for windsurfers. The parking lot offers 30-minute parking, which is enough time to grab your binoculars and watch the windsurfers glide on the waves. If you want to stay longer, park on Main Street and hop on the shuttle bus.
Want to add a windsurfing adventure to your vacation? Take lessons at Cape Cod Windsurfing. This unique sport will give those looking for water adventures an adrenaline rush.
11. Menauhant Beach, Falmouth
Menauhant Beach is one of the few beaches in Falmouth that offers nonresident parking. It is located in a quiet neighborhood where you will find local families enjoying the day. Search for shells, and then splash in the warm, gentle water for a relaxing, classic family beach day.
There is enough room to spread out on Menauhant; you can easily put your grandchild down for a nap without worrying about the people on the blanket next to you cranking up their music.
What To Know Before You Go
Parking at Cape Cod beaches requires some planning. Arrive early for the best chance at a parking spot, pack a lunch, and spend the day relaxing in the warm sunshine. Typically, the parking lots open up again mid-afternoon, which can be a lovely time to hit the sand.
If you are driving, the Sagamore and Bourne Bridges can get backed up inbound on Friday night and outbound on Sunday afternoon. If you can, try to arrive and depart at off-peak times — it will make your drive much more enjoyable.
For more to see and do on Cape Cod, Nantucket, and Martha's Vineyard, check out this page.