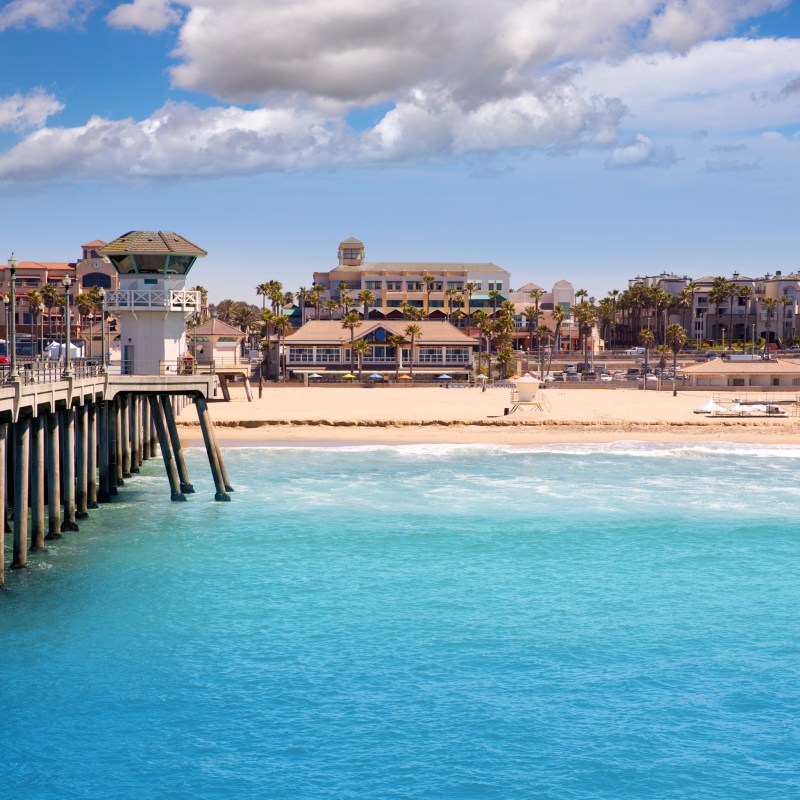 In 1925, Duke Kahanamoku brought the sport of surfing to Huntington Beach. Since 1959, the United States Surfing Championships have been held in the city. Today, this nine-day event attracts hundreds of thousands of participants and spectators. It's no wonder the city's nickname is Surf City USA!
Huntington Beach is located in Orange County, California, about an hour south of Los Angeles. With 10 miles of sandy beaches, several luxury resorts, and loads of ocean-view restaurants, it's the ideal destination for a relaxing weekend getaway.
Things To Do In Huntington Beach
Come prepared to enjoy the sun and water while you're in Huntington Beach. This outdoor-loving city is definitely a place to swim, surf, paddle, hike, and bike. And after all the exercise, you can reward yourself with some delicious food and drinks while watching the waves roll in.
Hit The Beach
There are five beaches to choose from in Huntington Beach, including one dedicated to dogs. If you want to be close to the pier and in the middle of all the action, head to Huntington City Beach. If you'd prefer to be farther away from the center of town, choose Huntington State Beach, Bolsa Chica State Beach, or Sunset Beach.
A classic Southern California summer evening includes a bonfire on the beach. If you want to experience this longstanding tradition, get to the beach early and reserve a fire pit. Be sure to bring all the supplies you'll need with you — including the makings for s'mores.
Learn To Surf
If you've ever dreamed of learning to surf, there's no better place to do so than Huntington Beach. Or, if you already know how to surf and want to up your game, this is also the place. No matter your skill level, you can ride in the wake of the sport's legends.
There are several surf schools to choose from. The Clint Carroll Surf School is run by a family with over 60 years of surfing experience. They offer private lessons and provide all equipment as well as transportation from your hotel.
Roll Along The Beach
For an easy and scenic bike ride, try riding from Huntington Beach Pier to Newport Beach Pier. This cement path follows the beach for a few miles, then curves along the road, and finally returns to the beach. The total distance is 12 miles, but you can shorten or extend your ride depending on the time you have and your fitness level. This path can get very busy in the summer, so try and get an early start.
Some of the hotels and resorts in town offer loaner bicycles to their guests. You can also rent from several vendors near the beach. Wheel Fun Rentals offers cruisers, tandem bikes, children's bikes, and surreys. For something really unique, try riding at night with one of their LED-lit surreys. If you want to enjoy the view with less work, head to Fat Bike Rentals and reserve one of their electric bikes. If you're visiting with young children or dogs, they also rent bike trailers.
Paddle Across The Harbor
On the northern border of Huntington Beach is Huntington Harbor, home to five man-made islands and a series of canals. There are more than 500 bayfront homes of all shapes and sizes along these waterways, and a great way to explore them is by kayak.
OEX Sunset Beach rents single, double, and Hobie pedal kayaks. If you prefer a paddleboard, they rent those as well. Huntington Harbor Boat Rentals has a range of options, including Duffy Electric boats, kayaks, and paddleboards.
Stroll To The End Of The Pier
You can't miss out on the most photographed spot in town, the Huntington Beach Pier. Not only is this among the longest piers on the West Coast, but it's also on the National Register of Historic Places. It was built in 1904, before the city was incorporated.
Take some time to stroll the pier and appreciate the ocean and beach views. Along the way, you'll see surfers catching waves and fishermen trying to catch their dinner. At the end is Ruby's, a popular Southern California diner serving burgers, fries, and thick milkshakes. If possible, head to the pier in the evening to watch the sunset.
Hike Through The Wetlands
Located north of the pier is the Bolsa Chica Ecological Reserve, 500 acres of preserved wetlands. At one time, the land was used for oil drilling and as an artillery battery during World War II. In the late 1970s, government and nonprofit groups began advocating for this land to be restored to its native state.
Locals and visitors alike can enjoy hikes through this peaceful space. You can spot a variety of creatures, including ducks, herons, egrets, hawks, and owls. There's a 4-mile, flat trail that's ideal for a leisurely stroll. Parking is limited, so it's best to arrive early in the morning. And if you have time, pop in to the interpretive center to learn more about the wetlands.
Best Restaurants In Huntington Beach
Good food and great views are plentiful in Huntington Beach, so why not combine the two for the perfect meal?
For an upscale lunch or dinner next to the ocean, head to Duke's Huntington Beach. Named for the famous surfer and Olympic gold medalist Duke Kahanamoku, this place pays tribute to his home state of Hawaii. Locals give great reviews of the ahi steak and fish tacos. Be sure to save room for their popular hula pie.
For something more casual, try Sandy's Beach Shack, featuring 25 craft beers on tap. Located on the sand next to the pier, Sandy's is a popular spot for locals. Their menu features a variety of tacos and burgers, all of which pair nicely with their famous Mai Tai.
Crab lovers shouldn't miss Captain Jack's. The owner, Jack Haley, won the champion title of the inaugural U.S. Surfing Championships in 1959. In addition to Alaskan king crab, they serve lobster, scallops, prime rib, and lamb.
To fuel up for a day at the beach, head to the Sugar Shack Cafe for a large and tasty breakfast. And don't worry if you want to sleep in — they serve breakfast until 2 p.m.! On weekends, there may be a wait, but regulars say it's worth it.
Where To Shop In Huntington Beach
In case you need a break from the sun and water, there are plenty of great places to shop while you're visiting Huntington Beach. And if you're looking for surfing gear, you are definitely in the right place.
Jack's Surfboards now has 10 locations throughout Southern California, but the original shop was opened in Huntington Beach in 1957. Here you'll find a large selection of surfboards, bodyboards, wetsuits, and casual clothing for all ages. Another classic surf shop is Huntington Surf & Sport. Browse their large collection of boards, accessories, and clothing. If you're in need of a board or wetsuit rental, prices start at $8 a day.
A newer addition to the Huntington Beach shopping scene is the Pacific City mall featuring dozens of popular chains. Located across the street from the beach and pier, it offers large seating areas where shoppers can relax while enjoying the view. And if you get hungry while shopping, there's a great selection of restaurants and even a modern food court called Lot 579.
Best Hotels In Huntington Beach
This is the city for luxury oceanfront accommodations. Plan to splurge and spend a few nights across the street from the beach at one of the resorts offering stylish rooms, top-notch amenities, and quick access to all of Huntington Beach's best activities.
The Hilton Waterfront Beach Resort offers two pools, waterslides, fire pits, a spa, five restaurants, and a children's club. It's also dog friendly, so feel free to bring your pet along.
All rooms at the Hyatt Regency Huntington Beach feature private terraces, and most include views of the ocean. There are also two pools, a spa and salon, and five restaurants. And if you'd prefer to go to the beach, the Hyatt offers guests the use of towels, chairs, and umbrellas.
Located next door to Pacific City, Pasea Hotel and Spa offers an award-winning spa, a pool, live entertainment on the weekends, three restaurants, and an outdoor dog park. And if you're hoping for a bike ride, they provide complimentary use of beach bikes, electric cruisers, and scooters.
With its 281 days of sunshine, there's no bad time to visit Huntington Beach. If you're coming during the summer, be prepared for crowds, and make reservations for hotels and restaurants in advance. To get the best spot on the beach, it's always a good idea to head out early in the day.
Whether you want to relax on the sand all day or keep busy hiking, biking, and surfing, you'll have a great time in Surf City USA.