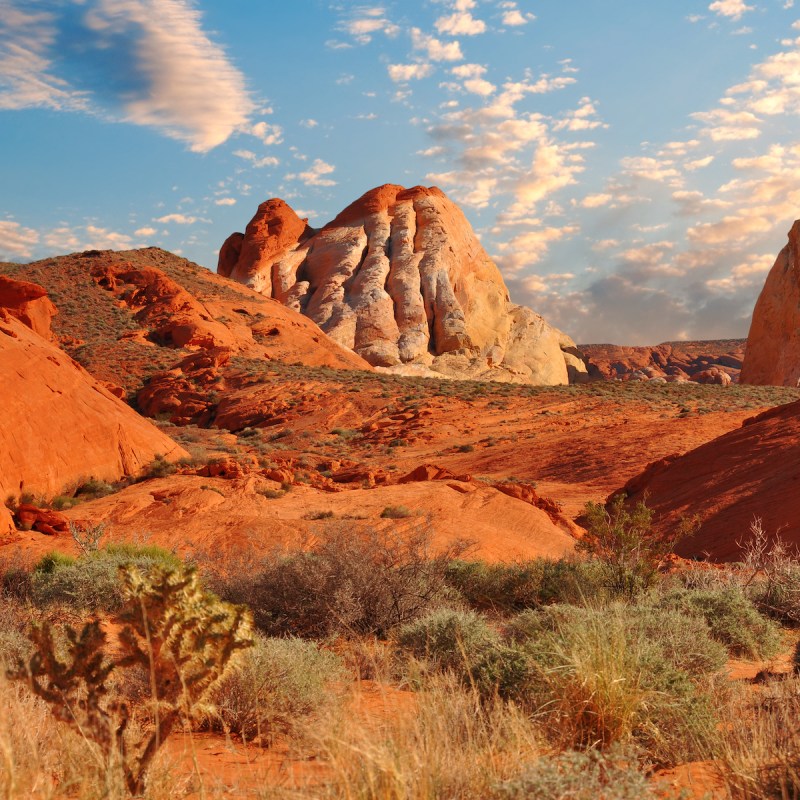 TravelAwaits' 2023 Best Of Travel Awards, presented by
AllTrails
and with the support of
Luggage Free
, the premier luggage shipping service, showcases our readers' favorite destinations and businesses. Nominations and voting took place earlier this year, and we hope the final selections inspire your future adventures; congrats to all of the winners!
When it comes to exploring the great outdoors, state parks offer a plethora of recreational activities and natural wonders, from breathtaking waterfalls to stunning canyons and sandy dunes. Whether you're an avid hiker, wildlife enthusiast, or simply seeking a peaceful escape into nature, our country's diverse range of state parks cater to every adventurer's taste.
Narrowing them down to the best of the best would be an impossible task, which is why we asked our readers to nominate and vote for the best state parks to visit in the U.S. in our annual Best Of Travel Awards. Showcasing the beauty and diversity of America's landscapes, these 15 state parks are must-visit destinations according to TravelAwaits readers.
1. Franconia Notch State Park (Winner)
Lincoln, New Hampshire
Located in the quaint town of Lincoln in the heart of New Hampshire's White Mountains, Franconia Notch State Park is a picturesque gem. The park boasts stunning natural formations, including the iconic Flume Gorge and the soaring peaks of the Franconia Range. Visitors can enjoy hiking, fishing, biking, and swimming in Echo Lake.
"This little lake, surrounded by mountains, is completely unexpected and looks like a painting. It's absolutely gorgeous," says TravelAwaits writer SJ Morgensen. With its stunning vistas and scenic trails, Franconia Notch State Park offers an unforgettable outdoor experience, especially during the fall!
2. Baxter State Park
Millinocket, Maine
Nestled in the wild of Maine, Baxter State Park is a paradise for outdoor enthusiasts. It is home to Mount Katahdin, the highest peak in the state and the northern terminus of the Appalachian Trail. Hikers can challenge themselves with the strenuous but rewarding climb to the summit, while wildlife enthusiasts can spot moose, black bears, and other native fauna in their natural habitat. Baxter State Park truly encapsulates the raw beauty of the Maine wilderness.
3. Niagara Falls State Park
Niagara Falls, New York
One of the most famous natural wonders in the world, Niagara Falls is a mesmerizing spectacle that attracts millions of visitors each year. Niagara Falls State Park, located in New York, offers a front-row seat to witness the power and grandeur of the falls. Visitors can take boat tours to feel the misty spray on their faces or explore the park's numerous trails and viewpoints. It's an awe-inspiring destination that should be on every traveler's bucket list.
4. Custer State Park
Custer County, South Dakota
Located in the Black Hills of South Dakota, Custer State Park is a treasure trove of scenic beauty and wildlife. The park is known for its large population of bison, which can often be spotted roaming freely across the grasslands. Visitors can drive along the Wildlife Loop Road for a chance to see these majestic creatures up close. The park also offers hiking trails, picturesque lakes, and the iconic Needles Highway (one of the most scenic drives in the U.S.), making it a haven for nature lovers.
5. Red Rock State Park
Sedona, Arizona
Situated in Sedona's vibrant red rock country, Red Rock State Park is a haven for outdoor enthusiasts and nature photographers. Striking red rock formations, meandering trails, and lush vegetation create a breathtaking landscape. Visitors can hike along the trails, enjoy birdwatching, or simply revel in the park's serene atmosphere. Red Rock State Park is a must-visit destination for those seeking solace and natural beauty in the desert.
6. Pfeiffer Big Sur State Park
Monterey County, California
Perched on the rugged California coastline, Pfeiffer Big Sur State Park is a slice of paradise. Towering redwoods, picturesque trails, and the Big Sur River create an enchanting atmosphere. Hikers can venture along the renowned Pfeiffer Falls Trail or explore the park's scenic coastal overlooks. With its serene camping spots and proximity to the iconic Highway 1, Pfeiffer Big Sur State Park is a must-visit destination for nature enthusiasts.
7. Turkey Run State Park
Marshall, Indiana
Located in west-central Indiana, Turkey Run State Park is a hidden gem for outdoor lovers. The park's sandstone gorges, carved by the flow of Sugar Creek, offer picturesque hiking opportunities. Visitors can traverse scenic trails, cross suspension bridges, and even wade through the creek's crystal-clear waters. With its unique geological features and diverse wildlife, Turkey Run State Park is a nature lover's paradise in America's heartland.
8. Monument Valley Navajo Tribal Park
Navajo County, Arizona
Situated on Navajo Nation land in the Four Corners region, Monument Valley Navajo Tribal Park is an iconic landscape known for its towering sandstone formations. Immortalized in countless movies and photographs, the park's majestic buttes and mesas rise dramatically from the desert floor. Visitors can embark on guided tours by Navajo guides, ride on horseback through the valley, or capture stunning sunrises and sunsets against the iconic backdrop. Monument Valley is a true symbol of the American West.
9. Valley Of Fire State Park
Clark County, Nevada
Just a short drive from Las Vegas, Valley of Fire State Park in Nevada is a mesmerizing display of vibrant red sandstone formations and ancient petroglyphs. The park's scenic drives, hiking trails, and camping sites allow visitors to immerse themselves in the surreal beauty of the desert landscape. The fiery hues of the rock formations, particularly at sunset, create a captivating visual experience that shouldn't be missed.
"The Valley of Fire State Park glows with pink-and-beige-pinstriped waves, rainbow valleys, and crimson arches," according to TravelAwaits contributor Cindy Barks. "And for some Vegas-style flare, there's also a whimsical elephant, a fierce spear-thrower, and a beehive valley."
10. Coral Pink Sand Dunes State Park
Kane County, Utah
Tucked away in southern Utah about half an hour northwest of Kanab, Coral Pink Sand Dunes State Park is a captivating natural wonder that stands in the shadow of the state's plethora of national parks known as the Mighty Five. Its unique coral-colored sand dunes, formed by wind erosion, create a surreal and otherworldly landscape. Adventure seekers can explore the dunes on off-road vehicles, go sandboarding, or simply take in the serene beauty of the surroundings.
11. Palo Duro Canyon State Park
Canyon, Texas
Known as the "Grand Canyon of Texas," Palo Duro Canyon State Park is a breathtaking testament to the state's natural beauty. With its vibrant red cliffs, rugged trails, and abundant wildlife, this park offers a remarkable outdoor experience. It is also home to an iconic hoodoo known as "The Lighthouse." Visitors can hike, bike, or horseback ride through the park's scenic trails, or even catch a live performance at the renowned outdoor musical, Texas. Palo Duro Canyon is a true Texas treasure.
12. Deception Pass State Park
Anacortes and Oak Harbor, Washington
The most visited park in Washington State, Deception Pass State Park is about an hour and a half north of Seattle. This true natural gem celebrated its 100th anniversary in 2022. Spanning two islands, the park offers breathtaking views of the rugged coastline, towering cliffs, and the iconic Deception Pass Bridge. Hikers can explore miles of scenic trails, while boaters and kayakers can navigate the pristine waters of the surrounding Puget Sound. With its diverse wildlife, picturesque beaches, and stunning sunsets, Deception Pass State Park is a must-visit destination for outdoor enthusiasts.
13. Katy Trail State Park
Missouri
For cycling enthusiasts and nature lovers, Katy Trail State Park in Missouri offers a unique and immersive experience. Following the path of the former Missouri-Kansas-Texas (MKT) railroad, the park boasts over 240 miles of flat, crushed limestone trails. Spanning nearly the full width of Missouri, it is the nation's longest continuous rail trail. Cyclists can pedal through picturesque farmland, quaint towns, and lush forests while enjoying stunning views of the Missouri River. Along the trail, there are charming bed and breakfasts, wineries, and local eateries that offer a warm welcome to weary travelers.
14. Bahia Honda State Park
Monroe County, Florida
A short distance south of Seven Mile Bridge in the Florida Keys, Bahia Honda State Park is a tropical paradise. With its crystal-clear turquoise waters, pristine sandy beaches, and abundant marine life, this park is a haven for snorkelers, swimmers, and beachcombers. Visitors can explore the park's nature trails, kayak through the mangroves, or simply relax on the idyllic beaches.
"It has two campgrounds, one primarily for RVs, the other for tent campers," TravelAwaits contributor Fred Mays shares in his article, 12 Amazing Outdoor Experiences From Key Largo To Key West. "There is a long, gently sloping beach which is great for families with small children. The water is shallow and protected by the offshore reef. You will also find the remnants of the Old Bahia Honda Bridge that spans the deepest channel in the Keys. Park visitors can walk the bridge to observe beautiful sunrises and sunsets."
15. Starved Rock State Park
Oglesby, Illinois
Nestled along the banks of the Illinois River, Starved Rock State Park is an outdoor enthusiast's paradise. Known for its stunning sandstone canyons, waterfalls, and towering bluffs, the park offers a diverse range of activities. Hikers can explore over 13 miles of well-maintained trails, leading to breathtaking viewpoints and hidden waterfalls. During the winter months, visitors can even witness the majestic frozen waterfalls. With its rich Native American history and abundant wildlife, Starved Rock State Park is a natural oasis in the heart of Illinois. Check out these places to stay nearby.
These state parks offer unique natural wonders, outdoor recreational activities, and breathtaking landscapes that showcase the beauty and diversity of America's state park system. Whether you're seeking adventure, tranquility, or a deeper connection with nature, these parks will surely leave you with unforgettable memories and a better appreciation for the great outdoors.