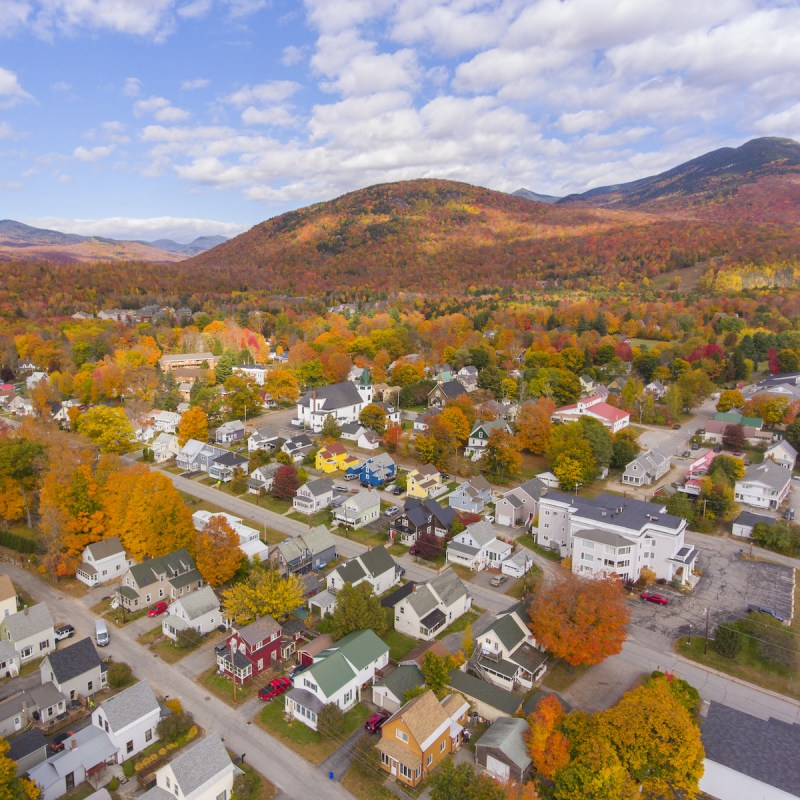 As part of our New England adventure, we were lucky enough to spend some time in beautiful New Hampshire. We had so much fun exploring the outdoorsy area around Lincoln. I didn't really know exactly what we were going to do there as none of us had been anywhere close to New Hampshire before and didn't have a feel for what it would be like. I was hoping for lots of picturesque scenery and outdoor activity, and I was not disappointed! We had a good mix of being active and taking it easy, which is exactly what I look for in a good vacation! Here are the best things we did near Lincoln, New Hampshire.
1. Franconia Notch State Park
A must-do in Lincoln is visiting Franconia Notch State Park. The park is full of breathtaking scenery and plenty of things to explore, so make sure you check it out while you're in the area. We had a fun morning hiking up the Artist's Bluff Trail within Franconia State Park. The trail is noted as an "easy" trail, but it really was a bit of a challenge — especially coming down. The climb up wasn't bad, but it is rocky, so be prepared. I am a novice hiker and wore tennis shoes — mistake! My tennis shoes were very slippery on those rocks, so I'd advise you to be more prepared than me and wear hiking boots. I also saw quite a few people with walking poles and they looked very helpful. I made a mental note to invest in some poles for next time.
2. Ride On The Cannon Mountain Aerial Tram
One afternoon we took the tram ride up Cannon Mountain and had a blast. For around $25, you can take the Cannon Mountain Aerial Tram and take in the gorgeous views of the area. Park in the parking lot and go inside the building to purchase your ticket for the tram. It's New Hampshire's only aerial tramway and North America's first! You'll go up the mountain slowly in the cable car in about 10 minutes. The views are pretty spectacular and rumor has it that on a clear day, you can see the mountains of four states including New Hampshire, Maine, Vermont, New York, and possibly even Canada!
They do prefer that you reserve your tickets online and only take walk-ins when they have space. We lucked out and got a spot even though we didn't make reservations ahead of time. We stopped in at 3:30 and only had to wait about half an hour until the next tram ride. While we waited, we checked out the exhibit about the Man Of The Mountain and the small gift shop. There's also the New England Ski Museum at the base of the tramway which looked very interesting.
Once we arrived at the summit, we walked the 0.75-mile trail to the observation tower for even more breathtaking views. The trail is fairly flat and easy to navigate. My 85-year-old mom (who is in excellent shape) managed without too much trouble, so you likely won't struggle, though there are rocky spots. One thing to note is that it is much colder at the summit, so take a jacket. We stopped at various spots along the trail and took quite a few photos. After a while exploring, we headed back to the tramway station to make our trip down. The tram ride was one of the highlights of our trip and is definitely worth your time.
3. Hike Or Drive Cathedral Ledge
North Conway is an absolute hub of activity in the area. There are tons of outdoor things to do, and just taking in the beautiful scenery is always a good way to spend an afternoon. In the summertime, there are lots of hiking and biking trails to explore. In winter, there's skiing and snowmobiling. We were there in July, so hiking and taking in the scenery were on the top of our list.
If you're an experienced hiker, one of the best choices to hike is Cathedral Ledge. If you're more novice hikers like us, then it's also awesome because you can drive up the mountain to check out the view. It is definitely worth the quick drive up. Once at the top, spend as much time as you like taking in the glorious New Hampshire views!
4. White Mountain National Forest
We enjoyed a really scenic drive through the White Mountain National Forest. Specifically, we took the Kancamagus Scenic Byway through the forest and made plenty of stops along the way. There are quite a few places to pull over and take in the view and take photos. The highway wasn't crowded while we were there, so we never felt rushed. That said, we did slow down to almost a crawl during some of the many twists and turns. I can see why the "Kanc" has been named one of the best scenic highways in the country. It's quite beautiful in the summertime; I can only imagine the beauty in the fall when the leaves are at their peak of color!
5. Echo Lake State Park
Echo Lake State Park is a one-of-a-kind spot that is absolutely breathtaking and was one of our favorite stops. There's a short, flat trail that goes around the lake, so if you prefer flat hiking like I do, this is the perfect place. This gorgeous lake, surrounded by mountains, is the perfect place to spend a few hours or an afternoon. Be sure to take in the views of the beautiful Cathedral Ledge nearby. Take a picnic, watch the boats on the lake, and relax in the natural beauty of the area. If you want more action, you can rent kayaks or go for a swim in the lake. The park is open from 9 to 6, and the park gates close at 8 p.m. The park opens on weekends beginning on Memorial Day and is open daily from mid-June until Labor Day. Admission is $4 for adults and $2 for children 6-11. The park is free for guests 65 and over. Pets are not allowed in the park.
6. Ice Castles
Although we didn't go because it's a winter activity, Ice Castles is a unique, award-winning frozen attraction in the area. There are all kinds of things to do here including ice slides, sleigh rides, a mystic light walk, and snow tubing. The whole attraction is full of thousands of lights and hundreds of thousands of icicles, ice sculptures, and more made by professional ice artists. The location in North Conway is one of four locations in the country.
7. Craft Beer In North Woodstock
Woodstock, New Hampshire (not to be confused with Woodstock, Vermont) is located right near the White Mountains and was our home base while visiting and where we spent the majority of our time in the area. The town itself is not much more than one main street, but we really enjoyed the proximity to so many of the other towns in the area and the Kancamagus Highway. We're also super glad we chose to stay at the Woodstock Inn Brewery. It's the perfect place to stay if you want to stay somewhere that has a restaurant, a brewery, and live entertainment on site. It was awesome to wind down at the end of a busy day with a craft beer and glass of wine on the outside patio and then to be able to walk inside the bar for a burger. All the food we had here was top-notch! The rooms are also fabulous here, so if you're looking for a place to stay in the area, Woodstock Inn has my vote.
8. Explore Main Street In Littleton
We made the short drive over to Littleton to explore the quaint downtown area. A few people we met in Woodstock recommended we go check it out, so we did. If you like shopping in unique stores, you'll like Littleton. A lot of people must agree, as it was recently named one of the top picks for America's best main street! We enjoyed the local bookstore, Little Village Toy and Bookshop. It's always so awesome to support small, indie bookstores, and I highly recommend Little Village Toy and Bookshop for its large and unique selection of books and toys. We also had fun shopping at all the vintage clothing stores on Main Street. Be sure to check out the Crumb Bum Bakery for fabulous sweet treats — everything we tried was so good. You can also see one of the area's covered bridges. The covered pedestrian bridge overlooking the Ammonoosuc River provides a great view of the river.
9. Have Pancakes In Sugar Hill
If you're near Lincoln, then you're not far from Sugar Hill. When researching our New Hampshire trip, everything I read said to get to Polly's Pancake Parlor in Sugar Hill for the absolute best pancakes anywhere. In business for over 80 years, Polly's clearly knows what they're doing. Although we didn't have time to wait for a table the day we were in the area, we will not miss Polly's next time we're in town. Along with great pancakes, Sugar Hill is also known for its natural beauty. In fact, every June, Sugar Hill is host to the annual Lupine Festival where you can see thousands of these very beautiful wildflowers that are unique to the White Mountains.