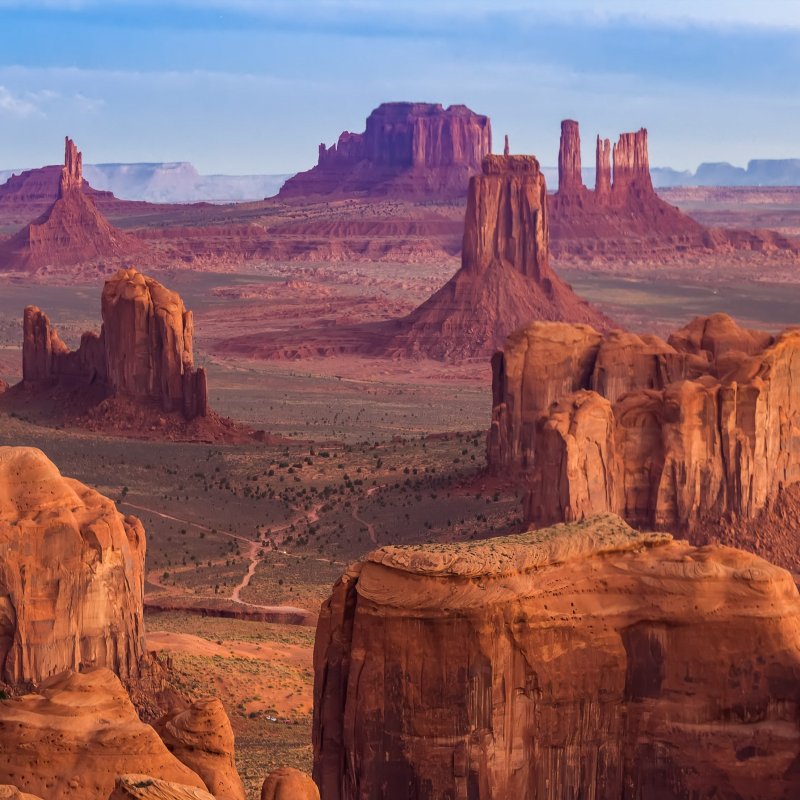 My first view of Monument Valley took my breath away. Since I'd seen the views so many times in commercials and movies, it felt curiously familiar and somewhat surreal. At the same time, the view in person was, well, monumental. The buttes are simply enormous. And stunning. I couldn't take my eyes off of the red rocks against a bright blue sky. It was hard to stop taking pictures. Or to catch my breath.
Monument Valley On The Silver Screen
Director John Ford brought Monument Valley onto the silver screen in 1939 in the film Stagecoach, which starred then 22-year-old John Wayne. Apparently, Wayne and Ford loved the place — they came back four more times to film Fort Apache, Rio Grande, She Wore A Yellow Ribbon, and The Searchers. Through these films, Monument Valley became the defining symbol of the West for many people in the U.S. and beyond.
Since then, Monument Valley has been featured in dozens of movies (Easy Rider, Forrest Gump and Mission: Impossible II among others), TV shows (Doctor Who, Westworld, The Man in the High Castle), and even album covers. And, to top it off, the infamous Marlboro Man cigarette commercials of the 1960s and 1970s were filmed in Monument Valley.
What Is Monument Valley?
Contrary to popular assumptions, Monument Valley is not a national park. It sits on Navajo Nation land near the border of Arizona and Utah. The Navajo name is Valley of the Rocks (Tse Bii? Ndzisgaii).
The tallest of the sandstone buttes in the valley reach 1,000 feet or 300 meters high. Monument Valley also encompasses sacred areas for the Navajo people and ruins of the Anasazi people who preceded the Navajos.
Where Is Monument Valley?
Getting to Monument Valley takes at least half a day. The closest airports are Phoenix and Albuquerque (both about 320 miles away). Las Vegas and Salt Lake City are approximately 400 miles away. If you want to see the Grand Canyon on the same trip, expect to drive 180 miles between the two spots. Because of this distance, staying over for at least one night, if not two, is highly recommended.
What Is The Entry Fee?
The fee to enter the park is $20 per car (this covers four people, then it's $10 for each additional passenger) and is good for multiple entries. You can pay online in advance and skip the lines. Since Monument Valley is not a national park, you cannot use a U.S. National Parks pass to enter.
What's The Best Way To See Monument Valley?
Most people drive through Monument Valley, stopping to see the iconic views. The self-driving route on the Tribal Park Loop (also called Valley Drive) takes two to four hours. The road is unpaved, but you do not need a four-wheel-drive vehicle. You don't want to go if it is raining as it can be muddy and there is a danger of flash floods.
Alternatively, if you prefer not to drive, guided tours of Monument Valley are available.
What Is The Best Time To Go?
The peak seasons are spring (March through May) and fall (September to October). Summer is hot (80 to 90 degrees Fahrenheit) and can also get very crowded. In the winter, you may have the rare opportunity to see Monument Valley with snow. You'll also have fewer crowds to contend with. Temperatures in the winter range from 28 to 45 degrees Fahrenheit. Nighttime in the winter can be very cold.
What Are Monument Valley's Most Important Sites?
If you drive the whole 17-mile Valley Loop, you'll definitely see most of the iconic views, including The Mittens, John Ford Point, Three Sisters, and Elephant Butte. There are signs (and crowds) that will help you to find the best places for photographs. John Ford Point is a must visit. There, you'll have the opportunity to take in an expansive vista.
Should I Hike The Wildcat Trail?
Driving Valley Road and stopping to take pictures is a great way to see Monument Valley. If you want to have a more intimate experience of the valley, get out of the car and hike the Wildcat Trail. Circling the Mittens and Merrick Butte, the 3.2-mile hike is the only one that can be done without a guide. You'll need to be prepared with water, sunscreen, and a hat. Note that AllTrails rates it moderate because there is some incline and no shade.
Channel Your Inner Forrest Gump At Forrest Gump Point
If you are a Tom Hanks or Forrest Gump fan, Forrest Gump Point is a must-see. In the movie, this is the spot where Gump decided to stop running. It's a beautiful scene with an iconic view of Monument Valley behind him.
You'll find Forrest Gump Point on Route 163 at mile 13. You may have to wait in line to take your photo.
Do I Need To Take A Guided Tour?
If you want to see more, take a tour with a Navajo guide. There are many kinds of tours, including sunrise and sunset tours. Lower Monument Valley, which includes Tear Drop Arch, Mystery Valley, and Hunts Mesa, can only be seen on a guided tour. You'll also have the opportunity to learn about the history and culture of the Navajo people during your tour.
Can I Stay In Monument Valley?
The closest two places to stay are The View Hotel (inside the valley) and Goulding's Lodge (just outside of the valley). Both need to be booked well in advance of your trip, especially if you are traveling in peak tourist season.
Aptly named, The View has excellent views of Monument Valley. In addition to standard rooms, it has stargazing rooms (Monument Valley is an excellent place to see the night sky), cabins, and areas for RVS and camping.
Goulding's Lodge is one of the closest places to stay just outside of Monument Valley. It has a lodge, RV Park, and camping facilities in addition to a pool, a fitness room, a small museum, and other facilities. You can book tours at the tour desk.
You can also stay in nearby towns. Kayenta, Arizona, is about 30 miles from Monument Valley and has a number of places to stay. A little farther afield (50 miles), Bluff, Utah, has accommodations as well.
Take A Detour To The Valley Of The Gods
We saw Monument Valley in the winter during a three-week drive through the main parks and sites in Arizona. During our trip, someone told us to make sure to drive north of Monument Valley over the Utah border to see the Valley of the Gods. We were so glad that we did. The buttes and mesas are not as large as those in Monument Valley, but they are equally beautiful. If you prefer peace and solitude, the Valley of the Gods is much less crowded than Monument Valley. In addition, you can go off road to have a more intimate experience.
To get to Valley of the Gods, drive north on 163 past Mexican Hat, Utah. We recommend driving an SUV if you want to see the Valley of the Gods, but it can be done in a sedan. You can also hike and camp in Valley of the Gods.
8 Pro Tips For Visiting Monument Valley
Make sure to leave enough time for the Valley Loop. If you are a photographer and lover of beautiful views, the park loop will likely take you closer to four hours. Add on two to three more hours if you want to hike Wildcat Trail. You don't want to be rushing out of the park and miss some of its iconic spots.
Monument Valley can get crowded, and it can become hard to get that perfect photo. Start early to beat some of the crowds. The park opens at 6 a.m. most of the year (and at 8 a.m. in the winter).
The Valley is one Instagrammable spot after another. It can be hard to stop taking photos. Make sure to bring enough SD cards and a tripod for getting the perfect selfies.
Check out the visitors center to get information and find out about tours.
Double check that Monument Valley is open before you go. There are some dates when the valley is closed (and certain weather conditions necessitate closures, too).
You might think that you don't need sunscreen and a hat for a drive around Monument Valley. Think again. Monument Valley sits at 5,000 to 6,000 feet in elevation. The higher the elevation, the stronger the sun's rays. You need protection, even in your car.
And, while you are at it, make sure to have water and snacks for the drive. You can never have too much water in the desert.
If you decide to go in the winter, the temperature drops steeply in the late afternoon and into the evening. Bring a sweater or a wrap.
Finally, take your time and enjoy the views. Your photographs are only one part of your memories. More importantly, let Monument Valley speak to you and touch your heart and soul.
Planning a hiking and sightseeing adventure in the Southwest. Read up on whether the Grand Canyon Skywalk is worth the trip, and how one of our writers learned the hard way that you always need to be prepared for hiking in the desert.