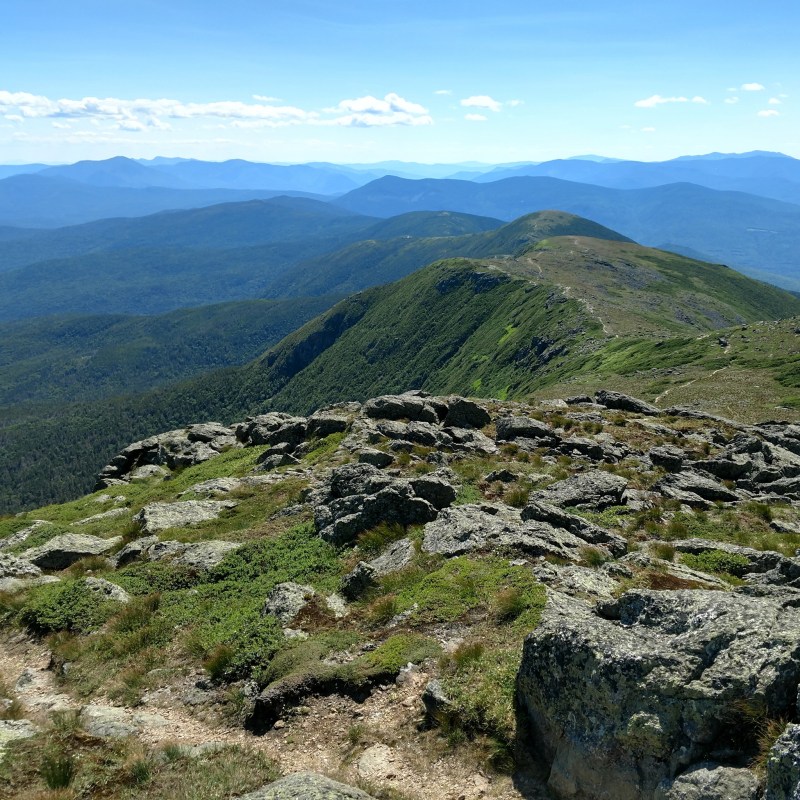 New Hampshire, lovingly known as the Granite State, lives up to its rocky fame. North to south and east to west, the state is blessed with gorgeous views in all four of her distinct seasons. Beautiful trails, from tame strolls to rocky cliff climbing, are plentiful. The hardest part is deciding where to hike, because there are more than 4,000 hiking trails in New Hampshire's state parks alone.
Here are some of the state's most picturesque hikes. Note that some trails are only accessible with sturdy snowshoes or cross-country skis in the winter due to heavy snowfall.
1. Old Bridle Path, West Rattlesnake Mountain
Center Sandwich
This is my pick for the best hike in New Hampshire. Check out TravelAwaits' picks for the best hikes in all 50 states here. Old Bridle Path is a 1.7-mile out-and-back loop that rewards hikers with a beautiful view of Squam Lake. The hike is easy and short, making it a great choice for a family hike on which the grandkids can burn some energy. If you are visiting the area and want to get out and stretch your legs, this is the right hike for you.
After your hike, explore the Lakes Region of New Hampshire. Visit one of the many lakes including Squam Lake and Lake Winnipesaukee, where you can play on the water all day long.
2. Lonesome Lake Via Cascade Brook And Pemi Trail, Franconia Notch State Park
Lincoln
A moderately difficult hike in Franconia is the Lonesome Lake via Cascade Brook and Pemi Trail. This 5.4-mile loop trail offers lots to see; you'll hike along the Cascade Brook's rocky bed and stop at Kinsman Falls and Rocky Glen Falls for lovely views. This loop runs the terrain gamut — patches of the Pemi Trail are paved, but you will need to cross over Cascade Brook's rocky banks at several points. When you reach Lonesome Lake, you can enjoy a picnic and a swim before heading back down.
Franconia Notch State Park is the centerpiece of New Hampshire's outdoor fun, offering camping, fishing, hiking, boating, and more. This park provides outdoor enthusiasts with hours of fun, challenging adventures. The park has several parking areas, but they fill up quickly. The state offers the Franconia Notch Hiker Shuttle on weekends to accommodate additional visitors.
3. Georgiana And Harvard Falls, Second Presidential State Forest
Lincoln
Lincoln is a small town along the Kancamagus Highway where the scenery is spectacular and studded with classic Granite State rock formations. The out-and-back hike to Georgiana and Harvard Falls will allow you to appreciate these formations.
The first third of the hike is easy and follows the Harvard Brook riverbed. The second third sees an elevation increase along with a slightly more challenging path ending at Georgiana Falls. The last third is strenuous and requires boulder scrambling, but it rewards hikers with a spectacular view of Harvard Falls. The 1.8-mile hike is popular with locals, and the small parking lot can fill up quickly.
Pro Tip: There is an ATV trail that shares the same trailhead, but not the same path. Look for the small sign that marks the Georgiana Falls Path.
4. Red Hill Fire Tower, Lakes Region Conservation Trust
Moultonborough
The trail to the Red Hill Fire Tower will take you on a 3.3-mile loop to the top of Red Hill. The hike is a quick hour-long trek up a moderately difficult trail. The payoff is a trip up the fire tower for great views of Lake Winnipesaukee.
5. Arethusa Falls Via Bemis Brook Trail, Crawford Notch State Park
Bartlett
The Arethusa Falls via Bemis Brook Trail will take you to a breathtaking 140-foot waterfall. The 2.8-mile moderately difficult hike winds through the woods and past smaller waterfalls on the way to Arethusa Falls. The trail is well marked, but some rock scrambling is required.
This trail is not too busy, and you will find stretches where you are enveloped in quiet. If you go early, you might see some forest creatures.
6. White Dot And White Cross Trail, Monadnock State Park
Jaffrey
There are many monadnocks, or mountains that stand alone, in New England. The White Dot and White Cross Trail at Monadnock State Park is a 3.7-mile loop that will take you through moderately rated hiking terrain to the bald top of one of them. Grand Monadnock is often referred to as Mount Monadnock and is one of the most-climbed mountains in the world, with approximately 125,000 visitors each year. This hike is on the strenuous side of moderate, but the view as you reach the scarred, rocky summit is panoramic. On a clear day, you can see Boston.
Plan to spend a good part of your day on this hike; it will easily take 2.5 hours to walk up through the woods, and you will want to rest and enjoy the view at the top before making the 1.5-hour trek down. Because it is fairly strenuous, a sturdy pair of trekking poles will save your knees, and a pair of supportive hiking shoes will keep your feet snug and safe.
Consider reserving a parking spot ahead of time to avoid struggling to find a spot. Pets are not permitted in Monadnock State Park.
7. Wapack Trail And Marion Davis Trail, Miller State Park
Peterborough/Temple
Pack Monadnock is a smaller monadnock located in Miller State Park in south central New Hampshire. The Wapack Trail and Marion Davis Trail loop is a 2.7-mile moderately difficult trail that passes through the Wapack National Wildlife Refuge.
Although the loop trail is rated moderate, there are some challenging scrambles. The view of Mount Monadnock from the summit is spectacular. Make sure to rest at the top and take in the panoramic scenery.
8. Tuckerman Ravine Trail, Mount Washington State Park
Pinkham Notch
Mount Washington is an East Coast behemoth and the highest peak in New England at 6,288 feet. The Tuckerman Ravine Trail to the summit comprises 7.9 miles of strenuous climbing, best undertaken by experienced adventurers and well-outfitted hikers. But for many, the views of the ravine and Hermit Lake and Falls are well worth the effort. On a clear day, you can see as far as Quebec to the north and the Atlantic Ocean to the east. Start out early in the morning to ensure that you finish before sunset. This is an adventure that you'll need to plan in advance.
In the winter, skiers flock to the bowl on the trail for backcountry skiing. If you decide to hike during ski season, you will encounter folks hiking with skis, boards, and poles up to the top for some deep-powder, off-piste runs.
If you desire a more casual, relaxing trek to the top, try the Auto Road. Drive up, snap some photos, have lunch, and drive back down — so easy! Another fun alternative to get to the top is the Mount Washington Cog Railway, which has been bringing visitors to the summit since 1869.
Pro Tip: The weather at Mount Washington can be volatile. From 1934 to 1996, Mount Washington's summit held the record for the fastest wind gust on Earth: 231 miles per hour. Be sure to dress for the weather, especially if you are visiting the area during the spring.
9. Presidential Traverse Trail, White Mountain National Forest
Gorham To Crawford Notch
We are talking serious hiking here — 23 miles of trekking up and down 10 of New Hampshire's highest mountains. Expert hikers can tackle the Presidential Traverse Trail in one day, but there will be hiking in the dark in both the morning and evening. It would be better to hike the trail in two or three days. This point-to-point loop runs from the Dolly Copp Campground in Gorham to Crawford Notch.
The Presidential Mountains include Mount Madison, Mount Adams, Mount Jefferson, Mount Clay, Mount Washington, Mount Monroe, Mount Franklin, Mount Eisenhower, Mount Pierce, and Mount Jackson. Consider it your foray into the Appalachian Trail.
Do not take this hike lightly — it includes hours of exposure to the elements above the treeline. Careful conditioning and training are required to attempt this 10-mountain trail.
What To Know Before You Go
You'll want to plan ahead for your New Hampshire hike. Many state parks have online parking reservation systems that will get your journey off on the right foot. Also, some parks do not allow dogs, so you'll need to consider what to do with your four-legged hiker.
The mountains and trails are beautiful, so bring your camera, dress appropriately, and enjoy Mother Nature at her finest.
This article is presented by KEEN Footwear. I have bone spurs in my feet, but because of the support the KEEN soles offer, I had no pain at the end of my hikes. A word of caution: The KEEN Targhee III rides high on your ankle, so make sure to wear socks that are above the sneaker line to avoid rubbing. That said, these are perfect for moderate to difficult hikes or any hikes that involve tree roots, gravelly surfaces, or rock scrambling. Shop KEEN's Targhee and other hiking shoes here.