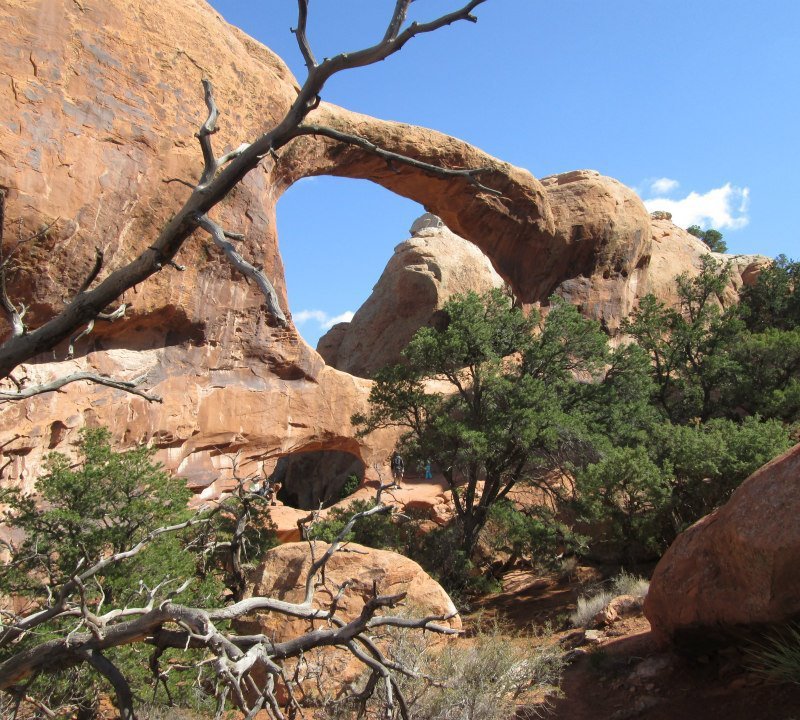 The palpable air of anticipation, the outdoorsy vibe, the spectacular views: There is a lot to love about the little towns that serve as gateways to the national parks of the United States.
Known as convenient spots to spend the night, have a meal, and maybe book a tour, gateway towns can pave the way to wonderful experiences at popular parks.
After visiting national parks all over the country, I know that some gateway towns are better than others, and I've come to appreciate a good one. For me, that means that not only can you fill up your tank, but you can also wander the streets, learn about the history, and get a taste of the views in store at the parks.
In some cases, there are larger cities nearby that also fit the bill of gateway towns. But for the quaint little places where people gather on their way to the nation's natural treasures, here are nine of the best small towns near entrances to national parks in the U.S.
1. Moab, Utah
Arches And Canyonlands National Parks
Drive into Moab, Utah, and you will immediately sense that you're in the middle of an outdoor-recreation wonderland. First of all, you're likely to notice the hordes of people sporting hiking gear, but don't be surprised if you also see mountain bikers, kayakers, and 4x4ers.
The red-rock town sits right in the midst of southeastern Utah's splendors, including two national parks — Arches and Canyonlands — as well as the magnificent Dead Horse Point State Park and the winding Colorado River. (Arches is less than a 10-minute drive from Moab, and Canyonlands is about a half-hour drive.)
Even though Moab is a small town of about 5,300 population, it is not lacking in the dining or accommodations departments. The Discover Moab website lists about 20 restaurants, and there are countless accommodation choices, from hotels to condos to camping. After a long day hiking or riding, Moab's visitors tend to crowd the popular dining and drinking spots, lending a fun buzz to the little town.
Pro Tip: For tasty Mexican food in a colorful setting, check out Miguel's Baja Grill. If you dare, try the roasted jalapenos that are served as a spicy garnish.
2. Durango, Colorado
Mesa Verde National Park
Big views, Southwestern charm, and railroad history all come together in Durango, Colorado, the gateway to Mesa Verde National Park.
Located in the Four Corners area where the states of Arizona, Colorado, New Mexico, and Utah meet up, the hip town of about 19,000 population is packed with vintage buildings, hiking and biking trails, and breweries and restaurants.
In addition to its proximity to Mesa Verde'se fascinating Native American cliff dwellings (about a half-hour to the west), Durango is also home to the Durango and Silverton Narrow Gauge Railroad and its incomparable views of the San Juan Mountains, as well as the cool Purgatory Ski Resort, located about a half-hour drive to the north.
Pro Tip: The Animas River Trail follows the course of the river as it snakes its way through Durango. Because the 10-mile trail passes by a range of restaurants and shopping districts, I found it to be a convenient way to get around town without driving.
3. Bar Harbor, Maine
Acadia National Park
For nature lovers who can't decide between the mountains and the sea, Bar Harbor, Maine, and the nearby Acadia National Park offer the perfect solution. Because really, who could resist the region's convergence of rugged mountains and the cobalt-blue waters of the Atlantic Ocean?
The scenic little town of Bar Harbor, population 5,500, perfectly sets off the dazzling national park. At just a five-minute drive to the park's entrance, the town feels like it is part of the park, and vice versa. Plenty of convenient dining, accommodations, and shopping options make the town especially convenient.
Combine Bar Harbor's signature Maine charm with its proximity to the park, and you have the makings for a truly bucket-list-worthy visit.
Pro Tip: If you're deliberating on when to head to Bar Harbor and Acadia National Park, check out my article The Best Time To Visit Bar Harbor, Maine.
4. Jackson Hole, Wyoming
Grand Teton National Park
As mountain ranges go, there are few more stunning than the Grand Tetons, the string of rugged peaks that rise to more than 13,000 feet elevation in northwestern Wyoming. And sitting near the base of the mountain range is Jackson Hole, Wyoming, a town famous for its skiing, Western atmosphere, and outstanding views.
At just five minutes or so from the entrance to Grand Teton National Park, the town is an excellent base for exploring the more than 200 miles of trails, pristine lakes, and plentiful wildlife in the park. The region's other popular national park, Yellowstone, is about two and a half hours away, making Jackson Hole a viable stopping-off point for both parks.
With a population of about 10,000, Jackson Hole is chock full of unique local restaurants, ski and ranch resorts, and quaint shops.
Pro Tip: Jackson Hole is a year-round destination, and for ideas in the various seasons, check out 9 Fantastic Reasons To Visit Jackson Hole In Winter or Jackson Hole, Wyoming In The Summer: 8 Amazing Things To Do.
5. Kanab, Utah
Zion And Bryce Canyon National Parks
World-famous national parks, a sprawling national monument, excellent state parks, and iconic hikes all await within minutes of the southern-Utah town of Kanab.
Three of the most popular U.S. national park areas — Zion, Bryce Canyon, and the Grand Canyon's North Rim — are within a half-hour to an hour-and-a-half drive from Kanab, and several standout Utah State Parks like Coral Pink Sand Dunes and Kodachrome are also within day-trip range. In addition, Kanab is within an hour drive from the longest slot canyon in the southwestern U.S., Buckskin Canyon, one of the notable attractions in the massive Grand Staircase-Escalante National Monument.
Despite its small size, Kanab has a surprisingly varied assortment of restaurants, and the atmosphere on a warm summer or fall evening hums with energy.
Pro Tip: For a larger-city option, consider staying in nearby St. George, a community of about 85,000 population about a one-hour drive from Zion and a two-and-a-half-hour drive from Bryce.
6. Medora, North Dakota
Theodore Roosevelt National Park
Located in western North Dakota in the midst of the Badlands of Theodore Roosevelt National Park, Medora offers an entertaining tourist experience complete with Western saloons and restaurants, stellar hiking, and Teddy Roosevelt memorabilia.
Medora is a great base for taking drives in the national park's South and North Units. The south unit features sweeping views and is conveniently located right along Interstate 94. For a more remote and wonderfully scenic drive, I also loved the North Unit, where the 14-mile paved loop route takes you deep into the Badlands and is likely to include sightings of grazing bison.
If you're in Medora during the summer months, be sure to check out the excellent Medora Musical. Along with its folksy and entertaining musical numbers, the show features fascinating tidbits about the area's most famous one-time resident, U.S. President Theodore Roosevelt.
Pro Tip: While Medora is first and foremost a tourist town, the Interstate 94 town of Dickinson offers full-service shopping, restaurants, and hotels a little over a half-hour away from the national park.
7. Williams, Arizona
Grand Canyon National Park
Located right along Interstate 40 and the historic Route 66, Williams, Arizona, has been a natural stopping-off point for travelers to the Grand Canyon National Park's South Rim for decades.
Williams is also home to the Grand Canyon Railway, an entertaining and relaxing alternative to the hour-long drive to the national Park.
Although it is best known for its proximity to the natural wonder of the world, Williams has an identity and history of its own that dates back nearly 140 years to Arizona's early Wild West days. The historic downtown features vintage hotels, old gas stations, and charming restaurants with outdoor seating.
Pro Tip: The scenic mountain city of Flagstaff is about 75 miles from the Grand Canyon, making it another convenient base for exploring the national park. If you need inspiration about things to do in Flagstaff, check out 9 Ways To Spend A Beautiful Fall Weekend In Flagstaff.
8. Gatlinburg, Tennessee
Great Smoky Mountains National Park
Located within 20 minutes or so of the most-visited national park in the U.S., the small town of Gatlinburg, Tennessee, has the distinction of getting millions of visitors a year while having only about 4,000 permanent residents.
With more than 12 million visitors in 2020, Great Smoky Mountain National Park is by far the most popular national park in the U.S. And Gatlinburg is located right in the midst of it all. The area also boasts the Dollywood Family Amusement Park, the popular theme park named for country music star Dolly Parton.
Pro Tip: From barbecue to steak to trout, Gatlinburg is known for its variety of dining specialties. To narrow down the dozens of choices, check out Dining In Gatlinburg: The 10 Best Restaurants To Try.
9. Paia, Maui, Hawaii
Haleakala National Park
For a bit of beach time and sugar plantation history before or after hitting the eerily beautiful volcanic-rock summit at Haleakala National Park, the little town of Paia offers the ideal spot.
Known as the windsurfing capital of the world, Paia also features a compact and walkable downtown that takes visitors back to Maui's heyday of the sugar cane industry. Today, the town consists of a collection of colorful, rustic storefronts filled with art galleries and unique shops.
Located along the Road to Hana — and just less than an hour from Haleakala — Paia is a great place to stop for lunch or breakfast at cool spots like the Paia Fish Market or Cafe Mambo. Or for picnic fixings, stop by the well-stocked Mana Foods grocery, which features an excellent bakery and deli.
Pro Tips: For ideas on how to spend a day in Haleakala, see my article A Day At Haleakala National Park, From Sunrise To Sunset. And for information on driving the Road to Hana, check out 8 Things To Know Before Driving The Road To Hana and 10 Pros And Cons Of Taking The Road To Hana.
What are your favorite small towns near national parks, U.S. or International? Email us and let us know why you love it.