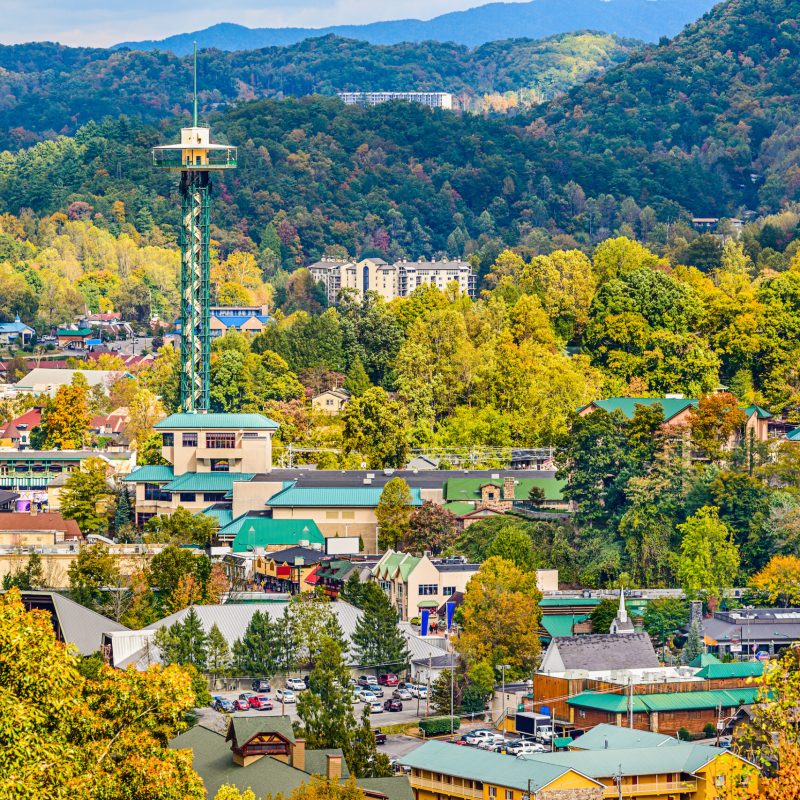 Gatlinburg, Tennessee, is one of the most sought-after vacation destinations in the United States. Located in the heart of the Great Smoky Mountains, this small-town treasure affords countless opportunities for its visitors to embark on new adventures that'll be enjoyed by the whole family.
As you drive down the cascading mountain side, you're bound to see a natural wonder around every turn. Whether that includes bear cubs playing by the side of the road, breathtaking waterfalls rolling off a mountain ledge, or gazing at twinkling stars through a canopy of trees, Gatlinburg, TN, is sure to leave you with a lasting impression and a host of unforgettable memories.
But natural wonder is not all that awaits the curious. In addition to its plethora of natural amenities, Gatlinburg is a top destination for Southern dining at some of the region's best restaurants. From down home country-style cooking to eclectic dishes from around the globe, Gatlinburg has over 100 deliciously unique restaurants for you to enjoy.
Are you in the mood for a tasty steak dinner or a heaping stack of made-from-scratch pancakes for breakfast? Both in the same day isn't out of the question. After all, you are on vacation. No matter your culinary preferences, you can be sure to find the perfect restaurant to tantalize your palate and satisfy your cravings.
Make your reservation, bring your appetite, and treat yourself by sampling from our list of the 10 best restaurants to enjoy in Gatlinburg.
1. Bennett's Pit Bar-B-Que
Are you craving some finger-licking good barbecue? Well, you don't have to look any further than Bennett's Pit Bar-B-Que. In the South, barbecue is its own food group, and the locals say that no one does it better than Bennett's. Satiate your appetite with mouth watering ribs or help yourself to arguably the best tender pulled pork in Tennessee.
Bennett's is located adjacent to Gatlinburg Parkway on River Road — the center of it all — and is sure to please even the most opinionated barbecue aficionado. Be prepared to loosen your belt and make room for pecan pie.
2. Smoky Mountain Trout House
Some would say that you can't visit downtown Gatlinburg without visiting the Smoky Mountain Trout House. It's like going to a beach and not having any seafood. If you're a seafood connoisseur, or better yet a lover of perfectly grilled, deliciously flaky trout (dressed with herbs and melted butter), then it doesn't get much better than Gatlinburg's very own Smoky Mountain Trout House.
The trout is freshly caught from the crystal clear springs at the basin of the Great Smoky Mountains and prepared any way you like it. Compliment your delicious trout entree with a side of perfectly sauteed mushrooms and onions, or choose from an abundance of delicious, crisp salad options. Rest assured, the Smoky Mountain Trout House's unique and comforting offerings will not disappoint.
3. The Peddler Steakhouse
Are you craving a delicious steak? If you ask anyone who lives in Gatlinburg where you can get a succulent steak dinner, we're confident the majority will point you in the direction of The Peddler Steakhouse.
Each table will be informed of the various cuts available, and you will be enticed to try them — hence the restaurant name's apt reference to the steak peddler. From the iconic porterhouses to the flat iron cut, you'll unapologetically wipe your plate clean and enjoy every bite. Setting aside the juicy steaks, we've been told that the salad bar alone is worth a visit. Even salad snobs have been known to fall head over heels with the Peddler's salad bar, which includes almost every fresh veggie imaginable, coupled with a wide array of homemade salad dressings. Make a toast to food, family, and living your best life over an incredible dinner in an intimate atmosphere surrounded by Gatlinburg's serene mountain beauty.
4. Pancake Pantry
Gatlinburg is known for its breakfast houses and its world-famous pancakes. A downtown Gatlinburg tradition, Pancake Pantry has been serving up delicious, homemade flapjacks since 1960.
During tourist season, people crowd the street, waiting in line for a taste of these fluffy pancakes. They offer pancakes (and crepes) any and every way you can think of them — from Caribbean to Swedish style. Pancake Pantry will delight and excite the pancake lover in your family. Give it a go, and you, too, will see why so many families have made this restaurant a downtown Gatlinburg tradition on their Smoky Mountain vacations.
5. Crockett's 1875 Breakfast Camp
Named after David "Crockett" Maples, an early frontiersman who was well known for serving breakfast to the weary traveller in the 19th century, Crockett devoted his life to his country, family, and serving others.
This rustic, cabin-themed eatery offers a modern take on classic Southern breakfast dishes. Known for having some of the best pancakes in Gatlinburg, this mouthwatering menu contains more than fluffy flap-jacks. You can select from their scrumptious three-egg scrambles or tantalizing French toast stuffed with blueberry cream cheese — or get your fill with a crisp chicken fried steak and a side of biscuits smothered in gravy.
Crockett's hearty breakfasts are fit for mountain lovers and eager-to-indulge tourists. Crockett's is not for the faint of heart, though. Do yourself a favor — leave your calorie tracker in your luggage and help yourself to one of the best breakfast houses in Gatlinburg.
6. Timbers Log Cabin
You know the saying "Don't judge a book by its cover?" The idiom applies to Timbers Log Cabin, affectionately known as one of the best hole-in-the-wall places in Gatlinburg.
A casual American eatery that serves everything from piping hot wings to coconut shrimp, this mom-and-pop restaurant is a place where the food is delicious and made to order without the frills. You can enjoy a good meal, a cold brew, and watch live sports. Consider ordering an exquisite Elvis burger and a heaping pile of fries as you take in the woodsy, cabin-style aesthetic and enjoy the friendly ambiance of sports TV plus patio seating.
7. Slice Pizza Bakery
Located at the base of the Gatlinburg Space Needle you'll find some of the best pizza in town. Order by the slice or by the pie, it doesn't matter — just make sure you order. Slice Pizza Bakery serves up authentic New York style pizza that will leave you craving more.
Of course, their location in downtown Gatlinburg is another big draw for this unique pizza joint — with Arcadia, Gatlinburg's largest arcade, right beside you and Gatlinburg's best view just above you, you can have your fun and eat it too at Slice Pizza Bakery.
8. Donut Friar
Let's face it, a vacation of fun-filled adventure and good eats in Gatlinburg (or anywhere else) is no vacation at all if it doesn't conclude with a well-deserved treat at the end of the day. What could be more perfect than a freshly made donut? The aromas of donuts, cinnamon bread, and pastries drifting from Donut Friar are impossible to resist. Top it off with a delicious cup of cappuccino or a shot of espresso to prolong the night or start the day.
Charles McCool, formerly known as the Travel Happiness Advocate, told TravelAwaits, "Donut Friar has amazing chocolate eclairs. …Of the ones I have tried, the Donut Friar chocolate eclairs are the best. Also, their mugs are classic and I have my morning tea in one nearly every day when I am home."
Located in the Village Shops of Gatlinburg directly behind the Pancake Pantry, get your sweet-tooth fix by treating yourself to an eclair or a glazed cake donut at Donut Friar. A word of advice: Go early in the morning (before 9:00 a.m.) and you can park on the Parkway for free.
9. Parton's Deli
Parton's Deli has been a favorite lunch destination for visitors and locals alike for over 40 years. Known for its tasty subs and friendly service, Parton's is the perfect place to stop for a quick bite to eat in the afternoon before continuing on with your mountain adventures.
In addition to the mouthwatering sandwiches, we've been told that standout menu items include the deviled eggs, potato salad, chili dogs, and lemon pound cake. Don't let the deli's unassuming exterior fool you, this place is the real deal! If you're craving a deliciously quick, affordable lunch, then look no further than Gatlinburg's Parton's Deli.
10. Smoky Mountain Brewery
Smoky Mountain Brewery is one of East Tennessee's oldest breweries. The Gatlinburg location was opened in the 1990s, and since then, the place has exploded due to its overwhelming popularity and demand.
The brewery vibe combines cozy ski lodge with Bavarian beer hall. It offers hungry hikers everything from potato skins and pizza to filet mignon. There are also plenty of gluten-free options that are guaranteed to be delicious. Looking to cut calories? We encourage you to try the smoked portabella mushroom Philly sandwich with a handcrafted Mountain Light beer.
Want something other than beer? This place offers a vast selection of specialty drinks — including wine and premium cocktails — if beer isn't your thing. Smoky Mountain Brewery is a fun place with live music and other events nightly, and it's open seven days a week! Be sure to stop by after a long day of exploring the Great Smoky Mountains. You might even find yourself visiting multiple nights in a row!
Vacationing in Gatlinburg? Here are eight fun facts you didn't know about the Tennessee town, plus nine things everyone should do when they get there.