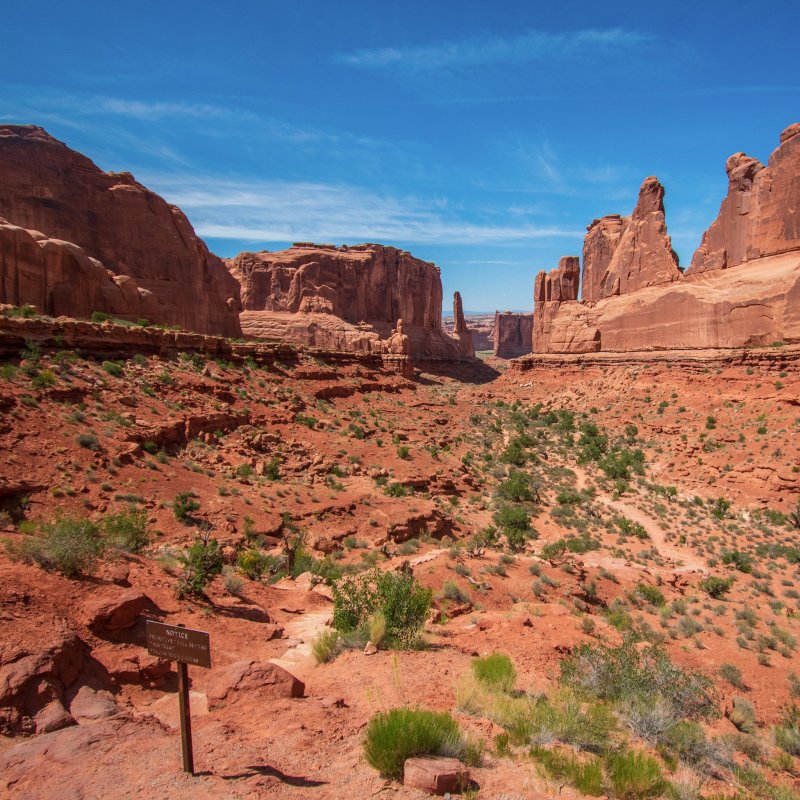 The mighty Colorado River cuts a path through Moab, providing a cool oasis of fun in this gorgeous desert landscape. Whether you want to explore on your own or take a guided tour, the outdoors is your vacation playground in Moab.
The Colorado River is an adult waterpark with calm stretches punctuated by crazy rapids. The surrounding desert is filled with intriguing red rock formations that beckon you to explore. There are outdoor activities for all experience levels. Most activities run the gamut from beginner to extreme. You can hike for 10 minutes or 10 days. Rafting down the Colorado can be an afternoon float or a 5-day, class 5 wilderness adventure. Four-wheeling is everywhere in Moab, and you can join a tour and leave the driving to the experts or take the wheel into your own hands.
Moab's adventure-seeking, nature-loving, kick-back vibe is the perfect spot to test your limits and expand your experiences. Moab draws outdoor adventurers of all levels from across the globe. Her bountiful natural resources provide a wonderful getaway you won't soon forget.
1. International Dark Sky Experience
Arches National Park is a certified International Dark Sky Park, an award given to parks with exceptional starry night viewing. These parks offer protected areas with public viewing of the night sky, offering an illuminating experience.
As you drive north through the park at night, the sky darkens and the stars twinkle in a glorious light show. Some of the best spots are the Balanced Rock Picnic Area and the Garden of Eden Viewpoint.
Join a Stargazing Event with a National Parks ranger-led program. The rangers rotate tours between Arches National Park, Canyonlands National Park, and Hovenweep and Natural Bridges National Monuments for nightly viewings during the summer months. Gazing at the stars without the ambient city lights is a unique and magical experience.
2. Float Down The Colorado
White water rafting or just a simple float down the Colorado River, there are lots of water-centric tours to take you downstream.
Adrift Adventures offers class two to four rapid runs depending on the river flow for a half or full day of river-soaked fun. Their experienced guides will entertain you as you float along and adeptly navigate the tricky rapids. Ask for Rose to guide your tour, she delivers her history and ecology lessons with a big splash of humor.
To experience life on the water with a good dose of wilderness camping, NAVTEC Expeditions offers multi-day trips down Cataract Canyon, where you can conquer class IV and V rapids. The 5-day trip starts in Moab, ending at the Hite Marina, over 100 miles downstream.
3. Hit The Road
The La Sal Mountains form a majestic backdrop to the Moab area. A trip on the La Sal Mountain Loop takes you on a 3-hour scenic, winding drive. Gas up your car (no RVs allowed), pack a snack or two, and tackle the switchbacks with jaw-dropping views around every corner. The variety of scenery along this loop includes expansive desert, towering mesas, delicate buttes, and the iconic Colorado River.
4. Command A UTV
Hell's Revenge sounds like a place you might want to avoid, but not when you visit Moab. High Point Hummer and ATV offers guided adventure tours where you get to drive your own Utility Task Vehicle (UTV) to Hell and back. Your guide leads the way up and down slick rock, sliding through sandy passes and other challenging terrain. This is an invigorating driving experience you won't soon forget.
The UTVs are beefy, sci-fi-like off-road vehicles that can take you places you never dreamed you could go. Driving one is like stepping back into a wild childhood carnival experience, except you are at the wheel and the desert is your highway.
5. Sunset Tour On The Rocks
Ready for a little shake, rattle, and roll? Big Iron Tours ATV tours will have you all shook up! Hop aboard their M35, military transport beast for the 2.5- hour Sunset Tour through Moab's Red Rocks.
Just when you think you are in for a fun adventure, you realize you are actually in for the craziest ride of your life. Climbing over, around, and down the mammoth rock formations at gravity-defying angles, you are awestruck at the power of the vehicle able to tackle the ridiculously rugged terrain.
Sit back and enjoy the ride. Just as the sun is setting, you find yourself in the most perfect spot for a picture-perfect desert sunset.
6. Hiking For Miles
Nature trails, backcountry hikes, and multi-day excursions are high on the list of every Moab outdoor enthusiast.
One of the top spots to hike is Arches National Park. Delicate Arch, one of the most visited sites, can be viewed from one of two trails ranging from a 10-minute easy walk to a more heart-pumping 30-minute climb. Another popular hike through the park is to Balanced Rock, a 20-minute, easy loop trail.
Experience a personal, intimate journey through the Moab desert with Backroads. They offer a 5-day hiking exploration, Utah's Arches and Canyonlands Walking and Hiking Tour. Spend your days exploring the various hiking paths in the national parks. Learn about the history of Natives, discover dinosaur tracks, and envelope yourself in the natural wonder of the landscape. You can relax and leave all the details to your guides. Backroads tours include experienced guides, hikes for a variety of fitness levels, all your meals, and a variety of hotel accommodations so you can hike all day and enjoy the evening.
7. Canyoneering For Beginners
Goblin Valley State Park is home to a massive chamber dubbed Goblin's Lair. The North American Wilderness School offers a wide array of tours. Their half-day Goblin's Lair Canyoneering Adventure Tour is suitable for beginners. If rappelling is on your bucket list, this is the place to give it a go. The 90-foot drop into Goblin's Lair is a breathtaking experience. Your canyoneering guide is adept at training first-timers in the art of rappelling, so you are in good hands. You will forget your fears when surrounded by the indescribable beauty and sheer size of the cave.
A backcountry permit, technical gear, and canyoneering skills are required if you want to give this adventure a try without a guide.
8. Taking The Desert On Two Wheels
If you have never experienced mountain biking, now is the time. From beginner experiences to thrilling rides, you can find a tour to suit your ability.
Rim Tours Mountain Bike Adventures offers an introduction to mountain biking, Courthouse Loop Tour. This mostly flat track brings you panoramic views of Arches National Park while you pedal along a wide, well-traveled path. On this half-day tour, you will learn the basics of mountain biking while enjoying the immersive experience of the Utah desert.
For a challenging, intermediate mountain biking tour, check out Rim Tours North Klondike Singletrack Tour. This tour comes in various flavors: full-day and half-day group or private tours. The approximately 50 miles of bike trails In the Klondike Bluffs North Trail area offer challenging rides and the welcome reward of spectacular views.
9. Dispersed Camping
Get out and enjoy wide-open spaces. Dispersed camping, or dry camping, encompasses self-sufficient, out in the wild camping outside a planned campground. The experience is unique in that you are totally self-reliant. There are no facilities or hookups, you need to pack everything in and everything but liquid waste out. However, the true nature-bonding experience is unlike any other camping adventure.
To learn more about dispersed camping, read Dispersed Camping: What It Is And Why You Should Try It.
10. Luxury Ranch Style
If you desire more upscale digs after spending the day exploring Moab's outdoor gems, retire at your luxurious accommodations at Sorrel River Ranch.
The ranch is the perfect getaway retreat wrapped in luxurious amenities surrounded by the beauty of Utah's natural wonders. Start your day with a horseback riding adventure through the vast, open foothills and scenic desert ridges. With rides suitable for beginners and others challenging for experienced equestrians, the wranglers will have you sitting tall in the saddle, just like all the cowboys and girls of the old western movies.
From your private cabin on the banks of the Colorado River, watch the desert settle in for the evening as you sip your favorite cocktail. Then mosey over to the ranch's River Grill for a superb dinner based on locally sourced products.
Pro Tip
Many of these outdoor adventures have options for beginners all the way up to extreme outdoor enthusiasts. If you are just giving a particular experience a first-timers try, you will find accommodating guides who are delighted to share their love of the land, geared to your physical abilities. There is much to see and do in the beautiful backcountry in Moab, so you can find an adventure or two that suits your speed.
Related Articles: