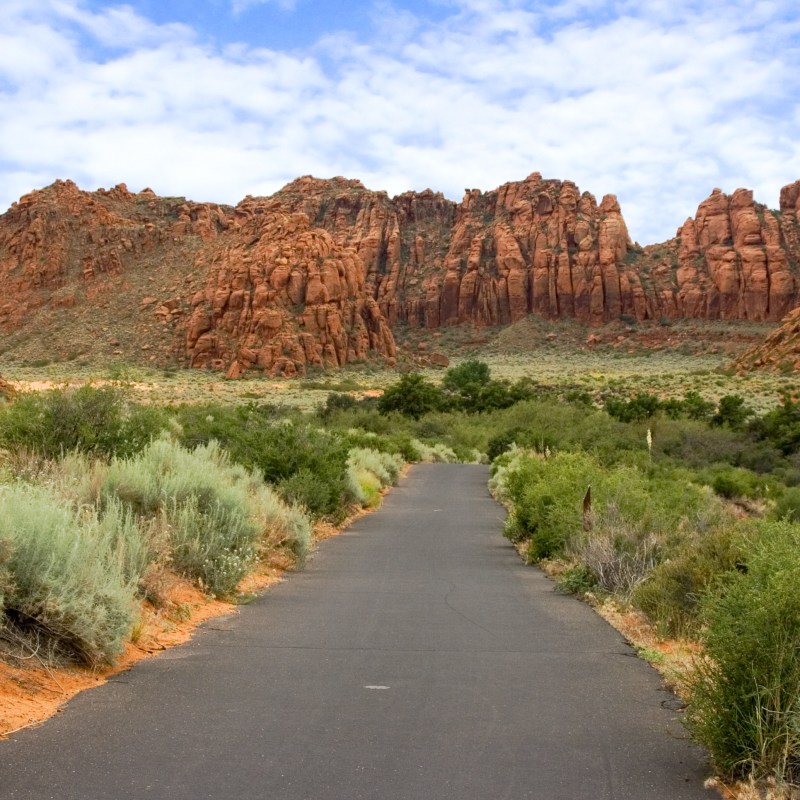 The quaint town of Saint George, Utah, with its stunning red rock landscape, outdoor activities, and mild climate, is an ideal place to get away for some peace and quiet. Once you arrive, you might never want to leave — as much of the growing retirement population of the area will tell you! Before you sell your home and pack your bags, though, visit the town to see if it fits your lifestyle.
Here are the best things to see and do on a visit to tranquil Saint George.
Hike The Nearby State And National Parks
The opportunities to hike in and around Saint George are abundant. From the Red Cliffs National Conservation Area to Snow Canyon State Park to Zion National Park, there are plenty of trails and scenes to choose from.
Just a 15-minute drive from Saint George, Snow Canyon State Park is one of the closest and most accessible of these natural areas. Whether you decide to walk on one of the paved trails or head out on a mountain bike, the park is a great introduction to the area's famous red Navajo sandstone.
For a hike with a side of history, visit Little Black Mountain Petroglyph Park. Not only is it a quick mile-long round-trip hike, but you'll see a large sandstone rock covered in ancient rock art.
If you're looking to visit one of the most stunning national parks in the United States, you're also in luck. Zion National Park, with its famous Angels Landing steep cliffside hike, is just an hour's drive from Saint George. If you'd rather stay on the ground, try the Zion Narrows hike, which twists and turns through a narrow water-filled canyon — it's worth the drive.
Immerse Yourself In The Art Community
Saint George is home to a vibrant art scene, making it a great place for artists and non-artists alike to immerse themselves in a creative community.
The Coyote Gulch Art Village, also known as the Kayenta Art Village, is one of the highlights of the local art scene. Located about 20 minutes northwest of Saint George, the art village features studios, galleries, a gift shop, and a cafe. This is a great place to purchase unique local mementos. Plus, there's always something going on at the village, whether it's a movie night, a classical music performance, or the annual Street Painting Festival in April.
Relax (Or Not) At Sand Hollow Reservoir
More than 20,000 acres make up Sand Hollow State Park, which includes the 1,332-acre reservoir. There are plenty of leisure activities to enjoy at the reservoir; swimming, jet skiing, fishing, and boating are just a few.
If you're looking to quench your thirst for adventure, the park fits the bill. In addition to the massive reservoir in the center of the natural area, Sand Hollow boasts sand dunes, specifically Sand Mountain, for off-roading.
Whether you go horseback riding or decide to rent an ATV, Sand Hollow offers plenty of heart-pounding activities that are great for all ages.
Learn About Latter-Day Saints History
One of the best ways to understand the character of Saint George is to learn about its history, which is closely intertwined with the history of the Church of Jesus Christ of Latter-Day Saints, or the Mormon Church. In fact, Saint George was named for George A. Smith, a Mormon apostle who believed that eating raw potatoes would cure scurvy.
With that kind of origin story, it's no surprise that one of the main attractions in Saint George is the lovely Saint George Utah Temple in the castellated Gothic style. The temple was the third built by the Mormons (after Joseph Smith's death), and the first one built in Utah. Although it's currently being renovated and will be closed for approximately three years, you can find Latter-Day Saints history everywhere in Saint George.
Make sure to stop at the Brigham Young Winter Home, which was built in the 1870s. Brigham Young lived here during the winter months, overseeing the temple's construction until his death in 1877.
Visit The Red Hills Desert Garden
As part of the Mojave Desert, Saint George has a dry and warm climate perfect for a variety of flowers and plants, from the vibrant pink Arapaho crape myrtle to the spiky blue barrel cactus. You can see these landscaped plants side by side throughout the 5-acre Red Hills Desert Garden.
Bring a picnic, enjoy an educational class or workshop, see the waterfall and the (endangered) fish, and locate preserved dinosaur tracks from 200 million years ago. The desert is full of surprises! And the best part? The Red Hills Desert Garden is free to enter.
Catch A Show At The Tuacahn Center For The Arts
When you think of an arts center, you probably think of an enclosed, indoor area. The Tuacahn Center for the Arts is anything but! This unique arts center is an outdoor theater surrounded by gorgeous red rocks, which make an ideal backdrop for the stage.
With more than 2,000 seats, Tuacahn specializes in Broadway musicals like Singin' in the Rain, Les Miserables, and Joseph and the Amazing Technicolor Dreamcoat. But it also makes a great venue for concerts, like tributes to Queen and Elton John. Tickets range from $20 to $100+, depending on the show. A night under the stars in the unique venue is a must-do when in Saint George.
Eating And Drinking In Saint George
Whether you're searching for great coffee, a big breakfast, or fine dining with a view, Saint George offers plenty of spots to curb your cravings.
The Painted Pony
Rated as one of the top restaurants in Saint George, The Painted Pony is a great place to celebrate a special occasion — your arrival! Located conveniently in Ancestor Square within the historic downtown area, the restaurant specializes in American fine dining. Try the perfectly cooked hanger steak, seared ahi tuna, or bacon-wrapped duck. Not only is everything delicious, but it's also presented tastefully. To top it all off, order the layered cheesecake tower of walnut cookies, sweet blueberries, and raspberry sauce.
Affogato West
Located in a large warehouse, Affogato West boasts a cozy yet modern environment covered in wood and tin. You can sit in a variety of spaces to enjoy your brew: at the bar, covered festively in lights, or on the "patio," a fake grass area with beach chairs, picnic tables, and umbrellas. The eclectic space will certainly win you over (if the coffee doesn't!).
Visit Affogato West on a Wednesday evening to shop, eat, and enjoy live music at the West Village Farmers Market that takes over the warehouse space.
Bear Paw Cafe
Every day spent exploring Saint George should begin with a hearty breakfast, and Bear Paw Cafe is the perfect place to get it. With its central location and fair prices, the lines get long. You'll realize that it's worth the wait, however, when you take a bite of the stuffed French toast — you can choose from chocolate, vanilla, or apple — that's topped with fresh fruit and whipped cream. Those looking for a savory option can opt for the warm and nourishing huevos rancheros.
Cliffside Restaurant
For fantastic views, head to the bright and airy Cliffside Restaurant. The restaurant is lined with large windows with stunning views of Saint George and the mountain beyond. Although on the pricier side, Cliffside Restaurant provides exceptional service in conjunction with its innovative menu. Indulge in the four-cheese, pear-filled pasta covered in a tomato sauce that you'll have to soak up with your slice of garlic crostini.
Shopping In Saint George
Saint George offers plenty of small-town charm in its unique downtown stores and boutiques. Here are a few of my favorite places to shop.
Judd's General Store
Opened in 1911, Judd's General Store is one of the oldest family-run businesses in town. As a general store, it sells a little bit of everything. When you step through the door, you'll feel like you've stepped back in time. Not only can you get a cup of steaming soup or a three-tier ice-cream cone, but the shelves are filled with old-timey candy bars and soda.
Mugwumps Antique Shop
Those with a soft spot for anything old and well loved will appreciate Mugwumps Antique Shop. The shop — painted red, white, and blue — has everything from furniture to cowboy boots to kitchen trinkets.
Coyote Exchange
Pop by this boutique for gently used clothing and unique finds, from cozy vintage sweaters and silver spoon rings to handcrafted pottery and modern brands. Coyote Exchange is a great place to find something special for yourself or for someone back home.