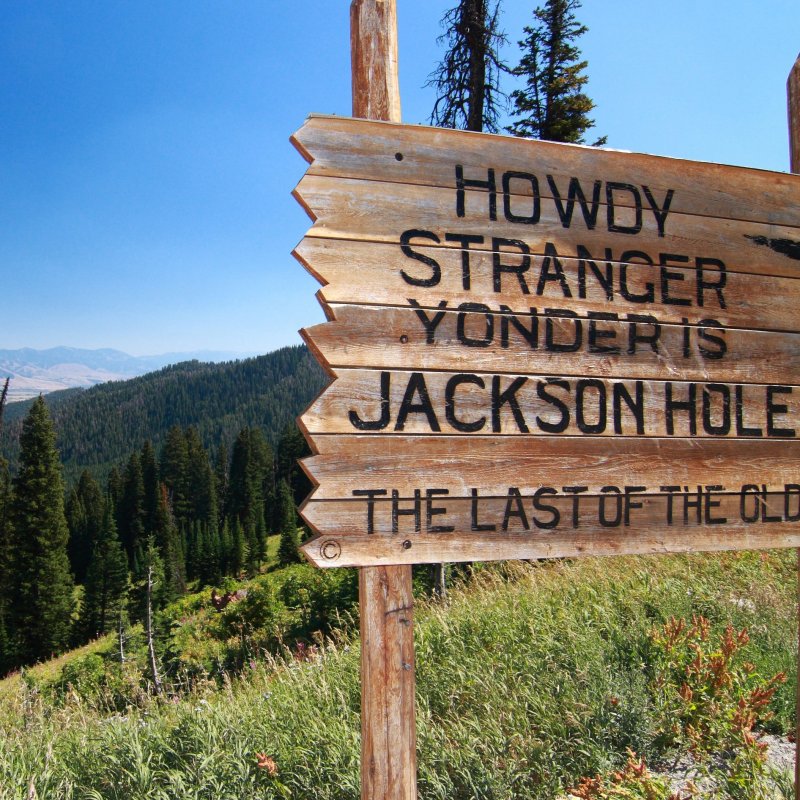 Are you looking for an unforgettable outdoor adventure of a lifetime? Jackson Hole, Wyoming, beckons the outdoor enthusiast in us all. With its prime location next to Grand Teton and Yellowstone National Parks, it's no wonder why this small town gem is a hot destination despite being situated in the least-populous state in the Union.
Jackson Hole is lauded for its seemingly endless skiing opportunities, but skiing isn't the only thing this outdoor paradise offers. With options for hiking, camping, star gazing, mountain climbing, horseback riding, and more, Jackson Hole truly comes alive in the summertime.
For starters, the weather is the epitome of summer bliss. The temperatures are mild — ranging from the low 40s to the low 80s. Fond of crisp nights? Visitors may want to pack an extra sweatshirt or jacket as the evenings tend to cool off from the mountain breeze.
This summer, we invite you to go on extraordinary hikes and witness breathtaking natural views of the forests and mountains. Or splash down with water activities like swimming and white water rafting. Get outside of your comfort zone dressed as a cowboy or cowgirl and venture forth on horseback through Jackson Hole's valleys and beyond.
No matter how you decide to spend your time in Jackson Hole, this glorious outdoor playground is bound to leave a lasting impression. Here are eight amazing things we recommend you do during your Jackson Hole summer vacation.
1. Go Vertical By Climbing In The Grand Tetons
The Teton Range, also known as the Mountains of Imagination, is bound to steal outdoor-loving hearts. The park elevation ranges from 6,000 feet on the valley floor to over 13,000 feet at the summit of the Grand Teton. During the summer months, visitors can expect to find meadows sprinkled with a diversity of wildflowers in vivid colors and noisy streams that cascade down rocky canyons. On calm days, the lakes mirror the mountains perfectly.
With over 200 miles of trails, those who have the fortitude to climb the Tetons will be rewarded with rich scenic views, out-of-this-world wildlife (including an abundance of forest animals and plants), pristine lakes, and rugged terrain. You'll be greeted by some of the Tetons' permanent residents, including elk, moose, and bison. Whether you're an amateur mountaineer or an expert hiker, you can choose a perfect mountain-climbing adventure. Backpack for a single day or overnight near one of the Teton summits.
2. Bike The Rugged Alpine Mountain Trails At Snow King Mountain
Jackson Hole is blessed with an abundance of biking trails and bike shops — including Headwall Recycle Sports and Hoback Sports — which makes it convenient for all adventure seekers to get the gear they need to blaze the trails. Jackson Hole's very own Snow King Mountain offers exclusive access to a network of cross-country bike trails. Are you traveling with children? Be sure to check out Snow King Mountain's Big King Pass for an all-inclusive experience, which gives visitors access to activities including the Cowboy Coaster, Alpine Slide, Scenic Chairlift, Amaze'n Maze, Bungee Trampoline, and Treetop Adventure tour.
3. Take A Scenic Float Trip Through Grand Teton National Park
If nothing brings you more joy than a good summertime float trip, then floating down the Snake River past the Teton Range should be on your Jackson Hole to-do list. The Snake River showcases varied, picturesque scenes of the Grand Teton National Park and stands to amaze even the most well-traveled outdoor enthusiast.
Sure, you could drive through the park, but according to Jackson Hole Traveler, "experiencing the park from the water is simply extraordinary, especially the jaw-dropping, 10-mile stretch of the Snake River from Deadman's Bar to Dornan's in Moose." Visitors can opt to take a guided float trip — which allows you to relax, connect with nature, and learn more about the Teton Range. Of course, the Tetons aren't the only thing you'll see on the trip. The wildlife you'll encounter is bound to create memorable moments that you and your family will never forget.
4. Go On An Exhilarating Whitewater Rafting Trip
Are you looking for a Jackson Hole water activity that offers a lot of action and exhilaration? If so, you can't leave Jackson Hole without going on one of the nation's premier raft adventures. A whitewater adventure down the Snake River Canyon is a can't-miss proposition. Like floats, whitewater trips also offer glorious views but are interspersed with jolts of adrenaline as you and your paddling companions maneuver the raft through rushing rapids.
Can't choose between a relaxing scenic adventure and a whitewater experience? Sands Whitewater and Scenic River Trips offers quite an array of trip choices for both scenic and whitewater outings, from half-day river runs to an overnight experience tailor-made for the memory books. Be sure to plan your time accordingly — Sands Whitewater and Scenic River Trips routes can be upward of 21 miles long. If time and distance aren't a concern, choose an overnight float trip that allows you to leave your camping gear back at your home base as sleeping bags, camping essentials, and dinner are all provided for less than the cost of a hotel room. The only thing you have to bring is your curiosity and adventurous spirit.
5. Take A Leap Of Faith
In the 2018 Marvel hit Spider-Man: Into the Spider-Verse, Miles Morales, the up-and-coming Spider-Man, struggled to activate his newfound powers. Riddled with fear and the fate of the world at risk, he asked Peter Parker, "When will I know I am ready?" Parker empathetically sighs and says, "You won't. It's a leap of faith. That's all it is, Miles. A leap of faith." The same lesson is true for many of us — you won't know if you can do something until you take the leap.
Fortunately, Jackson Hole provides the perfect opportunity for the bold and daring to take a leap off a mountain and paraglide over town. Fly like an eagle in what some Jackson Hole visitors call one of the most courageous things they've ever done. While you may have let go of your childhood dream of growing up to become the next Spider-Man, you can still take an exhilarating leap of faith by adding paragliding in Jackson Hole to your list of completely unforgettable experiences.
6. Go Horseback Riding Like A Real Cowboy Or Cowgirl
One of the best things about Jackson Hole is its Old West feel and rich equestrian history. Jackson Hole offers a variety of horseback riding options for all ages and skill levels. You can take a two-hour scenic ride or go on a several-day horseback trip. You'll splash through creek beds, climb mountains, or ride to fishing spots. Whatever inspires you to put on your cowboy boots, there's no better way to cover ground than embarking on horseback excursion through the Wyoming backcountry.
7. Ride To Dinner And A Show In A Horse-Drawn Covered Wagon
When one thinks of the best towns for eating, Jackson Hole isn't usually top of mind — and that's a total shame. As you make your way back to the town from your scenic float trip, horseback ride, or hiking through the mountains, you should be sure to make a reservation for the amazing Bar T 5 Covered Wagon Cookout.
Traveling in a horse-drawn covered wagon — which looks similar to the Oregon Trail wagons we were introduced to in grade school — you'll be swept away from the town of Jackson Hole into beautiful Cache Creek Canyon. As soon as you arrive at camp, you'll be greeted by the smell of the delicious aromas of a homestyle dutch oven dinner. When you hear the bell, that means dinner is ready. Make yourself at home and chow down on as much of the cookout's good eats as you want. Dinner doesn't stop until the pots are empty. This unforgettable dining experience is something you can only get when you visit Jackson Hole. Bring your family and your appetite and allow yourself to be swept away by a delicious meal and true Western hospitality.
8. Cap Off Your Jackson Hole Adventure With A Night Of Live Music
While there is absolutely no shortage of outdoor amenities for the entire family, Jackson Hole prides itself on having an active live music scene, too. One noteworthy venue is The Silver Dollar. Located in The Wort Hotel just off the town square, this is a local favorite. You can swing by and listen to the latest bluegrass tunes or cut a rug with some good old-fashioned Western dancing. Why stop there? Make a night of it by burning the midnight oil with a visit to the Million Dollar Cowboy. As one of Jackson Hole's best-known spots for nightlife, you can catch a summer concert series or make a toast to one of the best summer vacations yet from your classic saddle bar stool.
With adventure, food, and live music, we can't think of a better way to spend your summer vacation.
Related Reading: