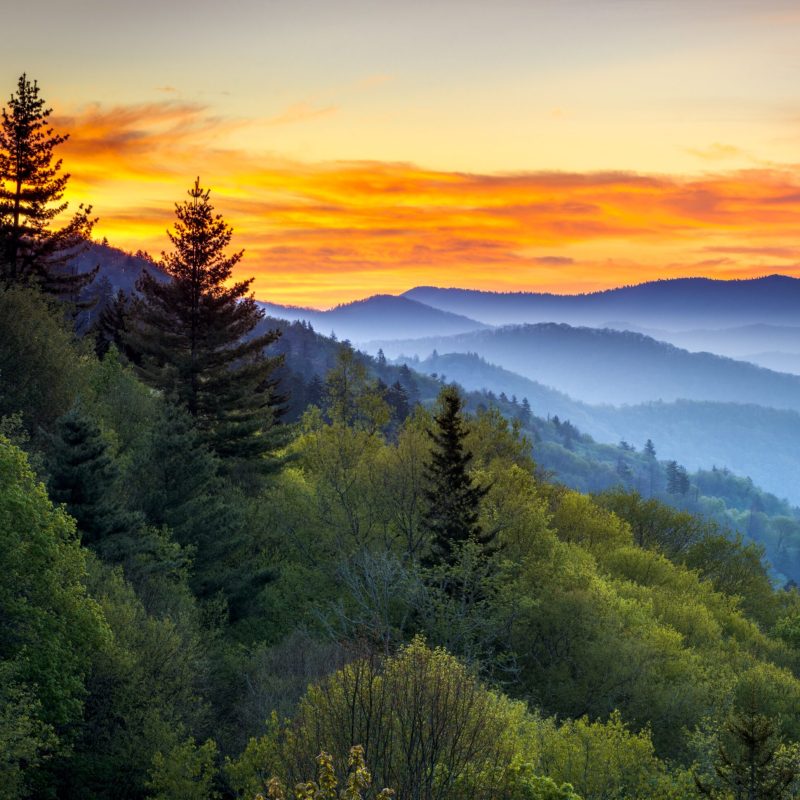 Are you aching to take to the great outdoors and blaze the trails on a mountain adventure? While the U.S. has several wonderful mountain ranges to choose from, one of the best hiking adventures you can ever experience is in the Great Smoky Mountains.
It is an indisputable fact that the Great Smoky Mountains — also known as the Smoky Mountains or the Smokies — is one of the most magnificent and beautiful natural regions in North America.
Rising along the Tennessee-North Carolina border, the Smoky Mountains are home to over 522,427 acres of forest lands, divided almost evenly between North Carolina and Tennessee.
The Smoky Mountains are also among the oldest mountain ranges in the world and are the base for a nationally renowned U.S. treasure: Great Smoky Mountains National Park. With its exceptional beauty and rich forest growth, the Smoky Mountains are home to a diversity of wildlife and over 1,500 flowering plant species. With over 800 miles of hiking trails, it's no wonder why the Smoky Mountains are widely regarded as one of the top hiking destinations in the country.
We've identified the best and most beautiful Smoky Mountain hiking trails for your once-in-a-lifetime hiking experience. We've asked hikers and vacationers to share their thoughts on their favorite trails and why you should hike them, too. The Great Smoky Mountains National Park is open to hikers and campers all year round, so grab your National Parks Senior Pass, stuff your backpack with your best hiking gear, and plan your next vacation to the Smoky Mountains.
1. Alum Cave Trail
Trail Round Trip Length: 4.4 Miles
Trail Location: Newfound Gap Road
Trail Difficulty: Moderate
If you are looking for a once-in-a-lifetime hiking experience, then we recommend starting your Smoky Mountain hiking adventure with the Alum Cave Trail. Only moderately challenging in its trail difficulty, this loop trail is a little over four miles long and grants hikers access to breathtaking views as little as two miles in. One of the scenic wonderments is the Alum Cave itself, which is less of a cave and more beautiful, concave bluff. Standing at about 80 feet in height and over 500 feet wide, you're bound to take in the beauty of ancient forest growth as far as the eye can see. Keep hiking a little further, and you'll reach what hikers call Inspiration Point. At a staggering 4,700 feet high, hikers who make the climb are rewarded with stunning panoramic views of the mountains.
2. Rainbow Falls Trail
Trail Round Trip Length: 5.4 Miles
Trail Location: Roaring Fork Motor Nature Trail
Trail Difficulty: Moderate
There's a saying, The best view comes after the hardest climb. No truer words have been spoken regarding the Rainbow Falls Trail. While this hike takes three to five hours to complete, it is also regarded as one of the most scenic and beautiful trails in the Smoky Mountains. So aptly named, this trail contains one of the most stunning natural rapids in the entire park. Measured at 80 feet, the waterfall is the tallest single-drop waterfall in the park. According to SmokyMountain.com's local expert team, the waterfall drops "dramatically over a jutting cliff face and then [rushes] over rock formations at the cliff's base." Be forewarned, this hike is not for the faint of heart. However, hikers who are up to the task of following forest paths will find themselves rewarded with plenty of sites to take a break and enjoy a picnic at the base of the mountains.
3. Abrams Falls Trail
Trail Round Trip Length: 5.2 Miles
Trail Location: Cades Cove
Trail Difficulty: Moderate
Summon your inner daredevil and prepare to embark on one of the most challenging and yet stunningly beautiful hikes on our list. In 2008, Abrams Falls Trail was ranked among the most dangerous trails in North America. Located in Cades Cove, this notorious hiking trail follows a picturesque creek leading to the 20-foot Abrams Falls waterfall. Hikers will see a large, natural pool surrounded by a beautiful beach. However, hikers and swimmers beware. Those who aren't adequately prepared have experienced altitude sickness and been caught between downed trees. However, if you're proactive and wise about trail safety, you'll find the most impressive geological gems and be greeted by a diversity of forest wildlife along the way. The price of a difficult hike is high, but the rewards are beyond great.
4. Charlies Bunion Trail
Trail Round Trip Length: 8.1 Miles
Trail Location: Newfound Gap
Trail Difficulty: Difficult
A mountain hike isn't truly a mountain hike without jagged, rough terrain and the sound of rocks crunching beneath your feet. No need to venture out toward the Rockies to find such terrain; you just need to hike the Charlies Bunion Trail. With elevations hovering around 6,000 feet along a narrow ledge, hikers are bound to see gorgeous Appalachian Mountain views from both sides of the trail. The trail was named after Charlie Conner, one of the early advocates of the national park, who, when hiking one day, removed his shoe and exposed a bunion on his foot that resembled the surrounding rocks. His friend promised him that he would put his name and his bunion on a government map. Eventually, the trail was named after the man whose bunion survived the rock outcropping of the Smoky Mountains.
5. Fighting Creek Nature Trail
Trail Round Trip Length: 1.2 Miles
Trail Location: Great Smoky Mountain National Park Visitor Center
Trail Difficulty: Easy
With so many hikes to choose from, it can be difficult settling for just one. However, if you're looking for a hike that's fairly easy and accessible for all members of the family, then look no further than Fighting Creek Nature Trail. Perfect for those with children in tow or have limited mobility, this wonderfully scenic trail proceeds along a gentle grade. Hikers will get a chance to see a wild mix of trees — including hickories, butternut, sweet birch, and pine — and evidence of early mountain settlers all leading up to a clearing that's home to one of the park's historical showpieces: the John Ownby Cabin. Hikers are allowed to tour the cabin, admiring its craftsmanship while breathing in the air from the windswept pines.
6. Beacon Heights Asheville Trail
Trail Round Trip Length: 0.8 Miles
Trail Location: Blue Ridge Parkway
Trail Difficulty: Moderate
A journey to the Blue Ridge Parkway offers spectacular views of the southern ridge of the Appalachian Mountains and the Great Smoky Mountains. Closer to North Carolina, these blue-misted mountains are full of scenic beauty such as cascading waterfalls, rolling pastures, and gorges banked with beautiful wildflowers. One trail that's definitely worth a hike for you and your family is the Beacon Heights Asheville Trail.
Erin Clarkson, a travel writer, blogger, and photographer, told TravelAwaits, "My family really enjoys hiking the Beacon Heights Overlook Trail along North Carolina's famous Blue Ridge Parkway. The trail is slightly less than one mile, but it's just steep enough to get your heart pumping! It's well-marked, and there are flat step-like rocks in many areas which make it easier to traverse."
She went on to say, "The trail winds through a fairly heavily wooded area that looks particularly beautiful during the fall season as the leaves are changing colors. At the top of the trail, you'll find multiple flat rocky platform areas with views of the Blue Ridge Mountains that stretch for miles on end! The view is breathtaking! It's easily one of our favorite spots for picnicking while enjoying the fall colors."
Clarkson said, "If you're traveling with someone who finds it difficult to climb, the adjoining Mountains to Sea Trail is flatter and winds through the lower wooded valley area. You'll find parking for both trails near the trailhead, which is directly off the main road."
7. Boogerman Trail In Cataloochee Valley
Trail Round Trip Length: 7.4 Miles
Trail Location: Cove Creek Road
Trail Difficulty: Moderate To Difficult
If you're the type of hiker who prefers fewer people and less disrupted nature, then you're going to fall in love with the Cataloochee Valley. The valley is one of the most remote parts of Great Smoky Mountains National Park, but it's rich in mountain beauty and natural history. The valley is home to many wildlife species including elk, white-tailed deer, and black bears, and boasts plenty of hiking trails, including the Boogerman Trail. If a beautiful forest hike where you will see a diversity of plant life and hear the sound of gushing creeks flowing beneath a canopy of trees speaks to you, then you are going to love this trail.
Joanna Scott, a representative of Visit NC Smokies, told TravelAwaits that the Cataloochee Valley is "the birthplace of a reintroduced elk population, which roams free. With several hiking trails, streams for fishing, and preserved buildings from the early 1900s, there is plenty to explore in Cataloochee Valley. For those interested in a moderate hike, Little Cataloochee Church Hike features cabins, cemeteries, wildflowers, and offers a good chance to see elk in the fields." Don't leave the Smoky Mountain region without visiting this hidden mountain gem.
8. Gregory Bald Trail
Trail Round Trip Length: 11.3 Miles
Trail Location: Cades Cove
Trail Difficulty: Strenuous
Last but certainly not least, Gregory Bald Trail. This trail has been crowned for having stunning views all year-round. It's perhaps most famous for the spectacular flame azaleas that bloom on its summit. It's like a secret garden, and hikers from all over the world come in early summer to stand in awe of one of the finest displays of flame azaleas in the world. Allow your eyes to gaze at an arresting mix of fire red, orange, salmon, yellow, white, and pink azaleas nestled together at the end of the hike. Can't make it in June? Not to fret. With breathtaking views of Cades Cove and Fontana Lake, there's an abundance of scenic wonderment in store, making this trail a wise choice year-round.