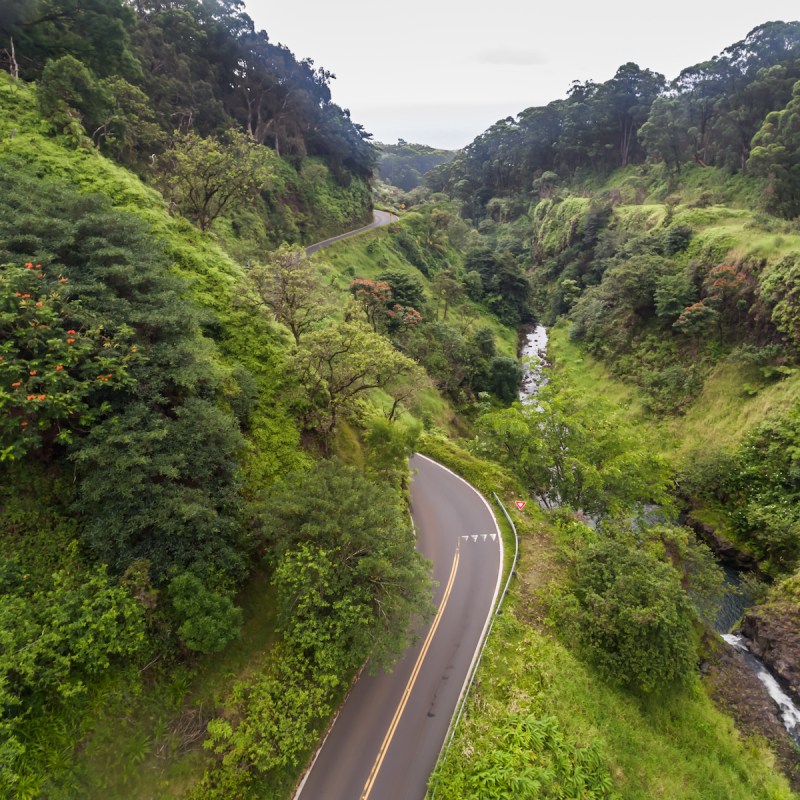 While planning a trip to Maui with my husband, friends encouraged us to drive the Road to Hana. They waxed poetic about all the lovely sights along the way. So of course I planned a day trip to experience this famous Hawaiian drive.
In case you're not familiar with the Road to Hana — also known as the Hana Highway — it's a 64-mile drive on the northeast coast of Maui, starting in the town of Kahului and concluding a few miles past Hana. It's frequently cited as one of the most scenic drives in the United States.
Unfortunately, everyone forgot to mention how stressful the drive could be. Nobody told me about the 600 curves and dozens of one-way bridges. I had no idea we'd be playing a game of chicken with local drivers clearly more comfortable with the road than we were.
By the time we returned safely to our hotel that evening, I swore I'd never take the Road to Hana again! Some time has passed since then, however, and if I had the chance to do it again, I probably would.
But for anyone else traveling to Maui and considering this epic drive, here are some pros and cons to consider.
1. The Scenery Is Incredible
There's really just one reason to take the Road to Hana: the spectacular scenery. A few of the must-see sights include the Garden of Eden Arboretum, the Hana Lava Tube, the Keanae Peninsula, Waianapanapa State Park, Hana Bay Beach Park, Hamoa Beach, Oheo Gulch, and the black sand beaches. And since the road mostly follows the coast, there are endless ocean views. It really is one of the most beautiful road trips I've ever taken.
Most people drive to Hana and back in the same day, so there won't be time to stop at every viewpoint along the way. Instead, do some research and decide what is most important to you. And while there are plenty of food stops along the way, consider packing a picnic lunch to enjoy in one of the many scenic settings.
2. Save Time For Haleakala National Park
The incredible scenery doesn't end at the town of Hana. If you are spending the night here, or can extend your day, head to Haleakala National Park to experience the Pipiwai Trail, Bamboo Forest, Waimoku Falls, and Seven Sacred Pools. (It's important to note that these sights are located in the park's Kipahulu District, separate from the Haleakala Crater portion of the park.)
3. The One-Lane Bridges Are Scary
The Road to Hana includes many one-lane bridges. The only other place I have experienced these types of bridges was in Iceland. However, those were mostly along flat highways. The Road to Hana features one-lane bridges you must approach from curvy and sloped roads, meaning that visibility may be limited.
Needless to say, there were times we crossed those bridges and prayed we would make it across before another car came along. If you are not comfortable in these circumstances, there is another option: You can book a Road to Hana tour. Temptation Tours offers full-day excursions led by an experienced driver and tour guide.
4. It's Perfect For Shutterbugs
Whether you're a professional or amateur photographer, the Road to Hana provides endless opportunities for the perfect picture. From cascading waterfalls amidst lush greenery to dark black lava rock formations, there are many sights that are ideal for practicing your photography skills.
If getting great photos is important to you, give careful consideration to the time of day you travel. Not only is the light important, but you'll want to avoid crowds as well. Either get a really early start, or plan your return trip for later in the day. Just be careful to complete the curviest parts of the road before dark, since there are no lights.
5. You May Experience Motion Sickness
If, like me, you are prone to motion sickness, you'll want to carefully consider making this drive. But 600 curves along winding roads could make almost anyone ill! It's recommended to set aside 10 to 12 hours to fully enjoy the Road to Hana, and that can be a painfully long time to feel lousy.
Despite my tendency to become motion sick, I don't like to miss out on anything when I travel. Therefore, I've discovered a few ways to deal with it. First, I usually feel fine if I'm driving. And while I wasn't crazy about driving such a challenging road, I figured that would be better than feeling sick. Second, I usually travel with Bonine and Sea-Bands. Both are available over the counter at any drugstore and can stave off motion sickness in any vehicle or boat.
6. You'll See The Less Developed Side Of Maui
The developed parts of Maui — the parts filled with large resorts — can feel like any vacation destination. There are plenty of fancy restaurants, swimming pools, ads for spas and tour companies, and the required souvenir shops. But driving to the town of Hana allows visitors to experience the quieter side of the island, with just the occasional market or food stand appearing after miles of tropical beauty. This is where you'll find the real meaning of "aloha," a Polynesian word that originally meant "breath of life."
While I love a fancy resort complete with all the expected amenities, I was also happy to see a different side of Maui — the quieter and more peaceful alternative to the larger and busier towns.
7. It's A Long Day Of Tough Driving
My vision of time in Maui included long days spent drinking Mai Tais on a chaise lounge by the pool. My husband, Jason, imagined days of golf followed by a few Mai Tais. Neither of us thought we'd spend a day gripping the steering wheel of our rental car while navigating turn after turn after turn. We skipped the alcoholic drinks at lunch so we'd be fully sober on our return trip.
Maui is an amazing destination with plenty of sights to see in addition to great pools and adult beverages. So if your time on the island is limited and you're in need of pure relaxation, you may want to skip this drive. But if you have a free day and are feeling adventurous, you should go for it!
8. The Homemade Banana Bread Is Heavenly
There are easier ways to get homemade banana bread than driving the Road to Hana, but there are some seriously delicious options for this delicacy along the way. But don't just stop at banana bread — many of the food stalls sell coffee, fresh coconut and pineapples, taro chips, smoothies, and more.
The family-run Aunty Sandy's is likely the most famous food stall along the Road to Hana and can be found near mile marker 17. In addition to food, you'll find black lava beaches, an old jetty, and a historic church. If you're more in the mood for lunch, Aunty Sandy's also sells hot dogs and kalua pig.
Pick up Aunty Pearl's coconut candy at the famous Halfway To Hana stand to enjoy during your drive or as a souvenir. They also serve shaved ice to cool off on a hot day.
Between mile markers 17 and 18 is the lesser-known Uncle Harry's, a small shack selling kalua pork tacos, fish burgers, smoothies from fruit grown on the property, and banana bread.
9. The Road Gets Crowded, So Go Early
As one of the best-known attractions in Maui, the Road to Hana can become very crowded. In fact, it's estimated that 500,000 people traverse this highway annually — far more than it was originally designed to handle. As the day goes on, there are more cars on the road and more visitors at each of the scenic viewpoints. This can certainly ruin the attempt to experience a quieter and more peaceful side of the island.
The best way to avoid the crowds is to get an early start. While sleeping in late is a time-honored tradition of vacation, the day you choose to drive to Hana should start very early. Locals recommend starting no later than 7:30 a.m.
10. There Are So Many Waterfalls To See
I've always loved waterfalls, so for me, this is among the best reasons to drive to Hana.
Twin Falls can be found at mile marker 2 and is an early stop along the way. Both the Lower and Upper Falls are just a short hike from the side of the road. You'll also find the Twin Falls Farm Stand selling sugarcane juice, coconut candy, and locally grown fruit. The farm stand provides a paid parking lot if you can't find space on the road. You can swim near these falls, but keep in mind that there are many sights ahead, so don't lose track of time.
Farther along the road — at mile marker 19.5 — is Upper Waikani Falls. This three-part waterfall is often called the Three Bear Falls for the Papa Bear-, Mamma Bear-, and Baby Bear-size cascades of water.
Puaa Kaa State Park features a handicap-accessible trail to the waterfall along with restrooms and picnic tables. You'll find this family-friendly stop at mile marker 22.5.
And if you're looking for one of Hawaii's most photographed waterfalls be sure to stop at mile marker 45 to see Wailua Falls.
There are several more waterfalls to see along the way, but if you are doing this drive in one day, be sure to allow time for the return trip before dark.
11. You Just Might End Up Divorced
I'm glad I didn't know that the Road to Hana is nicknamed "Divorce Highway" before our travels to Maui. However, I certainly understand how this came about. My husband often offered advice on driving during our adventure. I soon tired of his admonitions to drive faster or slow down and eventually told him to be quiet. Fortunately, we did not end up divorcing, but I could see how this drive would result in marital spats.
No matter your travel partner along the Road to Hana, it's a good idea to discuss your expectations in advance. Consider sharing the driving so that each person can have time to enjoy the scenery. Frequent stops may give everyone a chance to relax and recover. And again, getting an early start will mean fewer cars on the road, which will reduce tensions for everyone.
On an island full of beautiful scenery, the Road to Hana is among Maui's most gorgeous attractions. But it comes with risks and possibly some stress. So take the time to research the road in advance and be sure you're ready to head out early and drive carefully.