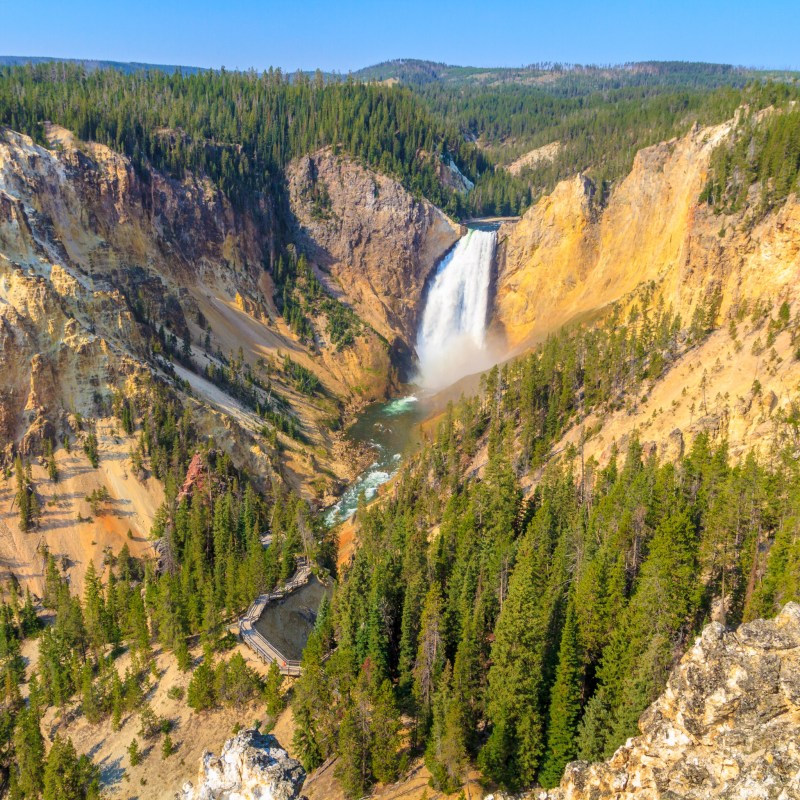 Yellowstone National Park is unlike any other destination in America's national park portfolio. Not only was it the nation's first national park, but the 2.2 million acres of high-altitude wilderness in northwestern Wyoming (but also part of Montana and a sliver of eastern Idaho) sit on top of a supervolcano. As a result, you'll find Yellowstone filled with a variety of fascinating geothermal features, from gushing geysers and scorching hot springs to gaseous mudpots.
But Yellowstone National Park is also home to the largest concentration of mammals in the contiguous United States and is full of postcard-perfect scenery. You'll likely see herds of bison grazing on tall prairie grasses with a snow-capped mountain backdrop. You may be approached by a cautiously optimistic squirrel scouting for scraps as you stop for a handful of trail mix along a hiking trail. And if you're lucky, you'll see a bear plodding along the woods in search of wild berries and a fallen log full of insects.
Because my family lives not too far from Yellowstone National Park, I typically visit this beautiful area at least once a year. After following the scenic Beartooth Highway from Red Lodge, Montana, to the northeast entrance, these are my 11 favorite things to see and do in Yellowstone National Park.
1. Roosevelt Arch
Three decades after President Ulysses S. Grant created the nation's first national park with the stroke of his pen, President Theodore Roosevelt stood on a stone platform in an open meadow near Gardiner, Montana. Surrounded by snow-dusted mountains and a large crowd of admirers, he placed the cornerstone of a partially constructed basalt triumphal arch that would ultimately bear his name and serve as the original entrance to the park. Today, this beautiful stone arch rising 50 feet above the grassy prairie is a can't-miss sight near the north entrance to the park.
2. Old Faithful
When a geyser erupts, it looks as if a giant whale embedded in the earth is spewing a burst of mineral-rich steam from its blowhole without breaking the surface. Home to hundreds of geysers, Yellowstone National Park boasts the majority of the world's unique spouting landforms. And the most famous of all is Old Faithful. The geyser erupts about every 90 minutes, and scientists can accurately predict Old Faithful's next performance within a few minutes.
You can watch Old Faithful and other geysers in the Upper Geyser Basin via this live-stream webcam.
3. Other Great Geysers
If you've already seen Old Faithful shoot boiling water 140 feet into the air (or you're looking to escape the crowds), many other geysers await you at Yellowstone. Elsewhere in the Upper Geyser Basin, I recommend the Castle Geyser and Riverside Geyser.
A short walk northwest from the Old Faithful Basin Store, the Castle Geyser erupts much less frequently than Old Faithful, typically just twice per day. Named for its large cone rising 30 feet above the ground, the Castle Geyser enters a raucous steam phase that can last more than 30 minutes after shooting boiling liquid 70 to 80 feet into the air.
About a mile north of Old Faithful via the Continental Divide Trail, the Riverside Geyser erupts over the Firehole River, making it one of the most scenic geysers in the park.
Pro Tip: Here's when some of the park's most famous geysers are predicted to erupt next so that you can plan your visit accordingly.
4. Grand Prismatic Spring
Stretching 370 feet across the dry surface of the Midway Geyser Basin, the rainbow-rimmed Grand Prismatic Spring plunges to a depth of 160 feet. Although its turquoise water looks as inviting as the clear blue Caribbean, the Grand Prismatic Spring is filled with scalding water. While you can easily view the spring at ground level by following the flat, 0.8-mile boardwalk loop from the parking lot along Grand Loop Road, the aerial perspective from the Grand Prismatic Overlook Trail is even more spectacular.
5. Historic Fort Yellowstone
In response to poachers who illegally killed animals, vandals who defaced the park's natural beauty, and the threat of forest fires, the U.S. Army established an outpost in the Wyoming wilderness in 1886 to manage these threats. Today, visitors can explore Fort Yellowstone via a self-guided tour that includes horse stables, a blacksmith shop, the guardhouse, barracks, and more.
6. Mammoth Hot Springs Terraces
Southwest of Fort Yellowstone, a boardwalk winds through the Mammoth Hot Springs Terraces. Beginning with the Liberty Cap, an extinct hot spring cone, this partially accessible, relatively easy trail takes visitors past a variety of hydrothermal features, including Palette Spring, Angel Terrace, and (of course) Mammoth Hot Springs.
7. Must-See Mudpots
Unlike geysers that spout upward or the pools of boiling liquid in hot springs, mudpots are hydrothermal features that don't feature water. Instead, these fumaroles look like bubbling pools of mud. There are two fantastic places to gaze at the mesmerizing, ever-changing surface of these mudpots at Yellowstone National Park.
About 8 miles south of the Madison Campground, you can view the Fountain Paint Pots from a 0.5-mile boardwalk loop in the Lower Geyser Basin. Look for hues of red, yellow, and brown in the iron-rich pool as the muddy bubbles rise to the surface and pop.
Approximately 30 miles south of the Roosevelt Arch, the Artists Paintpots are part of the 1.1-mile boardwalk loop that features a variety of colorful hydrothermal features, including the Celestine Pool, Red Spouter, fumaroles, and several geysers. The lower part of the Artists Paintpots Trail is wheelchair and stroller accessible.
8. The Wildlife
While you can visit many national parks and see only "everyday" wildlife like squirrels and ducks, Yellowstone National Park is chock-full of animals. From predators to prey, you'll find critters that burrow underground, live in the clear water, roam the land, and fly above it all. Expect a large herd of bison to cause a traffic jam at least once during your visit, especially if you're driving through the Lamar Valley just inside the Cooke City-Silver Gate entrance to the park. And if you're lucky, you'll spot one of the park's fierce predators, like grizzlies, black bears, wolves, or coyotes (from a safe distance, of course)!
As thrilling as it is to see a black bear scavenging along the road or a herd of elk grazing in a field, it's important to remember that Yellowstone National Park is not a petting zoo. All of the animals who live there are wild, so be sure to keep a safe distance, pack a pair of binoculars, and follow these wildlife-viewing safety tips.
9. Grand Canyon Of The Yellowstone River
While the Grand Canyon in Arizona was carved by the Colorado River, the Grand Canyon of the Yellowstone River was formed by a huge volcanic eruption some 640,000 years ago. Starting at the falls just east of Grand Loop Road, take in the Upper and Lower Falls. Cascading more than 300 feet into the Yellowstone River, the Lower Falls is the largest-volume waterfall in the Rocky Mountains. Either by car or on foot, encircle the Grand Canyon of the Yellowstone River by exploring one of the many trails or driving the South and North Rim Drives.
10. Yellowstone Lake And Fishing Bridge
At 20 miles long and 14 miles wide, Yellowstone Lake is the largest high-elevation lake in North America. Its crystal-clear waters are home to schools of Yellowstone cutthroat trout, attracting black bears, grizzlies, mink, and river otters seeking a meal. From perches in the trees surrounding Yellowstone Lake, osprey, bald eagles, and horned owls also hunt trout, making this watering hole a great spot to see wildlife.
At the northern tip of Yellowstone Lake, don't miss the iconic wooden fishing bridge spanning the southern stretch of the Yellowstone River before it drains into the lake.
11. Hiking Trails
From relatively flat boardwalk trails that encircle steamy geysers and bubbling mudpots to steep inclines that deliver bird's-eye views of scenic river valleys, there is a hiking trail for everyone at Yellowstone National Park. You can read more about my favorites in this piece.
While I prefer to hike in Yellowstone National Park between May and September, when the weather is warmer, here are eight reasons you might want to visit Yellowstone in the winter.
Bonus Recommendation: Grizzly And Wolf Discovery Center
Located just outside the west entrance of the park, the Grizzly and Wolf Discovery Center is a nonprofit educational facility giving "nuisance" bears, Yellowstone wolves, and other native animals that can no longer survive in the wild a second lease on life. Additionally, the center is dedicated to teaching visitors how to coexist with these amazing creatures. One of the ways it does that is by putting its ursine residents to work as product testers so that trash-bin and cooler manufacturers can ensure that their offerings are truly bearproof.
Whether you're drawn to America's first national park for its abundant wildlife, breathtaking Rocky Mountain scenery, or both, you'll get to experience the 11 best things to see and do in Yellowstone with these recommendations.