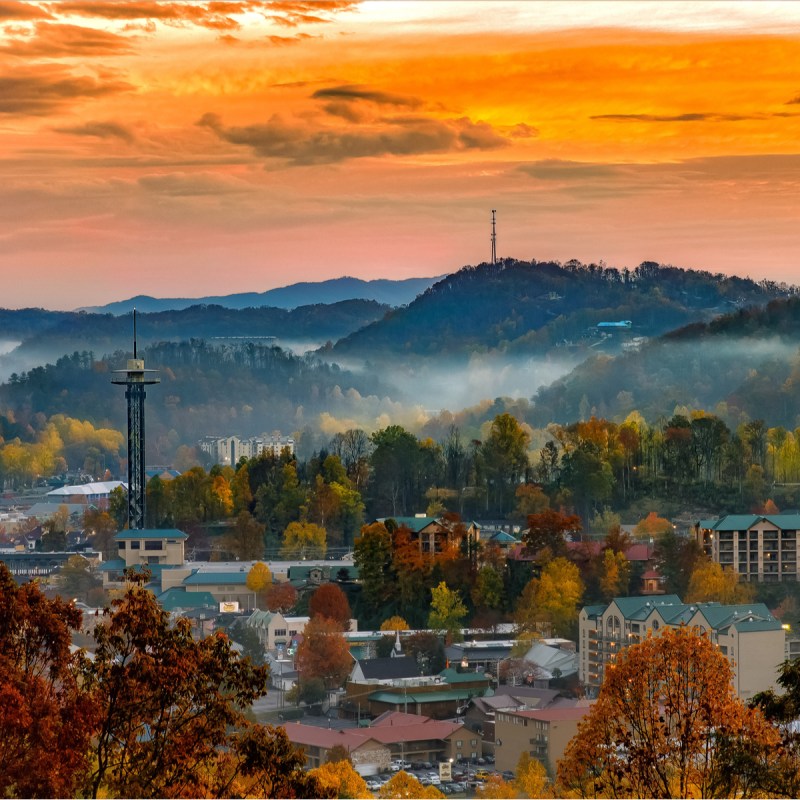 Gatlinburg's plethora of family-friendly attractions and gorgeous Smoky Mountain backdrop makes it a wonderful weekend getaway year-round. Here are eight great things to do in and around this quaint eastern Tennessee mountain town.
1. Dollywood
Dollywood has the best that theme parks and water parks have to offer. There are rides for thrill-seekers, like Drop Line and Lightning Rod, as well as rides for those with younger children, like the Lemon Twist and Busy Bees. It's the perfect way to spend a day in the summer, and the location also offers on-site hotels and other accommodations so you can turn a day visit into a full weekend.
2. Anakeesta
Anakeesta is a Cherokee Indian word that means "the place of the balsams." Today, the word mainly refers to a massive rock layer that encompasses many peaks of the nearby Smoky Mountains. Much of this area has been used to create a magical mountain adventure. Here you can go ziplining, explore a treehouse playground, ride a mountain coaster, go mining for gems, and much more. And you get to do all that while taking in some of the best views Gatlinburg has to offer.
3. Gatlinburg Farmers Market
Stop by the Gatlinburg Farmers Market during your trip to experience the best of the area's locally grown foods. You can also watch live craft-making demonstrations and listen to live mountain music. It's the perfect way to spend the morning. The farmers market is open on Saturdays from 8:30 to noon from May through October.
4. Great Smoky Mountains National Park
The Great Smoky Mountains National Park is Gatlinburg's pride and joy. Almost everything you experience in the city incorporates the mountains in some way or has to work around them. The park straddles the border of Tennessee and North Carolina and covers over 800 square miles between the two states. The scenery is usually enough to bring people in, but if you need to know more, you can also go hiking, fishing, mountain biking, and zip-lining. This is just the top of the list in terms of fun outdoor adventures you can have.
5. Gatlinburg Golf Course
Any fan of golf needs to take at least a few swings on the Gatlinburg Golf Course. It is known to be one of the most picturesque courses in the United States, thanks to the gorgeous views of the surrounding Great Smoky Mountains. It also features a fully-equipped pro shop as well as a food services area. The 18-hole course is open year-round and is likely to give you the most memorable round of golf you've ever had — regardless of your final score. Because the views are that good.
6. Hollywood Star Cars Museum
The Hollywood Star Cars Museum takes visitors through some of the most famous films and television shows of the last 50 years by showing off their best cars. George Barris, who has created more famous cars than anyone, is the creator behind most of the vehicles featured in this museum. Some popular cars in their collection include two Batmobiles (one from the 1966 television show and one from Batman Returns), the Ghostbusters Ecto-1 and the Beverly Hillbillies Jalopy. This is certainly a pitstop you don't want to miss.
7. Ripley's Aquarium Of The Smokies
The Ripley's Aquarium of the Smokies is another perfect family attraction. It is home to over 10,000 exotic sea creatures across 10 different themed galleries. This includes 12-foot sharks, giant sea turtles, every color of fish you can imagine, and even adorably playful penguins. An underwater tunnel allows visitors to feel like they are up close and personal without the worry of actually getting wet. It's an enjoyable experience for those of every age.
Pro Tip: Grab your Smoky Mountains: Flex Pass to visit this aquarium, as well as 30 other top attractions!
8. Fannie Farkle's
Fannie Farkle's is the best place to go in Gatlinburg to find fun games and delicious food at the exact same time. Purchase a game card upon arrival and swipe it on all the best arcade games you've ever seen. And when you need a break, chow down on one of their world-famous Ogle Dogs. This foot-long corn dog is made from a secret recipe that honors one of Gatlinburg's founding fathers. Not having fun is simply not an option as soon as you step through the doors.
The list of places to visit in Gatlinburg could go on and on, but these eight locations are some of the best ones to start with. There's a reason so many people visit Gatlinburg every year. It only makes sense that you go and find out for yourself exactly why that is so!
Related Reading: