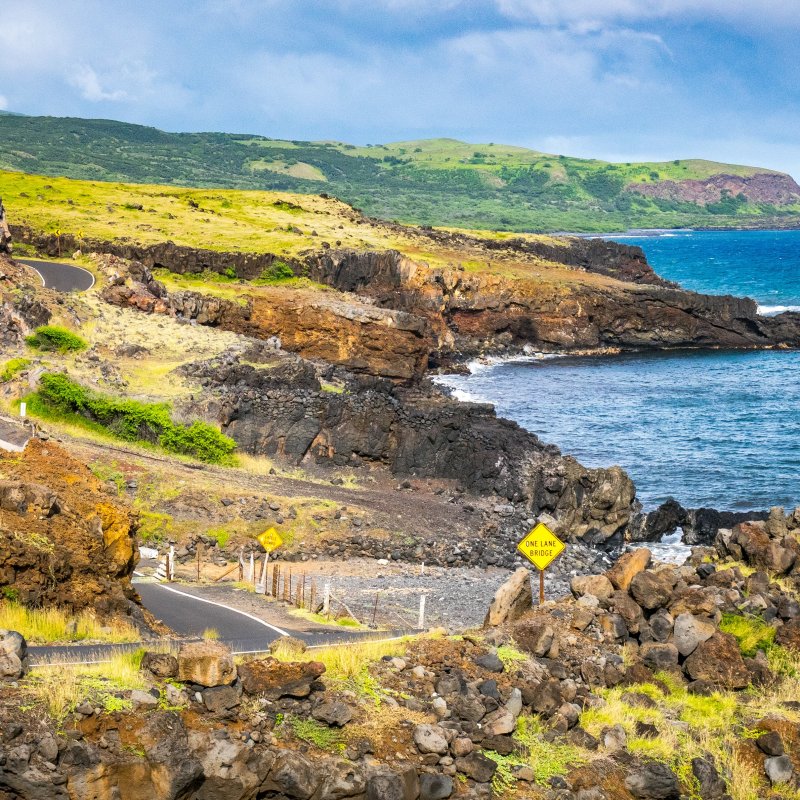 The Road to Hana didn't achieve its standing as the premier drive in Hawaii for nothing.
Venture onto this 64-mile route along Maui's east coast, and the word "paradise" is sure to come up somewhere along the way.
How could it not as you marvel at waterfalls cascading amidst rainforests lush with tropical flowers, glimpse a sapphire ocean bordered by vivid green, and gaze up at bamboo forests towering all around you?
But if you want to experience that paradise on Earth, you'll have to work for it. Driving the Road to Hana is not for the faint of heart.
The Hana Highway Regulation website characterizes the scenic route as a wondrous place where the highway "clings to the side of steep slopes, traverses broad coastal terraces, and spans deep valleys leading to the sea."
Those conditions can make for some white-knuckle driving.
Certainly, there are many mountain roads and forest routes out there that are steeper and narrower. But considering the triple threat of hundreds of curves, dozens of one-way sections, and seemingly never-ending traffic, you will realize that the Road to Hana presents its own set of driving challenges.
As a driver well versed in mountain conditions, I was confident as I set out on the Road to Hana. Switchbacks don't worry me, I thought.
It didn't take me long to realize, however, that this was a unique driving experience. Craning my neck to look for oncoming traffic at the umpteenth one-way bridge, I knew I had underestimated the Road to Hana.
It turned out to be an amazing experience nonetheless, but there were a few things I wish I'd known before setting out. Here are eight things to know before you set out on the Road to Hana.
1. Gas Up Before You Go
It probably goes without saying, but you don't want to run out of gas on the Road to Hana.
Since there are no service stations along most of the route, you will need to fill your tank when you have the chance.
For me, that was in Paia, the delightful old sugar-plantation town that is located near the western end of the Road to Hana.
Don't make the mistake of looking for lower gas prices along the way, because there won't be any. Bite the bullet and get in line at the Shell station at 68 Hana Highway. The peace of mind will be worth it.
2. Expect Many Curves (620 If You're Counting)
While the Road to Hana technically begins in Kahului, home to Maui's major airport, the curves and one-way bridges start about a dozen miles in.
And then they begin in earnest. I'll trust the online sources that say there are 620 curves (I didn't count them). But it certainly did seem like hundreds. The road meanders continually as it passes through the deep valleys and along the steep slopes.
Still, if you pay attention and maintain a moderate speed, the curves are not difficult to navigate.
3. Beware Of The Narrow Bridges
What really slows down the traffic on the Road to Hana are the bridges, many of which are just one lane.
The Maui Visitors Bureau reports that the road has 59 bridges in all. Many of those have signs on both ends that caution drivers to yield to oncoming traffic. That often results in drivers from both directions stopping and waiting for a time before determining who has the right-of-way.
Exacerbating the situation is the construction that is ongoing at a number of the bridges. The Hana Highway Regulation website states that the road is prone to landslides and therefore undergoing continual repairs.
My best advice: When you're not sure, yield. In situations where both directions of traffic stop, a friendly wave can do wonders to keep the traffic moving.
4. Parking Won't Be Easy
Accept that you will want to stop in places where there is no parking available. While that is typical of many scenic routes, it seems especially true of the Road to Hana.
The overlooks are few and far between, so the available parking spaces are often taken when you pass by.
Although some people choose to park alongside the road at popular spots, that only serves to slow down the traffic for others on the road.
One thing to remember as you head toward Hana is that you will be returning the same way. If you simply cannot find a place to park on your way in, make a mental note of the places you want to stop on the way back. In a couple of cases, I was able to find a parking space on my return trip.
A spot that seemed to have adequate parking was the Twin Falls site. Located about 15 to 20 minutes east of Paia, Twin Falls offers a farm stand for refreshments and a short but somewhat rough path down to the falls.
And once you get to Hana, there will be many places to stop to take in the views of the lovely town, including the Hana Bay Beach Park with its black sand beach.
5. The Views Are Distracting
Speaking of those views — they will make you want to swivel your head from side to side as you are driving. But don't!
If you're making the trip solo, as I did, you'll just have to wait until you can find a place to park before taking in the scenery. And if you're traveling with another licensed driver, it would be a good idea to share the driving so that everyone can have a turn to take in those amazing views of ocean cliffs and tropical foliage.
There are many recommended places to stop, so let the views and the parking accessibility be your guide on where to pull over. One spot that offers especially lovely views of the ocean is the Wailua Valley State Wayside, with the verdant Keanae Valley spread out below.
6. The Garden Of Eden Is Worth Your Time
At about the halfway mark is the Garden of Eden Arboretum, the perfect spot to stretch your legs and take a leisurely look at the scenery.
The Garden of Eden's website describes the attraction as "26 acres of trails alive with brilliant colors, unique flowers, rare trees, and the sweet aroma of tropical blossoms in a uniquely natural island setting."
The garden lives up to the hype, complete with its own bamboo forest, a flock of peacocks, and countless flowering tropical trees.
The privately owned attraction is located at mile marker 10.5 on the Road to Hana. It's worth the admission fee!
7. Hana Farms Sells Delicious Banana Bread
The opportunities to taste Maui's signature sweet treat, banana bread, are plentiful along the Road to Hana, and you could conceivably try a dozen or so varieties as you travel the route.
For stellar bread and a wide range of other Maui products, wait until you reach the outskirts of Hana and stop at the pretty Hana Farms, where you'll find delicious varieties such as Macadamia nut banana bread and chocolate chip banana bread.
The farm sells a variety of tropical fruits and exotic spices and makes its baked products with locally sourced ingredients. Maui coffees and teas are available along with fresh-caught fish and house-made barbecue.
8. It's Important To Be Considerate Of Local Drivers
Finally, remember that the Road to Hana is not exclusively a tourist route. It is also used daily by the people who live in the communities along the way.
A road sign reminds drivers: "Aloha. Please allow locals behind you to pass." The Maui Visitors Bureau urges visitors to "exercise caution and take your time but also to pull over and let local traffic get around you."
The center also suggests that visitors become familiar with the Road to Hana Code of Conduct before embarking on the drive. One of the 29 rules: "A build-up of traffic behind you indicates there is traffic that can maneuver the road more efficiently."
So, as you drive the gorgeous route, remember that while you might be on your way to take in a waterfall or a beach, your fellow driver might be on their way to work or school.
Planning a trip to Maui? Spend some time on luxurious Wailea Beach or in gorgeous Haleakala National Park, and don't miss these hidden gems.