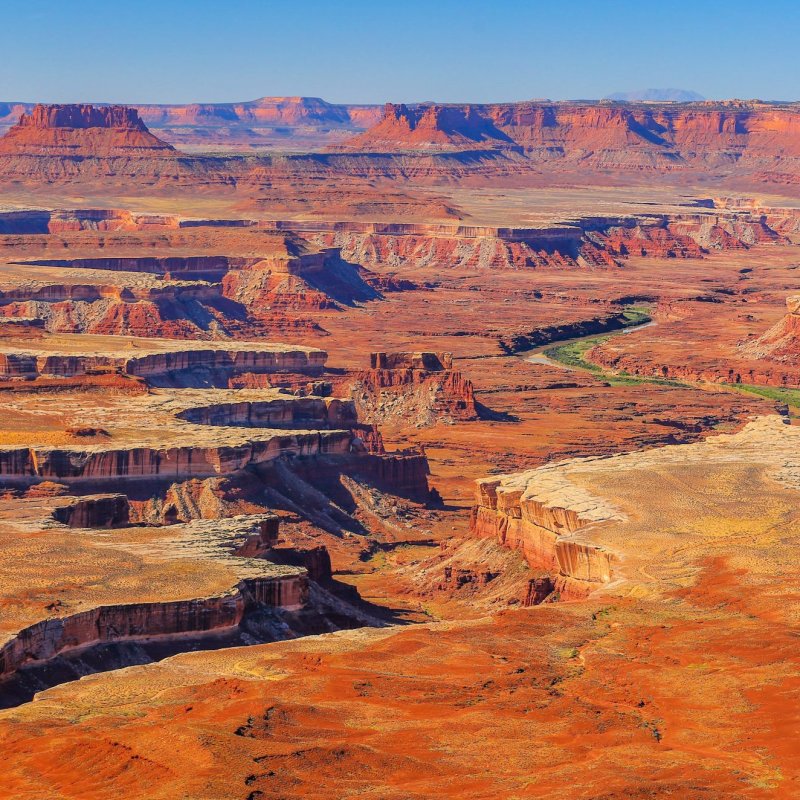 Canyonlands is one of the big five national parks in Utah. Encompassing 527 square miles of canyons, arches, buttes, rivers, and mesas, Utah's largest national park is a colorful landscape.
The Colorado and Green rivers have carved the park into four distinct districts: the Maze, Island in the Sky, the Needles, and the rivers. All have a primitive desert atmosphere, but each offers different opportunities for your viewing and exploring pleasure.
Canyonlands is just 30 minutes (26 miles) away from Arches National Park. Many visitors spend time in Arches and forget Canyonlands is hiding in the shadows. Even though it is near Arches, it is very different, and you shouldn't miss it. It offers hiking, stargazing, camping, water activities, and technical rock climbing as well as beautiful vistas for viewing and photography.
Here, we answer 11 important questions so you have key information for planning your visit.
1. Where Is The Best Sightseeing In Canyonlands National Park?
As mentioned above, the rivers divide the park into three districts plus the rivers. Each of the districts has different types of landmarks and scenery.
Island In The Sky
Island in the Sky is the most visited and accessible district, offering expansive views from many overlooks along the paved scenic drive. You can park and view a variety of scenic wonders from the vista points without hiking.
The most popular site in the park is Mesa Arch. It is a spectacular stone arch perched at the edge of a cliff with vast views of canyons, rock spires, and the La Sal Mountains in the background. It is a relatively easy half-mile hiking trail. Early morning and late in the day are the best times for photos. It is one of the busiest spots and can become crowded.
There are several hikes of varying lengths available for those who desire more exercise.
For the adventurous 50+ traveler wanting more excitement, there is a moderate four-wheel-drive route called the White Rim Road for your enjoyment (note that it requires a permit).
Island in the Sky is one of the places we visited when we were at Canyonlands National Park. We spent the better part of a day in just this section viewing the different landscapes.
The Needles
The Needles offers more of a backcountry experience, requiring some hiking or four-wheel driving to see the area's attractions. Those with physical limitations that make walking or hiking a challenge should probably not attempt to visit this area.
The Maze
The Maze is a remote district requiring considerably more time and self-reliance to visit. You need to be in excellent physical condition to attempt hiking in this area. It can easily take three days to see it all, plus hours to get there. So be prepared if you decide to visit the Maze.
The Rivers
There are a variety of ways to enjoy Canyonlands National Park via its rivers.
Flat water trips on the Green or Colorado rivers are popular. Whitewater trips in Cataract Canyon that include Class V rapids are also available and provide a unique way to experience the park that usually involves two or more days of boating.
There are also kayak, canoe, paddleboard, and tubing options available.
When we visited, we chose a jet boat tour to see more of the park in less time. The tour was three hours in length, and we zipped through the 2,200-foot canyon walls on the calm part of the river to see a fossilized sea bed, beautiful views of arches, and Native American petroglyphs, among other things.
2. What Are The Other Must-See Areas?
Horseshoe Canyon Unit
Northwest of The Maze, Horseshoe Canyon is a day-use area with stunning Native American rock art panels. During our boat tour, we visited this area as well. It was my favorite. You will find impressive rock art on the walls. We were able to see this area both during daylight and at night.
Dead Horse Point State Park
Nearby Dead Horse Point State Park showcases 2,000-foot vertical cliffs carved by ice, water, and wind that have created a visual masterpiece. Just over 30 miles from Moab, it is one of the most photographed places in the world.
Dead Horse Point's famous cliff was highlighted in the movies Thelma and Louise, Mission Impossible II, and The Lone Ranger.
3. Is Hiking Available In Canyonlands National Park?
Hiking and backpacking in Canyonlands National Park is a dream come true for day hikers and thru-hikers alike. The Needles district alone provides over 70 miles of hiking paths.
The awe-inspiring Mesa Arch in the Island in the Sky district is an easy hike for most. It is a great family hike at just a half-mile in length. It is often crowded during busy times, but other hikes in the district are usually uncrowded.
Each region of the park offers secluded backpacking that will provide incredible views. Be on the lookout for black bears if you are in secluded areas. Be sure to double-check and learn about the required permits before you head out, and read up on tips for safely viewing wildlife in national parks, too.
4. Should I Take A Guided Tour Of Canyonlands National Park?
Due to the size of the park, most tours focus on one district of the park. With over 337,598 acres of land in the park, it is hard to know what to visit and what is worth the limited time you might have. Booking a local guide to visit must-see destinations and learn about the park's history might be a great option.
You can find a variety of guides available via Google search. I found a boat tour with a guide (more info below) that was an excellent option.
5. Is Boating Permitted In Canyonlands National Park?
The Colorado and Green rivers with their currents and tributaries have carved out and shaped the landscape of Canyonlands. What better way to see the park than from the river, looking up at the towering walls of the canyons? Seeing it by boat or watercraft gives you a unique perspective. Within Canyonlands, the rivers offer miles of calm, flat water perfect for canoes, kayaks, and paddleboards. Below where the rivers meet, the combined flow of both rivers spills down Cataract Canyon, creating class III to V whitewater rapids for 14 miles.
Unfortunately, there are no areas within the park to launch boats. All launch ramps are outside the park boundaries.
All private river trips require a permit. Day-use permits are available up to 24 hours in advance.
There are a variety of tours available that take the stress out of seeing Canyonlands by boat. We used Canyonlands by Day and Night for both our daytime jet boat tour and an evening Sound and Light Show jet boat tours.
6. When Is The Best Time To Visit Canyonlands National Park?
All seasons showcase the natural beauty of Canyonlands. Spring and fall are ideal with the daytime temps ranging from 60 to 83 degrees. It is significantly warmer in the summer, with many 100+ degree temps and late afternoon thunderstorms. Winter is beautiful, but temperatures do dip below freezing.
Even though it is hot, crowds are plentiful in summer when school is out of session.
7. How Much Time Do You Need To Visit Canyonlands?
It is impossible to see it all in just a day or two. To see the entire park, you should plan four or five days within Canyonlands and will wind up driving approximately 100 miles each day. Though they appear close on a map, there are no roads that directly link the districts to each other. Traveling from one district to another requires two to six hours by car as there are few places to cross the rivers.
If you have a week, I suggest staying in Moab and dividing your time between Arches National Park and Canyonlands. While there, squeeze in a visit to Dead Horse Point State Park as well. If time is limited, I suggest taking a boat tour or selecting one specific area of the park to visit.
When we visited, we spent a day doing the boat tour. We did two tours, one in daylight and one at night. They provide a light show on the evening tour. The second day, we drove through the Island in the Sky area.
8. What Is The Weather Like At Canyonlands National Park?
Bitterly cold winters and sizzling hot summers are the norm in Canyonlands with elevations ranging from 3,700 to 7,200 feet above sea level. Temperatures may fluctuate 40 degrees in a single day. Rainfall is less than 10 inches per year.
9. Can I Stay In Canyonlands National Park?
There are two camping sites within the park, Squaw Flat and Willow Flat, plus numerous backcountry campsites (permits are required). You won't find any hotels or cabins.
If you are not a camper, I recommend staying in Moab. They have hotels and many Airbnbs.
Both times we were in Moab, we stayed at Airbnbs in the same complex. It was beautifully decorated, centrally located, and had all the comforts of home, plus a few more, like a hot tub on the patio and a community pool a few steps away.
10. Is Dining Available In Canyonlands National Park?
There are no dining facilities in Canyonlands National Park, so plan to take a picnic lunch and snacks with you when spending the day. If camping, be sure you have sufficient food for your stay. Nothing is sold within the park.
There are many restaurants in the Moab area, but they are a half hour away from the park.
11. What Is The Entry Fee?
You can also use a National Parks Pass at Canyonlands or will have to pay a per-person, motorcycle, or private vehicle fee. Up-to-date entrance fees can be found here.
Travel Tips
Beat the heat by planning ahead and visiting in the morning and evening during the peak of summer.
Sunscreen: Whether hiking or just driving around the park, the sun's rays will be intense at Canyonland's elevation, and you need sunscreen. See our best sunscreen of 2020 review here.
Take snacks or picnic lunch — remember there is no food in the park.
Bring plenty of water. You will need it, and none is sold in the park. You can never have too much water when visiting the desert.
Sturdy shoes are a must for hiking.
Depending on your activity, permits may be needed, so be sure to double-check before departing on your adventure.
Do yourself a favor and don't hurry through the park. Let nature speak to you as you visit and enjoy the beautiful masterpiece nature has painted in the desert.