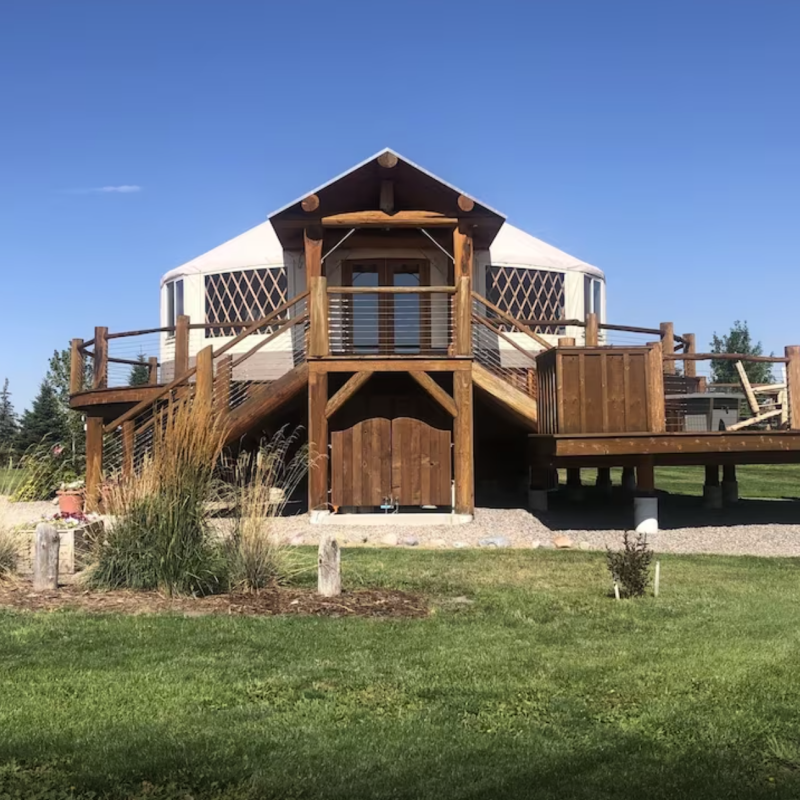 When the allure of nature meets the yearning for comfort and luxury, glamping offers the ultimate solution. Glamping has become a go-to for modern explorers who seek the perfect blend of outdoor immersion and upscale accommodations. If you're eager to reconnect with the wilderness while enjoying modern amenities, Vrbo offers a great variety of glamping getaways in destinations such as California, Florida, Georgia, Maine, Michigan, Montana, Texas, and Utah. From serene forests and majestic mountains to coastal retreats, discover a range of yurts, stand-alone camping pods, and permanent tents that provide a captivating escape into the heart of nature.
California: Diverse Golden State Landscapes
California's expansive coastline, rugged mountains, lush forests, and vibrant cities offer an unparalleled backdrop for indulging in the perfect blend of nature and comfort. From the iconic beaches of SoCal to the towering redwoods of Yosemite, glamping in California invites you to immerse yourself in breathtaking beauty while enjoying modern amenities that redefine the camping experience. Whether you seek the serenity of the desert, the enchantment of wine country, or the thrill of coastal cliffs, California's glamping destinations promise an unforgettable journey that marries the essence of outdoor exploration with the extravagance of a lavish escape.
Great for get-togethers, this one-of-a-kind glamping opportunity is merely 1.5 miles from Newport Beach and 2.5 miles from the stunning shores of Huntington Beach. This exceptional rental boasts two new yurt-style six-person tents, each equipped with up to 12 cozy camping cots, ambient lighting, and a heater. A full kitchen and private bathroom with shower and dressing area upgrade this tent situation from camping to glamping.
The spacious yard allows for group-friendly activities such as axe throwing, climbing wall, cornhole, ping pong, and more. With abundant space for additional tents and guests, this retreat promises ample room for everyone. Local eateries and bars are just a short Uber ride away!
Dreaming of Costa Mesa – your dream vacation awaits you
Top guest reviews
Todd is a great accommodating guy! Very helpful and the place is nice to gather with friends! I would come back again!
I rented this listing for my daughters birthday party and it was absolutely perfect! Todd was so accommodating and friendly. He met us there and helped us get set up. He even left phone chargers for us because my phone was dead when we got there. The rock climbing wall was awesome, there was propane for the bbq and wood for the fire bit. It had everything you need to have fun. It was clean and well stocked. We slept comfortably in the huge "glamping tents". Everything exceeding our expectations! We will definitely be staying here again!
Really fun, a lot of fun activities!
This was my first time on VRBO and this was one of the first places that popped up while I was looking to host my baby shower costume party! Host was great, the place was amazing, my guests had a great time and all asked how they can book this place for their own parties in the future !
The great thing about the place was they had a grill which we used, and a lot of other things to use. The only bad thing is we went when the weather was extremely humid so the restroom was really hot and humid as well. Other than that it was a good place to stay in a good location. Check in right at the time it says.
Read Less ∧
Read More ∨
Florida: Coastal Charms And Glittering Waters
Florida's diverse landscape offers glampers an enticing mix of beachfront beauty and lush nature escapes. Set up camp in charming camper vans steps away from pristine sandy beaches, or opt for a cozy tent nestled amidst lush palm trees. Whether you're exploring the Florida Keys or relaxing along the Gulf Coast, Vrbo's glamping options will have you experiencing the Sunshine State in style.
Escape the hustle and bustle and embrace the tranquility of 10 picturesque acres in the countryside near Lake Manatee State Park. Just a short drive from both Sarasota and Lakewood Ranch, this spacious 37-foot triple-slide RV offers the perfect blend of country living and convenient access. For beach lovers, the renowned Siesta Key Beach is within easy reach. Motorsport enthusiasts will delight in our proximity to Bradenton Motorsports Park, while nearby attractions like Hunsader Farms and Fiorelli Winery promise engaging experiences.
Immerse yourself in nature as you embark on leisurely walks, encountering horses, cows, and chickens along the way. Unwind by the fire pit or barbecue under captivating sunsets and starry skies, all while relishing the serene ambiance and sipping wine. Take in the scenic country views from your private patio, complete with an outdoor kitchen, fire pit, and inviting patio furniture. Indulge in the ultimate peace and quiet that this idyllic getaway promises.
Dreaming of Bradenton – your dream vacation awaits you
Top guest reviews
Our rental was exactly as described in the app. We enjoyed the quiet, private and relaxing location. The property managers were very quick to respond to the few questions we needed to ask. Picture perfect spot to enjoy sitting in the patio area. Great getaway with restaurants and stores within six mikes of property. We would definitely book again!
Georgia: The Great Outdoors With A Side Of Southern Charm
Speaking of diverse landscapes, Georgia welcomes travelers to experience glamping in a setting that seamlessly blends the comforts of modern living with the allure of the great outdoors. From the historic streets of Savannah to the misty mountains of the North Georgia region, this state offers a tapestry of experiences that cater to both the adventurous spirit and the desire for relaxation. With options ranging from luxurious safari tents nestled among vineyards to cozy cabins hidden in the heart of verdant forests, glamping in Georgia presents an opportunity to savor the beauty of nature without sacrificing indulgence. Whether you're seeking a peaceful retreat or an active adventure, Georgia's glamping offerings promise an extraordinary escape that captures the essence of Southern hospitality and natural wonder.
Elevate your camping experience with a touch of extravagance at this secluded yurt nestled amidst 80 acres of lush nature and its very own serene lake. Embrace the allure of glamping as you enjoy modern comforts combined with the raw beauty of the outdoors. The spacious and exquisitely designed yurt offers everything you need for a retreat in the wild: from air conditioning and a full hot water bathroom to a fully equipped kitchenette and cozy sleeping arrangements. String lights and stars light up the night sky as you relax on the deck.
Indulge in a fishing expedition from the private dock, complete with a canoe and fishing rods provided. Immerse yourself in the picturesque scenery, surrounded by lush greenery and the calming waters of the lake. Whether you're canoeing, hiking, or simply relaxing, this glamping yurt promises a unique and memorable experience, creating lasting memories amidst the true beauty of nature.
Dreaming of MONTAGNOLE – your dream vacation awaits you
Maine: Wild And Wonderful Escape To Nature
No glamping list would be complete without a glance at glamping in New England. A geographical masterpiece, Maine fuses ancient forests with majestic alpine peaks, offering a mesmerizing blend of natural wonders against the backdrop of the ever-present salty ocean breeze. Charming coastal towns such as Kennebunkport and Bar Harbor offer succulent seafood, iconic lighthouses, pristine beaches, maritime heritage, resort town vibes, and family-friendly piers.
One of Maine's main glamping escapes is the enchanting realm of color-shifting autumnal woodlands and dramatic boulder-strewn cliffs that is Acadia National Park. No matter which glamping getaway you choose, Maine's captivating tapestry of land and sea unveils the splendors of both wilderness and coastal charm.
Immerse yourself in a one-of-a-kind glamping experience with Acadia Yurts on Mount Desert Island, offering a blend of nature and home-like comfort. Set amidst 5 acres of serene wooded land, these seven eco-friendly yurts and two tiny houses provide a unique retreat surrounded by Acadia National Park.
Accommodating groups of various sizes, the yurts sleep up to four guests (up to six for the larger yurt) and the tiny houses cater to couples. Ideal for both small and large groups, Acadia Yurts can host up to 34 guests on a single site.
Apart from the distinctive accommodations, the on-site Wellness Center offers extra amenities including yoga, an infrared sauna, and a flotation tank, available for an additional charge. The yurts, inspired by the circular fabric structures of nomadic tribes, combine the charm of camping with modern convenience, featuring insulation and climate control for year-round comfort. Whether exploring Acadia National Park or seeking a memorable vacation experience, Acadia Yurts promises a unique stay that captures the essence of nature and luxury.
Dreaming of Southwest Harbor – your dream vacation awaits you
Top guest reviews
Our stay in Flying Mountain Yurt was a magical experience. The location on the quiet side of Mount Desert Island lived up to it's name, especially compared to the more hectic places in Bar Harbor. It was easy to get anywhere on the Island within 30 minutes of driving including multiple hiking trails, marinas and beaches. Restaurants in Southwest harbor were fantastic. The yurt looks just like the pictures and my husband and I were grateful for the fully functioning bathroom and kitchen with running water. The bed was comfortable, complete with down pillows and comforter. The dehumidifier and heat pump were a welcome luxury. We loved hearing the rain on the dome and canvas roof. Highly recommend this place to stay!
Since we first pulled up we were pleased. It only got better. the entire place had a feel good vibe to it and it definitely added to the charm of the Yurt. We will be back to enjoy more time in Southwest Harbor, Bar Harbor, and Acadia. Thank you for adding to the great time we had in Maine.
We loved our stay at Acadia Yurts! The yurt was so cozy and comfortable. Karen and Aaron included everything you could need while here and are very responsive if you have any questions. Great location in the woods for privacy but not too far from any hike. We loved being able to bring our Golden with us too!
We had an absolutely amazing stay at Acadia Yurts! The property and the owners are wonderful. The grounds are quiet, accommodating, and just overall rejuvenating. The yurt itself was clean, well-stocked, and felt like we were home. Proximity to the park and Bar Harbor was perfect. We cannot wait to come back.
Had a great stay at Acadia Yurts. The location is perfect, the yurt is clean and the owners are super nice. Loved the wellness center and happy I was able to take part in the offered yoga class with Kristen (awesome teacher!) and try out the infrared sauna. Happy to have this experience. 🙂
Read Less ∧
Read More ∨
Nestled just moments away from the stunning Acadia National Park, the Acadia Wilderness Lodge presents a one-of-a-kind glamping retreat that seamlessly merges outdoor adventure with spa-like luxuries. Discover the charm of unique yurt accommodations within the Acadia Wilderness Yurt Village, each enveloping you in the essence of village life inspired by indigenous cultures worldwide. With numerous yurts available, this stylish and family-friendly destination ensures a memorable escape for all.
Dreaming of Tremont – your dream vacation awaits you
Top guest reviews
loved everything about this vacation spot. thoughtful hosts, beautiful yurts, crazy clean. they thought of everything, honestly. such a wonderful trip. A++ they know how to spoil people
For our girls trip, we decided to stay in a yurt at the Acadia Wilderness Lodge and it did not disappoint!! The property and amenities were exactly as listed, and the pictures don't do it justice-it really is such a fun, comfortable, and unique experience! The yurt was very clean and came with everything we needed, and we really enjoyed having our own outdoor space to relax in as well. The location was perfect for the time we wanted to spend at Acadia National Park, and the drive to and from Bar Harbor was beautiful. We would definitely recommend staying here, and would love to come back someday!
We had a wonderful time staying at Acadia Wilderness Lodge. The yurt was furnished with everything we could have possibly needed. My husband and I enjoyed the spacious rooms and our kids loved the loft. The yard games kept us entertained. When it got cold outside our yurt was nice and toasty. Overall we had a wonderful stay and would go back.
Me and my family of three small children and my husband stayed here for our summer vacation! It was the perfect way to start the summer. It was close enough to Bar Harbor and all of the fun but nice to be a little set away! We are at Thurstons almost every night because it was SO good! The property is very clean and nice. The kids had the best time playing and enjoying. Their favorite part was checking on the chickens and eggs every morning. We are so appreciative for the helpful wonderful hosts. 🙂
It was nice to visit Bar Hsrbor but not stay there. We prefer this quieter place to rest at night. There are also a couple of fabulous restaurants over here also.
Read Less ∧
Read More ∨
Michigan: Great Lakes And Great Adventures
Michigan's glamping opportunities range from beachside yurts serenaded by lapping waves to rustic camping pods nestled amidst towering pine trees. Explore Michigan's stunning natural landscapes beyond the peak summer season. The fall foliage in the Upper Peninsula transforms the landscape into a breathtaking palette of ochre, orange, and yellow. Even winter offers heated glamping options, inviting you to explore snow-covered fields and ski runs. As the popularity of glamping in Michigan continues to rise, securing your quirky tent or yurt stay in advance is a smart move, especially for prime destinations near the coveted Great Lakes beaches.
Glamp against the captivating backdrop of northern Michigan's splendor. Outdoor activities such as fishing, kayaking, canoeing, snowmobiling, and snowshoeing are right at your doorstep. Let the North Branch of the Manistee River lull you to sleep in this serene haven.
The sought-after stargazer Stout tent features cozy bedding and essential amenities, from cookware to fresh sheets. Cook over the campfire, relax in the hammocks, and rent a kayak. Wondering where the bathroom and kitchen are? Don't worry — there are shared facilities! Limited cell reception gives guests the opportunity to unplug completely. Prepare for a glamping journey that transcends expectations and uncovers the heart of the True North's majesty.
Dreaming of Fife Lake – your dream vacation awaits you
Top guest reviews
Beautiful little area that is very isolated and has plenty of room to relax and unplug. Very friendly and professional hosts, tons of amenities (really don't need to bring anything but your clothes is you don't mind driving for food).
This bit of bliss was wonderful! All the peace and quiet being in nature along with the thoughtful amenities was what my sister and I enjoyed on our annual sisters' getaway weekend. Cooking a meal outside to having coffee in the cabin in the morning to kayaking the Manistee river to sitting at the bonfire while catching up was tucked away in our memories. Glamping in the yurt tent was such fun. Aimee and Chad are wonderful hosts and they surely have thought of many things to make your stay a truly northern experience.
Absolutely Amazing. I wish the twinkle lights at the tent would have come on but they never did.
We had a super long weekend in the Rippling Bluff Stargazer! Chad and Aimee are wonderful, generous and knowledgeable hosts who've thought of every detail. Our campsite was just beautiful—we loved the chiminea fireplace, hammocks and close—but not too close—proximity to the kitchenette/bathhouse (which is great—outdoor shower is a must!). The tent itself is exactly as pictured, clean and very comfortable. Hope we stay again in the future!! Thanks Chad & Aimee—great to meet you!
Chad and Aimee have created a beautiful getaway in the woods. Everything you have read in the reviews is spot on! Everything you could possibly need to enjoy the space is available, and all you need are clothes and food. The peaceful sounds of the river as you relax in the hammock is so soothing. The bathhouse is immaculate and the yurt is gorgeous. I'm glad to have booked with you.
Read Less ∧
Read More ∨
Montana: Wilderness Wonders
For those in search of an authentic wilderness experience, Montana offers glamping adventures that stand apart from the rest. Set against the breathtaking backdrop of majestic Glacier National Park and the geothermal wonders of Yellowstone, you can choose to stay in well-equipped campers near pristine lakes or opt for rustic yurts with awe-inspiring mountain vistas. With Vrbo's selection of glamping options, you can fully immerse yourself in Montana's rugged beauty while still enjoying modern conveniences.
Glamping is a cost-effective alternative to traditional lodges, ranches, and chalets. Maximize your savings with the following booking tips. Be prepared for the summertime rush, as Montana truly comes alive from May to August, when glacial peaks, alpine lakes, and wildflower meadows paint the landscape. To secure the best deals for witnessing the state's vibrant bloom, early reservations are key. As a realm of immense wilderness spanning the northern Rockies and Canada's snowy reaches, with alpine streams, riverways, and the iconic geysers of Yellowstone, Montana beckons intrepid travelers. Offering a range of captivating accommodations, glamping here ensures a personal connection to the backcountry and unforgettable stays that vary in style and size.
Discover an exceptional Yellowstone experience like no other. Nestled on a private ranch in Paradise Valley, this 29′ Fifth Wheel Keystone Cougar RV offers a unique escape, just 10 miles from Gardiner, the North Gate to Yellowstone. Avoid the tourist crowds while enjoying a breathtaking view of the Absaroka Mountains from your doorstep and deck. With full hookups and no other renters or RVs onsite, you'll relish the tranquility and proximity to nature. Wildlife is abundant, with deer and elk often seen in the surrounding fields.
Designed for couples, this comfortably appointed camper offers a queen bed, futon, shower, toilet, full kitchen, and spacious living area with panoramic views. All conveniences are provided, ensuring a stress-free stay. Boasting 50 years of history, this family-run ranch shares the beauty of the land, National Park, and surrounding wilderness. Your unique Yellowstone adventure awaits.
Dreaming of Gardiner – your dream vacation awaits you
Top guest reviews
RV was clean, Wendy was very responsive to any questions we had since this was our first time ever staying in an RV. In the morning elk and horses would be out in the pasture grazing. For the price and location this was a great deal.
Had a lovely stay, 2nd time. Rained a lot, and it was a cozy place to hole up, watch a movie and break a gut laughing with friends. Also tried the nearby hot springs this time, was great!
My husband and I spent 4 nights in this awesome 5th wheel camper. The camper was so clean and well equipped to cook a meal. The coffee was heaven-sent! 🙂 We were able to spend a little bit of time on the porch and sitting around the propane fire pit. (I want one of those now!) Most of our relaxing was spent indoors because of the light rain that week. The living room was very comfortable. The property is so close to the north entrance of the park. We spent several days visiting the park as well as spending a day at Yellowstone Hot Springs, just 2 miles south. We enjoyed watching both the wildlife on the property as well as the horses, cattle, mule and chickens. Wendy and Jerry were very responsive hosts. We were able to meet them as we were departing. Lovely people! I would definitely stay here again!
We spent three nights here in early June. We absolutely loved the location. It was a perfect base for exploring the northern area of Yellowstone. In the morning, we would see elk out in the pasture. At the end of the day it was nice to come back to this peaceful oasis. The camper was clean, comfortable and fully equipped. Wendy was the perfect host. She made sure that we knew that she was right next door if we needed anything. This definitely one of favorite VRBO properties, and if we come back to Gardiner we would stay here again.
The trailer was older and a bit dated but everything worked, except the screen door, no latch. The road was very noisy. Wendy was a great host and communicated well.
Read Less ∧
Read More ∨
Escape to a breathtaking two-bedroom yurt on a tranquil farm situated on a 7-foot platform for unparalleled 360-degree views of Flathead Lake, Glacier Park, the Swan Mountains, and the vast Montana skies. This 855-square-foot yurt gets glam with a gourmet kitchen, washer/dryer, and heating and air conditioning. Revel in the luxury of a new deck with a fire pit, Big Green Egg, and awe-inspiring views. Ideal for glamping novices and remote workers. You can also ask about renting a Jeep with your vacation rental.
Dreaming of Somers – your dream vacation awaits you
Top guest reviews
The perfect spot to disconnect from reality and enjoy your surroundings! The yurt is absolutely beautifully made, surprisingly very spacious and hold in heat/ac amazing. I went with just my spouse, but would also be a great getaway for a few friends. You are in close proximity to Glacier, Flathead and anything you might want to do. The couple that owns the property will be sure to make it as easy as possible for you! Definitely Recommend.
This yurt was everything we didn't know we needed while on vacation, we wish we could have stayed longer!
To sit on the deck with the fire lit looking out over the lake with the mountains in the background was magical. We had a wonderful time. Thanks Dave for giving us a tour of the farm.
Hands down the best place to stay if you're looking for something with great views and convenient location! The owners couldn't have been more courteous and accommodating! Thank you Linda and Dave for sharing your beautiful property.
Read Less ∧
Read More ∨
Texas: Southern Hospitality And Untamed Beauty
Deep in the heart of Texas, the Lone Star State's boundless landscapes set the stage for an exceptional glamping experience that combines the rugged charm of the outdoors with the lavish comforts of modern living. From the vast expanses of the Hill Country to the wild shores of the Gulf Coast, Texas offers a diverse canvas for adventurers and relaxation seekers alike. Whether you're drawn to the allure of cowboy culture, the vibrant energy of urban centers like Austin, or the serenity of its hidden natural gems, glamping in Texas presents an enticing fusion of luxury and wilderness. Imagine unwinding in a stylishly appointed yurt under the wide-open Texan sky, or reveling in the convenience of a decked-out camper amidst the stunning backdrop of Big Bend National Park.
Put the glam in glamping by staying at your own private campground. Nestled just two miles from town, this serene property offers a unique camp house and three meticulously restored vintage campers. Overlooking the picturesque Baron's Creek, its spacious backyard features a fire pit, grill, and outdoor games.
Answer the call of nature in the camp's outdoor bathroom, while the outdoor shower allows guests to rinse off under the hot Texas sun. Whether you're relaxing with loved ones or exploring the attractions of Fredericksburg, this remarkable setting offers the perfect blend of relaxation and adventure.
Dreaming of Fredericksburg – your dream vacation awaits you
Top guest reviews
An amazing place! Once you're inside, it's as if you transfer into a different world. So many fun touches and things to explore throughout the house and property. Clean, spacious, and a great outdoor area (patio, fire pit, & more!). You won't be disappointed! A perfect place to gather with a fun group!
We had such a fun time. … thank you much for the surprise you left for their birthday. They loved it!! Loved all the wild life around the place. Really enjoyed all the animals….the cats were so sweet. This property is very nice and they really take good care of it. We all said we would love to come back!! Loved the decor and cleanliness of the place. The boys said they had a fun birthday… they said the best place we have stayed at!!
This place was immaculate and the owners went above and beyond. The pictures do not do this place justice. We hope to come back again for the next reunion. We loved it!!!!!
This space was perfect for our 12 Dash person stay for a bachelorette party. The rooms were perfect and the trailers were a awesome addition! Everyone had their own bed and everyone had their own space to be comfortable in. The Decour is the cutest and made me envious of my own home! 10 out of 10 recommend and I would definitely stay here again if and when we return to Fredericksburg
This place is amazing and great for groups! The decor and all the added touches made our stay so much fun! Would definitely recommend and will be back!
Read Less ∧
Read More ∨
Utah: Natural Wonders And Outdoor Adventure
A land of captivating contrasts, Utah beckons travelers to embark on a glamping adventure that merges the breathtaking grandeur of its landscapes. From the mesmerizing red rock formations of Arches and Zion National Parks to the pristine alpine beauty of the Wasatch Mountains, glamping in Utah offers an extraordinary way to experience the state's natural wonders.
Imagine waking up in a luxurious tent surrounded by the ethereal beauty of Bryce Canyon's hoodoos or soaking in a hot tub beneath the star-studded sky of Moab. Whether you're seeking the thrill of outdoor adventure or the serenity of untouched landscapes, Utah's glamping escapes promise an immersive journey that captures the essence of the state's unique allure.
Indulge in a truly unique and captivating vacation at Canvas Glamping in East Zion Resort. Discover impeccably crafted canvas tents offering modern yet rustic charm, each with its private bathroom, fire pit, gas grill, and the comfort of air conditioning. Set atop a stunning hillside spanning 20 acres of Southern Utah's breathtaking landscape, this glamping destination also features yurts and treehouses. Cool off in the swimming pool and create memories that will last a lifetime at this gorgeous glamping getaway.
Dreaming of Orderville – your dream vacation awaits you
Top guest reviews
Nice stay in a quiet and friendly glamping resort. The pool and hot tub amenities were excellent and we were able to make use of them. However, if you are looking for a place that is totally isolated and free from light pollution this is not the place. The reason I chose this experience was to look at the stars and while some could be seen the proximity to the highway obstructed this . Overall the accommodations were clean and matched exactly to the description. However there was no security at the entry gate and our check in process was just opening the zip on the tent which did not give us a sense of safety as anyone could drive up and access the property.
Related Reading: