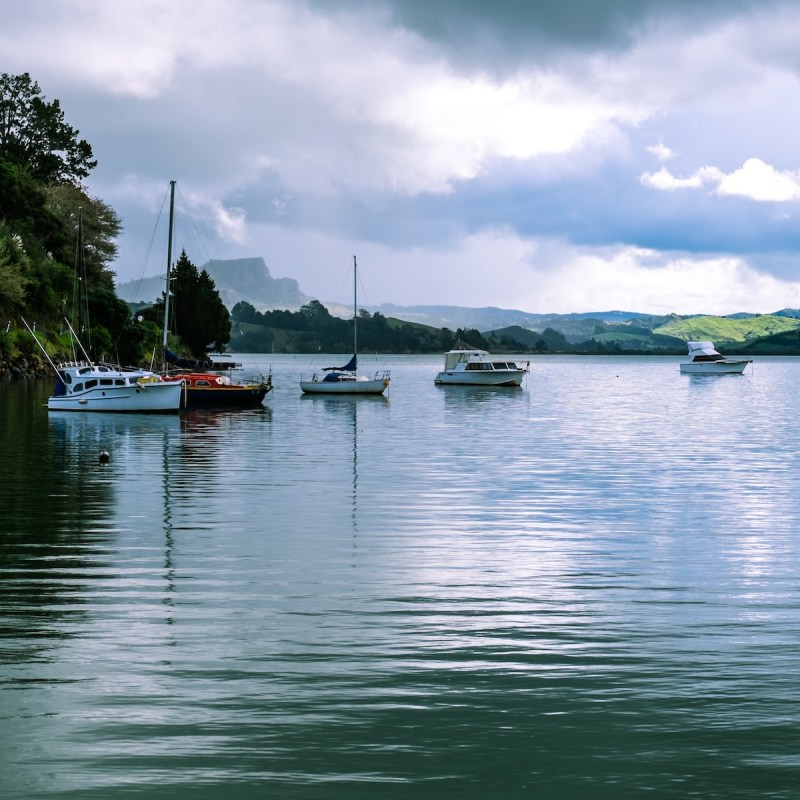 Time to switch up the same old vacation apartment rentals. When you want to venture out of your comfort zone and try something unique and exciting, consider renting a houseboat. Put a spin on your next vacation destination by literally staying on the water. Major cities were built on powerful waterways and you will find tons of overnight boat rental options close enough to explore on and have a private, front-row seat as the sun sets. Alternatively, you can rent a houseboat on a tranquil lake or quiet harbor where you can while away a few days, unplug, and unwind.
Highlighted below are seven cool, on-the-water rental options around the globe. When choosing a rental, be sure to check the reviews, consider premier hosts, and select a location near your preferred sightseeing must-dos. The listings below are in no particular order.
1. Victoriakai-Ufer, Hamburg, Germany
The pretty port city of Hamburg sits along the Elbe River. A bustling and working port, there is tons of big-ship and small-boat action in and out of the port.
The Victoriakai-Ufer, a luxury houseboat, has two bedrooms and sleeps six of your closest friends. A serious party city, you can dance all night then nap the day away as the river gently rocks your houseboat dreams. Alternatively, there are museums, galleries, and exceptional foodie-focused restaurants to keep you busy all day, allowing you to enjoy the skydeck with your favorite beverage as the sun sets.
2. The Starry Banner, Manteo, North Carolina
Historic Manteo and Roanoke Island are home to a super fancy "house boat," The Starry Banner. This classic, restored Tiffany yacht can be your next East Coast dream vacation destination. The yacht sleeps two and is perfect for a romantic escape.
The Outer Banks will be your playground for this unique stay. Tasty local seafood is king in this coastal destination. Visit the Wright Brothers National Memorial for some early flight history. Play along the white sandy beaches before returning to your private yacht getaway.
3. 1000 Islands, Gananoque, Ontario
You don't have to stay in one spot during your houseboat rental vacation. You can sail around the stunning 1000 Islands region on a floating waterfront cottage. Houseboat Holidays provides everything you need including pre-planned sailing routes that highlight all the stops to make your on-the-water getaway everything your heart desires.
Island hop across over 1,800 islands dotting the St. Lawrence River. The 1000 Islands region stretches between the U.S. and Canada, offering boaters and road trippers stunning natural scenery.
Pro Tip: Your rental comes with a National Parks Pass which allows you docking access to 23 different national parks in this beautiful 1000 Islands area.
4. Whangaroa Harbour, Whangaroa, New Zealand
Sailing away on your own houseboat in a new destination is an exciting adventure for the intrepid traveler. If you have some boating chops, Whangaroa Harbour Adventures rents accommodations for you to sail your cabin on the water out of port. Beginning in Whangaroa Harbour, your boat sleeps six and can take you on a Kiwi adventure of a lifetime.
5. 85-Foot Super Yacht, Ketchikan, Alaska
Not your traditional houseboat, this 85-Foot Super Yacht is a dreamy getaway stay. Six guests can enjoy a weekend on the yacht anchored in Ketchikan. Alternatively, you can hire its captain and crew and enjoy living like the rich and famous. Sail the Alaska coastline in search of the perfect catch, birdwatch for bald eagles, or scan the water for a humpback whale sighting.
The panoramic views from your private Alaska super yacht will make picture-perfect memories.
6. La Vie En Rose, Saone River, France
No work necessary with this rental; just sit back and enjoy fun houseboating times on the Saone River. Book the La Vie en Rose, a half-board barge cruise that sleeps six with a four-person crew at your service.
Explore the beautiful Burgundy Region while your floating hotel follows you to enjoy every stop along the way. Visit historic wineries like the Château de Garnerot where you can taste exquisite vintages. Take a bottle and some local cheese back to your boat for a quiet evening under the stars.
7. ECO BOAT HOUSE – CASA FLUTUANTE, Abraão, Rio De Janeiro, Brazil
Rustic but beautiful, the Eco Boat House – Casa Flutuante, is an Ilha Grande Bay oasis. Small, with room for only two, this houseboat has a private deck perfect for stargazing and soaking up the Brazilian sunshine. Slip off to the nearby beach or simply relax on your deck. This little gem is a dreamer's paradise.
Floating Home Getaways
Houseboats are a wonderfully quirky way to enjoy a destination. Whether you are looking for a docked stay where you can explore a city or you are seeking an overnight, on-the-water adventure, there are many houseboat options for your next vacation getaway.