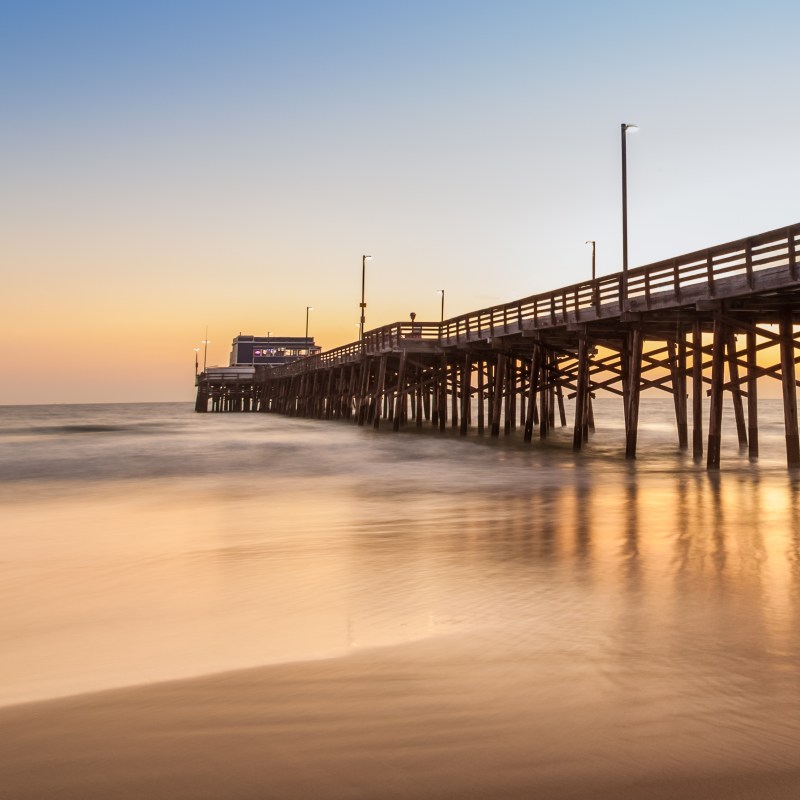 Glorious California sunshine, pristine sandy beaches, water play, nature preserves, world-class dining, shopping, and a thriving nightlife give Newport Beach, California, its well-deserved reputation as a vacation paradise. Your choice of activities is endless: Swim, surf, bike, hike, dine, dance, golf, or just relax your way into vacation nirvana. Here are some of the best things to experience in Newport Beach.
The Beach Scene
It is all about the beach. With ten miles of sandy California beaches, Newport Beach offers exceptional swimming, sunbathing, and surfing.
Newport Municipal Beach is five miles of sunbathing perfection. You will be warmed by the Cali sunshine while surrounded by nature at her finest. Keep in mind that parking is at a premium and you may need to park several blocks away.
Corona del Mar State Beach is the beach for family fun. It is a small beach, only a half-mile, and gets crowded quickly due to its popularity. Plan to get on the sand early for the best parking and blanket spots.
West Jetty View Park is a surfer's paradise. The resident wave that locals call The Wedge is created by a long jetty resulting in a swell up to 30 feet high. Swimming is not advised here because of the strong rip current, but you can watch the surfers from the shore.
And the beach scene extends well after the sun goes down. Check out the sunset at one of the many surfside establishments like The Cannery or Bluewater Grill, where you can enjoy a drink or dinner with a gorgeous view. After a full day of fun in the sun, relax with some musical entertainment at the Blue Beet. If you are looking for a more loungey vibe, try 3-Thirty-3.
Zen Out With A Spa Day
Californians are committed to self-care, and folks in Newport Beach invite us to join them in their wellness initiatives. If you are in search of your ultimate zen moment or need some personal vacation pampering, you'll want to check out at least one of these Newport Beach spa options.
The Spa at Pelican Hill Resort offers an extensive menu of experiences, including a Golfer's Tune-up Massage that loosens up your golf swing muscles with the option of Arnica-infused or THC-free CBD-infused oils. Alternatively, you can luxuriate during a 100-minute Zen Awakening Experience that includes a sea salt and shea butter scrub followed by a full-body wrap and massage. Aaaah.
You can also glide on over to the Balboa Bay Resort Spa for their Seaside Escape. Included in the escape is a 50-minute customized Harborside Massage and a 50-minute Citrus Essence antioxidant skin-renewing treatment. You'll leave relaxed, glowing, and ready to hit the beach.
Boating In The Bay
Take advantage of the water fun. Boating in Newport Beach is almost a requirement.
With tours starting at $28, operators like Newport Landing Whale Watching have trips that will suit you. While you cruise around the marine protected parks outside of Newport Bay, you can encounter giant blue whales from May to November and gray whales December through April, along with dolphins and seals.
Want to have more control over your ocean fun? Rent a yacht or boat. You can find pontoon boats, sailboats, kayaks, stand up paddleboards, Duffy electric boats, and even gondolas equipped with Italian gondoliers. If you want to go all out, you can even check in with the members-only Newport Beach Yacht Club for reciprocal yacht club privileges.
Water Activities
Newport Beach is a mecca for active water play and the perfect place to try your hand at something new or show off your skills.
Stand up paddleboarding (SUP) is taking over the waterways. It's an activity that helps you build balance and core strength and is fun to try. Once you have mastered the balance, it's time to try SUP yoga. The combination of yoga stretching and SUP balance will give you a great workout. You may find yourself sliding into the water and climbing back up onto your board every now and then, but that's all part of the fun. You can join a class at Newport Beach's Bliss Paddle Yoga. They offer group and private lessons
Once you have your SUP legs, the Glow tour led by Pirate Coast Paddle Company could be your next unique water experience. As the sun sets, and with your tour guide leading the way, you skim across the water with paddleboards equipped with LED lights. The water surface illumination creates a surreal glow as you set off across the bay.
How about trying surfing? You can take a class, learn to paddle out to the waves, and add some basic surfing skills to your repertoire. Of course, if you are already an accomplished surfer, a few pointers will up your game. Newport Beach's Recreation and Senior Services Department contracts with local companies to teach visitors how to ride the waves.
On-Shore Exploration
The gorgeous Southern California weather beckons you to get outside. Every day is a beautiful day to enjoy nature's gifts.
Hiking in the Upper Newport Bay Nature Preserve will give you a great workout while communing with nature. Open daily from 7 a.m. to sunset, the reserve loop is an easy 5.2-mile hike.
Hit the links at Pelican Hill Golf Club designed by Tom Fazio. You will be blown away by the panoramic ocean views as you step up to the tee. Jump in as a single, or schedule a tee time for a foursome. Either way, you will get plenty of California sunshine and fresh air.
Join the crowd and grab a bike to ride around town. Thanks to Pedego Electric Bikes, you can tool around town with minimal effort. They offer tours and individual rentals. Biking in Newport Beach is easy thanks to the gentle terrain and wide bike paths.
Artful Experiences
If you are in the Newport Beach area between April 23 and 30, plan to attend the Newport Beach Film Festival. The festival shows over 100 feature films and has 30 short film programs. The festival pairs with local chefs to create tasting parties, adding to the Hollywood-like atmosphere.
The Bank of the West Summer Concert Series should be on your to-do list if you love music. Past seasons have featured a wide range of performers. The dates for 2020 have not been released yet; sign up for their newsletter if you want to be in the know.
The Newport Beach Christmas Boat Parade and Holiday Light Show is a holiday favorite with locals and visitors. Dating back to 1908, the light show begins after Thanksgiving and runs through the new year. The boat parade has a shorter span, running the week before Christmas. You can take several boat tours to view the lights from the water, which gives the decorations an ethereal quality.
Shop Till You Drop
There is shopping at every turn in Newport Beach. Visit Balboa Island for unique, one-of-a-kind shops. At Corona del Mar, you will find classic staples like Tommy Bahama mixed with local stores. The Fashion Island Shopping Mall is a shopper's paradise with glamorous high-end stores to satisfy the most discerning taste.
Eating In Newport Beach
The California coastal cuisine trend is here to stay. Fresh, local ingredients prepared with a nod to healthy eating will tickle your tastebuds.
If you are lucky enough to be in Newport Beach October 8 through 11 in 2020, attending the Newport Beach Food and Wine Festival should be at the top of your to-do list. With A-list chefs like Antonia Lofaso, Richard Blais, Nobu Matsuhisa, and Hubert Keller participating, you will be able to sample exquisite cuisine.
Haute Cakes Caffe
One of the hottest places in town to have breakfast or lunch is Haute Cakes Caffe. Yes, there will be a line, and yes, it is worth the wait. The menu is quintessentially California fresh, delicious, and good for you.
Louie's By The Bay
New to the Newport Beach Restaurant scene is Louie's By The Bay. Louie's offers a spectacular view overlooking the bay and a menu that includes a wide variety of choices. This American steakhouse has something for everyone. If you dare, try the 35-ounce pasture-raised tomahawk steak; you might need a doggy bag.
Where To Stay In Newport Beach
Rent A Houseboat
Staying on the water right in the middle of everything that is happening in Newport Beach will be an unforgettable experience. Airbnb has several houseboats available to rent. Keep in mind, you cannot overnight in Newport Harbor, but it is allowed in Catalina or outside the harbor area. Some boats can be rented with an optional skipper who knows the area, so you can just sit back, relax, and boat from place to place.
Pelican Hill
The luxurious five-star Pelican Hill Resort offers every amenity you desire: well-appointed suites, golf, spa, restaurants, and Crystal Cove Beach access. With bungalows and villas that have breathtaking ocean views, your stay could be the highlight of your Newport Beach visit.
Pro Tip
With so many options available, plan and book a few must-do activities before you arrive to ensure you don't miss out on your Newport Beach bucket-list adventures.
Planning your California vacation? Here's how to have a fabulous weekend getaway in Newport Beach, plus how to spend a day in Beverly Hills.