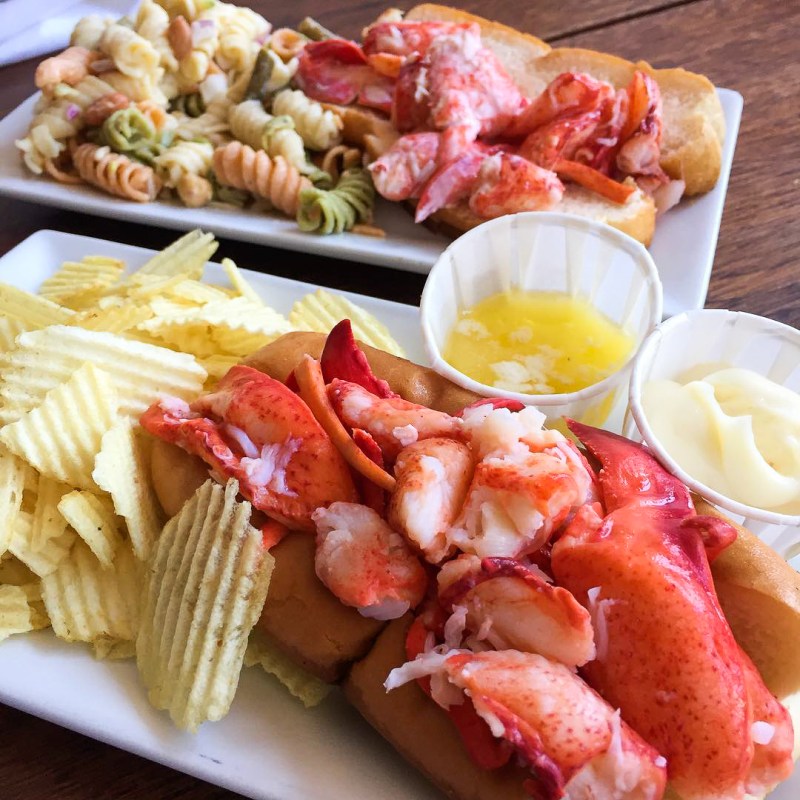 Portland, Maine, has been recognized as one of the best restaurant cities in the U.S.A. The availability of fresh seafood, particularly lobster, had us anticipating a visit to this New England town with great relish. The highlight of our visit was doing a self-guided lobster roll crawl in search of the best lobster roll in Portland. It was a tough job, but somebody had to do it.
Portland is a pretty walkable town, and when it comes to doing a lobster roll crawl, you will be able to cover a lot of territory just walking along the waterfront. We've also suggested a few delicious options that are a little ways off on either end, so start at the beginning or the end and work your way through as you choose. Also, remember: Lobster is rich and filling. You don't have to complete the crawl in one day. Of course, though we've focused on lobster rolls, the lobster lover will rejoice in the many lobster offerings available in this delicious seaside city.
1. Eventide Oyster Co.
Don't let the name fool you. Yes, Eventide is heaven for those who want incredible fresh oysters. But we were on the hunt for lobster rolls, and we heard that their brown butter lobster roll was to die for. And it was.
This compact, warm, buttery, toasty bit of heaven was an incredible way to start our lobster roll crawl. Some people only want their lobster roll cold and mayonnaise dressed. We are not those people. If you're open to different sorts of lobster rolls, then Eventide's tender sweet lobster served inside a slightly toasted bun doused with warm brown butter (that might just drip down your hand) will please your palate.
2. Gilbert's Chowder House
Walking into Gilbert's Chowder House is like walking into a favorite local dive bar, except that it also serves incredible seafood. You might be tempted to try their award-winning chowders, but if you do, stick to a small serving. You won't want to spoil your appetite for their classic Maine lobster roll.
It comes with potato chips, but you can substitute crispy French fries or onion rings for just a bit more. They all go perfectly with a local draft beer from Gilbert's taps. And, if you're there in season and decide to take a dessert break, visit Gilbert's ice cream parlor. They'll even give you a discount if you show your food receipt.
3. Boone's Fish House And Oyster Room
This place will woo you with specialties like lobster mac and cheese and baked stuffed lobster. Stick to your lobster roll-crawl agenda and you will still have a choice to make.
Boone's offers their classic take with fresh lobster in mayo and lemon on a brioche roll. Or, if you crave the warm buttery style, try the Nor'easter lobster roll warmed in butter. Considering Boone's has been serving local seafood since 1898, we're pretty sure you'll be happy either way.
4. The Porthole Restaurant And Pub
This place holds a lot of people, inside and out. You might think about coming for breakfast to taste their Casco Bay omelet (loaded with lobster and crabmeat), Lobster Rockport (buttermilk biscuit with lobster, asparagus, and lobster cream sauce), or lobster eggs bennie. But you're on a lobster crawl, so come for lunch or dinner and give theirs a try.
A quarter pound of lobster on a brioche roll with lettuce and your choice of lemon aioli, mayo, or drawn butter should suit you just fine. If you like a little rock with your roll, check out their live music on Friday and Saturday nights.
5. Andy's Old Port Pub
Andy's offers a fun environment as well as tasty lobster rolls. They have live acoustic music every night all year round. We also like Andy's commitment to sustainable seafood practices. They've partnered with the Gulf of Maine Research Institute's Culinary Partners Program and ensure that their seafood, including the lobster, is harvested nearby by local fishermen.
Andy's lobster bruschetta, Maine lobster tacos, and lobster melt might entice you you. But we're on a mission here, so get yourself Andy's Traditional Lobster Roll. Choose "a touch of mayo" or butter. Either way, you'll taste the care put into every bite.
6. J's Oyster
While we can't play favorites since everyone's taste is different, we do want to tell you not to miss J's Oyster. This place is such a local hero, it's hard not to fall in love with it yourself. It's pretty much always packed, but they'll find a way to jam you in. And the service is just as fun as the lively atmosphere.
Look around and you'll see a full, lively bar, a tumble of ice loaded with fresh oysters, and someone at a table with a monstrous lobster salad that looks like enough for two meals. But don't be swayed (unless you want to be) from your lobster roll crawl. You will be rewarded with J's incredible lobster roll stuffed with plump, sweet, delicious fresh Maine lobster. Mayo is served on the side so you can dress it as you choose. Go for the lobster roll, but stay for the fun.
7. Scales
If you're looking for an upscale spot to enjoy your lobster roll, then don't miss Scales on the wharf. They have a wonderful raw bar with oysters and clams as well as elegant dishes like fluke ceviche, scallop tartare, and bluefin tuna crudo. The entree dishes are equally sublime, but we're here for the lobster roll.
Not to worry, Scales's warm buttered lobster roll is served on a griddled split-top roll with house-made mayonnaise, crispy fries, creamy coleslaw, and a dill pickle to pull it all together. If it makes you feel better, you can eat it with your pinkies up. Or throw caution to the wind like we did and dive right into this wonderful treat.
8. Portland Lobster Company
Another tasty spot on the waterfront, Portland Lobster Company (PLC) takes a no-frills approach to getting you your lobster roll fix. Another local favorite, PLC's roll includes lobster meat from a one-pound lobster brushed with sweet butter and served on a toasted roll. Mayo and lemon on the side make it easy to dress your roll as you like.
There are plenty of sides and other treats as well. Think corn on the cob and locally made wild Maine blueberry pie or cobbler. In season you can enjoy the outdoor patio and bar or live music in the evenings.
9. The Highroller Lobster Co.
We want you to finish strong, and The Highroller Lobster Co. is just the place to do it. The bright and cheery decor brings a smile to your face even before you dive into unquestionably awesome lobster roll fare. The Highroller started out as a food cart but, thanks to its huge popularity and creative thinking, grew into a popular stop that's not to be missed on any self-respecting lobster roll crawl.
The Highroller will take your challenging lobster-eating decisions to a whole new level with choices like the Lobby Pop or Fried Lobby Pop, fresh Maine lobster tail on a stick with either warm butter or in a cornbread batter; the Surf and Turf, a burger with a full portion of fresh Maine lobster on it; or the lobster grilled cheese. The incredibly delicious lobster roll comes on a brioche bun with your choice of sauce. But we have to make one other recommendation: The Lobster Cheese Crisp Taco, while not technically a lobster "roll," is lobster wedged inside an edible holder — a crispy taco shell made entirely of cheese. Be still our beating Wisconsin hearts!
You'll find fresh (never frozen) sweet, luscious lobster in all The Highroller's dishes as well as a great beer menu, sides, and fun merchandise to commemorate your visit.
Remember that fresh seafood is seasonal, so be sure to check what's open and available before you make your plans to visit. Lobster is a delicacy that many of us dream about enjoying in abundance. If you're a lobster lover, you'll have a fun time tracking down the best lobster roll in Portland, Maine. Even if you find it difficult to choose a favorite, you'll be in heaven putting your taste buds to the test. And, as with many experiences in travel, when it comes to doing a lobster roll crawl in Portland, the joy is in the journey.
Portland bound? Here are seven ways to spend a day in Portland, Maine, plus 12 excellent hidden gems in Portland and where to eat local when (or if!) you're ready for something other than a lobster roll.