Why book a regular vacation rental when you could stay in a treehouse, a firehouse, or a castle? Extraordinary vacation rental options abound on Vrbo. In the past, we've covered storybook stays (such as this Willy Wonka-esque candy-themed mansion in Orlando), the Suessian Bloomhouse in Austin, and most recently, Hobbit-inspired accommodations. However, today, we're bringing you our first-ever curated list of unique Vrbos across the U.S. If spending the night in a giant wine barrel sounds interesting to you, you're going to want to read on…
Nestled among century-old trees in the Blue Ridge Mountains, this enchanting treehouse lies just minutes from the Blue Ridge Parkway. Apparently, this cozy yet spacious retreat is the largest treehouse on the East Coast. Boasting impeccable craftsmanship and artistic style, its design incorporates natural elements throughout. Guests can enjoy breathtaking scenery in all four seasons. This charming treehouse is part of The Carolina Jewel Estate, which has a creek for guests to explore. Great news for pet parents — this place is furbaby-friendly!
Dreaming of Asheville – your dream vacation awaits you
Top guest reviews
Loved staying here!! So relaxing and just what we were looking for!
Looking for tranquility in a stunning and unusual setting? Look no further than this little piece of paradise in the trees! Full of amenities and a wonderful host with fabulous suggestions for just about everything! You won't be disappointed!
What an incredible place!! We love visiting Asheville from Charlotte, so it's one thing just to be in the mountains, but this was an altogether separate experience. Here, it was much easier to unplug from everything and just "exist" and enjoy each other's company for many reasons.Our kids loved it too! I asked our four-year-old what his favorite thing was about the treehouse, and his first response was "the hidden closets" and then immediately said "wait—the hammock" and then finally, "no, the outdoor shower!" Both he and our 20-month-old spent a great deal of time outside on the wraparound deck, and we loved how we could close the gate and just let them play. We ate our dinners outside too.The bed upstairs was probably the most comfortable bed I've ever slept on, and I'm not even exaggerating. The heated floors in the bathrooms added a super nice touch too. Everything was exceptionally clean and new, and you can tell how well maintained everything is just by walking barefoot on the smooth, wooden deck.Proximity was great to downtown Asheville (just about 20 minutes out) and there were also some great little restaurants in downtown Weaverville, just 9 minutes away (many of which were fully booked, so make a reservation).Funniest thing was that despite having 2 full baths, we ONLY took showers in the outdoor shower, which had great pressure and temperature, and we were able to get our kids washed up in minutes (by the way, you have privacy with bamboo doors that latch closed).Huge thanks to the host (Eva) for making this weekend special for us. So glad you had the idea to create such an exceptional place!!Will definitely be booking the Carolina Jewel again one day!
The tree house was as wonderful as advertised. My son (4) and daughter (7) were amazed. The owner is extremely helpful and thoughtful.
The property was absolutely lovely and more than advertised! The bed was so comfortable we slept like lambs. The home was spotless with every amenity required. Ashville and Weaverville host so many options for food, outdoor activities etc. and the home is in a fantastic location to quickly explore all the offerings. Highly recommend the sunset e-bike tour in Ashville if you enjoy amazing views and history and aren't opposed to a little exercise. On our excursion we even saw a momma bear and her cub!! The treehouse stay was the perfect compliment to our daily excursions.
Read Less ∧
Read More ∨
Ever wanted to see what it's like to sleep in a converted bus? Bear Wall'r Bus offers just the chance in the beautiful Blue Ridge Mountains of North Carolina. Catering to off-road and outdoor enthusiasts, this comfortable camping-style retreat offers easy access to adventure. Trails like Hurricane Ridge and Max Patch, and scenic rides such as Highway 209 and the Blue Ridge Parkway, are all nearby. Hot Springs and Asheville can both be reached in 45 minutes. Mountain vistas outnumber neighbors at this unique escape.
Dreaming of Clyde – your dream vacation awaits you
Top guest reviews
We had an amazing time!! The place was clean, creative and fun. The host was super responsive, and thoughtful. It is exactly what we needed, away from the city… listening to the rooster in the morning, taking in all the beautiful landscape. Thank you for your warm hospitality!!
Amazing place. A vision is an understatement. This place is so wonderful. Every single detail was appointed in this place. Very clean and comfortable. Will definitely be back
I absolutely LOVED my stay here! Such beauty, peace, and quiet deep in the Smoky Mountains… and the property itself is a wonderful combination of whimsy and elegance. The hosts have thought of everything one might need or want in its creation. I can't wait to come back!
This place was the absolute best! I cannot imagine anything being any better!
Our ladies trip could only have been better if we had spent more time relaxing here! This place is clean and they have thought of everything, including personal surprises! We would (and plan to) stay here again! Loved it. Julie
Read Less ∧
Read More ∨
One of the most unique vacation rentals in New Orleans, the distinctive Engine 24 French Quarter Firehouse is a busy bed and breakfast. With a seamless combination of historic charm and modern amenities, this renovated gem features updated furniture for a comfortable stay. The vibrant Faubourg Marigny neighborhood places guests next to the enchanting French Quarter and the hip, funky Bywater district — both brimming with local eateries and lively bars.
Formerly home to Engine 24 of the New Orleans Fire Department, the restored fire station offers three units—the main floor, the penthouse, and the townhouse—which collectively accommodate 14 guests. This property ensures privacy and flexibility for group getaways and family gatherings. Relax in the newly renovated New Orleans courtyard, complete with a fountain, grill, and outdoor seating.
Dreaming of New Orleans – your dream vacation awaits you
Top guest reviews
The property was fantastic! We had 7 couples gathered for a weekend celebration for our sons wedding in New Orleans and the property was perfect! We all had our own space but we had plenty of room to hang out, catch up, have fun and just relax. Plenty of bathrooms and space for us all to get ready for several formal events. Well outfitted with hair drivers, lots of towels etc. the property was AMAZING and so much fun!
This place was perfect for the ladies to make memories with my daughter and her friends… I was so happy with the amount of room we had to spread out and yet come together when we wanted… great place and Beth, the host was amazing as well… thanks again…
This place is amazing! We were there for four nights fo my 80th birthday celebration and it brought together family from different parts of the country. There were 13 of us staying in the house. Our children and grandchildren. Everyone raved about it. It had wonderful gathering rooms, but also provided privacy. The only thing to know is if you can't do stairs this is not the place for you. Fortunately none of our group had any problem with that. The rooms were lovely and decorated artistically keeping with the firehouse theme. Beth, the manager was super and helpful with any questions we had. She was able to adjust the thermostat remotely as soon as we asked. We definitely give Engine 24 Firehouse five stars. The kitchen was fully equipped and we prepared several meals there!
My party was staying with a mix of family and friends for my sister's bachelorette weekend and the firehouse was PERFECT! Lots of cute, walkable bars, coffee shops, etc. It was an easy walk to the French Market. The room layout was perfect, everyone had the appropriate amount of privacy. I absolutely recommend this house for anyone traveling to Nola with a decent number of guests. Beth was also SO easy to work with and was easily reachable.
This was perfect for a large group! We had a Bachelor & Bachelorette group staying here and there was plenty of room and personal space for everyone.
Read Less ∧
Read More ∨
Situated between Mason and Fredericksburg along the pristine Llano River, Red Sands Ranch boasts a four-story-tall waterslide and a 53-foot pool complete with a spa, grotto, and fully equipped poolside cabana. Ideal for family reunions and corporate retreats, Red Sands Ranch offers a plethora of activities for all ages, including pickleball, tennis, fishing, hiking, and rafting on river rapids. The vacation rental consists of four charming native-stone cabins, two separate bunk-type units, a vintage '68 Airstream, and a "party shed"/game room with video games, billiards, and ping pong.
The nearby Llano River beckons with its fast-flowing rapids and deep pools, offering exhilarating tubing and kayaking adventures. For those who enjoy fishing, an incredible 2–3 hour trip along the river terminates at the ranch. The property also includes a corral, tack room, covered stall, and miles of trails for horse owners. Various extras, such as off-road golf carts and a recreation package with kayaks and mountain bikes, can be added to enhance your stay. With rolling hill country terrain, ancient live oak trees, and breathtaking mountain views, Red Sands Ranch immerses you in the beauty of nature.
Dreaming of Mason – your dream vacation awaits you
Top guest reviews
RSR is an amazing property. It is built for medium sized groups to enjoy the outdoors and the beauty of the Llano River country. I am a repeat visitor for 4-5 years. Each time we head that way excited about the trip and go home more relaxed than arrived. Thank you John, Danny, and Becky for your hospitality and attention to detail. I look forward to visiting for years to come!
This ranch is amazing. The landscape and location are beautiful, the owner and caretakers are very nice and communicative, and it's an outstanding overall experience. Hope to be back very soon.
We had the most wonderful experience at the Red Sands Ranch! Traveling with family is one of life's greatest gifts. There are plenty of things to do for any age. Kids swam, played basketball, tennis, rode down the waterslide, walked the trails and had just a marvelous time. Adults took to the cabana and the lounge chairs outside with adult beverages and enjoyed the time reminiscing with each other. We took incredible pictures. Life is meant for good families and GREAT adventures! This was one of the best. There was no time to be bored in a place like this. One early morning the 4 & 5 year old's were caught walking on the trails with such amazement at the birds and the rabbit they came upon. If you want to feel like a child again and have such a wonderful experience, this is the place. We are already planning our next trip here. Thank you Red Sands!!Julie
We just visited Red Sands last week. The property was great and everything was in working condition. We were checked on frequently by Becky to ensure things were working or if we needed anything. She was very helpful! Our family group of multiple generations utilized the pool area daily. The kids had so much fun swimming until the wee hours of the night. We used extra services like Chef Sam – the sweetest chef! Her food was delicious and it made it easier for our group of 24 to not cook big meals in the TX heat. Her prices were extremely reasonable! She just delivered meals to the kitchen. Justin came and sang for us, it was definitely a treat and a good time. We had massage therapist that came straight to the house. Extra services like golf carts were a great addition. We just had such a great time and would love to go back!
We had a great time. Make sure to read all of the details. They help understand the cabins and amenities. We had a great time and enjoyed the pool and slide the most. Definitely a place for people that enjoy the outdoors. Any issues that came up the staff assisted immediately and the owner was very responsive to any question or problem. We had three families and 10 kids total. They enjoyed the camp like atmosphere.
Read Less ∧
Read More ∨
Inspired by Antoni Gaudí, The Whale House is a unique "architectural masterpiece" in Mission Canyon, a suburb of Santa Barbara, California. This remarkable home was built in 1978 by architect Michael Carmichael. From the shingled exterior resembling a magnificent whale to the intricate craftsmanship and luxurious amenities found within, every detail of this four-story home will leave you in awe.
Step into the inner courtyard, where a stunning 75-foot lap pool seamlessly flows into the tail of the whale-shaped guest house. Surrounding this tranquil sanctuary are lush plantings, enchanting lighting, and serene oaks, creating a harmonious oasis. Nearby trails lead to breathtaking coastal views while popular attractions like the Santa Barbara Mission and Rose Garden, as well as the vibrant energy of downtown, are all just minutes away.
Dreaming of Santa Barbara – your dream vacation awaits you
Top guest reviews
The Whale house was amazing! Our family which included 3 kids had a great time playing in the house! We had a great experience and made our trip to Santa Barbara even more memorable. The management company Paradise Retreats was awesome since we called about the pool not heating. They responded right away and came out to the house immediately. Shout out to John Wilkins for his great customer service. We would definitely come back again!!!!
Before booking I read all the reviews and looked at all the photos. I thought we were prepared. Walking into the guest house from the driveway(that easily hosts 3 cars)we were greeted with a spacious sitting room with a sofa and (the only)tv(which was just fine!). There was a comfortable bedroom attached which my father-in-law really enjoyed. A hallway opposite led to the laundry room and bathroom and a door opened to the AMAZING grotto!…and that is where all the straight lines end! The approach to the house was stunning. The endless and perfectly placed cedar shakes to form curved patterns of all different sizes was so impressive and the condition for the age of the house is amazing. I'm sure there is constant maintenance to achieve this! Walking into the house from one of 3 approaches(2 stairs and 1 elevator)one never knew where you were. It took some time to orient ourselves but once our brains adjusted to the circular layout with the "heart" of the whale being central it was much easier. Since we were doing Thanksgiving here I was prepared by others reviews of the minimal cooking facilities and ordered our feast from Whole Foods. It still all needed reheating which was still challenging but we did it! Lots of plates, glasses and cutlery available! The pool was one of a kind and we loved floating in and out of the grotto. We did have to call a tech to come and turn on the spa in the master bedroom, it's not your normal big bubble spa but just a very soothing hot tub with some air jets and amazing window that opens to a deck. I caught the sunlight coming through the stained glass at a perfect angle one day and it was stunning. Same with the moon coming through at night…you really need to move around to keep up with these moments! The conversation pit/living room w fireplace was our favorite gathering spot. We spent hours there. I could go on but would just say we all agreed this was truly a once in a lifetime experience(although I have a feeling we'll be back) that we will cherish. Aside from the guest house, however, I would say it is not for the mobility challenged as there are lots of stairs and ups and downs. The elevator helps but that has it's own challenges! It was very clean and the beds and linens were soooo comfortable! Book with an open mind and sense of adventure and prepare to have so much fun!
Where to start…The entire exterior of the home, windows and plants are covered with spider webs, layers and layers of webs. Differed maintenance is a huge problem, front door doesn't work, property manager said "owner is aware", many doors don't open, elevator doesn't work, steam room doesn't work, the property manager says the "owner is aware" Mold in the kitchen, under the sink, in the showers. They told us this is an "OLD HOUSE" and the owner is not taking care of it. Please don't waste your money like we did, UGH! Such a waste. By the way no smoke detectors in the "guest house"/"garage" this home is a covered in wood shingles, can you imagine how this is a huge liability. I could go on and on, I don't want to rant you should get the picture, seriously, don't waste your money on this horrible place.
Exactly as how it is pictured, it's such a nice house with unique design for both interior and exterior. We also enjoyed those details which tell us how many thoughts and efforts the architect, owner of the house and the property management office have put there to make it a good experience for guests. All amenities are well prepared and organized in an easy to access way. The only callout is there is no AC in the main house, so it was 100-105 degrees in the past few days when we stayed in the house, the 2nd floor and the third floor were like furnace! That was the only thing that bothered us 🙂
We had a wonderful week at the Whale House. Such gorgeous leaded glass windows and interesting fixtures. But the highlight for our kids was the swimming pool with the "cave" at one end, they spent many happy hours there.
Read Less ∧
Read More ∨
Immerse yourself in the beauty of the Santa Monica Mountains with a stay in this authentic Romani gypsy wagon in Topanga, California. This 15-foot carriage/tiny home is tucked away among ancient oak trees and offers a truly enchanting experience. Step inside to find a charming interior decorated in traditional gypsy style, featuring a comfortable bed, red velvet curtains, a cushioned bench, and various amenities.
Outside, you can enjoy breathtaking views of the mountains, soak in a clawfoot tub, and dance under delicate chandeliers hanging from the oak trees. The property also provides shared kitchen and lounge areas for your convenience. With its captivating atmosphere and close proximity to Topanga State Park, this carriage offers a one-of-a-kind escape.
Dreaming of Topanga – your dream vacation awaits you
Experience the rugged beauty of rural Wyoming with a stay at this unique vacation rental in Greybull. With Devil's Kitchen, the Bighorn Mountains, and fascinating geological features just moments away, this charming two-bedroom cottage offers the perfect blend of outdoor adventure and tranquility.
Originally a schoolhouse, this historic property has been thoughtfully converted to provide all the modern comforts you need, including a well-equipped kitchen, a cozy living area, and a furnished outdoor space where you can relax and soak in stunning mountain views. With its secluded location and pet-friendly policy, this vacation rental is the ideal retreat for those seeking a truly memorable and immersive Wyoming experience.
Dreaming of Greybull – your dream vacation awaits you
Top guest reviews
This property is full of historic charm.The owners have a big library with locally relevant items as well as lots of western stuff.It is very private and everything is provided at a beautiful setting. The only suggestion is that the 2 main beds have box springs could use mattresses on top of the box springs rather than thick foam.
I was here nearly two weeks in early October, and this place really grew on me – golden eagles, coyotes singing in the night, rabbits, wild turkeys, hawks, woodpeckers, geese, ducks, meteorites in a beautiful night sky, and gorgeous sunrises and sunsets – and no neighbors, so very quiet. If you're interested in geology, this area is chock-full of interesting things, from the nearby Jurassic tracksite to Devil's Kitchen (which can be seen from the property in the distance) to beautiful Shell Canyon and of course the Bighorns. The restoration and addition to the old school house has been done with loving care. It's a really unique and wonderful property in a beautiful setting with views in every direction and lots of history. Communication was great, and Fain even messaged me to check on things when a big storm came through. No mosquitoes in October, just lots of fall color. An unforgettable place.
We had a fantastic stay at the historic schoolhouse – such a unique experience! The home was very comfortable and had everything we needed to enjoy our vacation, right down to the beautiful sunsets every night. The location was also great, with downtown Shell, the dinosaur tracks, Shell Falls and Bighorn Canyon just a short drive away and well worth checking out. (Aspire coffee shop in Shell is AMAZING.) We also drove around Route 14, which has great views and lots of places to stop and wander.Overall, a great place and fantastic home! Thank you for letting us stay!
Great people, History, amazing mountains
This rock school house is the perfect place to stay if you want to be away from it all and appreciate history! The property was well stocked and owners were easy to communicate with. Would definitely stay here again!
Read Less ∧
Read More ∨
Surrounded by oak trees on 5 acres, the Pool House can be found in the charming California Gold Rush town of Placerville. Bask in the beauty of nature, unwind on the expansive patio, and jump into the heated indoor pool, which is right smack in the middle of the house. Featuring a spacious baja shelf and a deep end, the pool lights up and has a cascading fountain.
Explore Marshall Gold Discovery State Historic Park and go rafting on the American River in the nearby historic town of Coloma. Apple Hill, with its charming farms and orchards, is a short drive away. Nature enthusiasts can venture to Cronan Ranch Regional Trails Park for outdoor activities such as hiking, biking, and fishing. Red Hawk Casino, Folsom Lake, and the scenic wonders of South Lake Tahoe are also within reach.
Dreaming of Placerville – your dream vacation awaits you
Top guest reviews
First, I want to mention that Sergey & Clara were very helpful during the trip. Responded quickly during the trip and were helpful every time I reached out. After the trip, I informed them of my issues and were very receptive to the feedback to better improve the property.Communication prior to my stay was lacking. Took over a week for a response.. Made me nervous at times, but the trip pulled through accordingly. Like another guest mentioned, I didn't receive check in instructions until the morning of the trip. Like at 9/10am, which is a bit late, considering that my out of state guests were already on the way. But during the trip, they responded back SO quickly every single time. Super helpful and reassuring. The property is fairly remote… Looked like it was in the middle of a farm with hills. So if you can get to the property during the day time, that would be better. There's no street lights and you'll be driving up narrow roads. I arrived right at sunset and had no idea where I even parked my car cuz I couldn't see. We all had to readjust our parking the next morning when the sun came out. A few guests drove into neighbors houses and driveways. The neighbors didn't like that.. During my stay, the power outlets on the kitchen island didn't work. I mentioned to Sergey and they were willing to come by and fix it, but we just used other working outlets. Some of the bedrooms had REALLY soft mattresses and pillows. A little TOO soft. Based on a vote between our group, the basement had the best mattresses and everyone who slept in that room had lovely sleep. Most of the main bedrooms had "too soft" mattresses and pillows. No complains from the master bedroom. I didn't realize this until I was packing, but there are extra blankets in the cabinets for those who get cold!The pool is a great idea, its what made us book the property. But the reality of having a heated pool in the living room is all of the condensation in the home. We woke up to wet walls and wet belongings.Tips:- Bring extra paper towels and toilet paper. I think there's only 1 extra roll of paper towels.- Plan on bringing a pot brush, sponge and dish soap (unless the owners are providing moving forward). We had such an issue keeping the kitchen clean without the properly supplies. The sponge was not good quality and neither was the soap. Left the pots and dishes oily. – Bring disposable utensils. There's not enough for 16 people to be fed 3x daily.
Overall a great time, house is comfortable and great for big groups and quality time!
Our family stayed at this property with two other families with children. Even though we had a pretty large group, the place still felt very spacious. The indoor pool was a huge hit- clean, well maintained, perfect temperature, and entertaining! The whole house was clean, organized, and just as what the photos portrayed. The hosts were very responsible and responsive. They were quick in answering all our questions before and during our trip. This is an amazing house for groups traveling with kids!
Great house for large family. Kids and adults had fun in the indoor pool, playing ping pong, etc. Floors do get water, so be careful. Has a good number of plates but needs more silverware. Also bring shampoo.
The house… amazing! Perfect for our group of friends.
Read Less ∧
Read More ∨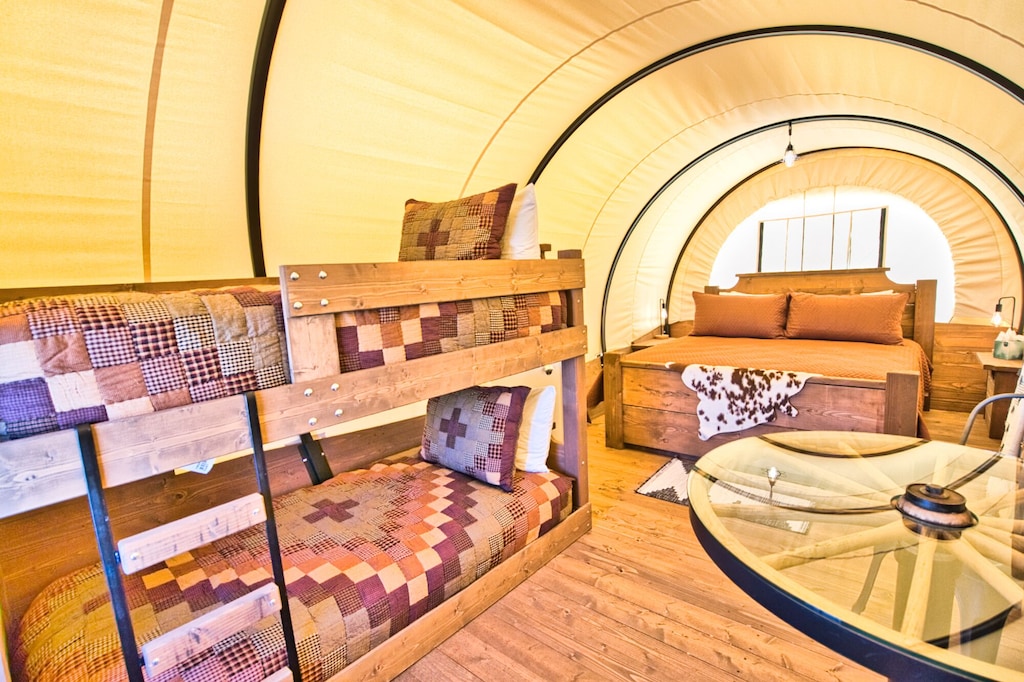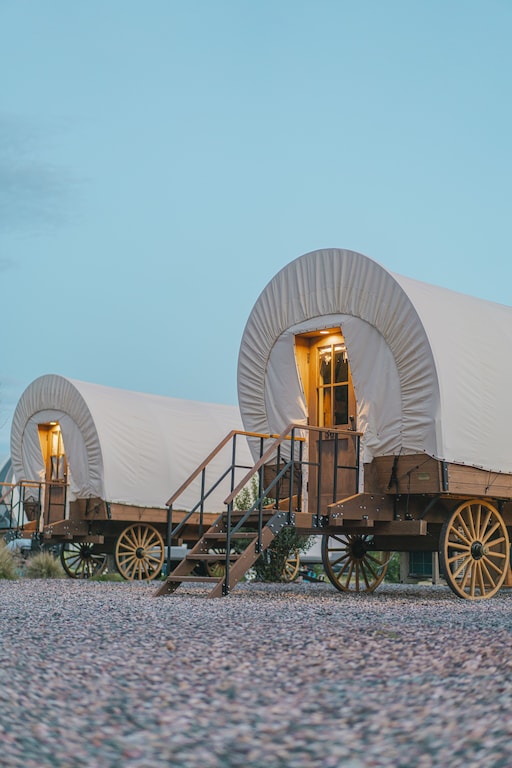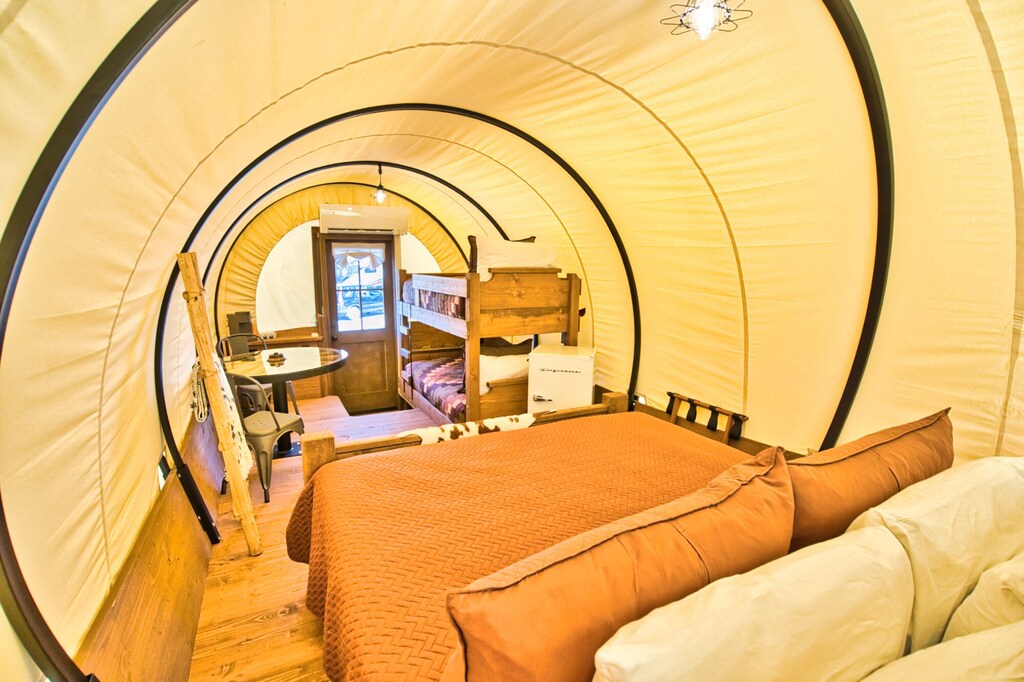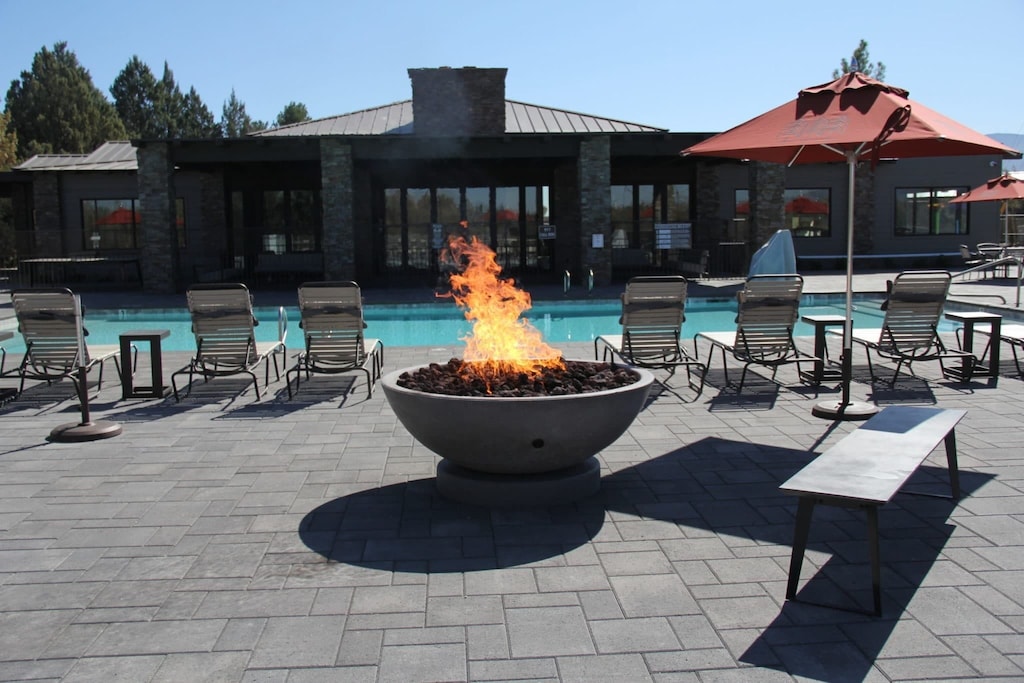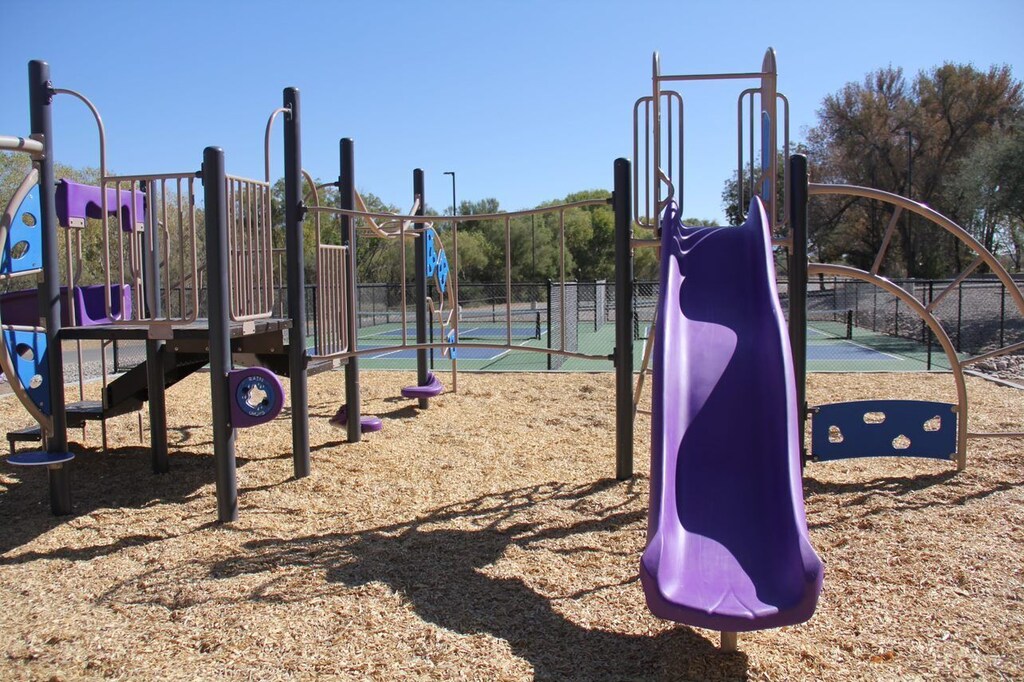 Obsessed with the Wild West? Look no further than Camp Verde, Arizona, for the ultimate glamping adventure. Western-themed covered wagons are crafted from wood with canvas tops and feature a king bed, a bunk bed, and a mini-fridge. While guests must visit the bathhouse to shower, the wagons have climate control, electricity, and Wi-Fi. Prescott National Forest, Montezuma Well National Monument, and Fort Verde State Historic Park are all waiting to be discovered within just a few miles.
Dreaming of Timmendorfer Strand – your dream vacation awaits you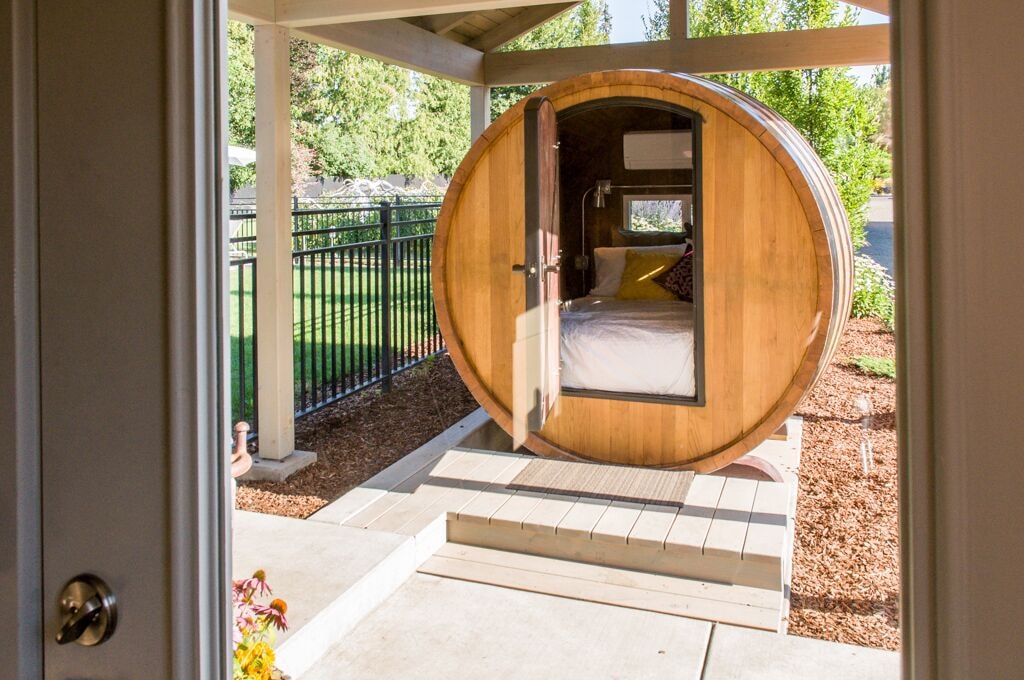 What makes Bryant Barn in Walla Walla, Washington, unique? One of its three sleeping areas is a giant wine barrel. The property's beautiful pool is shared with the neighboring Bryant House, which can also be booked together, accommodating groups of up to 12. Outside, enjoy cozy evenings by the fire pit and play frisbee and croquet on the barn's grassy acre of land.
Dreaming of Walla Walla – your dream vacation awaits you
Top guest reviews
Lovely location, comfortable accommodations, well-equipped kitchen. Great layout for our girls weekend out. With warmer weather, we would have enjoyed the outdoor firepit and pool!
We enjoyed the property; two of us opted to sleep in the wine barrel, which was cozy and quiet. The grounds/property were in great condition, and check in was a breeze.
This studio loft is new, clean and cute. It's comfortable and quiet too. It's perfect fora couple, a bit cramped for our group of 5 though and zero privacy because there are no doors or walls to close the 1 bedroom. The low ceiling height gets you when you stand up! The wine barrel is best for 1 teenager at most. The kitchen is well equipped and clean, the large lawn is great for soccer and frisbee. The houses and neighborhood are beautiful and peaceful. We enjoyed the studio and location, great for Whitman family weekend.
House is well stocked and has beautiful art throughout. Yes is large and well manicured, porch and fire pit area are great places to hang out. Pool wasn't heated but we briefly braved the cold on a warmer October day. Great experience.
Property is beautiful! Pool was great and the owner super responsive. Wine barrel bed is cute and comfy. Highly recommend!
Read Less ∧
Read More ∨
Nestled on 20 acres of picturesque landscape near Crystal Lake, this Bavarian-style castle invites you to immerse yourself in the beauty of the Vermont mountains. The majestic grounds boast a serene pond stocked with rainbow trout for fishing, two charming fountains, and enchanting paths through wooded areas. Inside, you'll find a grand piano, a fully stocked wine room, and a game room complete with foosball and shuffleboard. This luxurious castle features three working fireplaces, elegant Restoration Hardware furnishings, and a gourmet kitchen.
Two bluestone patios offer plenty of space for outdoor living. Unwind by the custom-built fire pit surrounded by cozy Adirondack chairs that extend over the pond, or relax in the hot tub on the main patio while taking in stunning sunsets and the starry night sky. Weather permitting, you can even enjoy your own private ice skating rink in the winter.
The Newport Marina is conveniently located just 20 minutes away by car, offering access to recreational activities. Fishing poles and kayaks are available for guest use.
Dreaming of Irasburg – your dream vacation awaits you
Top guest reviews
We really enjoyed staying at the castle. It was unique and very spacious…even with 5 adults, a toddler and an infant! Our toddler especially loved the idea of staying in a castle like Elsa (Frozen). The detail throughout was fantastic and we could tell the property was really taken care of. We also LOVED having the option to hire Chef Navad to handle a few meals for us, he was so friendly and the food was delicious. The grounds were beautiful and great setting to sneak some family pictures as well! We hope to come again for a future trip.
Everything was wonderful! What an incredible experience!
A unique property the whole family enjoyed!
This is a really special place to visit. Our two families had plenty of space to gather or be alone. The grounds are lovely, the hot tub a treat, and the castle details made us smile. We brought loads of costumes to make it really fun: a royal dinner, an elven scavenger hunt. The power went out during a storm and the support we got from the rental team was top notch. Such great memories!
We had a lovely visit in this charming home. The castle proved to be everything we expected and the property was exquisite. Property's management was super helpful and even allowed us to extend our stay by one day. The beautiful sunsets were an unexpected bonus! Highly recommend this spacious, and one of a kind get-a-way!
Read Less ∧
Read More ∨