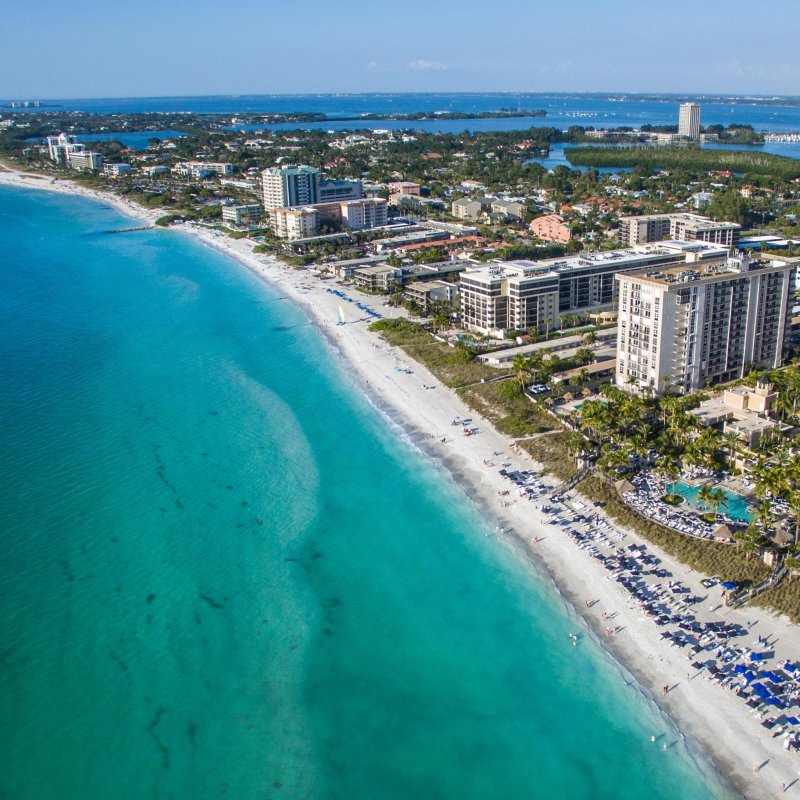 Sarasota is one of Florida's favorite Gulf Coast destinations. The city is known for its arts and culture scene, and also the beautiful beaches. Perhaps you know it best as the winter home to the world-famous Ringling Brothers circus? I love visiting Sarasota for a trip to the museum that gives the nod to the beloved circus and has incredible botanical gardens, second-to-none beaches, and excellent shopping.
Sarasota is an hour south of Tampa and a little over an hour from Fort Myers. I could spend the day enjoying the fabulous museums and gardens, then having a memorable meal, or I could just as easily hang out at the gorgeous beaches and enjoy a good dose of nature for the day.
Sarasota's beaches are a bit spread out, so I would recommend driving to this Florida city so you can see all of it — from white-sand beaches to shopping venues, museums to historical attractions. Here are the top things to do in Sarasota.
Note: Tickets to The Ringling and Marie Selby Botanical Garden were provided to me free of charge from Visit Sarasota County. As always, reviews and opinions are 100% mine and unbiased.
1. Marie Selby Botanical Gardens
Perhaps I love the Marie Selby Botanical Gardens for its amazing orchid collection and a beautiful banyan grove that will cause your jaw to drop. Or it could be because Marie is from Parkersburg, West Virginia, the state that's my alma mater. You are in for a real treat when you visit this prestigious attraction.
Marie Selby's Tropical Conservatory houses a beautiful collection of rare and spectacular orchids. From the most diverse bromeliad collection in the world to butterfly gardens, incredible air plants, a Koi pond, and a bamboo garden, the property is mesmerizing.
The Selby House Café is the onsite restaurant serving sandwiches, baked goods, salads, and even beer and wine. Sit inside or enjoy the shade from the ancient trees outside.
2. The Ringling
Even though the circus is a thing of the past, still etched in many of our minds as a great testament to our childhood, you can reminisce the days of clowns, trained animal performances, acrobats, and gorgeous costumes in the unique Ringling Museum. But — The Ringling is much more than just that.
John Ringling and his wife Mable made Sarasota their 56-room winter home and built the illustrious Ca' d'Zan, or House of John, to live in and host their A-list friends. Today, guests can visit the Venetian Gothic home with a picture-perfect terrace and views overlooking the bay with a circus museum ticket purchase. There are fantastic gardens, statues, and grounds to explore as you wind your way to the Ca' d'Zan mansion.
Then there is the art museum. The John and Mable Ringling Museum of Art showcases four huge Ruben paintings, so large that the room was built around them, in this gallery venue. My favorite part of The Ringling is the Greek and Roman god statues found around the Museum of Art's courtyard.
3. Shopping
The high-end shopping can be found in the two dozen or so boutiques at St. Armands Circle, just minutes from downtown Sarasota. This area has plenty of parking, a handful of great restaurants, and even art galleries and statues dotting the property that are very photo-worthy. You'll drool over the priceless art at Wyland Gallery Sarasota, featuring Wyland's famous marine life artwork. Take a break from shopping and indulge in a scoop of homemade ice cream from Kilwins.
If you crave more shopping, Main Street in downtown Sarasota is a locals' favorite with independent shops and a few national chains or the Mall at University Town Center with 125 stores and eateries. Or, drive 25 miles outside of the city to Ellenton Premium Outlets, with 130 brand and designer stores.
4. Golf
Sarasota has quite an array of golf courses, and the views of this beautiful Florida destination add to the allure of the setting. The Highlands Golf Course is a picturesque par 72 championship course, while the award-winning University Park Country Club is continually awarded the #1 golf course in Southwest Florida.
5. Spring Baseball
Take me out to the ballgame at Ed Smith Stadium, home to the Florida Grapefruit League's Baltimore Orioles since 2010. These small-scale venues (seating for around 7,500) make baseball so intimate and enjoyable, plus it is a rite of passage to welcome springtime for Floridians. I attend spring training games all around Florida and have never paid more than $21 for a ticket. Games run from late February through late March.
6. Eat At Some Of The Best Restaurants In Sarasota
Sarasota has a wide range of tasty eats ranging from budget-friendly to high-end. It is mostly a city of casual eateries and food that will fill you up and taste good instead of leaving you hungry and feeling intimidated. A few of my favorites are Yoders, Buttermilk Handcrafted Food, Toasted Mango Cafe, and Columbia Restaurant.
Yoder's
I didn't expect to come to Sarasota and find a famous Amish restaurant, but here it is. Yoder's Restaurant is a fantastic dining spot for the best comfort food and an enormous variety of cream pies. You can dine in, out, or order from the curbside window. There is even a large produce and deli market on the property, and it is worth checking out.
I tried Yoder's most popular dish, or so the waitress said, roasted turkey with stuffing. You get two side items with this meal, so I picked green beans and mac and cheese. Be sure to ask for a side of cranberry sauce. Everything at Yoder's was superb! Save room for the pie — I went rogue and chose the banana pudding.
Toasted Mango Cafe
Indulge in delicious breakfast and lunch dishes at Toasted Mango Cafe, offering two locations: one in Sarasota and one in Siesta Key. I've been visiting this local eatery for several years now and never had anything that wasn't delicious. The Farmhouse Omelet (with kale, sweet corn, and sausage) is a unique dish, while the corned beef hash and eggs is off-the-hook yummy. If you've never tried a breakfast banana split, this is the place to try one.
Buttermilk Handcrafted Food
Buttermilk Handcrafted Food is a stylish and aesthetically pleasing coffee shop off the beaten path a little. Still, the coffee is well worth the visit, let alone the pimento cheese and Benton's bacon-topped biscuits. These biscuits are homemade, as the name would imply, and man, are they fantastic. Then, they bake the eggs that top the biscuits, which are then topped with the remaining ingredients. It was a knife-and-fork biscuit for me, but I loved every bite.
The Columbia
Using the tagline "Gem of Spanish Restaurants," you expect to be wowed at Columbia Restaurant, and you will be. The Columbia is probably Florida's best-known eatery featuring Spanish and Cuban cuisine and amazing sangria and coffee. If you enjoy the sangria, buy the six-pack packet mix in the gift shop and take it home with you.
Pro Tip: Have the best of both most famous dishes at The Columbia by ordering the half and half: half Cuban sandwich and half Signature 1905 salad. Yum, yum!
7. Enjoy The Best Beaches In Sarasota
The sugar-sand beaches are one of the biggest draws in Sarasota. Sink your toes into this cool-to-the-touch fine sand as you enjoy the views of the Gulf of Mexico. I recommend seeing and enjoying three of Sarasota's beaches: Lido Key, Longboat Key, and Siesta Key.
Lido Key Beaches
A hop, skip, and jump from downtown Sarasota takes you to Lido Key, broken up by north and south ends, and the middle beach. At North Lido Key, a quarter-mile northwest from St. Armand's Circle, enjoy kayaking, swimming, canoeing, and hiking. The currents are swift, and there are no lifeguards on Lido Beach, so heed caution.
South Lido Park has lifeguards from Memorial to Labor Day and grills, picnic tables, a playground, and nature trails. This beautiful area is bordered by ordered the Gulf of Mexico, Big Pass, Sarasota Bay, and Brushy Bayou. Ted Sperling Park at South Lido Beach has a kayak/canoe launch if you want to explore mangrove tunnels.
Around the middle, on Ben Franklin Drive, is Lido Key Beach, the most visited area. Choose to swim in the heated swimming pool or ocean at this beach area, complete with a restaurant, restrooms, gift shop, playground, and beach rentals. This is also a perfect place to ride bicycles.
Longboat Key Beach
Longboat doesn't get as much publicity as the other beaches in Sarasota, but that may be because it is a playground for the wealthy. The vibe is very laidback and the beaches flanked by beautiful sea oats. Enjoy a swim, boating, or kayaking at this prestigious address. Shorebirds nest here February through August.
Siesta Key Beach
Siesta Key is continually voted Best Beach in America or similar in various publications year after year. With a casual vibe, affordable price tag, and white quartz sand that is heavenly to walk or play in, Siesta Key seems to have some magical properties that keep people coming back.
Pro Tips: See all of Siesta Key (from Siesta Key Village to Turtle Beach) for free on the Siesta Trolley, so you don't have to worry about parking in this popular destination.
Regardless of the time of year, the Florida sun is intense. Be sure to stay hydrated and apply sunscreen often.
Sea turtle nesting season in Sarasota is May 1 through October 31. Steer clear of sea turtle nesting sites when posting up on the beach.
8. Take Grandkids To Sarasota Jungle Gardens
Hand-feed a flamingo, get your picture taken with an alligator, hold a parrot, and more at Sarasota Jungle Gardens.
9. Stroll Through The Sarasota Classic Car Museum
Recognized as the second-oldest continuously operating antique car museum in the nation, the Sarasota Classic Car Museum houses over 75 antique, exotic, European, and one-of-a-kind classic automobiles.
10. Shop The Sarasota Farmers Market
Sarasota is home to several farmers' markets, but The Sarasota Farmers Market downtown is open year-round and has live music and food vendors every week. In addition to fresh produce, shop baked goods, plants, honey, cheese, artwork, clothing, and more every Saturday from 7 a.m. to 1 p.m.
11. Myakka River State Park
Located about half an hour inland, Myakka River State Park is one of Florida's largest parks. Its wildflower-covered prairies and wild wetlands are home to palm trees, live oaks, and pines, as well as wildlife such as osprey and turtles. Here, you can kayak, canoe, or paddleboard the majestic Myakka River. Just don't plan on swimming in this alligator haven!
12. Mote Marine Laboratory & Aquarium
Say hi to manatees Hugh and Buffett at Mote Marine Laboratory & Aquarium on City Island. Other exhibits include the Shark Zone, stingrays, reef animals, sea turtles, and more.
13. Dolphin Sightseeing Tikibar Hopping Boat Tour
This two-in-one boat charter combines the best of both worlds: wildlife watching and booze cruise. Keep an eye out for dolphins, manatees, and other marine life between stops at area tiki bars.
14. See A Show
Asolo Repertory Theatre
Take in a play or musical at Sarasota's performing arts center, Asolo Repertory Theatre. Many shows that grace the Asolo Rep stage end up on Broadway!
Sarasota Opera House
See a superb selection of singers perform at the Sarasota Opera House. Located in the heart of downtown Sarasota, the historic beautifully renovated theater is surrounded by fine dining and shopping.
15. Big Cat Habitat And Gulf Coast Sanctuary
Not to be confused with Carol Baskins' Big Cat Rescue of Tiger King fame in Tampa, Big Cat Habitat and Gulf Coast Sanctuary is home to dozens of exotic animals. Visit the big cats, bears, primates, foxes, sloth, and birds Wednesday through Sunday 12-4 p.m. Private animal encounters are available and there's a petting zoo with goats.
Related Reading: