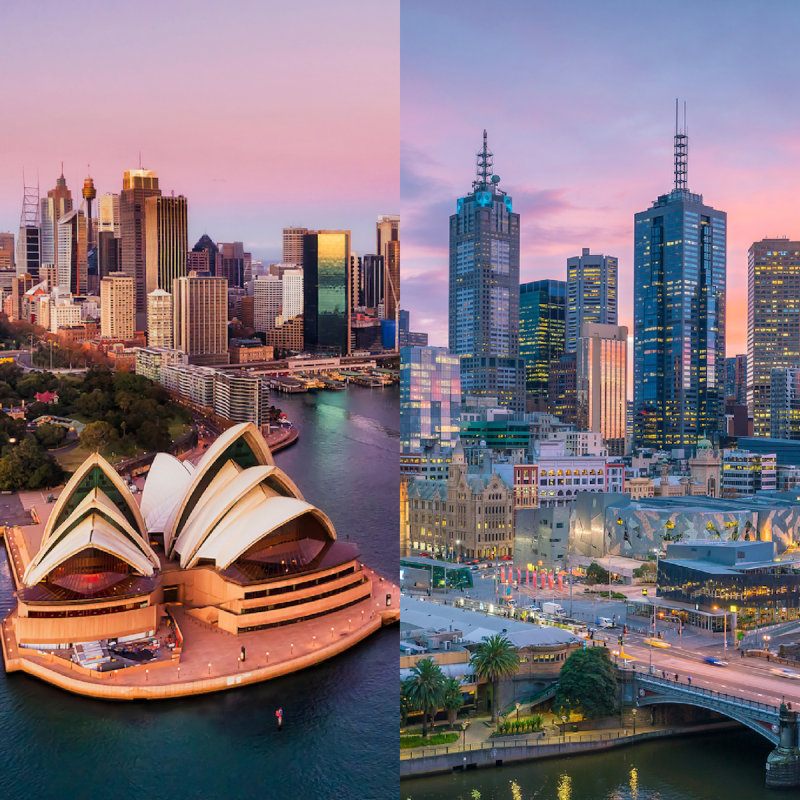 It's imperative to feel comfortable and safe while traveling.
Medjet
provides premier air medical transport, travel security, and crisis response memberships, providing peace of mind for an affordable price.
Ever since the mid-1800s, when Melbourne eclipsed Sydney with its gold wealth, there has been a (friendly) rivalry between the two Australian cities. Be it the sport (Sydneysiders play rugby, while the Melburnians invented Aussie Rules football), the food scene, the cultural events, or even the weather, one city is constantly trying to better the other.
While I lived in Melbourne for a few years, at the same time, I wrote a travel guidebook on Sydney and beyond, and therefore spent plenty of time in both cities. I find them quite different in their vibe and atmosphere, and love both cities, yet would always prefer to live in Melbourne and visit Sydney. But just like the debate of London vs. Paris, many people would choose it exactly the other way around.
Here are some of the main differences and similarities, some personal observations, and reasons as to why I think one might be preferable over the other, hopefully giving you enough information to choose for yourself if you plan to visit Melbourne or Sydney one day.
Sydney vs Melbourne: 7 Key Differences You Should Consider
1. Size And Population
Sydney, the capital of New South Wales in the southwest of Australia, has a population of 5.3 million, while Melbourne, capital of Victoria, a bit farther along the south coast, is home to 5 million people. Very similar right now, but forecasts expect Melbourne to overtake Sydney in the next 5–10 years when it comes to population. One of the reasons behind that forecast is that Melbourne has been voted the "World's Most Liveable City" for 6 years in a row, and even though it's now toppled off the top spot, it continuously beats Sydney in the ranking.
But being a liveable city does not necessarily make it a city that tourists flock to, and while Melbourne has plenty of worthwhile places to see, Sydney is indubitably the winner when it comes to tourist attractions. If you are coming to visit Australia and have only time to see one of the two big cities, make it Sydney. If, however, you want to immigrate and live in one of them — you might want to visit Melbourne.
Pro Tip: Keeping the size of the cities in mind, consider staying in the so-called CBDs, the Central Business Districts. These tend to be the central areas of most interest to visitors to Sydney or Melbourne.
2. Getting Around To See The Sights
Both cities are sprawling, but luckily, as happens so often, most of the top sights are located in and around the old city centers and within relative proximity to each other.
In Sydney, the easiest and quickest way to get around is by train, especially the City Circle Line, which takes in a lot of the sights, from Circular Quay to the Townhall, with the rest easily accessed on foot. That said, the most fun way to get around is definitely by the local commuter ferries, some of which take you across the harbor all the way to Sydney Opera House or Manly. Others will take you to the various hotspots along the way. A great bus line to ride is bus B, which takes you from Circular Quay to Bondi Beach. There, you can also visit the urban hiking trail which is one of the best in the world.
In Melbourne, there are the iconic trams, which are fun and take you everywhere within the city and even outside the inner-city limits. If you want to get to Brighton Beach, hop on the Sandringham train at the iconic Flinders Street Station.
Pro Tip: For ease of use, in Sydney, get an Opal Card which you can pick up in newsagents and kiosks. The Melbourne equivalent to the Opal Card is the Myki — the same idea, and easy to use across different public transport options.
3. The Weather
Before I even landed in Melbourne, I had heard about the "Four Seasons in one Day." I thought it was a joke, but no. Melbourne's weather is as fickle as they come, and you learn to dress in layers, and carry sunglasses and an umbrella every time you leave the house. On paper, Sydney gets more rain, but it tends to happen on consecutive days in the winter rather than a bit at a time, like in Melbourne. Sydney is rightly famous for its sunshine with more than twice the number of clear sunny days than Melbourne.
Pro Tip: Remember that Australia is in the southern hemisphere and has its seasons the other way around from most of us. Summer starts in December and Christmas tends to be celebrated with a barbecue in the garden or on the beach, while winter — and snow — occurs in July.
4. The Beaches – Sydney vs Melbourne, Who Wins?
Australian beaches are famous around the globe, and even the cities are blessed with some stunners within easy reach of the CBD. Sydney, on the Pacific Coast, has the famous Bondi Beach, and is a city with definite surfer vibes and a distinctive beach culture. Both sides of the natural harbor have a good selection of beaches, open for swimming and surfing. In contrast, Melbourne's beaches border Port Phillip Bay, a near-circular secluded bay that opens to the Bass Straight, making the beaches less surfable, but safer for swimming. And Melbourne's Brighton Beach has the iconic Victorian bathing boxes, adding a splash of color to the seaside.
Pro Tip: There are occasional shark attacks in Australia, but they are rare. To be safe, stay within the flagged stretches of beach, where lifeguards are always on the lookout and warn swimmers if there is a sighting.
5. Eating And Drinking
One thing to note, Australia has a superb eating culture, with local as well as international cuisines represented in top restaurants. Both Sydney and Melbourne have highly-rated restaurants that have been awarded Top Hats, a local equivalent to the Michelin Guide.
When I'm up for a drink, my favorite rooftop bar is at the Watsons Bay Boutique Hotel but there are plenty of bars with a view in Sydney.
Melbourne is famous for its coffee culture, with no Melburnian drinking anything but the best-sourced and expertly made coffee. The baristas are so dedicated, it can take a long wait even to get a simple black coffee. One night, I waited for half an hour.
Equally, Melbourne breakfast, simply called brekkie, is superb: from scrambled eggs with thyme-flavored mushrooms on sourdough to eggs Benedict. This is the place to get a hearty, late breakfast or brunch on the weekend. Sydney, as well as Melbourne, has a large choice of celebrity chef restaurants, and some great eateries for special treats.
When in Australia, try the local specialties, such as kangaroo, a superbly lean meat that is totally sustainable; the barramundi, an estuarine white meat fish you'll find on every menu and even in burgers; and the lovely Moreton Bay bugs, which are not insects but small lobsters.
And then there is, of course, the wine. The three main wine regions of New South Wales, Victoria, and South Australia offer an enormous variety of choices to pair with your dishes.
Pro Tip: Get yourself a Time Out magazine of Sydney and/or Melbourne to read about the hottest new restaurants, and to locate those serving modern Australian cuisine. The listings are always up-to-date and honest. You can also always ask the locals what they would recommend on doing in Melbourne or Sydney.
6. Shopping
Shopping in Australia is a double-edged sword. There are some superb places to splash the cash in Sydney and Melbourne alike, but Australia is unbelievably pricey, so always keep the exchange rate in mind as you browse. If the budget allows, in Sydney, head straight to the beautiful Queen Victoria Building at the bottom of George Street, and then work your way up. Don't forget to pop into the little covered arcades, such as the Strand Arcade, as you head toward The Rocks, where you can get gorgeous souvenirs.
Melbourne is famous for its tiny "laneways," narrow alleyways decorated with street art and brimmed with small individual boutiques and shops, and countless cafes and restaurants. All interconnected by historic arcades and small malls, it is quite easy to get lost, so why not go on a guided shopping tour, allowing someone local to show you the best spots?
Pro Tip: To save some money, you can claim some tax back at the airport before you leave or read some tips on how to experience Sidney on a budget.
7. Outside Of The City Limits
All of Australia is worth seeing, but visitors often just get a snapshot of what this country-continent has to offer. So, when in a city, it is always worthwhile looking outside its limits for other must-see sights on the doorstep. Both Sydney and Melbourne have superb nature and attractions within easy day trips. In Sydney, a visit to the Blue Mountains, with its Jenolan Caves and the Scenic World at Katoomba, with a fun funicular is a must. Wine lovers ought to visit the Hunter Valley, a brief drive north of Sydney.
Melbourne is hemmed in by wine regions on three sides, from the Yarra Valley to the Mornington and Bellarine peninsulas. You can combine vineyards with some iconic Australian wildlife at the Healesville Sanctuary; while the must-see Phillip Island has stunning scenery and a colony of the cutest penguins. For horse racing, visit the Flemington Racecourse.
Lots to see outside of both cities, but for me, Melbourne is the winner in the Sidney or Melbourne debate.
Pro Tip: In both cases, there are plenty of guided coach tours available with established outfits such as ATT Kings, but you are much more flexible in a rental car. Just remember: The Aussies drive on the left, and at dusk, the roos often sit in the middle of the road, refusing to budge.
Say what you want about Sydney, but the list of the sights goes on and on. When travelers are asked about what landmarks they most look forward to seeing, they'd be hard-pressed to say "Melbourne!" However, as a beating heart of Australia, Melbourne is still a fantastic place to visit.
FAQs
Which City Is Better for Culture and Arts, Sidney or Melbourne?
Melbourne. It depends on how you define culture, but if it comes down to the arts scene, Melbourne is the definite winner in this regard. It is touted as the "cultural capital" of Australia because of its top-class art galleries and museums as well as street art. On the other hand, Sydney is far from lacking culturally with its famous Sydney Opera House. Unfortunately, the city plays second fiddle to Melbourne on this subject because every new play, show, or musical will most probably have a run in Melbourne first.
Which City Has Better Nightlife, Sidney or Melbourne?
Melbourne is the clear winner these days though it might have been different In times past. Sydney once had a nightlife worth writing home about, but due to violence in the city. and lockout laws over the last few years, that reputation has been lost. Melbourne's nightlife, on the other hand, is certainly something worth boasting about. If you're a fan of cocktails, CBD is the place to be. In Melbourne's city center, you'll find pubs, clubs, and rooftop bars with a full view of the city.
What's the Biggest Difference Between Sydney and Melbourne?
Apart from Sydney's actual size, the biggest difference between the two cities is what they are best at. Melbourne is all about the original experience and the chance to relax and unwind. Sydney, on the other hand, treats visitors to spectacular views like the Harbour Bridge and Sydney Opera House and has massive festivals and fireworks. So, you'd do best to choose according to your own personality.
Is Sydney or Melbourne Better for Families?
Sidney is a better destination for families with its kid-friendly activities and the advantage of the city's waterfront location. Going to beaches where kids can learn to surf, whale watching, and visiting zoos and aquariums, are different things that will fascinate your kids. Melbourne is also known to be a very family-friendly place to visit, but the stress is on culture and art with museums and galleries. There is the Legoland as well.
Which City is Better for Students to Visit?
Both Sydney and Melbourne are fantastic places for students to Visit. Students just love the energy and outdoor activities in Sidney. They come from everywhere not only for the excellent universities but also for the diverse environment. On the other hand, Melbourne is among the best student cities in Australia because of its creative culture, music, and art scene.