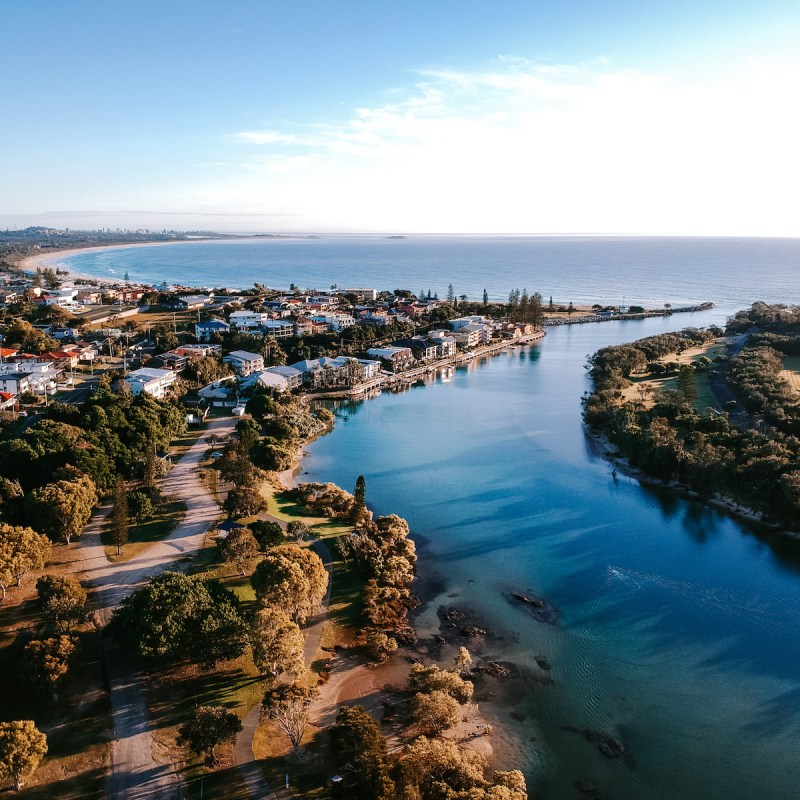 The Tweed is Australia's best-kept tourist secret. The 500-mile square tapestry in Northern NSW is fringed by 23 miles of stunning coastline and dotted with hinterland villages, organic farms, and the World Heritage-listed Wollumbin National Park.
The area borders Byron Shire (40 minutes below) but has retained the authenticity Byron Bay is losing with its celebrity status and multi-million dollar homes.
Tweed Tourism showed me around, but the gushing and oohing are my own. Wherever we wandered, Wollumbin, the towering remnant plug of an ancient volcano, watched our every move.
Wollumbin is the first place on the mainland touched by sunlight. Like this glancing kiss, I can only alight on some paddock-to-plate restaurants, distillers, and artisans calling this region home.
Reaching The Tweed
International flights service the Gold Coast Airport. The terminal is in Queensland, but runways straddle NSW. Instead of following the tourist crush to Queensland's Gold Coast, mosey down to The Tweed.
Pro Tip: Airport stays include Rydges Gold Coast Airport Hotel and La Costa Motel, a fun 1950s-themed motel. A2B arranges transfers to The Tweed.
Kingscliff
Kingscliff is an upmarket coastal village 20 mins from the airport. Authorities imposed a three-story building restriction so Gold Coast-style overdevelopment can't happen here.
Mantra on Salt Beach
Mantra on Salt Beach resort has 317 rooms offering private balconies. Some overlook the ocean, others the lagoon-swimming pool.
Pro Tip: Stipulate your preference as a couple overlook the car park.
Salt Beach
Mantra's back gate leads to Salt Beach. Stepping onto the dazzling white sand and seeing the arch of blue sky, I realized why locals keep this place secret. I was alone in paradise like Tom Hanks in Castaway — except for a lifesaver and his golden retriever sporting yellow and red caps. Retrievers love water and will retrieve anything. I was perfectly safe.
Salt Village
Resorts can hold guests hostage with limited dining options. Not in Kingscliff. The Salt Village shopping area edges Mantra and Peppers resorts, offering restaurants and a liquor store. Walking through the babble of people enjoying refreshments sounded like the best of times.
Sunfall Tapas Bar
Sunfall is perfect for a post-swim cocktail. Jason introduced his venture, "I opened a gym and gave up exercise. I figured the same would happen with alcohol when I opened a bar." We enjoyed Sunfall's signature cocktail — vodka, Malibu, coconut tequila, Bombay gin, Cointreau, fresh lime juice, and soda water. With this tipple, I've no plans for abstinence anytime soon.
Watersport Guru
A popular walk runs from Kingscliff Beach to Cudgen Creek's entrance. Float up on the incoming tide. Watersport Guru hires kayaks and stand-up paddleboards. Explore the wetlands and mangroves, spotting herons and eagles. Watersport Guru also offers Cook Island tours to snorkeling above green, hawksbill, and loggerhead turtles (the second largest turtles in the world).
Kiff And Culture Tours
We boarded a Kiff and Culture mini-bus to reach the Hinterland. I hate being herded and normally avoid group tours. But Kiff and Culture specialize in relaxed outings: long lazy lunches, craft breweries, and boutique distilleries. Perfect!
Kiff is South African slang meaning "epic" or "awesome." Our young driver Alex was a fabulous addition to our group, consisting of the sprightly and less sprightly. His kindness to those of us with mobility issues was unwavering and never condescending.
Alex lives in the Tweed, so knew the locals at our stops, happily chatting with them and us around tables heaped with the region's bounty. As a content creator, he's handy with a camera. I've used his photos with his permission in this story.
Pro Tip: Kiff and Culture run private and public tours. Their Tweed Hinterland Tour Down to Byron Bay covers many of the places I mention.
Murwillumbah
Leaving the coast, the Tweed River serpentines through a lush green valley. The town of Murwillumbah is the region's pumping heart but is only 25 minutes from the coast.
The Imperial Hotel
The Imperial is a 1931 restored country pub and is better for couples as solos get single beds — a blast from the past. Fall out of bed in the morning to experience the best baking this side of Paris. Tearing into croissants (plain, almond-filled, or chocolate) at Ben's Patisserie with coffee was bliss.
We dined at Barrels Pizza, gluten-free bases topped with ingredients like Fior di latte, portobello mushrooms, porcini, basil, and jalapenos. "Barrel" is a surfing term, so more kiff culture. On balmy nights, the restaurant's open frontage is strung with lights against the night sky with tunes drifting upwards from live musicians.
M-Arts Precinct
The M-Arts Precinct is where the local artists hang, literally — the cavernous space is filled with paintings, ceramics, jewelry, leatherwork, and skateboard deck art. Artisans work in shipping containers. The Regent Cinema is an Art Deco masterpiece. Bistro Livi boasts an ex-chef from Movida, one of Melbourne's best restaurants. Spangled Drongo Pop-up Bar serves cocktails, wine, and their own brewed ale in a fabulous lounging area. Kat Harvey Cheese was an unexpected surprise. She's an ex-chef turned cheesemaker who sells a collection of the world's top cheeses, and with such flair and passion that you'll want to spend all day with her.
Tweed Regional Gallery & Margaret Olley Art Centre
Tweed Regional Gallery & Margaret Olley Art Centre offers panoramic views over the Tweed Valley. Margaret Olley (1923–2011) was one of Australia's favorite still-life artists. Her home studio is recreated here. Ollie loved to paint flowers — cornflowers, delphiniums, calendulas, hydrangeas, and more — saying: "If the house looks dirty, buy another bunch of flowers…" See her studio strewn with flowers. Her ashes are interred in the garden.
Tweed Markets, Murwillumbah
The Tweed's volcanic soil, sunshine, and sub-tropical rainfall create a hothouse for abundant produce. Visit farmers markets in Murwillumbah and surrounding villages. I met some producers firsthand. Fabian Fabbro and Jodie Vicaars' Woodland Valley Farm epitomize the area's sustainable food scene. If I were a chicken, I'd check in — green acreage and a hens' dirt day spa for pecking and scratching. Henopause (when hens stop laying) doesn't mean the soup pot. Instead, they are given to families as pets. Excess yolks go into a range of artisan pasta sauces and duck egg custard.
Ventura Brewing brews Australia's first artisanal alcoholic kombucha. Our Friday night libations just got healthier. Dona Cholita brings authentic Mexican foods to Australia; authentic tortillas use organic non-GMO maize flour.
Tumbulgum
Follow the river downstream to the village of Tumbulgum. Soak up river views from the House of Gabriel while tucking into scones and cream.
Tweed Escapes and Blue Ginger Picnics Cruise
We combined a Tweed Escapes cruise with a Blue Ginger Picnic. Tania Usher also offers picnics on land. But there's something magical about drifting propped against plush cushions, a short reach from a lavish spread of organic seasonal produce while sipping a sparkling drink and watching the sun shimmering on the water.
Husk Distillers
Husk Distillers has a backstory. The business was a shed in a paddock until Paul Messenger created the world's first all-natural, color-changing craft gin from the butterfly pea flower. Alchemy! The pH changes with mixers – Ink Gin's purple swirls to a dazzling pink. In 2016, actress Margot Robbie was honeymooning in the region and Instagrammed herself drinking Ink Gin.
Thousands suddenly wanted to buy it. The rush was unexpected; the family-run business didn't have the stock, but with pre-orders, raised funds to build the present upmarket distillery with its cellar door and cocktail bar. Enjoy cocktails and inventive dishes such as gin sorbet trios and rum-roasted nuts. Despite Ink Gin's popularity, Paul's primary mission was to create Agricole rum with the sugar cane grown on the property — farm-to-bottle. See the canefields as you sip magical drinks. Distillery tours are available.
Duranbah
Tropical Fruit World
Tropical Fruit World is a commercial exotic fruit farm and a research park with more than 500 exotic tropical fruit varieties. Its official address is Duranbah, but it's located in the countryside.
I wasn't looking forward to the visit as the name sounded like a theme park. But the only ride I encountered was behind a tractor — an easy way to cover the 200 acres.
Rides were followed with tasting platters. Wow! The platters featured chocolate pudding fruit (rich, soft, pulpy) pomelo, canistel (or "egg fruit"), yacon root, rangpur lime, indigenous finger limes (exploding like caviar in your mouth), and dainty Davidson Plums.
At the Plantation Cafe, try passionfruit cheesecake, custard apple ice cream, jackfruit nachos, and smashed avocado on sourdough. We don't smear it in Australia; we load it.
Buy fruit from their market and test out tropical fruit-based beauty products.
Pro Tip: Tropical Fruit World is located 20 minutes from Gold Coast Airport or 10 minutes by car from Kingscliff.
Uki
The cute village of Uki, 15 minutes from Murwillumbah, is the base for outdoor activities including hiking in national parks.
Bastion Lane
Bastion Lane Espresso roasts beans, serves coffee, and sells stamps in a 1909 heritage-listed post office. A great excuse to send postcards.
Mavis's Kitchen And Cabins
At Mavis's Kitchen, horticulturist Jackie Hopkinson showed us through the flourishing garden. The much-loved restaurant is in a traditional Queenslander house. Head Chef Simon Liljeqvist plucks ingredients from the garden and surrounds. "A dish can start with me nibbling on a plant," he said, "and lead to something new and exciting."
Simon uses botanicals in salts, sugars, liqueurs, vinegar, and teas. Bottlebrush flowers give his margaritas a bright, tart berry flavor. Try the grilled Bay Lobster, glazed with cuttlefish garum, bunya shoyu and mirin butter sauce, lychee, and chili jam oil. Our ooh-moment was his "Bottlebrush splice": pannacotta with bottle-brush syrup, topped with bottlebrush granita, the spiky flowers harvested from the tree outside.
Pro Tip: Accommodation in bush cabins scattered on the 25-acre property. All have nature views.
Carool
Carool houses the Wirui Estate coffee plantation. Imagine waking up and not only smelling the coffee but walking through the plantation.
Potager
Peter Burr's Potager won Gold in the 2022 NSW Tourism Awards. It's homely but with superlative food, impeccable service, and knock-out views. Guests enter via the kitchen garden. Enjoy tasting menus or individual dishes like seared wild venison loin, smoked beetroot custard, horseradish greens, ink gin, and blueberry jus. Although fish stew is the dish, diners refuse to let Peter take it off the menu.
Pro Tip: Head here from the airport. Like so many Tweed places, it's only a 20-minute scenic drive.