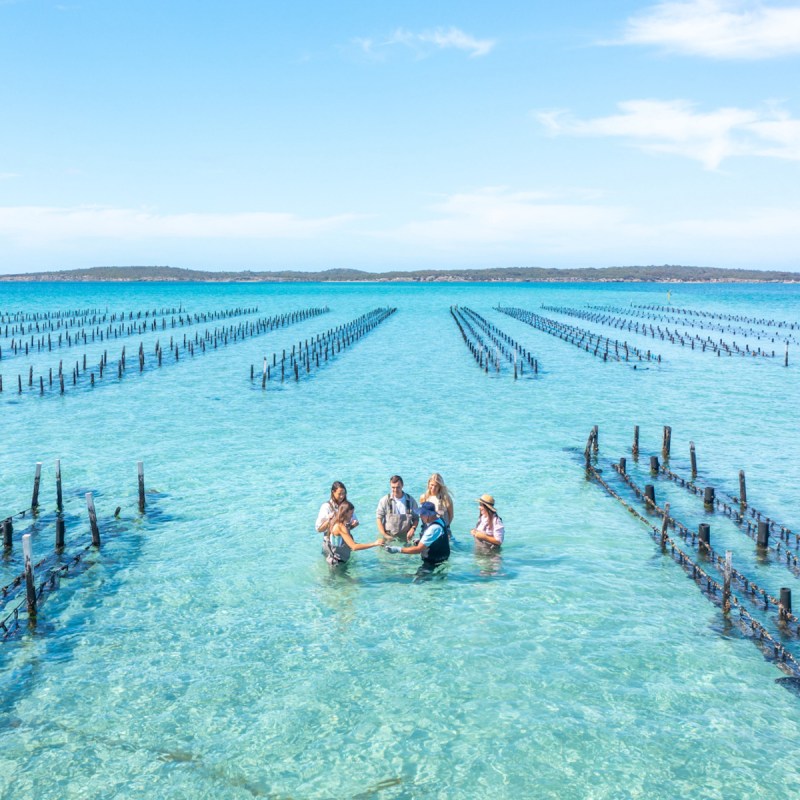 South Australia is a state in the south-central part of Australia. It covers 380 square miles, about the same combined area as Texas and New Mexico. The state has a lot of space and not a lot of people to fill it — hence there are many regions to escape to. The capital (and my closest major city), Adelaide, has a population of 1.4 million, which is small compared to major cities in the U.S
Although regarded as the driest state in the driest continent, cereal crops, livestock, horticulture, wine, seafood, forests, and dairy sectors are a vital part of South Australia's economy. It leads the nation in renewable energy and rich natural assets, with large deposits of copper, gold, iron ore, graphite, and petroleum.
And then there's tourism. Visitors can get up close and personal with unique wildlife and immerse in swathes of the ochre-colored outback, dramatic coastlines, world-class wineries, and historic towns and cities.
South Australia is a relaxed state full of natural wonder, wine, and wildlife. Let me share some of my favorite places to escape to.
1. Coffin Bay
Eyre Peninsula
With a coastline that stretches the distance from New York to Houston, it's no wonder activities on the Eyre Peninsula involving the sea are popular. Endless beaches, pristine aqua-colored waters, untamed beauty, and seafood that graces the world's finest restaurants abound.
The Eyre Peninsula is the furthest region from Adelaide, but it is worth going the extra mile to get there. The region's center is the city of Port Lincoln, a 7-hour drive or a 45-minute flight from Adelaide.
Coffin Bay, a sleepy seaside village, is a 30-minute drive west of Port Lincoln. Those looking for educational but light-hearted fun will enjoy the Oyster Farm and Tasting Tour. Before wading through the shallows to the semi-submerged tour deck, guests are provided waterproof waders. The affable oyster grower will enlighten you with insights into the town's history and the oyster industry.
The experience of sipping a glass of white wine, or a bloody mary oyster shot, as you're served the freshest oysters straight from the sea is truly divine. The tour can include pick up and return from your Port Lincoln hotel if you're not self-driving.
When hunger sets in, enjoy the all-day tapas-style menu at Oyster HQ, where plenty of culinary options are available if oysters aren't your thing.
Pro Tip: I spent all my childhood summer holidays in this little town, learned how to fish and swim, and have watched it grow over the decades. The best time to visit is from March to May, when the crowds have dispersed and the weather is calmer and kinder.
2. Port Lincoln
Eyre Peninsula
The city of Port Lincoln has a population of 15,000 and is built around sandy beaches and rocky coves. It is the "Seafood Capital of Australia," and the marina provides a safe haven to the commercial fishing fleet and luxury yachts. It is a destination that offers a range of escape opportunities to immerse in the beauty of land and sea. It is one of few places in the world where you can go cage diving with great white sharks.
Calypso Star Charters ticks off the pinnacle of a thrill seeker's bucket list on their full-day tours to Neptune Island, 24 nautical miles off the coast. The great white shark is a creature that either fascinates or scares the pants off many; Calypso Star Charters says it boasts an 80 percent success rate of sightings. I'm not sure if that is a good or bad thing. Gulp. Wetsuits, gloves, and booties are supplied to guests who want to head below the surface to get a close-up view from the safety of the cage. Oh, they also give you scuba gear, so you'll have some breath to be taken away!
However, there's no shame if you want to watch from the boat. You can purchase the underwater photo packages available at the end of the tour — your friends won't be able to tell if it's you with all the scuba gear on, anyway.
Landlubbers, don't despair, because there's plenty to fascinate you, too. Rent a car and drive yourself, or join a tour to hand feed the local wildlife. View koalas up close, venture across sand dunes in a 4-wheel-drive vehicle in Lincoln National Park, gaze out over the Southern Ocean from limestone cliffs, or relax and taste the maritime-influenced wines.
Pro Tip: I choose to stay at the Port Lincoln Hotel. With sea-view balcony rooms, a restaurant, and two bars serving light meals all day, it is ideally located near the beach and shopping precinct.
3. Rawnsley Park Station
The Flinders Ranges
Regarded as the most accessible outback in Australia, the Flinders Ranges is a mountain range of rocky gorges and rugged, weathered peaks that start around 125 miles north of Adelaide. Stretching 265 miles northward, they provide some of the most dramatic landscapes in Australia. The most significant is Wilpena Pound, an oval-shaped natural amphitheater of mountains 10 miles long and 5 miles wide.
Overlooking the southern side of Wilpena Pound is Rawnsley Park Station. This working sheep station has transformed into an award-winning tourist destination, attracting 20,000 outdoor enthusiasts a year. There are many ways to escape in this wilderness. You can choose hiking and mountain bike tracks, scenic flights, and 4WD tours. You'll find unique photo opportunities, a swimming pool, or a shady tree to read a book under.
Accommodation options include campsites, the Rawnsley Homestead for 2 couples or a family, self-contained holiday units, or luxury eco villas. The ceilings in these villas retract, offering night-sky viewing from the comfort of your bed. With no artificial light to interfere with the dark night sky, the Australian outback is one of the most impressive skies in the world to stargaze.
Modern Australian cuisine is on the ever-changing menu at the onsite Woolshed Restaurant, situated in an authentic Australian woolshed with a focus on local produce and native ingredients. I recommend the home-grown lamb or the Pepperberry Roo.
Pro Tip: While I suggest you spend a few days here, a package is available for those on limited time. Priced from around $2,000 AUD per couple, it includes 2 nights in an eco-villa, a 30-minute scenic flight, and a full day 4-wheel-drive tour, including lunch.
4. Port Noarlunga
Fleurieu Peninsula
Port Noarlunga is a beachside suburb 40 minutes south of Adelaide — and one I know really well because I live there!
I'm fortunate to live on a stretch of the Onkaparinga River, less than half a mile from where it flows gently against oche-colored cliffs to the sea. This section is tidal, so the crystal clear, calm saltwater makes it popular for kayaking, stand-up paddle boarding, and swimming. Dogs love it, too, as they are allowed off the leash here, with their owners choosing this location for their regular walks.
A leisurely stroll across the river on a boardwalk, then through sandhills, provides access to Southport Beach. Named a top 10 beach in Australia in 2020, it is an excellent surfing beach for board riders and body surfers. Incidentally, the criteria used to judge the best beach included "international suitability, beach safety, engagement with authentic Aussie locals, and how likely one would be to recommend the beach to a friend." For an alternative walk, there is a dedicated walk/cycle path along the river.
In Port Noarlunga, a heritage-listed reef lies just off the end of the pier. The town also offers excellent restaurants overlooking the sea, casual cafes for coffee and breakfast, a bakery, a hotel, and bespoke shopping outlets. Award-winning Hortas Restaurant is a special place to watch the sun set over the sea while enjoying seafood or Portuguese cuisine.
The Onkaparinga is not a mighty, majestic, or grand river. But it brings pleasure, exercise, fresh air, a sense of community, a way of life for me, and an escape for many others.
Pro Tip: I recommend the E-bike and Wine Tour conducted by Gone AWOL Tours. Meet at nearby Moana, then take a casual ride to the McLaren Vale wine region. The first stop is for coffee, then wine tasting and lunch. The tour continues on a minibus, so you can enjoy the world-class wines and cuisine without worrying about a return ride.
5. Kangaroo Island
Kangaroo Island lies 8 miles off the mainland of South Australia, southwest of Adelaide. It is approximately 1,700 square miles, about two-fifths the size of Hawaii. With a population of less than 5,000, it is a nature lover's paradise. Abundant with native wildlife, including sea lions, koalas, echidnas, penguin colonies, and diverse bird species, the island receives 140,000 visitors each year.
They say the further you travel away from the mainland, the more life seems uncomplicated, and your troubles seem further away. Kangaroo Island is definitely somewhere to escape to. You can be as active or passive as you like. There are only three main towns and plenty of stunning coastlines, natural bush, and farmland between these.
There is an array of accommodation options on the island, including beachside cottages, lighthouse keepers' cottages, stunning hotels, and retreats. Those with an immersive desire might choose glamping or a farm stay to get to know the locals. Regardless of where you stay, you'll find art, culture, local wines, fresh produce, and honey, with friendly people around every turn.
Pro Tip: While you're very likely to see a range of native animals in the wild, I recommend a visit to Kangaroo Island Wildlife Park to see and learn about over 150 species of Australian native animals, reptiles, and birds — and a chance to cuddle a koala.
Many international travelers put Sydney, Melbourne, and the east coast of Australia on their list when planning a trip Down Under. South Australia is often thought of as the forgotten cousin. Still, I can assure you it punches above its weight in the tourism stakes, and you won't find friendlier people anywhere. I hope to see you here one day!