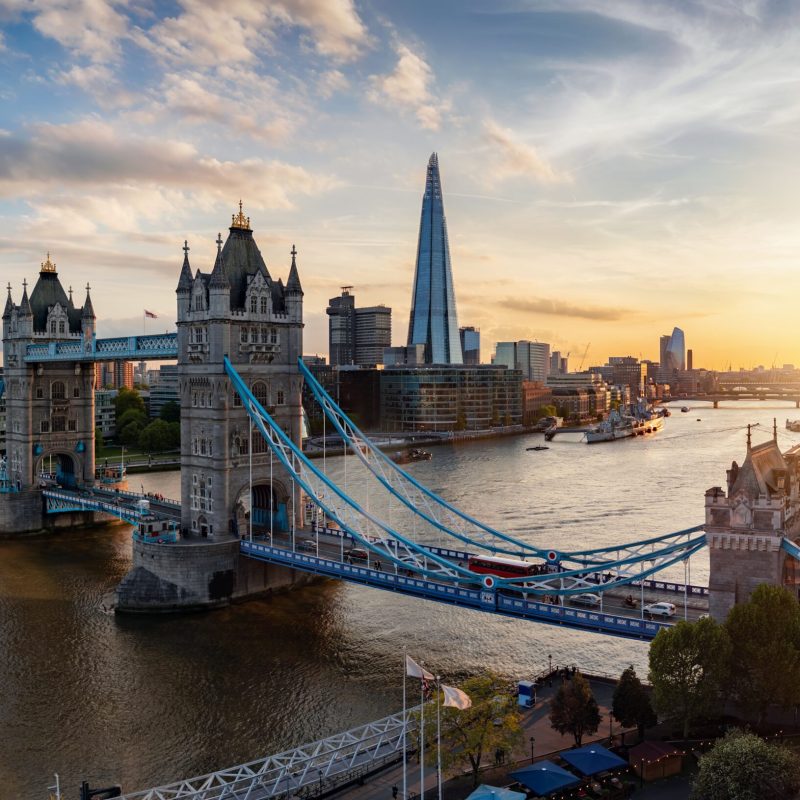 London and Paris are two of the greatest capital cities in the world, and certainly Europe's two favorites. Connected by fast train, the Eurostar, it is eminently possible to visit both London and Paris in one day, and you'd think with them being so close together, they would be practically interchangeable. But no.
The two cities, which share a friendly rivalry over which city is more attractive to visitors, are indeed very close when it comes to annual tourism statistics, with both bringing in tens of million visitors into the city centers each year and swapping the top spot regularly between the two. But that's pretty much where the similarity ends.
Paris is home to two of the world's most visited tourist attractions, the Eiffel Tower, and the Louvre (plus Versailles, which in some statistics is for some reason counted as being part of Paris), whereas London has none, strangely enough. Yet visitors on average tend to stay longer in London than in Paris.
I have been lucky to have lived in both cities, and love each one for its own reasons, although, if pushed, I'd rather live in Paris and visit London. But many of my fellow expatriates say exactly the opposite.
So, why not see what the differences are and decide for yourself?
1. Size And Crowds
Compared with London and its population of 9 million people, Paris proper is practically a village with barely 2.2 million residents. You might have read that Paris has a population of around 12 million, but that is the metropolitan area of Paris, including all the suburbs, which, if they lie outside of the ring road peripherique, are not genuinely Paris. While London's 9 million are also living in the metro area of the city, London's metro area truly counts as London. So, London has nearly four times the volume of people as Paris, and it can get crowded.
Where London is absolutely sprawling, Paris is compact, and in London you need to allocate plenty of time to get from A to B, in Paris you can practically walk anywhere. On the whole, even though certain areas in Paris get very busy at times, such as around the Eiffel Tower or the Tuileries Gardens, I find London much more crowded in the center, so much so, that quite often I skip certain locations such as Oxford Street because you simply cannot step for people.
2. Getting Around To See The Sights
Both cities have open-top bus tours which take you along the main routes, giving you a good feeling of what is where, places to highlight for later, or indeed the chance of hopping on and off as you go. It is a fun way of exploring a new-to-you city, but the traffic (especially in London) can turn this into a time-consuming way of getting around. If you have certain sights in mind and are pressed for time, I suggest getting to know the local transport.
In both London and Paris, the buses, underground, or the metro are easy and cheap to use and add a bit of local flavor to your excursions. And certain bus routes are great for sightseeing: In London, bus 11 from Westminster Cathedral takes you past Big Ben, Houses of Parliament, Trafalgar Square, the Strand, St. Paul's, to Liverpool Street, from where you can explore the East End on foot.
In Paris, try bus 42 from Gare du Nord, traveling past the Palais Garnier, Madeleine, Place de la Concorde, across the Seine to the Eiffel Tower. Or take bus 72 along the Seine, from the bottom of Trocadero to the Hotel de Ville, hugging the right bank for great views.
3. The Weather
London is famously decried as a foggy, rainy city, while pictures of Paris always show sunshine. But on paper, the rainfall in both cities is in fact quite similar. The truly noticeable difference is to be found in the sunshine hours, which are much higher in Paris than in London. Also, in Paris, being part of the continent, you tend to get more distinct seasons, with warmer summers and slightly colder winters. That said, in January you generally get the Paris grisaille, a damp grayness that covers the city and makes a few days in a row feel quite miserable.
For both cities, it is quite true to say that spring and fall are probably the best seasons to visit, even if you might need an umbrella. Summers can get hot and sticky in the cities, making sightseeing a chore, as neither city is known to have embraced air conditioning. That said, winter is one of my favorite seasons to visit Paris because I feel it has a special charm when the leaves of the trees are down and you can admire the glorious architecture better.
4. Shopping
Shopping is a delight in both cities, there is no doubt about it. And funnily enough, you'll find many Londoners hopping onto the Eurostar to go shopping in Paris, while Parisians adore shopping in London. As they say, the grass is always greener… When it comes to fashion, the inimitable French style a la Coco Chanel is something many aspire to, and the high fashion boutiques in Paris are a delight, if with eye-watering prices. The London style is hipper and more eccentric — just think of Kings Road, which bore designers such as Vivienne Westwood. Luxury in London, however, is more understated, with many of the old money set still having suits tailor-made and going for non-showy labels, which, including iconic trench coats by Burberry, for example, never go out of fashion. Prices are similar in both cities, but London has the advantage of many charity shops which are always fun to browse for bargains and more budget-minded brands such as Primark or Marks & Spencer's.
5. Eating And Drinking
When it comes to eating and drinking, the two cities could not be more different. While Paris is full of traditional brasseries and café terraces always filled with people either drinking coffee or wine, London's trendy eateries and olde-worlde pubs are all the fashion. Obviously, both cities have their fair share of high-end fine dining restaurants, but at street level, the food is quite different.
In Paris, a set lunch of two or three courses is offered in most restaurants at a prix fixe, a cheap and pleasant way to eat in style. In London, people are on the run at lunchtime, and sandwiches are still the norm, often eaten back in the office at the desk. When it comes to pre-dinner drinks, London's fabulous old pubs are always full between end-of-work and going home time, and serve great beer, while in Paris, the terraces brim with people enjoying a wine or aperitif such as an Aperol Spritz. Dining, again, is a more organized event in Paris, often starting with a glass of champagne followed by at least three courses plus cheese. Seriously, even after so many years in Paris, I can not figure out how they all stay so slim.
And then there are the timings: in London, dinner is around 6 and 7 p.m., at posher restaurants around 8 p.m., whereas in Paris, you'd be struggling to get served before 8 p.m., and many people still pop into restaurants around 10 p.m. for dinner, even mid-week. Pricewise, apart from the lunch prix fixe, London is probably a touch cheaper, just, but generally speaking, you can eat cheaply or horrendously expensively in both cities. But a glass of champagne is definitely cheaper in Paris.
6. Getting Along With The Locals
The Parisian waiters' reputation as being notoriously rude is known worldwide, but is it true? Personally, I have always gotten on with them as long as I greet them with a "bonjour," order, or at least try to order in French, and say please and thank you. I have seen many a tourist being treated badly, but that was because they simply shouted their coffee order in very loud English at the waiter without any regard to what is deemed basic politeness in France. As long as you say a greeting and try to speak a little bit of French, you'll find you'll get on much better in cafes, shops, and everywhere else.
In London, the stereotypical London cabbie also has a reputation that precedes him, and that is of being loud and chatty. And it is quite true. But the average cabbie is also your best bet to find out more about London, get tips as to where to go for food and drink, what is on, and, of course, the quickest way to get there. Typical Londoners are a wealth of information and tend to be so chatty that you can ask all those questions you always wanted to ask about London but did not know where to ask.
7. Breakfast: The Most Important Meal Of The Day
One of the main differences between the two cities is probably their breakfast. A full English breakfast comes with eggs, bacon, toast, beans, hash browns, mushrooms, black pudding, and sausages, coming in at a week's worth of calories in one sitting, but in turn, setting you up well for a day's sightseeing. In Paris, you'll get a croissant, or maybe if you are really hungry, a baguette tartine.
So, are you team London or Paris?