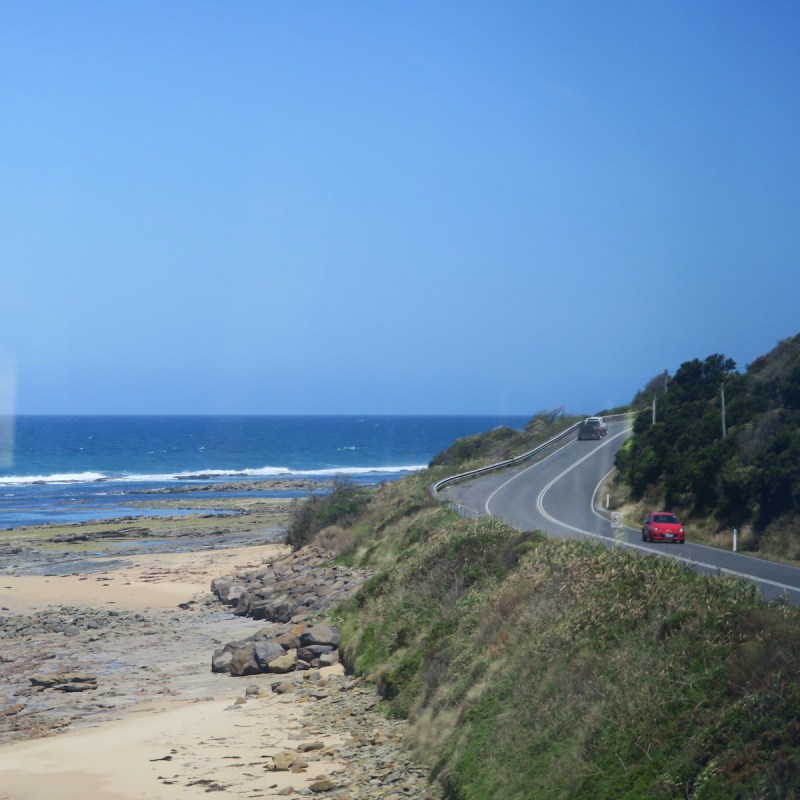 One of the world's most iconic drives, the Great Ocean Road (or GOR) coils the Australian coastline west of Melbourne. Serpentine loops and perilous drops make for a roller-coaster drive. With single lanes in each direction, signs warn: "Drive On The Left In Australia."
Instead of renting a car, why not take public transport? That's what I did.
This was my first time on the famous road by bus. When I mentioned my plan, my friends said, "What an adventure." And it was.
Instead of gripping the steering wheel, I'm immersed in nature. Coach windows are above roadside foliage. I can't see the edge of the road, only perilous drops and waves crashing beneath. Below, I chronicle my trip — hopefully, you can learn from it on yours.
First Leg: Geelong
My V/Line train departs Melbourne's Southern Cross Station at 9:10 a.m. and reaches Geelong at 10:12 a.m.
The Great Ocean Road bus meets the train. The official start of the Great Ocean Road is Torquay, Australia's surfing capital, home to the National Surfing Museum and birthplace of iconic surf brands Rip Curl and Quicksilver.
The Great Ocean Road continues on and shadows the Surf Coast. My coach window screens a panorama of beach views — people surfing, fishing, swimming, mere dots on nature's canvas.
Pro Tips
V/Line tickets are available online or at Southern Cross Station. Grab a copy of the Apollo Bay Melbourne timetable — you'll need it! After Apollo Bay, the halfway point, services dwindle to three times a week. My timetable was well thumbed.
Start your journey in Geelong. See my article Geelong, Gateway to Australia's Great Ocean Road.
Stay At BIG4 Holiday Parks
Choices. Travel the 41 miles to Lorne and return to Melbourne the same day; or on Mondays, Wednesdays, and Fridays, buses travel the full 150 miles of the Great Ocean Road to Warrnambool. A day full of views sounds tempting. But with over 30 coastal stops along the GOR, I recommend overnight stays at BIG4 Holiday Parks. Some I've been invited to visit.
Conceived in 1979, BIG4 parks aren't mere places to stay but ways to experience "true blue" Aussie holidays: closeness to nature, excellent facilities, and communal spaces where guests mingle.
They're perfect for international visitors, who can encounter Australian friendliness rather than the remoteness of holiday lets or hotel rooms. BIG4s are Australia-wide, with plenty along the Great Ocean Road. They offer cabins and glamping alongside more traditional camping or motorhome sites.
My bus pulls into Aireys Inlet by lunchtime, and I walk across the road to BIG4 Aireys Inlet where I stay in a one-bedroom cabin with a separate bedroom, ensuite bathroom, cooking facilities, lounge, and outside deck.
Walking the park's circuit, I see new glamping safari tents with split system heating and air conditioning, four-poster queen beds, clawfoot baths, and private balconies.
I chat to people about their rigs, where they're from, and holiday plans. That's standard practice in a BIG4, to walk and talk the circuit.
Behold Beach Beauty At Aireys Inlet
Melissa McDonald, the park manager, tells me about nearby activities. Eagles Nest Gallery, where local's artwork echoes the area's stunning colors and scenery, is across the road.
In search of these scenes, I walk a dirt track to Sandy Gully Beach, so picturesque I feel I've entered one of the paintings.
Walking the cliff-top path in the opposite direction, Split Point Lighthouse looms. The operational lighthouse offers self-paced tours. It has stairs, but landings to rest and 360-degree views — and memories if you saw the children's TV series Round the Twist.
Pro Tip: Lighthouse Tea Rooms serve memorable Devonshire teas.
Tastes And Tipples
BIG4 Aireys Inlet is opposite Great Ocean Road Gin Tasting Room, and I'm not driving!
Owner Ann Houlihan has created a coastal gin to reflect the sense of place, using foraged botanicals such as coast daisy, saltbush, hop wattle, and eucalypt. Tastings come in crystal glasses on a silver tray, with yellow grapefruit peel for zing and mint for freshness. My favorite is raspberry gin liqueur. Local raspberries soaked in gin. Life doesn't get much sweeter.
Meals focus on Southeast Asian shared plates. Sitting in a gin garden on a summer evening with a G&T infused with yuzu, eating spicy food, feels like being in Asia.
Nearby Aireys Pub, a historic 1904 hotel, once risked being bulldozed by developers. Local mates bought it, and, as they say, "When the big wigs waltzed in and told us what beers we 'had to have in our pub,' we did what all good Australian pubs should do. We told them to bugger off."
They started brewing their own, and Salt Brewing Co. was born. Try Ink, a beer brewed with coffee beans; or Salt Lager, named for their love of surfing.
Next morning, Melissa mentions her husband is one of the brewers. This small, tight-knit community loves their rugged patch of coast and represents it in their art, food, and drink.
If you want to add a stop, Lorne, the next main town, will wow you with its historic hotels, boutique gift stores, cellars, eateries, and galleries.
Wye River Deep Relaxation
Why Wye River?
Wye River is an hour by bus from Aireys Inlet and is on the other side of Lorne. I come here whenever I can. The drive here is a spectacular section with high cliff tops, tight corners, isolated beaches, and glorious views.
Don't blink. You'll miss your stop. Only 63 people live in Wye River.
My bus pulls up at the beach opposite Wye General Store and Cafe and the Wye River Beach Hotel.
BIG4 Wye River is a few steps away. The narrow entrance broadens to a hidden valley with the Wye River flowing through it. Caravanners and campers have idyllic sites on the banks. A charming riverside walk of ducks and dappled sunlight leads to the ocean. The 25-acre park is walled on one side by the Otway Ranges. Ask at the office about places to spot koalas.
I sleep surrounded by the cacophony of bush sounds. My deluxe cabin has a master bedroom and stunning decor. The shower tiles are flecked with gold. The balcony overlooks a field where children jump on a giant inflatable pillow. Their parents demonstrate somersaults — an amusing sight.
Like a limpet in a coastal wonderland, I watch the world float past. The procession of workers who maintain this park in pristine condition; retired couples walking hand-in-hand and active families freed from screens.
Mostly, I do the triangle — the cafe for fabulous meals and arguably the best coffee on the Great Ocean Road, the beach where a 20-minute ramble leads to tidal rock pools, and Wye River Pub for sunset drinks and gasp-worthy views over the surf break.
Wye River is a place with not much to do, but everything you do here is superlative. A place for heightened observation and deep relaxation.
Sadly, I'm only at Wye River for one night and await my bus the next day. But how many commuters get to stand on a beach to wait for their ride? They should be so lucky.
Visit The Shipwreck Coast And 12 Apostles
The Great Ocean Road now twines through the Otways. Gigantic tree ferns and ancient trees line the route.
Glimpses of blue reappear as the coach reaches the Shipwreck Coast. Blasting winds and powerful waves have caused 700 historic shipwrecks, but also chiseled the limestone formations that make the Great Ocean Road world famous.
V/Line factors in a 30-minute stop at the 12 Apostles, magnificent limestone monoliths standing upright in the Southern Ocean. And 15 minutes at Loch Ard Gorge, the site of one of Australia's worst maritime disasters. Fifteen minutes is all it took for the Loch Ard to sink in 1878, killing all but two of the 54 people on board
See the cliff that seaman Tom Pearce climbed after dragging himself and the only other survivor, Eva Carmichael, from the sea. As both were teenagers, the heroic story was a news sensation. Thousands of romantics sent letters and telegrams calling for the pair to marry. It was the puritan Victorian era. They had spent the night alone on a beach together, and Eva was in her nightdress!
But in a Titanic-like twist, they came from different social classes (Eva's father was a doctor). Their love was not to be. Perhaps this is why Loch Ard Gorge has become popular for wedding proposals.
Discover Port Campbell, A Safe Haven
I'd booked a motel in Port Campbell but wish I'd stayed closer to town.
I thought Sow and Piglets, a micro-brewery/hostel, close to the bus stop would be too noisy. Now able to visit, I find a great vibe. There are impressive apartments away from the dormitories. Nearby Port Campbell Hotel has a charming, old-fashioned dining room and inexpensive rooms. Next time!
Port Campbell's beach is the town's heart. It has the bluest of waters sheltered by limestone cliffs and Norfolk pines. Fiery sunsets guaranteed. This is the safest place to swim along this dangerous stretch of coast. A safe haven on the edge of nature's wild lashings.
Stroll to Port Campbell Jetty and watch waves crash against limestone cliffs. The Discovery Walk crosses a suspension bridge, climbs 191 stairs, and follows a 2.5-mile path with fabulous views to Sentinel Rock and the 12 Apostles.
Port Campbell has an abundance of restaurants for a population of 500. Some overlook the beach. My favorite, Forage on the Foreshore, uses ingredients the owners either forage or grow.
Staying in Port Campbell for two nights to fit in with the bus timetable, I experience how friendly and obliging the locals are. One man is waiting for his daughter's school bus when he sees me rolling my suitcase down the street. He jumps in his car to drive me to my motel.
The town makes sure tourists are covered for meals. At 12 Rocks Beach Bar, I ask the waiter if they are open tomorrow. "We're closed, but the pub's open," he says. "They closed for us tonight. Tomorrow we return the favor. "
Warrnambool, Whales, And Oddball
My fifth day away, and my bus connects with a V/Line train to Melbourne. But Warrnambool is blessed with beaches and charming architecture, so I opt for another night away.
Centrally located Figtree Holiday Park is a 20-minute walk from the station or $10 by taxi. Accommodations include tent sites with ensuites, family suites, and studios with spa baths. Owners Scott and Donna previously ran an upmarket bed and breakfast in the Yarra Valley, and it shows.
My deluxe cabin reflects Donna's flair for interiors. She's picked out the same grays, olive greens, and frothy whites of the ocean painting on my wall in the throw rugs, cushions, and even the pot plants. Deluxe touches included a coffee machine, upmarket toiletries, and an outdoor ice bucket for drinks on the porch. The park has tennis courts and a massive, heated indoor swimming pool.
In place of rules plastered everywhere comes a simple message."You are on holiday. So enjoy yourself and time spent with loved ones."
From Figtree, I can walk to Fletcher Jones Market, Warrnambool Art Gallery, the beach, restaurants, and Flagstaff Hill Maritime Museum and Village.
Having previously visited Warrnambool's Geothermal Hot Pools, I know the city. But decide on a 3-hour Warrnambool Wanderer Tour with long-time local Fiona Van Kempen to find out more.
Sharing her local knowledge and binoculars, Fiona takes me to Logans Beach Whale Nursery, with its viewing platform for the Southern Right whales. Another highlight is Pavilion Cafe, where early morning patrons can watch racehorses exercise in the sea.
Middle Island is closed to public access. With binoculars, it's exciting to spot the resident white Maremma sheepdog guarding the penguin colony against foxes. The basis of the movie Oddball.
Fiona drops me off at the train service. I've been gone 5 days, but the train whisks me back to Melbourne in 3.5 hours.
Extra: Great Ocean Walks
The Surf Coast Walk from Torquay to Aireys Inlet and the Great Ocean Walk from Apollo Bay to the Twelve Apostles offer incredible views. Overnight campsites or more luxurious options. Public transport is useful for drop-offs so you can walk segments. Visitor centers at Port Campbell and Apollo Bay offer advice, and Parks Victoria has created helpful strip maps.
Related Reading: