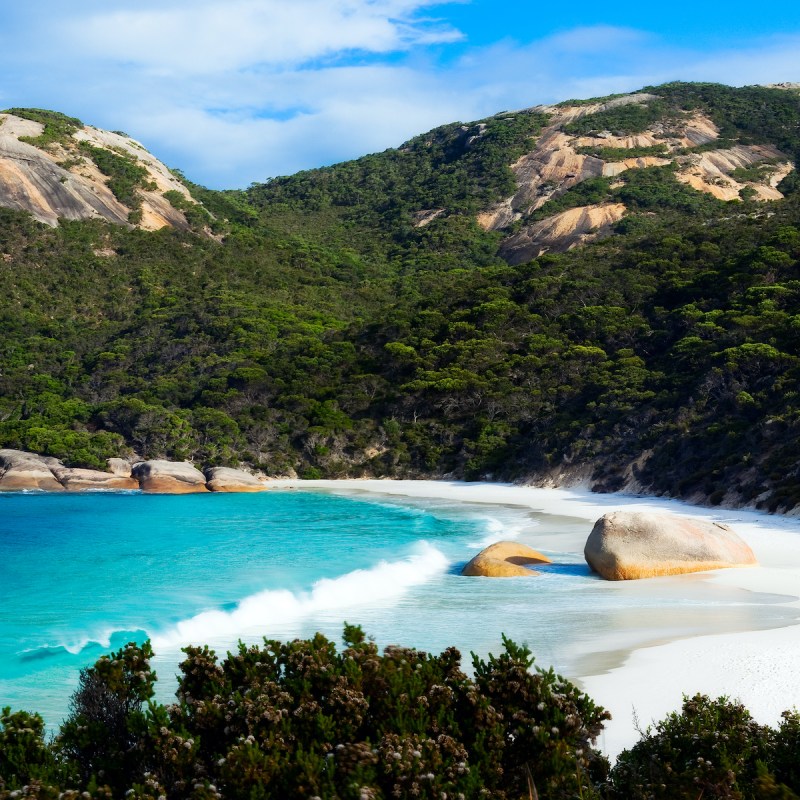 I sat motionless waiting for a small, teddy bearlike marsupial to investigate the fallen rubber fig fruits that littered the ground around me. After about 15 minutes, a curious female ventured over, scooping up berries and popping them into her mouth. As if noticing a mysterious new statue, she turned, placed her tiny, taloned front paws on the edge of my sneaker, and looked up at me, lips smacking.
My close encounter with the animal kind, on Rottnest Island, lasted only a few seconds and was just one of the memorable moments of my trip to Western Australia (WA), which was sponsored by the region's tourism board. The largest of the country's six states, WA is also the least known to American tourists. Here is one of the world's 36 biodiversity hotspots. You don't have to look far for unforgettable experiences.
Western Australia is teeming with outdoor recreation and plenty of opportunities to glimpse endemic wildlife in its 100 national parks, 3,500 beaches, and 17 marine parks. The state also has rich cultural activities and a lively food and drink scene. Here's a guide to 25 unique and amazing experiences you can have in Western Australia.
Pro Tip: When booking a trip to Australia, remember that its seasons are opposite to ours. Spring runs from September through November, summer is from December through February, fall takes place in March through May, and June through August marks winter.
1. Mullaloo Beach
Recognize the hard truth that you can't see every sandy shore, then schedule a trip to Mullaloo Beach, about 20 minutes northwest of Perth. One of the region's more popular and easiest-to-access beaches, it features a strip of pristine white sand juxtaposed against turquoise water.
2. Smiths Beach
If dramatic surfing — and great surfing — are more your speed, head to Smiths Beach in Yallingup. It's a favorite among surfers admiring the crash of the swells and for photographing candy-colored sunrises.
3. Rottnest Island
About 11 miles off the coast of WA and accessible by ferry, you'll find Rottnest Island. A stunning getaway from the mainland with lots of beaches, a lighthouse, and a "downtown" where you can eat and sip. Little Salmon Bay, one of 20 bays and 63 beaches on the island, is beloved for its calm waters — perfect for swimming and snorkeling among tropical fish swept in on the warm Leeuwin Current and vibrant coral reefs about 300 feet offshore.
Rottnest is known for its population of quokkas, or short-tailed scrub wallabies. Although quokkas once roamed around the WA mainland, very few exist there today. The largest population — somewhere between 10,000 and 12,000 — lives on Rottnest Island,
While celebrities helped bring needed attention to the threatened species with quokka selfies, it's both unethical and illegal — and could incur fines from a couple hundred to tens of thousands of dollars — to pet, otherwise touch or interfere with, or feed the animals. Keep your distance and ask a friend to snap your picture rather than trying to get close enough for a selfie.
4. Cape To Cape Track
The 75-mile Cape to Cape Track spans the southwestern coast from Cape Naturaliste to Cape Leeuwin. Multi-day hikes with camping allow for a fuller experience; Cape to Cape Explorer Tours will handle the logistics for you, as well as provide local guides who are knowledgeable about the region's geology and native plant species.
Day treks along the Cape to Cape Track are also possible. We walked a lovely easy-to-moderate section that starts above Smiths Beach. The trail winds through extraterrestrial-looking red rocks before plunging into a thick forest canopy and includes several scenic overlooks.
5. Gloucester National Park
In Pemberton's Gloucester National Park, take one of five bushwalking or mountain biking trails — from a half mile to 7.5 miles long — through a forest of karri trees, an iconic Australian species that can grow over 300 feet tall. If you're in a daring mood, climb the 153 iron pegs to the top of the 173-foot Gloucester Tree, which once served as a fire lookout.
6. Dryandra Woodland National Park
Animal lovers should make a special stop at Dryandra Woodland National Park in Dryandra, about two hours south of Perth. The park was created to conserve a variety of threatened native species, which are protected from predators like feral cats. Book a guided night tour of the Barna Mia sanctuary within the park to glimpse elusive nocturnal species like the bunny-eared bilby, gerbil-like woylie, and the chubby-cheeked boodie.
During the day, look for impossible cuteness like the numbat (a striped-and-spotted anteater about the size of a squirrel), tammar wallaby (a sort of shrunken kangaroo), tawny frogmouth (a squat, dome-headed bird that camouflages itself against tree bark), and the echidna (a long-snouted, quill-covered mammal that looks like a cross between an anteater and a hedgehog).
7. Busselton Jetty
For a tamer nature experience, head to Busselton and the 1.2-mile Busselton Jetty, the longest timber-framed water structure in the southern hemisphere. Walk or take the quaint, old-timey train to the end of the jetty. Then take the stairs or elevator to the 360-degree underwater observatory. Here, 26 feet below the surface, you can watch 300 species of marine life, including bright tropical fish, weave through the artificial reef created by the jetty's piles.
8. Margaret River
This slice of Down Under is best known for the Margaret River, its famous wine-producing region. One of the world's youngest and brightest grape producers, Margaret River is the location of Australian pioneers like Vasse Felix, Cullen, and Voyager Estate. All three make a range of flavorful wines, especially chardonnay, cabernet sauvignon, and the country's marquee vino, shiraz.
For a unique experience, head to Leeuwin Estate. Visit their gallery of original label art then head up to the dining room for a leisurely lunch paired with Leeuwin's wines. Of the four inventive courses served at our meal, the scallop crudo with horseradish, kohlrabi, and elderflower, served with Leeuwin's 2021 Art Series Riesling, was my favorite.
9. Fremantle Prison
WA boasts museums dedicated to everything from maritime history and shipwrecks to art. Fremantle Prison, originally built to house convicts exiled from England, is now a UNESCO World Heritage site. Touring its cellblocks, perimeter walls, and tunnels offers a poignant perspective into how prisoners were treated. The original art painted on some of the cells and yard walls by residents is especially fascinating.
10. WA Museum Boola Bardip
In the Perth Cultural Centre, the recently opened WA Museum Boola Bardip — "many stories" in Wadjuk Nyoongar, the language of the Aboriginal peoples who settled the land — features eight permanent galleries plus temporary exhibition space. The indigenous hall, developed to reflect the perspectives of dozens of groups around the region, is particularly noteworthy. I found myself transfixed by the dreaming stories of the Ngarda-Ngarli.
11. Go Cultural Aboriginal Tours
Another highlight from my trip was a tour of Kings Park in Perth with Walter and Meg McGuire of Go Cultural Aboriginal Tours and Experiences. Walter and Meg are Nyoongar and Kungarakan, respectively. They told us a wealth of stories from, and what the land signifies to, their people.
Walter assigned each of us the name of an animal guide. Mine was koolbardi, the Western magpie, thanks to our shared preference for rising with the dawn. Later in the tour, as we sat in a semicircle in the grass learning about traditional wooden tools, the magpies began to gather. First one and then an entire group, cocking their heads, and listening to Walter. He turned and addressed the birds in his native language. They drew closer, seemingly spellbound. Although it happened in front of the group, it felt like the moment was meant for me.
12. Bushfood Experiences
Although I didn't have an opportunity to book one, I've heard rave reviews of Dale Tilbrook's bush food experiences. She'll guide you through tastings of a variety of wild foods, like quandong, sandalwood nuts, and native lime. Tilbrook also discusses the medicinal properties of plants and spices. Snap a picture with the local emus, then sit down to sweet and savory dishes, like bush tucker pie.
13. Twilight Didgeridoo Cave Tours
Koomal Dreaming offers private twilight tours of Ngilgi Cave, a 128-foot-deep cavern full of stalagmites and stalactites. The tour is led by a cultural custodian of the Wadandi people who introduces you to the dreaming spirits that have long been a part of the lives of the Wadandi and Bibbulman tribes. Pause, deep inside the earth, to listen to the playing of a didgeridoo.
14. Truffle Hill
Did you know that Western Australia is one of the world's most successful cultivators of superior Périgord truffles? Neither did I until I visited Manjimup, about 1.5 hours from Margaret River. Although the loamy soil and climate have something to do with it, no one is exactly sure why the region has such alchemical fungus-growing qualities.
However, mine is not to question. Mine is to find and taste. That's exactly what I did at Truffle Hill, where I went on a guided fungus search-and-rescue mission with master hunter Adrien Mielke and Armani the truffle-sniffing black Labrador. I even got to excavate one of the earthy gems myself, but sadly, I was not allowed to keep it. To be fair, the golf-ball-size specimen probably retailed for over $100.
15. Lamont's Restaurant
Owned by top chef Kate Lamont, this restaurant, at Smiths Beach Resort, is a farm-to-table delight. Lamont makes use of native foods like wattleseed, macadamia nuts, and Kakadu plum in her savory appetizers and entrees. Save room for the sky-high pavlova topped with a juicy passionfruit and banana compote and drizzled with crème anglaise.
16. Ampersand Estates
Soon after landing in WA, I knew I'd met my cocktail-sipping compatriots. Aussies love spirits, especially gin, which is experiencing a renaissance in the region. Lots of small-batch producers have sprung up, among them Rainfall Distillery, located on the vineyard property of Ampersand Estates. Ampersand also offers tastings of their young, crowd-pleasing wines; bespoke picnics featuring local cheeses, charcuterie, and jams; and luxury accommodations in their newly renovated farmhouses.
17. Gage Roads
The region has several prolific craft breweries. The new Gage Roads, in a light, bright, and industrial-chic warehouse in Fremantle, is led by a rare female brewmaster. Tour the facility then sit down to a tasting and a casual lunch of pizza, fish and chips, oysters, or tacos.
18. Shelter Brewing
Over in Busselton, lively, collegial Shelter Brewing serves refreshing summer sours, pale ales, and more. Their food game — featuring juicy burgers, handmade pizzas, and even poké bowls — is strong. If you're a dessert aficionado like me, get the choc tops, a cone of mint ice cream covered in a hard chocolate shell, and served alongside the oddly delicious triple-dip combination of chocolate sauce, popcorn, and M&Ms.
For more articles about traveling to Australia, check out these articles: