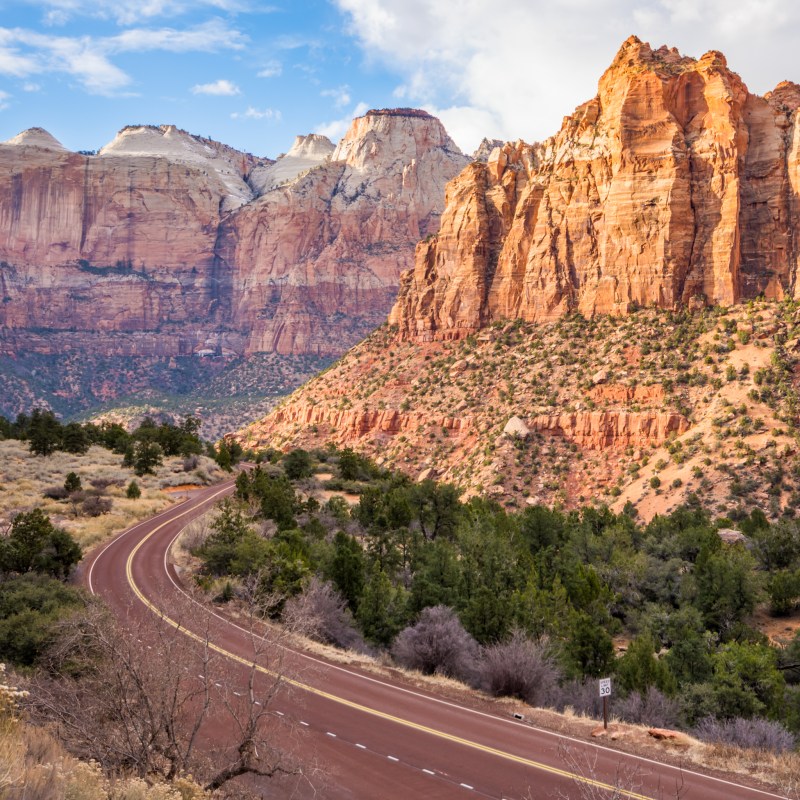 Pack up your RV and head to the Southwest! Our itinerary includes stops at four of Utah's Mighty Five National Parks — Zion, Bryce Canyon, Arches, and Canyonlands. Each is spectacular in its own way, showcasing amazing geological formations and red rock mesas, gorges, and rivers as well as fantastic stargazing.
We will then head south to Arizona for the Grand Canyon and finish at Lake Powell.
You can RV camp at each of these parks, but be sure to check whether your rig will fit before making a reservation. Most of the campgrounds are standard non-electric, but there are commercial sites and full-hookup sites available near most of the stops.
1. Arches National Park And Canyonlands National Park, Utah
We'll start by exiting Interstate 70 and driving south on U.S. Route 191 a few miles to Arches National Park and the nearby Canyonlands National Park in eastern Utah. These picturesque parks are only about 35 miles apart.
Arches National Park has the largest concentration of natural sandstone arches in the country. One of them is the Delicate Arch, which is depicted on the Utah license plate. There is one campground in the park that is always full, but there are also plenty of Bureau of Land Management (BLM) lands and BLM-developed campgrounds in the area, as well as at Dead Horse Point State Park in the Moab area. This is a very popular recreation destination from March through October, so plan ahead, be prepared for lots of traffic, and have backup plans in mind.
Canyonlands National Park has two primitive campgrounds. You can't make reservations, but they are accessible to RVs. This park boasts two fantastic scenic drives, so if you are not a hiker, there's no need to worry. The 34-mile Island in the Sky offers overlooks with amazing views of the canyon. There are also short, paved walks you can take at some of the stopping points on the drives. Gravel road drives are available for those with four-wheel-drive capability, and guided rafting tours are offered by a number of local outfitters.
You'll buy all your food and provisions in Moab, a small town that caters to tourists with plenty of eats and shopping. Spring and fall are the most hospitable seasons on this high desert plateau. Summer temperatures regularly exceed 100 degrees.
2. Bryce Canyon National Park And Grand Staircase-Escalante National Monument, Utah
Get back on Interstate 70 and head west and then south for the longest part of the trip (250 miles) to Bryce Canyon National Park.
This park is home to the largest concentration of magnificent hoodoos on Earth. These distinctive rock towers look like drippings of wet clay that have been left to dry in the sun. The hoodoos rise out of the canyon and dwarf the pine trees that surround the area, giving a wonderful green and orange hue to the landscape. Some of the hoodoos are cone shaped with white sandstone tips, making them look a bit like candy corn.
Because of its high elevation (8,000 feet), Bryce Canyon is a great place to visit in the summer, when the temperatures are moderate. You can hike or take a guided horseback ride within the canyon for spectacular views. You'll find everything from mile-long trails to strenuous 8-mile trails going down into the canyon and back up. For more on hiking options at Bryce Canyon, see this piece.
Ruby's Inn, a 100-year-old historic settlement, is where you'll want to stay if you can't get into one of the park's two campgrounds (both standard non-electric). Ruby's has a full-service campground, hotel, and resort. Sunset Campground in the park is spectacular because of the twilight views of the rocks — a breathtaking light show. For more on accommodations within and near Bryce Canyon National Park, see this piece.
After visiting Bryce Canyon, make the 20-mile trip over to the Grand Staircase-Escalante National Monument, a million acres of BLM land where you can hike, bike, and enjoy some of the most magnificent scenes in the Southwest. There are three developed campgrounds with fees, but the surface roads are gravel or dirt, so be aware of the weather before you go.
3. Zion National Park, Utah
Next, head 70 miles south through the gorgeous red rock country to Zion National Park and the nearby town of Springdale, Utah.
Zion National Park is filled with slot canyons and tall peaks. It has some of the best hiking and rock climbing in the country. You can even walk the Narrows in the Virgin River through slot canyons. It's an amazing experience. Seasoned hikers can climb to Angels Landing for magnificent vistas. Those looking for a less strenuous experience can take the tram to the various highlights, walk the trails, take in the Court of the Patriarchs, and have lunch at the Lodge. For more hiking options at Zion National Park, see this piece.
Zion is dramatic and varies greatly in formations and elevations. The weather in the area can be tricky, and flash floods are a constant threat, especially to hikers. Always check the forecast before setting out.
There are two campgrounds in the park, and they are always full from the spring to the fall, even when temperatures climb to 100 degrees in the summer. However, there is quite a bit of BLM land outside the town of Springdale where you can camp just a short drive from the park. Another option is to treat yourself to a spot at the Zion River Resort RV Park and Campground on the Virgin River. For more on accommodations within and near Zion National Park, see this piece.
Springdale is an artsy town with galleries, shops, and lots of hotels and restaurants. It offers great views of Zion, including sunset views of light on the mesas. All the outfitters for backpacking and hiking the Narrows can be found in Springdale as well. A free shuttle will take you from a variety of parking lots in Springdale to Zion's main entrance, where there is a pedestrian path that runs straight into the park.
4. North Rim, Grand Canyon National Park, Arizona
If you have the time, make the trip south from Zion to the North Rim of Grand Canyon National Park. If not, make your way directly to Glen Canyon National Recreation Area.
Head southeast through the Zion-Mount Carmel Tunnel and travel about 145 mountainous miles to Arizona and the North Rim of the Grand Canyon. This iconic landmark is worth the journey. The canyon is 18 miles wide and a mile deep, so you will see plenty from the less-crowded North Rim. You'll find one standard non-electric campground and an on-site dump station. A lodge with a restaurant, bar, coffee shop, and general store is located at the North Rim Visitor Center.
Several scenic drives inside the North Rim boast parking, picnic overlooks, and trailheads. The Cape Royal Drive is 23 miles long and offers a beautiful view of the Colorado River. Several area outfitters offer river trips.
While there are plenty of short trails to choose from, remember that you are at over 8,000 feet, so don't overexert yourself and watch for signs of altitude sickness. Weather conditions you might encounter between May and October include heavy rain and snow.
5. Glen Canyon National Recreation Area And Antelope Canyon, Arizona And Utah
Head back the way you came and travel northeast 125 miles to the Utah-Arizona border and the Glen Canyon National Recreation Area on Lake Powell near Page, Arizona. You'll pass by some of the most beautiful land you've ever seen, but the journey is slow. You'll be near the south side of the Grand Staircase-Escalante National Monument.
This is a major recreational area with more attractions than you can see on one trip: boating on the lake, hiking and driving the canyons and mountains, Horseshoe Bend on the Colorado River, and Rainbow Bridge National Monument, just to name a few.
But for this trip, let's focus on the Antelope Canyon attractions. You must hire a commercial guide to take you through, and tours range from simple hour-long walks to multiple-hour photography tours. Antelope's Upper and Lower Canyons are always crowded, but Antelope Canyon X, which is farther south, is less crowded. All feature amazingly beautiful orange, red, yellow, and cream rocks in tight slot canyons with water running through them. The swirling colors and smooth texture make them look like marble. The guides know where to walk, where the water is, and what weather conditions are expected (flash floods). Some areas involve somewhat strenuous hikes that require minor climbing. Check with the guide company to find the tour that's best for you.
The Lake Powell area is busy in the summer, with hundreds of houseboats and thousands of visitors, so make summer reservations early or plan to go in the more temperate spring or fall months.
Make your base camp at Wahweap RV & Campground for full hookups and an array of services. Other National Park Service choices include primitive beach camping at Lone Rock Beach and sites south of the Glen Canyon Dam around Lees Ferry. BLM camping is available at the White House Campground, which is well northwest of Page. White House is amazingly isolated and beautiful — a perfect place to get far from the crowds.
This road trip could take a month or a week, depending on how much you want to see and do. Consider a northern tour of just Bryce, Grand Staircase, Arches, and Canyonlands or a southern tour of Zion, the North Rim, and Antelope Canyon. The scenery is spectacular, and no matter what route you choose, you won't be disappointed.