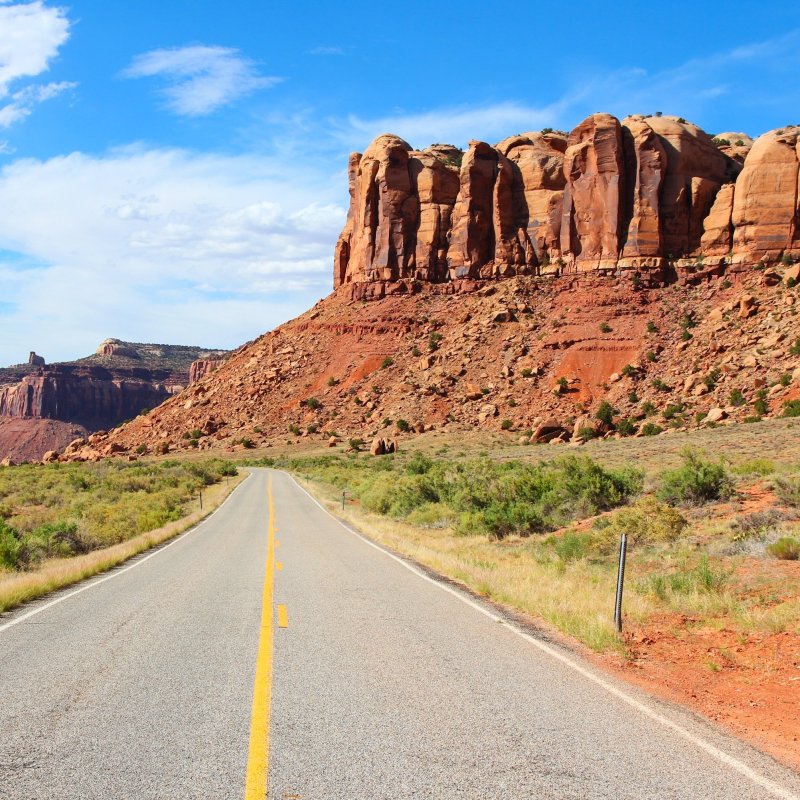 From majestic mountains covered with "the greatest snow on earth" to rust-colored rock formations that resemble the surface of Mars, Utah offers breathtaking scenery unlike any other state. Known as the Mighty Five, Utah's national parks are home to some of the most iconic spots in the U.S. National Park System.
Utah's national parks are located in the southern part of the state. Visiting all five parks is a seven-hour, 370-mile endeavor, and that's excluding the additional time and distance required to explore each park. If you plan on starting and ending your tour via the Salt Lake City International Airport (as many out-of-towners do), expect to drive at least 900 miles and take at least 15 hours round trip.
When planning your trip to Utah's Mighty Five, it is recommended that you allow at least one day to explore each park. And if you plan on traveling to the parks via Utah's capital, Salt Lake City, allow at least another full day each way to travel south to and north from the parks.
Lastly, be mindful of the seasons when planning your trip to Utah's national parks. Many of the roads and hiking trails, as well as the accommodations and nearby restaurants, are closed during the winter months. Therefore, it's best to plan your trip to Utah's national parks for the spring, summer, or fall.
Arches National Park
Just an hour from the Colorado border, Arches National Park is the easternmost of Utah's national parks. Best known for Delicate Arch, this sliver of a sandstone arch is a can't-miss sight at Arches National Park. The hike to the base of Delicate Arch is on a 3.2 round trip trail with an elevation increase of 480 feet. However, the Upper Delicate Arch Viewpoint Trail is a half-mile alternative that still offers amazing views of one of the most famous rock formations in the world.
With varying degrees of difficulty, there are many other arches to experience at Arches National Park. One of the most accessible views at Arches National Park is Sand Dune Arch. Just a short stroll from the parking lot, visitors can follow a sandy footpath to explore this arch carved out of the sand dunes. Surrounded by juniper forests, the Turret Arch is accessible via another relatively easy 1.2 mile loop in the Windows area of Arches National Park. On the other end of the hiking spectrum, the Double O Arch Trail is a moderately challenging 4.2 mile hike.
Where To Stay At Arches And Canyonlands National Parks
Our family enjoys staying in Moab when visiting both Arches and Canyonlands National Parks. Just 10 minutes south of Arches National Park and 30 minutes east of Canyonlands National Park, this town of about 5,000 residents has accommodations ranging from campgrounds to condos and hostels to hotels.
Where To Eat At Arches And Canyonlands National Parks
When it comes to food, my family loves Milt's Stop and Eat. The oldest restaurant in Moab, Milt's offers classic diner food like grass-fed beef or bison burgers, hand-cut fries, and frosty milkshakes. We also like the Italian fare at Pasta Jay's and the upscale dining experience available at Desert Bistro.
Tip: If you hike to the base of Delicate Arch, you'll be standing in the spot where the Olympic torch was carried when Utah hosted the 2002 Winter Olympic Games. It also wound through Bryce Canyon and Zion national parks before lighting the Olympic flame at Rice-Eccles Stadium in Salt Lake City.
Canyonlands National Park
After exploring Arches National Park to your heart's content, head southwest from Moab to explore Canyonlands National Park. Covering nearly 338,000 acres, Canyonlands National Park is the largest of the Mighty Five. The park is divided into five distinct districts: Island in the Sky, the Needles, the Maze, Horseshoe Canyon, and the Rivers.
Because it's an easy drive from Moab and offers amazing views from a paved scenic drive, Island in the Sky is the most visited part of Canyonlands National Park. And, unless you are interested in wilderness backpacking or other off-road adventures, you may want to focus your time at Canyonlands on the 80-mile round trip drive from Moab to Grand View Point. It will take about two hours to complete the drive (not including any time spent taking in the panoramic views from ample overlooks along the route).
One of the easiest hikes at Canyonlands National Park is Mesa Arch. This relatively flat half-mile loop is a gorgeous spot to watch the sun rise through the arch. Other easy hikes in the Island in the Sky section of Canyonland National Park include the White Rim Overlook (1.8 miles), Grand View Point (2 miles), and Murphy Point (3.6 miles).
As your itinerary and interests allow, consider exploring the other districts of Canyonlands National Park. Each of these offers an off-the-beaten-path backcountry experience. A backcountry experience within the Island in the Sky section of the park is White Rim Road. This rugged trail winds around the mesa top and then dips into the canyon. The 100-mile U-shaped route can be traversed in a high-clearance, four-wheel drive vehicle or by mountain bike. The journey takes two to three days via four wheels and three to four days on two.
Tip: At Utah's national parks, just like at all national parks, be sure you stick to the designated trails and leave no trace.
Capitol Reef National Park
Continuing to Utah's next national park, Capitol Reef is about 150 miles west of Canyonlands, and much of this park's beauty can be witnessed from Utah Highway 24, which bisects the park, connecting the towns of Fruita, Torrey, and Loa.
Be sure to incorporate at least two notable detours into your trip. Just east of the Visitor Center, turn south on Camp Ground Road to access the Capitol Reef Scenic Drive. This 25-mile paved road offers great views of the Golden Throne mountain peak and Slickrock Divide. Another recommended side trip from Highway 24 is to Goosenecks Overlook. In the shadow of Mummy Cliff, turn south to access the overlook as well as Panorama Point.
Pro Tip: While there is no fee to travel through Capitol Reef National Park on Highway 24, there is a $20 fee to explore the Scenic Drive.
If you need a break from delicate stone arches, striped rock mountains, and deep canyons, stop and explore the 200-acre Fruita Rural Historic District. Founded by Mormon settlers toward the end of the 19th century, Fruita was an isolated but self-sufficient agrarian community inhabited through the end of World War II. Stretch your legs with a stop at the one-room log cabin schoolhouse where you can peer into the restored structure for a glimpse of life as a school child in 1896. Or stop at the Gifford Homestead to explore the farmhouse, barn, smokehouse, and more.
Where To Stay At Capitol Reef National Park
From unique options — like Conestoga Wagons and teepees — to standard cabin, motel, and hotel accommodations, there are a wide range of places to stay near Capitol Reef National Park.
Where To Eat At Capitol Reef National Park
In the town of Torrey, Utah, fuel up with coffee and breakfast at Castlerock Coffee or The Wild Rabbit Cafe. Grab sandwiches to go or sit down for lunch at Austin's Chuckwagon Deli, or sit down to a steak dinner at Broken Spur Steakhouse.
Tip: If you want to enjoy fresh fruit from the orchards in and around Capitol Reef, expect cherries in June and apples in early October.
Bryce Canyon National Park
Continuing to head westward, Bryce Canyon National Park is about two hours from Capitol Reef. It's best known for its extensive array of hoodoos, a unique rock formation that looks a bit like a deconstructed version of Stonehenge crafted by Mother Nature. Hoodoos are created when water, wind, and other elements chisel away at soft rocks. As they erode, large chunks of rock remain impossibly balanced atop thin stone columns.
One of the most notable views at Bryce Canyon National Park is from Bryce Point. Although breathtakingly beautiful at any time of day, if you catch the sunrise from Bryce Point, it looks as if the hoodoos are on fire as the first rays of the new day shine on the rust- and pumpkin-colored rocks.
Another can't-miss hike at Bryce Canyon National Park is the Mossy Cave Turret Arch and Little Windows Trail. This one-mile out-and-back trail includes many of the park's signature geological features, including hoodoos, a waterfall, and a mossy cave.
Where To Stay At Bryce Canyon National Park
In addition to campgrounds and the Bryce Canyon Lodge located within the park, there are many other places to stay in Bryce Canyon Country. Choose the perfect campsite, rent a house that sleeps 20, or choose something in between!
Where To Eat At Bryce Canyon National Park
Kickstart your day with caffeine, baked goods, and Wi-Fi at Bryce Canyon Coffee Co. Grab a pizza, burger, sandwich, or salad at The Pizza Place inside Bryce Canyon Inn, or slow down for a sit-down meal at Stone Hearth Grille in Tropic, Utah.
Fun Fact: Bryce Canyon was named after Ebenezer Bryce, one of the Mormon pioneers who settled in the area in the mid-1800s.
Zion National Park
About 75 miles southwest of Bryce Canyon, Zion National Park is the final park of the Mighty Five. It features high plateaus and deep sandstone canyons carved by the Virgin River. Take in the scenery by driving the Zion-Mount Carmel Scenic Highway with its mile-long tunnel and hairpin-curved switchbacks through the mountains.
One of the best hikes in Zion National Park is the Zion Narrows Riverside Walk. This tree-lined two-mile out-and-back paved trail hugs the Virgin River and treats hikers to a waterfall, hanging gardens, and weeping rocks. To add to the adventure, continue hiking the Narrows. This popular hike in the Virgin River is a bit more strenuous and picks up where the Riverside Walk ends.
Fun Fact: Although Zion isn't famous for its arches, it is home to one of the world's longest natural stone arches. At more than 285 feet long, Kolob Arch at Zion National Park is second only to Landscape Arch at Arches National Park.
Where To Stay At Zion National Park
As with the other Utah national parks, visitors can camp in Zion National Park or choose from a variety of accommodations near the park.
Where To Eat At Zion National Park
At the southern border of the park, Springdale is my family's favorite place to stay and eat. Grab coffee, breakfast, or lunch at Cafe Soleil or MeMe's Cafe. And Spotted Dog Cafe inside Flanigan's Inn is a great place for any meal of the day.
Tip: Over the past two decades, the number of people visiting Zion has nearly tripled. In order to better manage the traffic associated with more than 6 million visitors and enjoy your time at the park, plan on using the Zion Shuttle System when you visit between February and November.
From natural rock arches to gravity-defying hoodoos and narrow slot canyons, Utah's national parks are filled with beauty. Whether you explore by car, by bike, or by hike, you can visit them all if you have at least five days to spend in southern Utah.