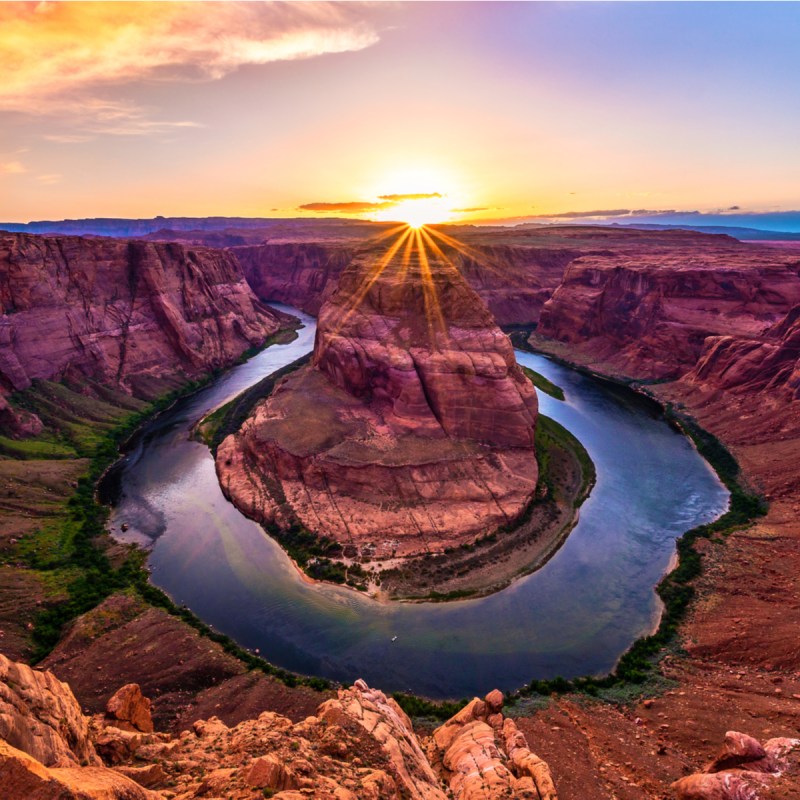 Geographically speaking, Horseshoe Bend is an incised meander (that's a fancy term for a horseshoe-shaped bend!) in the Colorado River. But spiritually and aesthetically, it's so much more. A sight of incredible natural beauty, the power of the flowing river, and the steadfastness of Horseshoe Bend's beautiful red cliffs resonate with visitors from all around the world. The Horseshoe Bend lookout is on a cliff 1,000 feet above the river and it may be the most stunning river view in the world.
Where Is Horseshoe Bend?
Thankfully, this gorgeous spot is just a 10 minute drive from Page, Arizona, about 2 hours from Flagstaff, and just under 3 hours from the Grand Canyon's North Rim, making it the perfect destination to add to any roadtrip of the American southwest.You can fly to Page from Vegas or Phoenix but, if possible, the drive is well worth it. Page is surrounded by some of the most spectacular national parks, state parks, and national forests in the United States.
If you do fly in (or perhaps get dropped off by friends), note that Avis is the only rental car operation in town.
Getting To Horseshoe Bend By Car
From Page, drive south on Highway 89 and look for the exit lane and dirt road between mile 544 and 545 (on the west side of the road). There'll be a sign saying "Horseshoe Bend Overlook."
You'll see the parking lot shortly after you turn off the main road. Parking is free and is RV friendly. During peak visiting hours, you'll find the parking lot rather crowded. You might have to wait 30 minutes to get a spot during mid-day — or even wind up circling back into town before trying again later. Note that parking alongside Highway 89 and hiking all the way in is prohibited. Visiting Horseshoe Bend early in the morning or late in the afternoon means easy parking and fewer crowds.
From the parking lot, it's a short 10 minute (0.6 mile) walk along sandy soil to the lookout point. Note that there are no amenities along the way. Bring your water with you. Even short walks can be HOT!
Visiting Horseshoe Bend By Tour
While it's easy enough to visit Horseshoe Bend on your own, you might have more fun or make better use of limited time (or both!) by seeing it as part of a tour. Most day tours to the nearby Antelope Canyon include a stop at Horseshoe Bend, as do many that visit the Grand Canyon's North Rim and Grand Staircase-Escalante National Monument.
Day trips from Las Vegas include 10 hours of driving when you factor in the 4.5 hour trip each way from the city and the time spent going between attractions. And while Flagstaff is a shorter distance at just 2 hours or so away, you're still going to be spending a lot of time sitting in a vehicle. It's well worth investing in a tour that focuses on comfort by providing buses with washrooms, Wi-Fi, and snacks.
If you are short on time or flush with cash — or maybe just want the scenic experience of a lifetime — you can enjoy a helicopter tour (or small, fixed-wing aircraft tour) of Horseshoe Bend. Tours nearly always include views of Lake Powell, Glen Canyon Dam, Lake Powell Resort, Wahweap Marina, Padre Bay, Lone Rock, and the surrounding desert. Alas, Antelope Canyon isn't included. It's really only appreciated from land. There's not much to see from the air for this special spot!
But depending on which location you take off from — Page, Flagstaff, or Las Vegas — you'll get a lot of other scenic sites thrown in. The Grand Canyon, Hoover Dam, the lights of Las Vegas, and Red Rock Canyon are all possible inclusions.
The least expensive tours operate out of Page and nearby communities, last about 15 minutes, and start at $119. Those from Vegas might be as long as 4 hours (with approximately 70 minutes of flying) and include hotel pickups and possible touchdowns at key tourist attractions starting at $279.
The Best Time To Visit Horseshoe Bend
They say that the best things in life are free, and that's absolutely the case with Horseshoe Bend. It's always open and has no admission fee or other restrictions. Photographers will want to arrive well in advance for sunrise and sunset shots. Note that at sunset, the sun appears to be ducking behind the rocks that frame the Bend, making for a beautiful, naturally styled shot.
If possible, avoid peak hours between 10 a.m. and 4 p.m. when the attraction is most densely packed with visitors.
Keep in mind that, despite its location in the desert, the area is colder than you might expect at dusk and dawn. Lightweight layers are your best choice, plus a jacket during winter months.
Safety Precautions At Horseshoe Bend
While plans are underway to construct a safe viewing platform with rails, as of now Horseshoe Bend has no safety guards. It's a 100 percent natural feature — with cliff drops that are 100 percent fatal. Deaths are not unheard of here and the pursuit of the perfect selfie comes at immense risk. Proceed with caution!
Other Things To Do Near Horseshoe Bend
Page may just be the luckiest town in America because it's home to both Horseshoe Bend and Antelope Canyon. This spectacular natural feature is actually split into two sections — Upper Antelope Canyon and Lower Antelope Canyon, each with their own unique beauty and pros and cons for visitors. You can only visit Antelope Canyon via a guided tour. If you're visiting the area during peak season, be sure to book your tours in advance. You absolutely do not want to miss out.
Grand Staircase-Escalante National Monument is just 30 minutes away and gets a fraction of the visitors who go to the nearby National Parks. It's the perfect place for quiet hiking.
Zion National Park is 1 hour and 50 minutes away. This beautiful National Park can easily be explored in a day or two and there is a good concentration of outdoor activity providers in the gateway town of Springdale, Utah. In summer, the Virgin River is relatively lazy and you can rent inner tubes and float along in the cool waters.
Flagstaff — and the gateway to the South Rim of Grand Canyon National Park — is just over 2 hours away and has the fantastic, low key vibe of a university town. It's home to an incredible observatory, great restaurants, and a vibrant arts scene.
The North Rim of Grand Canyon National Park is 2 hours and 40 minutes away from Horseshoe Bend. It looks much closer but alas, the road it a twisting, turning one — with great scenery too! Many national park enthusiasts consider the North Rim to be the prime spot to visit, as it receives fewer visitors than the South Rim and it's a bit cooler too (a key consideration in the peak summer months).
Photo Credit: Tom Gainor / Unsplash