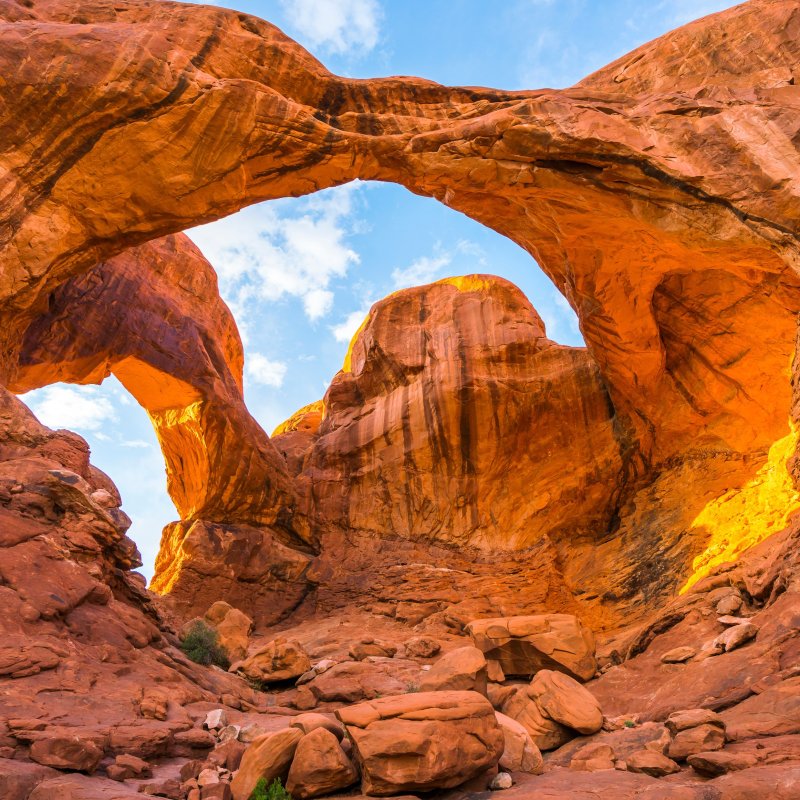 Upon entering Arches National Park in eastern Utah, one thing becomes immediately clear: The park more than lives up to its name.
Everywhere you turn, it seems, there is another stone arch, set off by the deep blue sky and rusty-red rocks.
If you're counting, there are more than 2,000 known natural stone arches throughout the park's nearly 77,000 acres. In fact, the area is the world's largest concentration of natural sandstone arches.
With such an abundance of natural wonders, deciding how to spend a day in Arches can be a bit overwhelming. Add to that the throngs of other sightseers and hikers all hoping to take in the same sights, and your day could easily be eaten up driving from one packed parking lot to another.
When I visited in October a few years ago, the warm, sunny days and cool nights were ideal, but the crowds were heavy.
To deal with the growing crowds, Arches National Park recently (in April 2022) started a pilot timed entry reservation policy. Under the program, anyone entering the park from April 3 to October 3 will need three things: a timed entry ticket; a photo ID; and a park entrance fee or valid park pass.
Now, with a timed entry reservation and a strategic game plan in hand, visitors getting an early start should be able to take in several of the major arches, have a picnic along the way, and end with an evening dinner in the outdoorsy town of Moab just 5 miles to the south.
Here's how to spend a day in Arches National Park.
Drive The Scenic Route
As with any one-day excursion at a national park, it's optimal to head out early for Arches. Not only will the temperatures be cooler, but the crowds will be thinner.
To ensure a fresh start in the morning, it's best to arrive the day before and spend the night in Moab, the bustling little town that serves as a base for two of Utah's "Mighty Five" national parks, Arches and Canyonlands.
Arches is located about 5 miles north of Moab and is a quick 8-minute drive away. As you're heading north out of Moab, plan to stop at one of the town's plentiful delis and bakeries for an on-the-go breakfast.
The Sweet Cravings Bakery + Bistro offers a hearty breakfast burrito filled with eggs, potato, cheese, salsa, and spicy chorizo sausage. While you're there, don't forget to pick up some supplies for a picnic lunch beside one of the arches. Sweet Cravings' signature Delicate Arch sandwich featuring turkey, avocado, spinach, and tomato is the perfect choice.
After turning off Highway 191, you will arrive at the park's visitor center, which is worth a stop, either on your way in or out of the park. If you have time to spare in the morning, plan to stop before you take the scenic drive to get a great overview of the history and geology of the area.
As you head out from the visitor center onto the scenic drive, you will soon encounter a series of overlooks that promise sweeping views of the park's rock formations. Aside from the arches, you'll see enormous sandstone fins, massive balancing rocks, and soaring rock spires. You really can't go wrong at any of the overlooks, so pull over when the views entice you.
Take In Utah's Signature Delicate Arch
If your intention is to take a morning hike on one of the park's popular trails, it's best to skip the overlooks and head farther along the scenic drive. First up is Delicate Arch, the most recognizable arch in the park — and, some would say, the most famous sandstone arch in the world.
You have a few choices for seeing Delicate Arch. For a view from a distance, you could stop at the first viewpoint and take either a 100-yard accessible trail to the Lower Delicate Arch Viewpoint or a moderately strenuous half-mile trail to the Upper Delicate Arch Viewpoint for a less obstructed view. There, you can gaze across the steep canyon that separates the viewpoint from the arch. Getting to the viewpoint takes about 15 minutes to a half-hour.
If you'd prefer an up-close-and-personal view of Delicate Arch, the 3-mile roundtrip, 2-to-3-hour hike that starts at the Wolfe Ranch trailhead will take you to the base of the arch. The national park website notes that on busy days, the trailhead at Wolfe Ranch will fill up. There is additional parking at the Delicate Arch Viewpoint parking lot. If you walk from the viewpoint, you will have to hike 1 mile along the road to the trailhead, increasing the total roundtrip hike to 5 miles.
The Delicate Arch Trail traverses the region's smooth and slippery slickrock as it follows rock cairn markers and ends with a walk along about 200 yards of rock ledge. Rated as difficult, the hike is considered a must-do for adventurous visitors to Arches because of its close-up access to a Utah icon.
Hike The Devils Garden Primitive Loop
After spending your morning taking in the Delicate Arch views, get back on the scenic drive heading toward the route's terminus, where you will find Devils Garden Road and the Devils Garden Trailhead. The drive from the visitor center takes about 45 minutes, and the national park service cautions that the parking lots can be very busy during peak season and during holiday weekends.
The Devils Garden Primitive Loop passes by a number of magnificent arches, including Tunnel Arch, Pine Tree Arch, the long thin Landscape Arch, and the aptly named Double O Arch, as well as the rocky Devils Garden.
The entire loop is more than 7 miles and takes 3 to 5 hours, but hikers could opt to turn back after taking in Landscape Arch, which involves a 1.6-mile round-trip on mostly flat surfaces.
After passing Landscape Arch, the trail becomes more challenging, with climbs over sandstone slabs and rocky footing. If the thought of walking along narrow rock ledges with drop-offs on both sides scares you, hiking the entire Devils Garden Loop could be tricky.
Regardless of which hike you choose or how far you get, now would be the time to find a shady spot beside an arch to have your picnic lunch. The Arches National Park website notes that no food is available for purchase inside the park, so remember to pack snacks and beverages.
Seize A Window Of Opportunity
If you still have daylight hours as you are heading back down the scenic drive, plan to stop at one or two of the park's other famous arches, such as The Windows, a grouping of three massive arches, including the North and South Windows and the Turret.
"The Windows Section is considered by some to be the beating heart of Arches National Park," says the national park's website.
Along with The Windows, you will encounter other fascinating features such as the Garden of Eden, Elephant Butte, and Parade of Elephants. The mile-long hike is rated easy and should take about 15 to 60 minutes.
Another option for a quick, easy hike is the Skyline Arch, which can be reached along a flat, well-defined trail of about a half-mile. The hike should take 10 to 20 minutes.
Dine In Moab
To refuel after your day of adventure, Moab is a fun and convenient choice. Despite its relatively small size of 5,480 people or so, the town offers a lively restaurant and brewery scene. Owing to its status as a recreation center, the town has more than its share of choices, all of which will be buzzing with activity during peak tourism times in the spring and fall.
From Thai food to pizza to Mexican fare, you'll find plenty of eateries to suit almost any taste. The Moab Protect and Preserve website lists more than 40 restaurants. Among my favorites are the cozy, colorful Miguel's Baja Grill, where you'll find tasty margaritas and specialties like Steak Tampiquena (grilled flatiron steak served with enchilada or mole sauce), and Baja fish tacos, and the Moab Brewery, with its many appetizer choices and local brews.
If There's Time
Arches is a wonderland, but it's not the only gorgeous landscape in the area. If you've had your fill of arches, or if you find yourself with a day or more to spare, there are a number of other area attractions that are definitely worth your time.
One not-to-be-missed side trip is to Dead Horse Point State Park, a sprawling recreation area located about 32 miles from Moab. The parkland towers 2,000 feet above the Colorado River, and its overlook offers an infinite view of the area's canyons and ridges.
Because of the proximity of the Colorado River, Moab also offers a huge range of water sports, from whitewater rafting to canoeing, kayaking, and paddleboarding. Visitors will find a variety of outfitters in Moab.
Along with its popular hiking trails, Moab offers plenty of fun for mountain bikers. According to the Discover Moab website, the area has "the greatest mountain biking on the planet."
Related Reading: