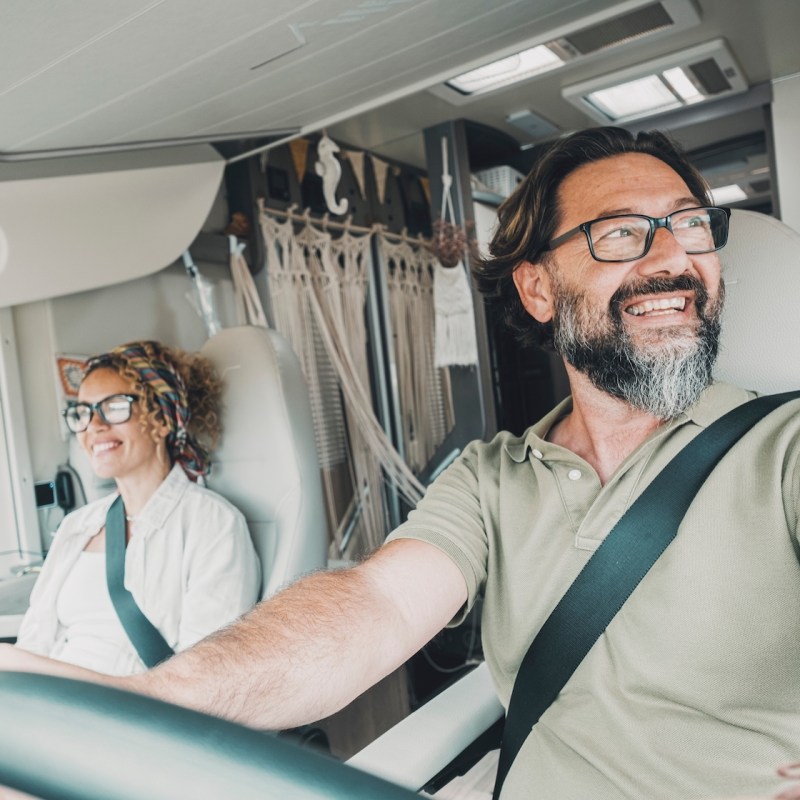 RVing has become an increasingly popular way to travel in recent years, offering adventurers the freedom to explore new destinations and create lasting memories. Are you considering renting an RV for your next adventure on the open road? Whatever your level of expertise, we've got you covered. In this article, we bring you insights from a seasoned RV owner who has firsthand experience exploring the country in their RV.
Converted school bus owner and content creator Fiorella Yriberry of RVshare, the first and largest peer-to-peer RV rental marketplace in the world, has graciously shared her expertise on topics ranging from common beginner mistakes to safety tips for first-time RVers. Whether you're seeking an escape from the stress of everyday life or looking to immerse yourself in nature, RVing can provide a unique and affordable travel experience. So, let's dive in and discover how you can make the most of your RV adventure!
What Are Some Important Things To Consider When Choosing An RV For The First Time?
Start by deciding what amenities are important to you and the people traveling with you. Is a big restroom and shower important? Are you okay with an open space or do you want separation and privacy between rooms? How many rooms do you want? Is the kitchen space and functionality important? These are some of the key questions to start with before picking your first RV rental.
The second most important thing to consider is what kind of rental you want. Do you want to drive or tow the RV? It's important to take into consideration how comfortable you are driving a large vehicle when selecting a rental. And if you don't feel comfortable with either option but want to try RVing remember there is RV delivery!
Read More: How To Rent An RV Or Motorhome For The First Time
What Are Some Common Mistakes That First-Time RV Renters Make?
A common mistake with first-timers is doing or trying to do too much on the first trip. This can include renting a vehicle that is too big for their needs or comfort, jam-packing the schedule with too many activities, and overpacking and/or planning for lots of driving. It is easy to get carried away with the possibilities of a home on wheels, but this mistake often leads to quick burnout and adds unnecessary stress to the trip.
Another common mistake is not taking the time to do some research and learn about the RV! There are a few unique and important things to learn about RVs both for driving and for setting up camp. You will learn most of them from your RV owner but doing some side research and educating yourself on best practices is always a smart idea.
Read More: The Basics Of Operating An RV For First-Timers
What Are Some Essential Items To Pack For An RV Trip?
Pack your favorite and must-have items along with a few things that will make the RV feel like home. Think of your favorite blanket, coffee mug, and favorite toiletries. One of the best parts of RVing is having a home on wheels, so make the most out of it by packing items that will make it feel comfortable. You can get creative with what to bring along depending on where you are headed since you will have space to store it, but try not to overpack!
How Should First-Time RV Renters Plan Their Route And Itinerary?
My best advice is to find one or two main attractions and plan around them. Once you have these "must-sees" narrowed down, create a route around them. Figure out how far these locations are from your starting point and each other. Get creative adding stops along the way based on your preferences.
We like to use the "search along this route" option on Google Maps to find attractions we are interested in. This is a great feature that adds fun stops to your itinerary without adding long driving distances to reach them. Make sure you leave time for spontaneous adventures; at the end of the day, the best part of RVing is traveling with a flexible schedule/at your own pace, so lean into it!
Read More: 7 Easy (But Exciting!) Road Trips For The First-Time RVer
What Are Some Important Safety Tips For Operating An RV?
First, practice! You are not supposed to know what you're doing or feel comfortable right away. Practice driving the RV in a parking lot before hitting the road. This is a great way to get familiar with the vehicle without the high pressure of being on the road. If you are choosing a drivable rental, another important safety tip is to remember to take it slow!
For your safety, remember to ask questions if you don't know how to operate a feature of the RV. Owners are happy to answer questions and this is great because you should have lots of them. This is an easy way to avoid any potentially hazardous situation and protect your safety.
Read More: 10 RV Safety Tips For Planning An Epic Trip
How Should First-Time RV Renters Handle Waste Disposal And Other Maintenance Tasks?
Emptying the grey and/or black water tanks sounds more intimidating and scary than it is. The RV owner will walk you through the process during pickup. Since every RV is different, it is crucial that you pay attention and ask questions. If you pay attention to the instructions, you should be able to dump the RV tanks in less than 20 minutes without making a mess.
And if you really don't want to try, there are options. Some campgrounds offer Honey Wagon services, where they will offer services like emptying your tanks for a fee. In addition, RV rental options like RV delivery can help you avoid dealing with these tasks as owners will have all the hookups set up with the RV! Or you can opt to pay an additional dump fee and avoid this task.
As you can tell, there are many options around this. Renters should choose the one that best fits their needs and preferences.
Read More: How To Dump Waste Tanks
What Are Some Recommended Campsites Or RV Parks For Beginners?
Starting with a campsite that offers full hookups is highly recommended for beginners. This allows the opportunity to simply enjoy the RV without having to worry about how much water and power are being used, or if the grey water is full. In addition, being around fellow RVers and campground staff is a great peace of mind that there are people around to help if you need it!
How Can First-Time RV Renters Get The Most Out Of Their Rental Experience?
First-time RVers can get the most out of their rental experience by:
Preparing for their trip ahead of time by planning their itinerary and booking campgrounds in advance.
Covering all the important "how-to" elements with the owner before hitting the road.
Getting familiar with the RV travel culture and style.
Making the most of your rental experience comes down to setting yourself up for a successful adventure. Plan a trip that is personal to you and be sure to make the most of your time in the RV!
What Are Some Useful Resources, Such As Apps Or Websites, For First-Time RV Renters?
A great app for RVers is Campendium. This app will help you find campgrounds both paid or free anywhere in the U.S. The best part is the reviews! You can learn so much about campgrounds through the experiences of others, and taking the time to read about them before booking your site is a great way to ensure you are going to love where you stay. Another favorite is Roadtrippers. This app makes it easy to plan your route and search for attractions as well as helpful stops like dump stations and rest areas.
Read More: Must-Have Apps For RVers (2023)
Do You Have Any Other Helpful Tips Or Advice For First-Time RV Renters?
If possible, avoid very popular, crowded areas. Although they probably have hype for a reason, these locations can be complicated to navigate with an RV and take away from your experience rather than add to it.
Educate yourself on campground etiquette and rules. Some if not most campgrounds have quiet hours among other rules. Following and respecting these is an important part of RVing. And as always, remember to follow Leave No Trace if you are taking your RV off-road.
Lastly — more than advice — a reminder that we were all scared and overwhelmed when we started RVing. Take it easy, do your research, ask questions, and before you know it, you will be enjoying the RV and worries will be long gone!