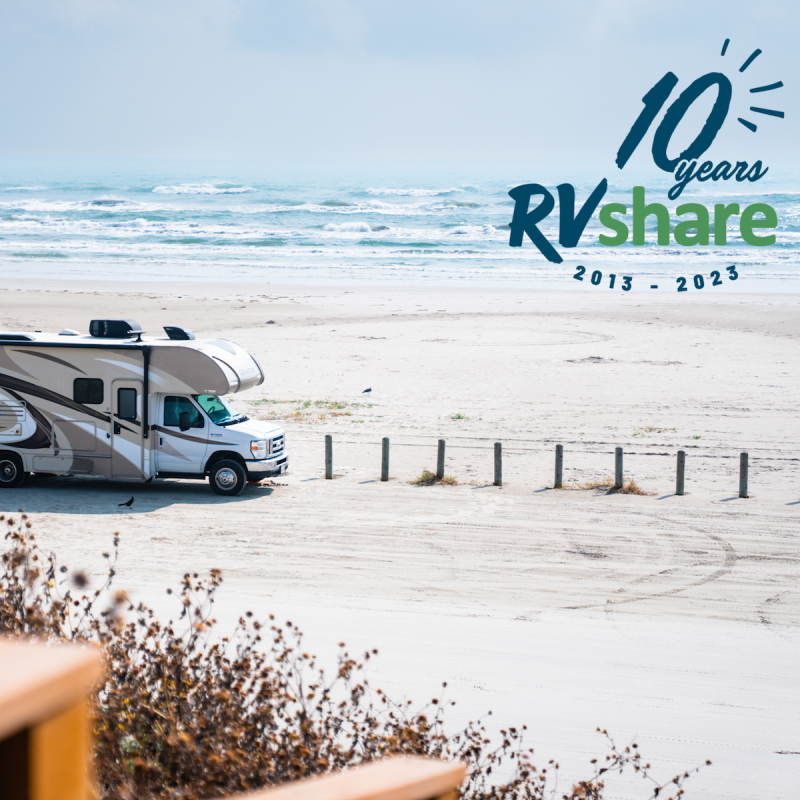 RVshare is celebrating a decade of being the first and largest peer-to-peer RV rental marketplace in the world. The tech start-up, which connects RV owners to people interested in renting RVs, was founded in 2013 by Mark Jenney, Joel Clark, and Pat Couch in a basement in Akron, Ohio. The idea for RVshare came to Jenney and his wife Rachel when they returned from their honeymoon RV trip and realized their new RV would sit unused for most of the year, gathering dust while they continued to shell out money for ownership expenses.
Fast forward to today, RVshare has 100,000 listings across the U.S., rentals available in all 50 states, an owner community of 60,000, and 4 million nights booked on the platform.
RVshare Milestones
Since the website launched in August 2013, RVshare has achieved many milestones. In 2018, Jon Gray, the former chief revenue officer of HomeAway, was named CEO. (HomeAway was acquired by Expedia in 2017 and rebranded as Vrbo.) In 2020, RVshare experienced unprecedented growth as travelers opted for a self-contained travel option. "The pandemic sped up the RV rental industry by 5 years in 12 months," says Gray. Business tripled year-over-year, leading RVshare to raise over $100 million in growth capital.
RVing Becomes Mainstream
Since 2020, RVshare has seen a fundamental shift around RV travel, with the demographic skewing drastically younger in just a few years. RV travel "is no longer just your parents' retirement plan," says Gray, "but rather a family's spring break accommodation for a stay at Disney World or a young couple's remote workplace during a national park trip."
Built To Scale
Gray says the biggest achievement of the past decade has been scaling the company.
"We are proud of our scale, how the team has kept up with the demand, and how we continue to innovate to make renting an RV and booking an outdoor travel adventure an all-around better experience," says Gray. "Millions of travelers across the U.S. have created amazing memories in an RV due to renting. And millions more are curious and will probably try it in the future. With 94 percent five-star reviews, we know the magic of an RV vacation is something we are proud to make happen."
RVshare 10th Anniversary Fun Facts
94 percent five-star reviews from satisfied customers
63 out of 63 national parks visited by RVshare renters
Thousands of different RV models from almost 50+ manufacturers
Hundreds Of Millions Of Miles Logged
A zero-discrimination policy, well-managed RV rental listings, and ongoing education for both renters and owners have all been ingredients in RVshare's recipe for long-term success. Over the past 10 years, RVshare renters have traveled 203 million miles. That's 8,152 times around the earth, or to the moon and back over 800 times. It would take 380 years to drive 203 million miles at 60 mph. No telling what that amounts to in profits for RV owners, who can easily earn anywhere from $10,000–$40,000 a year by renting out their camper.
Unique Challenges
Despite the company's many successes, RVshare has also faced several challenges over the past 10 years. Running a mobile accommodations business is unique, and there is a lot that comes with renting a vehicle, such as insurance, damages, and RV education. However, RVshare has faced these challenges head-on and continues to innovate to make renting an RV and booking an outdoor travel adventure an all-around better experience.
Looking Ahead
The demand for distinctive and engaging travel adventures is growing, and RV trips provide precisely that. Additionally, the upsurge of the sharing economy is expected to benefit RVshare. People are becoming more at ease with renting out their assets, such as RVs, to generate supplementary revenue. RVshare's peer-to-peer system is in sync with this trend.
With a solid foundation and a growing market to tap into, RVshare should be around for the next 10 years as long as it continues innovating and adapting. With the RV rental market becoming more competitive, RVshare will need to differentiate itself from the competition by offering unique and valuable features, such as better insurance coverage or a more user-friendly platform.
"With the goal of making renting an RV as easy as booking a hotel room, we hope to unify booking an RV and campground through integrations and partnerships," says Gray.
This milestone is a testament to the company's success and growth. With a loyal customer base and a dedication to marketplace health, trust, and safety, RVshare is poised for even greater success in the years to come and is even looking at expanding internationally.
Celebrate With A Free Park Pass
Millions of travelers across the U.S. have created amazing memories in an RV due to renting. Right now, RVshare is offering summer travelers free national or state park passes with every RV rental booked by May 31, 2023!
Related Reading: