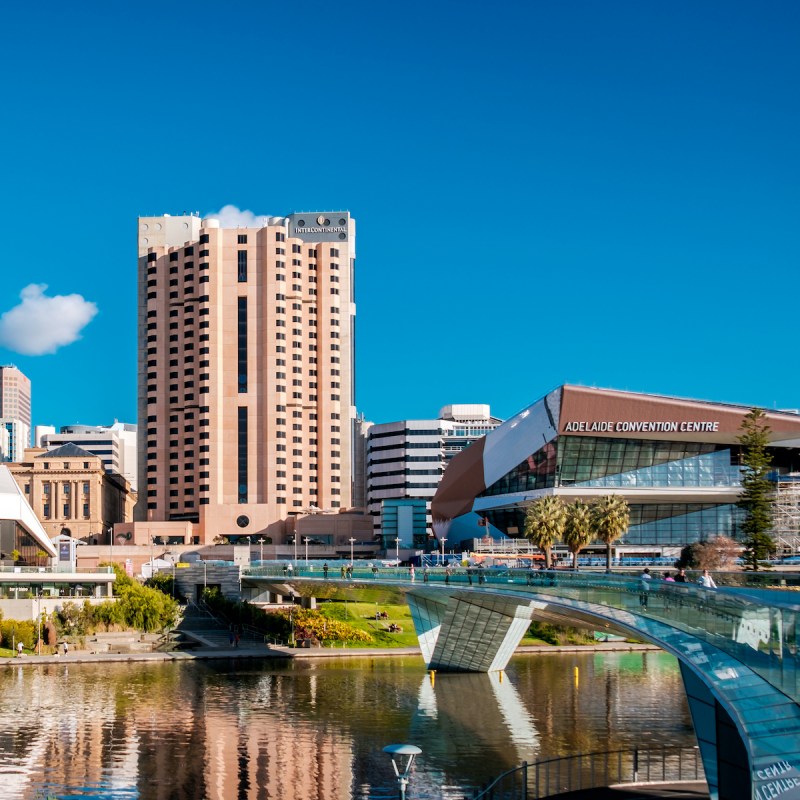 Cozy, laid-back Adelaide, the capital of the state of South Australia, combines big-city energy with small-town charm on Australia's southeastern coast. As the gateway to 18 world-renowned wine regions — including the famous Barossa Valley — and as a culinary superstar, it is emerging from the shadow of its flashier eastern cousins, Sydney and Melbourne. As I discovered recently during my first visit to Australia, which fulfilled a lifelong dream, this boutique city of 1.3 million punches well above its weight.
Wedged between white sand beaches to the west, rolling hills to the east, and the vast Outback to the north, Adelaide claims a geographical variety only rivaled by its cultural diversity. Created as a planned city on Kaurna Aboriginal land, it was originally settled by free immigrants from the British Isles — not convicts like elsewhere in Australia.
Successive waves of settlers from Europe, Asia, the Middle East, and Africa injected their traditions into the vibrant urban lifestyle. Add to that a parade of world-class festivals, beaches, museums, parks, and gardens, and you have all the makings of a winner. In fact, this under-the-radar destination packs all the quintessential Aussie experiences into one accessible, compact area. Here are 10 great reasons to visit.
1. Adelaide Botanic Garden
Enjoy this leafy oasis right in the heart of the city, which showcases plants and trees from around Australia and the world in its 124 serene acres. The Botanic Garden is the perfect place to learn about the diversity of native plants, including trees that date back to its founding more than 150 years ago.
I was lucky to have as my guide through the garden Haydyn Bromley, an Aborigine whose company, Bookabee Australia, leads cultural tours. As we strolled the sandy trails through the Australian forest section, he pointed out such fascinating indigenous specimens as the giant spear lily tree with its long spiky flowers; the bunya-bunya tree, whose trunk resembles an elephant's and whose pine cones are as large as cantaloupes; and the macadamia tree, which is native to Australia and not Hawaii, as commonly thought.
The facility also features a cactus and succulent garden, an international rose garden, an Australian native garden, and the garden of health, with more than 2,300 plants from 257 species used to heal and promote wellbeing.
Pro Tip: Break up your visit with lunch at the Gardens Kiosk or with a coffee or tea break at the Café Fibonacci.
2. Adelaide Central Market
Foodies should beeline for the Adelaide Central Market, the hub of the city's thriving culinary scene. With more than 70 traders, the sprawling facility is one of the largest indoor produce markets in the Southern Hemisphere, founded in 1869. In addition to farm-fresh fruits and vegetables, the market sells meats, seafood and sausages (fiery "bum burners," anyone?), cheeses (including varieties from South Australia and Victoria), nuts, dried fruit, and eye-popping baked goods (try iconic Australian lamington cake or a vanilla slice).
Stop for lunch at one of the popular cafes or eateries, such as SiSea, which specializes in South Australian seafood and tapas — Goolwa pipis (clams), Coffin Bay oysters, and Eyre Peninsula mussels. Or take home unique jams, relishes, rubs, oils, herbs, spices, teas, and gins, all made from native "bush" ingredients at Something Wild, an Indigenous food purveyor. Its lemon myrtle tarts sprinkled with crunchy, salty green ants — yes, ants — are a mouth-puckering treat.
Pro Tip: Go for lunch or afternoon coffee/tea so you can sample some of the delicious food on site.
3. Cleland Wildlife Park
Can't make it to the Outback to see kangaroos? This immersive nature park in the Adelaide Hills lets you get up close and personal with a variety of native species in their natural habitat. Feed the kangaroos, emus, and wallabies, which nibble gently from your hand. Cuddle a cute koala in one of the few places in Australia where you're allowed to, while a ranger feeds it eucalyptus leaves, its favorite snack.
Listen to native birds twittering in the trees. Spot dingoes and Tasmanian devils. Meet an echidna, also known as a spiny anteater, which is one of the only living mammals that lays eggs.
With its walking and biking trails lacing the lush setting, the park is a beautiful place to spend several hours interacting with animals that mostly roam free. It's the next best thing to being out in the bush.
Pro Tip: Book your Cleland Wildlife koala hug in advance; they take place daily at 2 p.m.
4. Penfolds Winery
Known as the wine capital of Australia, Adelaide has 200 wineries within an hour's drive. But one is actually located right inside the city itself: Penfolds Winery. Not only is it "the world's only working winery in a city," as consumer experiences manager Renee Jeffrey told me during my tour, but it's also one of the best. It has been listed in Wine & Spirits magazine's Top 100 Wineries 29 times, more than any other winery in the world.
Perched in the foothills of Adelaide with gorgeous views of the city, this heritage-protected estate and vineyard offers an array of tastings and guided tours, including a visit to the vintage cellar. Be sure to sample Australia's most revered wine and Penfolds' flagship: Grange, created by its first chief winemaker back in 1951. After winning a barrel full of awards, Grange — made from shiraz grapes — was listed as a South Australian heritage icon in 2001.
Pro Tip: After your tour, indulge in a decadent dinner at the award-winning Penfolds Magill Estate Restaurant adjacent to the winery and long considered one of the city's top dining spots.
5. South Australian Museum
Evidence of the oldest animal life on Earth. The world's most valuable specimens of opals — the Virgin Rainbow and the Fire of Australia. The world's largest and most comprehensive collection of Australian Aboriginal cultural material. You can see all that and more in the South Australian Museum.
With a focus on Australian cultural and natural heritage, the 165-year-old museum has fascinating sections on biology, with 3 million specimens from parasites to whales; paleontology, with about 50,000 fossil specimens; humanities; and mineral sciences.
In the Aboriginal Cultures Gallery, a replica of the famous 1974 Tindale map of Indigenous Australia shows the tribal boundaries of Aboriginal groups who spoke 250 languages and 800 dialects at the time of European settlement. At the museum, my Aboriginal guide, Tjimari Sanderson-Milera, explained that those native languages, not taught in school, are being lost. The map represents the complexity of Aboriginal social, cultural, and religious relationships that still exists in the country today.
6. Tandanya National Aboriginal Cultural Institute
For an expression of contemporary Aboriginal culture, visit the Tandanya National Aboriginal Cultural Institute, Australia's oldest Aboriginal-owned and managed arts center. Featuring emerging and established artists from around the country, it presents rotating exhibits, live music, and performing arts. "Everything we do has an Indigenous spin," explained CEO Nancia J Guevarra.
Pick up a handcrafted item from the woven bags, wooden "clapsticks," boomerangs, scarves, ceramics, jewelry, and more in the small gallery shop. Or stop in the café for a cup of bush tea and a delectable dessert made with Indigenous ingredients: lemon myrtle cheesecake, wattleseed (used to make Aboriginal bread) scones with quandong (native peach) jam, and wattleseed chocolate brownies made with Kakadu plum, a superfood boasting the highest vitamin C content of any fruit worldwide.
Pro Tip: Check the exhibit and performance schedule in advance.
7. World-Class Beaches
Balance a dose of culture with some outdoor fun on one of Adelaide's postcard-pretty beaches along its 19-mile-long coastline. Grab a towel and a swimsuit and you can be splashing in the water or sprawled on a white sandy strand within 20 minutes.
Of Adelaide's 20 or so beaches, several stand out. Long, sandy Glenelg is a family favorite for its proximity to an amusement park. Relax on Brighton or Henley beach and enjoy their cafés and seafood restaurants. Sand dune-lined Semaphore is another laid-back bathing beauty, while Port Noarlunga, Christies, and Moana are surfing and body-boarding hotspots. Thanks to its popular reef, Port Noarlunga is also great for snorkeling and diving.
Pro Tip: While Adelaide beaches are generally safe, some waters can experience strong currents, so check conditions before swimming.
8. Flashy Festivals
Adelaide may seem like a quiet town, but it erupts each year with 11 major arts and cultural festivals, earning it the moniker Festival City. From art, music, theater, and comedy to literature, film, history, cabaret, and circus, everyone will find something of interest. The two biggest blockbusters are the Adelaide Fringe (February 17-March 19, 2023), the biggest arts festival in the Southern Hemisphere, and the Adelaide Festival (March 3-29, 2023).
Adelaide Fringe Festival
Attracting more than 3 million attendees, the Adelaide Fringe features an eclectic mix of events including cabaret, theater, comedy, music, visual arts, and workshops. It provides a showcase for more than 6,000 independent artists who put on 1,200 shows in 300 venues across South Australia.
The Adelaide Festival
The 62-year-old Adelaide Festival, Australia's preeminent arts festival, presents grand operas, dance performances, large-scale art installations, and the beloved Adelaide Writers' Week, Australia's largest free literary festival. With its high-profile, cutting-edge international art and world-class performances, the Adelaide Festival is a feast for the senses.
Pro Tip: Book your trip well in advance if you want to attend one of these popular events.
9. Adelaide Oval Rooftop Climb
Nothing compares to seeing a city from on high. And in Adelaide, that means taking in the urban landscape from the roof of the iconic Adelaide Oval, the state-of-the-art stadium in the heart of the city. For a unique sky-high adventure, climb up and across the Oval's rooftop to the Riverbank platform, which is 164 feet high. From there, you can thrill to 360-degree views of the city, all the way to the coastline on one side and the Adelaide Hills on the other.
RoofClimb guides lead groups of up to 14 participants on 2-hour daytime, twilight, or nighttime climbs. Whether it's sunny skies stretching to the horizon, the magic of a sunset glow, or the sparkle of evening lights, this is an experience you won't soon forget.
Pro Tip: The climb requires moderate physical exertion for about half a mile, climbing up and down ladders and multiple flights of stairs while wearing a safety suit.
10. Visit The Outback
No visit to Australia is complete without a visit to the Outback. And Adelaide makes that easy as the country's closest major city to the bush, just 4 hours away. As you travel the highway north, eucalyptus trees and sheep farms give way to a vast endless landscape of increasingly empty ochre-red earth. Forget Montana. This is big-sky country, where the expansive terrain is dwarfed by a vast sheltering sky that turns fiery crimson with the setting sun. Wild kangaroos and emu rule in this stark, dry environment, hopping freely across the plains. You can drive for miles without seeing another soul.
I spent the night at a quintessential bush lodge, the 12-room Prairie Hotel in the remote community of Parachilna about 470 kilometers (300 miles) from Adelaide. Attracting adventurers since 1876, the rustic, quirky property boasts an iconic bar and an in-house brewery, "because you can be in the middle of the Outback and still want craft beer," head brewer Lachy Fargher told me.
Walls lined with local and Aboriginal art for sale and a Gallery Restaurant serving unexpectedly sophisticated fare — emu pate, bush tomato burrata with macadamias and native basil pesto, and roasted lamb with pickled shallots — add incongruously refined touches for such an ends-of-the-earth place.
Pro Tip: If you're driving in the Outback at dawn or dusk, watch for kangaroos that dart in front of cars during these feeding times. I saw numerous kangaroo carcasses on the sides of the road.