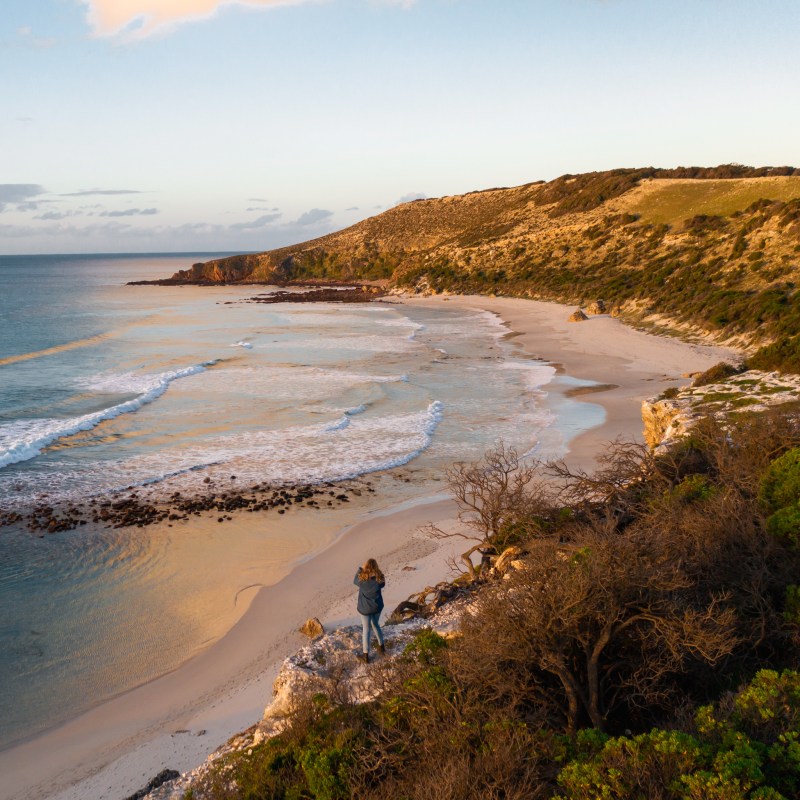 When tracts of Australia burned in the 2019 to 2020 bushfires, it was a preview of what the U.S. West Coast could experience this fire season. In Australia, one of the worst-hit areas was Kangaroo Island in South Australia. Now it has reopened for tourists, showcasing the way ahead for other fire-ravaged regions. Despite the destruction and livelihoods lost, Kangaroo Island's recovery highlights nature's healing power and the depth of human resilience. Confirmation to the world — this too shall pass.
Kangaroo Island (KI to locals) is Australia's third-largest island. It's 93 miles long and 1,701 square miles large — seven times the size of Singapore! It takes days to explore.
Reachable after a short flight from Adelaide or a 45-minute ferry ride from Cape Jervis, tourists come for the stunning scenery and a nature wonderland. The island teems with wildlife. It's like stepping into an unfenced zoo.
During Australia's bushfires, Kangaroo Island received worldwide attention because of the suffering of wildlife. It was feared endemic species such as the glossy black cockatoo and the Kangaroo Island dunnart would be lost forever.
The fires started on December 20, 2019, and raged for weeks. The New York Times reported: "Two people were killed, dozens of homes were destroyed, and wilderness parks were turned to cinders, littering the landscape with animal corpses."
Television reports depicted the aftermath as a war-zone — burnt-out cars, the smoldering skeletons of buildings, and gunshot blasts as farmers put down animals. Farmers lost more than 32,000 livestock animals.
That was then. This is now. Winter and spring rains have cloaked paddocks in green and new lambs gambol in the lush grass.
Half of KI (an area twice the size of Tahiti) was unaffected and remains beautiful. In the other area, locals have embraced a different kind of tourism, showcasing the dynamic process of nature's recovery.
1. Country Roads And Coasting
Explore Kangaroo Island by winding past spectacular rolling plains and ocean views. There's no public transport on Kangaroo Island. Rental cars are available on the island or can be brought over on the ferry. With 318.2 miles of coastline, there's a private beach with your name on it. At Emu Bay, drive along the sand before pulling up at the perfect spot. Or, at D'Estrees Bay, pelicans outnumber people. Throw down a towel at Vivonne Bay, an award-winning beach.
Coastal activities include surfing, fishing, canoeing, snorkeling, swimming, and tobogganing down Little Sahara's giant sand dunes. Enter a wild colony of Australian sea lions — one of the rarest species in the world. Or swim with wild dolphins in clear turquoise waters, where a pod of around 20 to 50 might frolic around swimmers.
2. The Bush Is Back
On the western end of the island lies Flinders Chase National Park — 96 percent of this forest was burned. But don't write it off. The park reopened July 4, 2020, and 4,000 people toured within two weeks — more than the monthly average. They came to view devastation but left with a sense of hope. Nature is resilient and already recovering. Some charred, black sticks sport clumps of vivid greenery. The floor sparkles with bright beads of orange fungi. Native sedges, gahnias, hakeas, and mallees have popped up. Fire stimulates growth in some plants. The yaccas (grass trees) flower after a fire. Already there's an army of them — stumpy black trunks with strange mops of spiky hair sprouting up to 19-foot-tall spears.
The park's famous rock formations remain. The Remarkables are massive granite boulders sculpted by the elements over 500 million years. They sit like a giant marble balancing 200 feet above the crashing blue ocean. Admirals Arch looks like Fred Flintstone's prehistoric TV screen with jagged rocks framing the antics of a colony of seals — swimming, fighting, jostling, and sunbaking.
The park is open daily from 9 a.m. to 5 p.m. for self-drive visits. Entry is via an Instagram-famous road. Allow at least two hours to explore.
3. Recovery Tours
Some tourist operators now focus on the compelling story of fire, destruction, and regeneration. Kangaroo Island Odysseys has a new one-night/one-day Kangaroo Island Road to Recovery Tour. It's a good option for tourists who have Kangaroo Island on their bucket list but not much time. The small group tours operate daily and depart from Cape Jervis on the ferry and include an overnight stay on the island. A local guide with their own story of the fires takes you to affected areas such as Flinders Chase National Park. Tourists learn about the wildlife recovery efforts that included food and water drops, and motion-sensing cameras that show a few of the dainty dunnarts (mouse-sized marsupials who carry their babies in pouches) that survived the inferno. The tour visits other fire-damaged areas on the North Coast. The focus is on the regeneration and regrowth of flora and fauna, bringing a whole new sense of beauty and life to the island. There's a guided beach walk amongst wild Australian sea lions, an afternoon tea at Snellings Beach, and a dusk visit to Stokes Bay to photograph wildlife. Here's the full itinerary.
Other small group island tour operators include Exceptional Kangaroo Island and Kangaroo Island Wilderness Tours (nature-based 4WD tours).
4. See How The Wildlife Fared
Hold a koala at the Kangaroo Island Wildlife Park. Even visitors such as Chris Hemsworth have enjoyed these close encounters. Also, hand-feed kangaroos and wallabies, and see Australia's most iconic creatures. The park owners set up the Koala and Wildlife Rescue Centre during the bushfires providing wildlife with critical care for burns, dehydration, and starvation. They nursed 600 koalas, as well as kangaroos, echidnas, goannas, birds, and possums. The charity received international attention and donations. It's heartwarming to see the outcome.
Hanson Bay Wildlife Sanctuary, another popular wildlife attraction, was decimated by the fires. Touching footage shows soldiers hand-feeding injured koalas in the wake of the disaster. They were also tasked with digging a large pit to bury an estimated 700 kangaroos, wallabies, and koalas found on the 5,000-acre property. How heartening when several surviving koalas were found on trees still smoldering from the fires. Soon 45 koalas returned to their habitat in the sanctuary. Before the fire, an estimated 50,000 koalas lived on Kangaroo Island. Today, there's fewer than half that. Learn more on a guided Koala Walk and Bush Fire Ecology Tour of this special property. At Raptor Domain, learn how they evacuated birds, snakes, and spiders three times during the approaching fires. Run by Leeza and Dave Irwin — yes, relatives of that famous Irwin clan!
5. Help Them Out
The South Australian Tourism Commission ran a campaign called #BookThemOut. The campaign encouraged South Australians to visit, spend a few nights, and stock up on KI's regional produce. A worthwhile campaign when a disaster hits an area.
Given KI produces some of Australia's finest gourmet food and wine, stocking up is not an imposition, especially when driving around the island and meeting the friendly locals. Kangaroo Island Spirits was Australia's first dedicated gin distillery. The heavenly tastes are helped by the foraged native junipers and coastal daisy bush. Their O'Gin was named the best contemporary gin in the world at the International Wine and Spirits Competition in 2019. Enjoy free tastings and fabulous cocktails.
Kangaroo Island may have the world's last colony of purebred Ligurian bees. To taste what bees do best, head to Clifford's Honey — make sure to try their famous honey ice cream. At Island Beehive, sip their Honey Mead. Drunken Drone Brewery makes a Honey Wheat Ale.
Kangaroo Island's clear waters are famous for producing sustainable aquaculture. The Oyster Farm Shop is located along the river. Devour oysters, wild marron (huge crayfish), abalone, and King George whiting. For afternoon tea, Emu Bay Lavender Farm serves humongous lavender scones.
South Australia is home to premium wine-growing regions such as the Barossa Valley. KI is considered one of the state's up-and-coming wine regions. Check out Dudley Wines, False Cape Wines, Bay Of Shoals, and Islander Estate Vineyards, not just for wine but for superb meals. Sunset Food and Wines is famous for its views and degustation menu that puts Kangaroo Island on a plate — oysters, marinated octopus, green lip abalone, and the locally raised Southrock lamb. KI also houses a microbrewery, an acclaimed coffee roaster, artisanal bakers, olive growers, and a farmers market. Do you have a sense of why shopping on Kangaroo Island is such a pleasure?
6. Witness The Phoenix Rising
Fire, for all its tragedy, brings a clean slate. After the smoke clears comes a chance to reimagine and revitalize landscapes. By the time overseas tourists visit Kangaroo Island, they'll benefit from fast-tracked work at Flinders Chase National Park, including $52 million for road resurfacing and rebuilding boardwalks and visitors' facilities. Some KI businesses are expanding. Kangaroo Island Spirits announced plans for a new world-class distillery and tasting room.
Tragically, animal habitats were destroyed. Without the dense scrub, it's easier to spot animals previously hidden from view. They nibble on the new leaves of basal growth. But in good news, there have been sightings of goannas, koalas, eagles, kangaroos and echidnas, and even the dainty little dunnart. The island's rare glossy black cockatoos are breeding again. It's a cycle of life where Mother Nature has returned, and tourists should come back too.
Pro Tip From A Local: Business owner Chris Schumann told the press in January 2020 that "what we want to tell the rest of Australia, and the rest of the world because the coverage for the fires has been international [is]: 'Don't abandon us, don't cancel, come to Kangaroo Island, it's a great experience still.'"
For more Australia-themed travel inspiration, check out some of our recommendations!