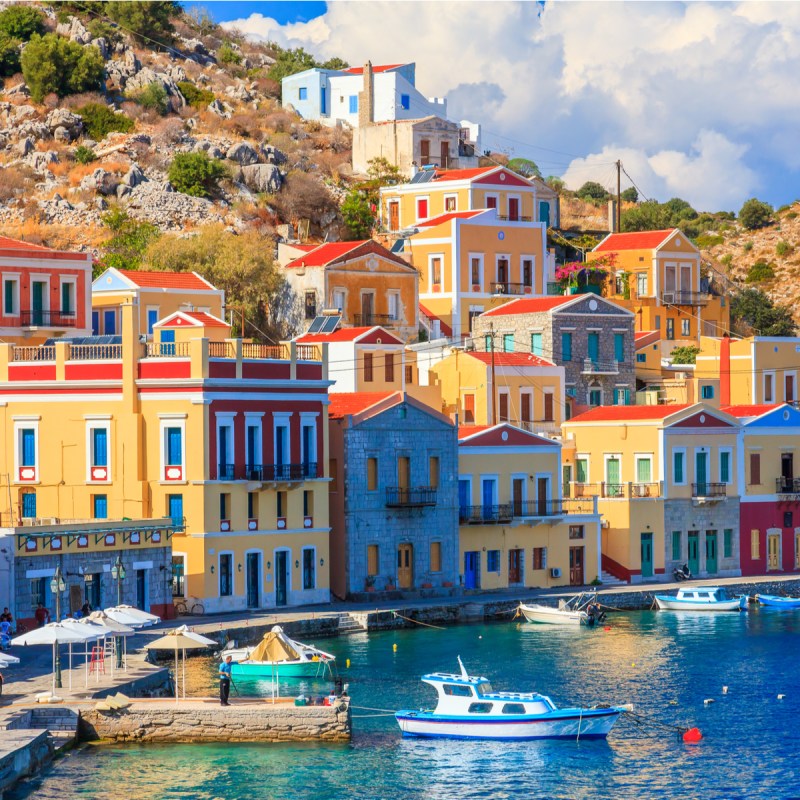 As our team reflected back on 2022, it was exciting to revisit the most popular stories from the year and rediscover them with new, fresh eyes. As usual, our writers found a way to share expert advice and tips about their exciting journeys and experiences while inspiring us to try new things. Their experiences included exciting firsts, moments of introspection, and some truly remarkable locations that you'll want to add to your 2023 travel list. Thank you for reading, and we look forward to many new adventures in 2023!
1. Where You Should Travel As Soon As You Retire
Retirement is a subject near and dear to many TravelAwaits readers. It can open up new paths to pursue that may have been more challenging during the time-strapped years of gainful employment. We polled our readers and asked where they would recommend someone new to retirement consider for their first trip. The answers came rolling in, and these four destinations topped the list. Learn which four places you should travel as soon as you retire.
2. Things I Wish I Knew Before I Booked An Amtrak Sleeper Car
Have you ever considered traveling across the country by train? Overnight travel by rail is a fantastic way to reduce the miles between you and your destination without having to concern yourself with late-night caffeine binges to keep you safely on the road and out of the ditch. Writer Jill Robbins has wanted to do just that ever since she was a child and she finally got the opportunity. This year, she shared the story of her first Amtrak sleeper car experience, and how she plans to do it differently next time.
3. The Things You Should Do Every Time You Walk Into A Hotel Room, According To A Flight Attendant
Flight attendants spend a substantial amount of their time in hotels between flights. And depending on flight times, they may find themselves checking in and out of rooms at unusual times of the day. As someone who has been working in the industry for nearly 25 years, Kentrell Charles knows this all too well. Over the years, he has developed a list of eight things that he does every time he walks into a hotel room, and he graciously shared his list with our readers. Staying safe and healthy is important for anyone traveling, especially if you are traveling alone, so take a look and see if you need to add any of his tips to your hotel check-in process.
4. Beautiful Beach Towns Perfect For Retirees
The rhythmic lapping of waves on the shore; the whistling sound of the breeze off the water; the cacophony of gulls seeking a place to roost. These are just some of the sounds that call out, drawing many a soul towards the beach. Finding a beach town that meets the specific needs of those in retirement is no simple task, but our team is here to assist. Discover what makes these nine beautiful beach towns great for anyone, but perfect for retirees.
5. Amazing Walkable Cities Around The World
What does a city need to be considered walkable, and what makes walking desirable over other modes of transportation? Well, for starters, cities with ample and well-maintained sidewalks make the list while those with narrow alleys or non-centrally located business centers did not. Our team uncovered a few cities that blow others out of the park in the area of walkablity. Wide, uncrowded pedestrian paths, charming storefronts, and stunning views are just a few of the reasons that these cities take the cake. Plan a trip to one of these seven amazingly walkable cities today.
6. Our 12 Favorite Cities To Visit In The U.S.
The Best of Travel Awards give our readers a chance to celebrate their favorite travel spots around the world each year. As part of this year's vote, our team tasked readers with sharing their favorite cities from around the country. From small and mountainous to metropolises on the coast, these cities stuck out above the rest in the eyes of our readers. Did your favorite city make the cut? Discover all 12 of the cities named as our readers' favorites in 2022.
7. Packing Tips For A Long Trip When You're Only Taking A Carry-On
If you are tired of the long lines to check in your luggage just to then have to wait even longer after de-planing to retrieve your bag from the slowly moving carousel — if your bag arrives at all — then you might consider becoming a carry-on-only traveler. Christy Karsten is an airline pilot who has perfected the ability to fit everything she needs in one small carry-on. If you struggle with overpacking, consider these seven tips for packing for a long trip with just a carry-on.
8. The Things I've Decided To Let Go Of At 71 Years Old
Louisa Rogers has been all around the globe, adding to and crossing off many great destinations and experiences from her bucket list. Now that she is in her 70s, she has come to realize that it is time to let go of what she doesn't need and delight in those things — and experiences — that she already has. Discover the seven things Louisa has chosen to give up at the age of 71. Are there any you should consider letting go of yourself?
9. Reasons This Historic Arizona Train Is A Perfect Experience For The Whole Family
The Grand Canyon sits as one of the seven natural wonders of the world. Approximately a mile deep, and an average of 10 miles wide, this Arizona wonder is popular among tourists and nature lovers alike. But did you know that there is a way to enjoy the canyon that doesn't involve standing at the rim or hiking down in? Head for Williams, Arizona, and hop aboard the Grand Canyon Railway for a truly unique way to roll up to the iconic rim. Here are nine reasons this historic Arizona train is a perfect experience for the whole family.
10. The Most Popular BBQ Restaurants In The U.S.
Barbecue has become a staple in the U.S., especially in the South and Midwest. The regional tweaks to how the meat is prepared and served have segmented the country into as many different barbecue regions as there are ways to spell the word itself! Our readers spoke up and shared their favorite places to enjoy amazing barbecue around the U.S. during this year's Best of Travel Awards. Have you been to any of the top 10? If not, you may have to change that in the new year, if only to keep the drool at bay.
11. How To Pack Your Luggage Perfectly Every Time
Whether you are cramming everything into a single carry-on or filling multiple suitcases, it is important to do it the right way, every time. We sat down with Rashmi Hudson, creator of Alltimate Luggage, and picked her brain for packing tips — and she did not disappoint. Keep her tips in mind to ensure you pack your luggage perfectly every time.
12. The World's 8 Most Beautiful Train Stations
Train travel was once the way to travel, and in some parts of the world, it still is for some. The stations that have been built over the years to accommodate train passengers were expertly designed to both stand out and simultaneously blend in with the surrounding architecture and vibe of the cities that they serve. Many of these stunning, cathedral-esque depots are found on the European continent, while others are dotted across the globe. Enjoy our picks for the world's eight most beautiful train stations that you can visit during your next adventure.
13. It's Not All Hammocks And Margaritas: My Life As An Expat In Mexico
The daily life of a retiree living abroad as an expat may not include a 9-to-5 job, but that does not mean that every day is a vacation. Just ask an expat! Daily responsibilities continue, of course, and it is important to know what to expect so as not to be taken unaware. Louisa shares her take on life as an expat living part of the year in Guanajuato, Mexico, with her husband. It's not all hammocks and margaritas, after all!
14. Charming Small Towns To Visit On Florida's Gulf Coast
Pepsi or Coke? Paper or plastic? Atlantic or Gulf? When planning a visit to Florida, this final question is the one that can truly divide. If you prefer white sand and calmer waves, the Gulf may just be calling out your name. When planning your next beach vacation, consider one of these six charming small towns on Florida's Gulf coast rather than a trip back to the Atlantic. You won't regret it!
15. My Favorite European Cities To Avoid The Crowds
Europe is a dense area, filled with residents and tourists alike. During the late summer months, the crowds can be truly overwhelming. Traveling off-season is a great way to avoid some of the crowds, but if you can't get away during the shoulder season — or just need a change of pace — it might be necessary to skip the most popular destinations in favor of some lesser-known gems where you will have freedom to explore. Consider a trip to one of these 13 great European cities if you are looking for a less crowded yet still rewarding experience.
16. How I Made Friends As A Single, 73-Year-Old Woman In A New Town
Leaving everything you know behind and moving across the country can be a scary proposition for anyone. Now imagine doing that at 73…and single. Carol did just that, leaving behind the hustle and bustle of Chicago for a more relaxed day-to-day in coastal South Carolina. The move itself turned out to be the easy part; making new lasting friendships was the larger commitment. Learn how she made new friends as a single 73-year-old in a new town, and you might even be inspired to follow in her footsteps.
17. Reasons You'll Fall In Love With This Quaint Arizona Town
Nestled between — and often overshadowed by — its neighbors Jerome and Cottonwood, this under-the-radar gem is more than just a waypoint in Arizona's Verde Valley. Stop in Clarkdale for a history lesson on the copper mining industry. Or climb aboard the Verde Canyon Railroad for a comfortable journey through the gorgeous valley. All this and more is awaiting you in Clarkdale, so plan your visit today!
18. Travel Essentials I'm So Glad I Had On My 10-Hour Flight
Peggy was set to take her first long-haul flight in years: a 10-hour flight between Seattle and Frankfurt. She knew that the longer flight could prove to be a challenge for her circulation and wasn't sure how her body would handle sitting in one place for so long. Fortunately, she came prepared, and the flight was a success! Read her honest reviews of eight travel essentials she was glad to have brought on her 10-hour flight, most of which she plans to never fly without in the future!
19. Key Packing Tips From A Professional Baggage Handler
Have you ever wondered what happens to your luggage between the time you drop it off at check-in to the time you pull it off the carousel at your final destination? For most of us, it is a mystery, and one that we are happy to keep as such. However, these six key packing tips from professional baggage handler Tammy Mendoza shed new light on the baggage handling process, ensuring your personal items arrive as you intended. Do you need to add any of these to your process moving forward?
20. Fantastic Places To See California's Gorgeous Wildflowers This Spring
California is a state with it all: majestic mountains, beautiful beaches, towering forests, scorching deserts, and acre-upon-acre of delectable produce and fine wine. With so much natural beauty and diversity, it should come as no surprise that the state is a wonderful place to see fields of beautiful wildflowers each spring. With spring just around the corner (wishful thinking for some of us, maybe!), consider one of these six fantastic places to see California's gorgeous wildflowers.
21. My 11 Favorite Beaches To Visit In The World
Writer Sarah Kingdom grew up near enough to the beach in Australia that she spent a good portion of her weekends enjoying all the fun that comes with the beach life. When she moved to central Africa over three decades ago, she may have lost her ease of access to the beach, but not her love for it, as she has found and enjoyed exciting beaches wherever she travels. If you are looking for ideas for a new and exciting beach vacation, consider her list of favorite beaches around the world.
22. Marriage Ground Rules That Helped My Husband And Me Thrive In Retirement
Louisa and her husband Barry have been married for over 40 years, and have had many of the same ups and downs as any marriage. Yet four decades in, she claims that they are now "healthy, happy, and strong." Anyone who has been married for more than a day knows that this is no simple task, so how did they get where they are today? She attributes their success in marriage to the ground rules that they have set up to ensure they continue to thrive. Read Louisa's full list of nine marriage ground rules and see which you can adopt in your own marriage.
23. Customs From Other Countries I Wish The U.S. Would Adopt
Americans often stand alone in the way we approach life when compared to the world around us. We have all but completely forsaken the metric system and confused the sporting world with our own form of football. Whether it's national pride or stately stubbornness that fuels these differences, one thing is for sure: There are times when being more like the rest of the world would actually be a positive thing, even if we don't want to admit it. Writer Louisa shares 10 customs from other countries that she would like to see us adopt here in the U.S., and I can get behind each of them!
24. This Quaint Island Town In California Is Perfect For A Romantic Weekend
Two Harbors is doubly quaint: It's the second largest town on one of the few inhabited islands off the coast of California. Getting there takes some planning, but you will be glad you did once you arrive. The town of Avalon in the southeast is where most visitors arrive, and stay, during their time on Catalina Island. But, for a cozier, more romantic vibe, head north and see why the quaint island town of Two Harbors is perfect for a romantic weekend.
25. Amsterdam's Red Light District: All Your Questions Answered
The Red Light District — well districts, as there are in fact at least three in Amsterdam — is as iconic as the city's Anne Frank House, yet for very different reasons. Knowing where to find this notorious piece of Dutch culture is as important for those that want to visit as it is for those who want to avoid it. Whichever court you may fall into, Sage Scott shares her expertise from numerous trips to the Netherlands. She answers all of the questions you may have had about Amsterdam's Red Light District, and even some you didn't know to ask.