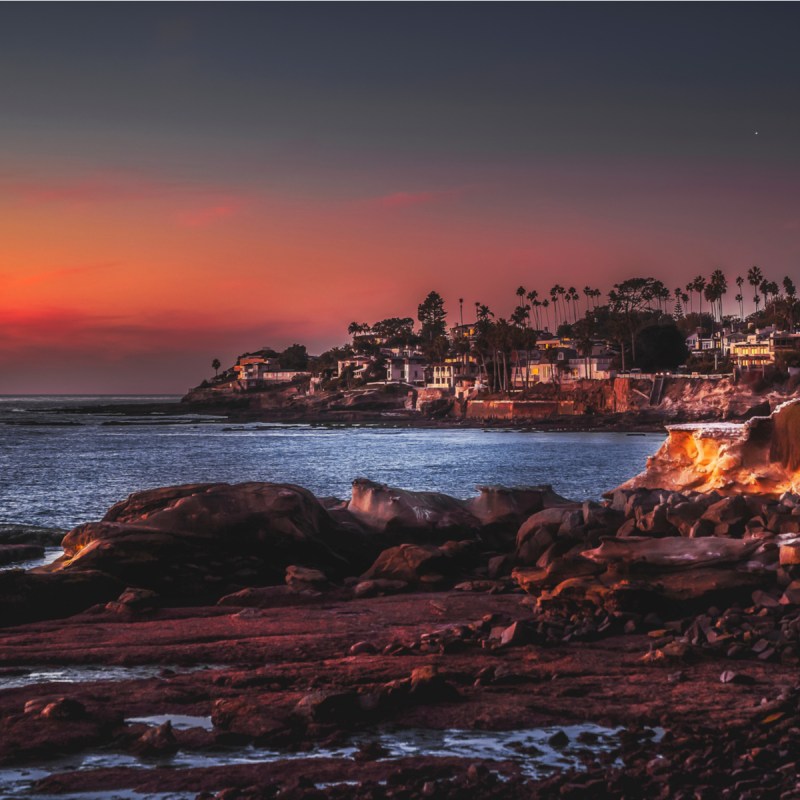 In retirement, time is a luxury you finally have. You can while away your days as you see fit. You can do as little or as much as you like and not feel guilty. If you're feeling reflective and want to just chill and chill, so be it. If you run yourself ragged with errands, volunteering, or whatever brings you joy, no worries; you can sleep in the next day and the next. Where you live helps set the tone. For many, a beach town is ideal for life's last chapter. If you're looking for where to go to fill the pages, here's a little something to get your research started.
1. Destin-Fort Walton Beach, Florida
The cost of living in Florida is more affordable than many other states in the U.S. You'll benefit from having to pay no state income taxes and real estate prices won't send you to the emergency room with heart palpitations. When it comes to Destin-Fort Walton Beach, white-sand beaches and emerald waters await you, so does gulf-to-table dining, fishing, golf, and much more. This should be among your top choices if you're into fishing. Located just 10 miles from 100-foot depths, East Pass in Destin offers quick access to the Gulf of Mexico. Take your pick of inshore gulf fishing in state waters and offshore gulf fishing in federal waters, to the sleepy bayous, beautiful lakes, and pristine waters of the Choctawhatchee Bay. If golf is more your thing, you won't be disappointed with eight championship golf courses. Though you'll have plenty of time to cook at home, when you're ready to dine out, there are many options like Dewey Destin's Seafood Restaurant, Lulu's, and Jackacuda's Seafood + Sushi. No doubt you might make your stopping ground HarborWalk Village, whether to view the boats, shop, eat, or check out live music.
2. Myrtle Beach, South Carolina
There's something to be said about going South. For sure, the climate is a plus. But that's just the start of what should put Myrtle Beach on your list of prospects. There's a reason why so many people over 60 live there. Whether you rent or buy a place, you will probably have a smile on your face, especially if you're coming from the east or west coasts. Golfers will think they've died and gone to heaven with some 90 courses. You know there will be many beach days, but there's a lot else going on. You can do a Sunday gospel brunch at the House of Blues, browse the brilliant work at the Art Museum of Myrtle Beach, or take mini excursions like the Brookgreen Gardens at Murrells Inlet, about an hour south of Myrtle Beach. It's a national historic landmark, over 9,000 acres, a combination of art, nature, and history, home to more than 2,000 works by 425 artists. The Botanical Gardens has been called one of the Top 10 Botanical Gardens in America.
3. Duluth, Minnesota
This northern beach town gets snow but that's a plus for some folks. You'll get four seasons. Then there's the fact that you're seated on Great Lake Superior and if you need a big city fix, Minneapolis-St. Paul is 2 hours away. Outdoor fans will have much to do with more than 6,800 acres of city parkland and 178 miles of wooded trail in the city limits. Hiking, biking, birding, leaf peeping, and cross-country skiing is readily available. The newly renovated Lakewalk is more than 7 miles along the lake. There are waterfalls throughout seven state parks tucked along more than 150 miles of coastline from Duluth to the Canadian border. You might be surprised by the vibrant arts and culture scene. The eating is good too. An influx of entrepreneurs cultivated a renaissance that elevated the city's food and craft beverage scene, from high-end establishments to casual, everyday hangouts. There are several local breweries and spots like Vikre Distillery, a hip industrial cocktail lounge known for its nationally-acclaimed gin, vodka, aquavit, and whiskey. Pair all of this with a below-the-national-average cost of living, top notch medical facilities, and, yes, get out the snow boots.
4. Hilton Head Island, South Carolina
This has long been a favorite place to retire. The 12-plus miles of beaches and balmy weather are part of the attractions as entertainment, like the Arts Center of Coastal Carolina, a 349-seat theater featuring musical performances, plays, ballet, and more. There are more than 20 championship golf courses, fishing, and — if you so desire gated communities or retirement communities — The Seabrook, which was awarded five-stars from the Centers for Medicare & Medicaid Services. Wow the grandkids when they come to visit with water fun with a dolphin cruise as well as the Coastal Discovery Museum. You can comfort, too, in knowing that the crime rate on Hilton Head Island is 40 percent below the national average.
5. La Jolla, California
San Diego has many great beach towns for retirees. La Jolla comes to mind and has bragging rights for its museums, art galleries, one-of-a-kind boutiques, great restaurants, and a slew of outdoor activities. It's home to the beloved Torrey Pines Golf Course and The Lodge at Torrey Pines — offering world-class golf and scenic cliff area with well-groomed hiking trails and spectacular views. At Torrey Pines Gliderport, you can soar out over the beach cliffs on a hang glider or just chill and watch the action above. La Jolla is also home to Birch Aquarium at Scripps Institute of Oceanography and plenty of cultural attractions including the La Jolla Playhouse. The beaches are hard to beat, ideal for swimming, snorkeling, scuba diving, kayaking, and surfing. Then there's that ever-special experience of migrating whales off the coast as they travel to and from Baja California.
6. Lewes/Rehoboth Beach, Delaware
Just 20 minutes from each other, live in one and enjoy what the other has to offer. Rehoboth and Lewes are known for their chill vibe and restaurants. These are small towns with big eats. Buzzy restaurants include Bramble and Brine at the Buttery, Heirloom, and Harvest Tide Steakhouse —all in Lewes — and Blue Moon and La Fable in Rehoboth Beach. There are many state parks along the shore (Cape Henlopen, Delaware Seashore, Fenwick Island state parks), setting the stage for hiking, biking, tennis, boating/fishing, golf, and even pickleball. You might be tempted to blow your budget at the boutiques and galleries in Lewes and Rehoboth. Go ahead, indulge a little. You may have more wiggle room to spend as Delaware has one of the lowest property taxes in the nation and no sales taxes.
7. Lincoln City, Oregon
Just a couple hours from the vibrant energy of Portland are the sandy beaches in Lincoln City. Each historic district offers a variety of shopping, dining, and fun things to do. Outdoor recreation is plentiful at Devil's Lake, including kayaking and paddleboarding, as well as wildlife viewing with coots, loons, ducks, herons, cormorants, bald eagles, and grebes. At Cascade Head UNESCO Biosphere Reserve, take in the rare and diverse ecosystem, including the Salmon River, densely forested uplands, and a marine reserve stretching west into the waters of the Pacific. Then too, there are more than 7 miles of beautiful, walkable beach stretching from Roads End to Siletz Bay. Browse Bob's Beach Books for the perfect find to bury your head in while lounging on the beach. For sure, it's a bonus to be close enough to Portland to take advantage of all it offers, yet call Lincoln City home where you'll pay much less than Portland, be it housing, groceries, and most everything else.
8. Ocean Springs, Mississippi
This laid back, historic coastal town is the kind of place you might like to call home. The centuries-old live oaks add to the charm. Ocean Springs is known for its arts and festivals. The Ocean Springs Art Association represents more than 300 local artists and has the largest annual fine arts festival in the state — the Peter Anderson Arts & Crafts Festival. There's also the Walter Anderson Museum of Art to get your art fix. With over 200 independent shops, galleries, restaurants, and nightlife, you won't be bored. The community is quite walkable. You can enjoy white sand beaches and water sports all year. In Coastal Mississippi, good grub comes easily, as does the opportunity for shrimping trips and sailing on schooners. Oh yeah, it's affordable. Sell that New York or San Francisco home, make a killing, buy new digs in Ocean Springs, and have money left over to add to your retirement kitty.
9. Corpus Christi, Texas
You'll be minutes from miles of drivable beaches. Fish, boat, surf, windsurf, and soak up the sun more than 220 days a year. You can get that beach home you always dreamed about as prices won't take a big bite out of your retirement pie. In addition to the beach, make your way to the South Texas Botanical Gardens, USS Lexington Museum, the Texas State Aquarium, and the Art Museum of South Texas. You know they go big or go home in Texas. When it comes to eating, cuisine in Corpus Christi offers great options, be it dining or the water or downtown. Some popular spots are Elizabeth's at the Art Museum, Doc's Seafood and Steaks, and Water Street Oyster Bar located at the heart of downtown which also features the South Texas Hall of Fame.