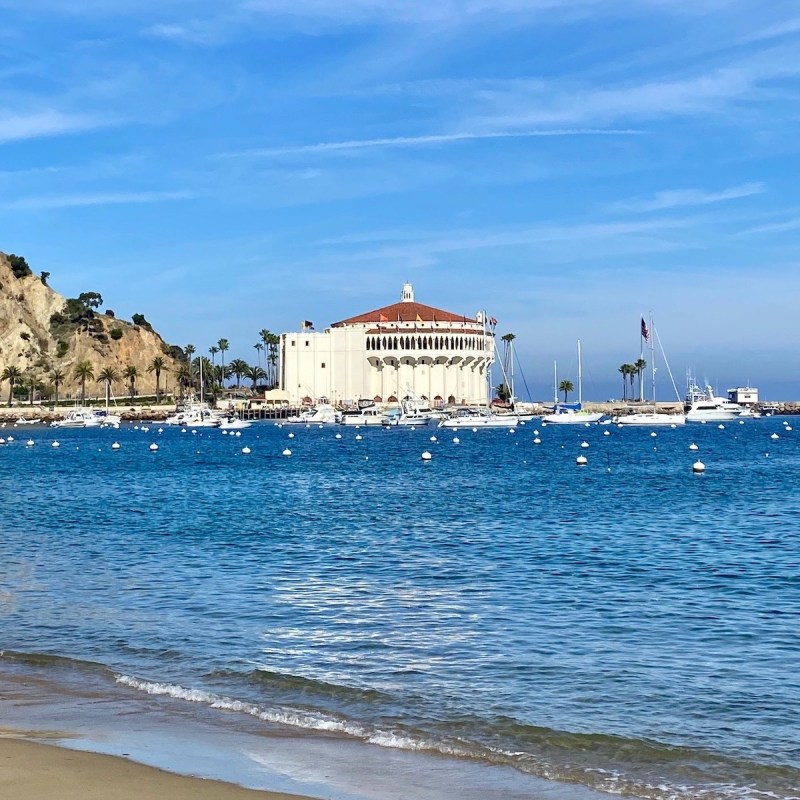 Overcrowding at popular tourist sites has become increasingly common around the world. More recently in the United States, stories of packed national parks regularly make headlines. Finding lesser-known destinations that are both beautiful and uncrowded is tough. Fortunately, Two Harbors on California's Catalina Island ticks both boxes.
Catalina Island is located about an hour off the coast of Southern California. The largest town on the island, Avalon, is by far the most visited spot on the island, and for good reason. Avalon is full of lovely boutique hotels, good restaurants, a swanky beach club, and plenty of land and water activities. But on the opposite side of the island is Two Harbors, a tiny hamlet with one restaurant, one bar, one store, and no paved roads. While services are limited, the area's rugged beauty is not.
The town's name is derived from its position between Isthmus Cove and Catalina Harbor. A 5-minute walk is all it takes to visit both. The history of this part of the island dates back to the 1860s when silver, lead, and zinc mining operations were active. Later, during the Civil War, the Union Army established a camp here. Today, this is the ideal destination for anyone looking for uncrowded outdoor activities, or simply a spot to disconnect and relax.
This trip was hosted by the Catalina Island Company, but all opinions expressed belong to the writer.
How To Get To Two Harbors
There's usually a reason why a destination is less known and visited, and in Two Harbors' case, it's likely because it's a longer and indirect journey to get here.
While there are four ferry departure points from Southern California to Avalon, there is just one for Two Harbors. The journey begins at the Port of San Pedro in Los Angeles County. It's here where Catalina Express provides regular service. The first leg of the ride is about 1 hour and 15 minutes to Avalon. After allowing passengers to disembark and board, the ferry continues for another 20 minutes to Two Harbors. The return ferry ride goes directly to San Pedro and takes about the same amount of time.
Catalina Express has a large fleet of clean and comfortable boats that whisk passengers to and from the island all year long. During the busiest seasons, there are up to thirty departures a day. Seating is available both indoors and out and food and beverages are available for purchase on all boats. Ferry transportation should be booked in advance and can be done online.
Pro Tip: If you are prone to seasickness, come prepared with medication like Dramamine or Bonine, or use seasickness bands. Choose seats at the back of the boat facing forward.
Things To Do In Two Harbors
Life in Two Harbors revolves around the great outdoors. Whether you opt to get out on the water or head into hills, come prepared for plenty of fresh air and sunshine.
1. Take A Hike
Catalina Island boasts 165 miles of trails ranging from easy to difficult. It's best known for the 38.5 mile Trans Catalina Trail that begins in Avalon and concludes in Two Harbors with a total elevation change of 9,600 feet. If this is your type of adventure, allow at least 4 days to complete this hike, and be sure to pick up your permit at the Catalina Conservancy House.
If you prefer a shorter and easier trail while in Two Harbors, head out on the Ballast Point Road for a 1.1 mile, relatively flat hike that follows Catalina Harbor. At the end, you'll be rewarded with an expansive view of the Pacific Ocean. If possible, plan to do this at sunset.
A longer option, but also fairly easy, is to follow West Road, located along the northeast side of the Island. This 7-mile dirt road follows the curves of the coast and offers views of several small harbors.
2. Bike The Island
Two Harbors is an excellent destination for mountain bikers. This is the only place with access to the island's 40 miles of interior bike trails which are rated moderate to advanced. Along the way, bikers will enjoy spectacular views of canyons and the ocean. It's also possible to see some wildlife including bison and the island fox.
It's important to know that all-terrain knobby tires are required and of course, helmets must be worn at all times. Electric bikes with pedals are permitted. Bikes can be brought over on Catalina Express for a small fee. Use of mountain bike trails does require a permit and can be purchased through the Catalina Conservancy.
4. Get Out On The Water
There are several fun options for getting out on the water while visiting. The Two Harbors Dive & Recreation Center rents scuba and snorkel gear, kayaks, and stand-up paddle boards. Rent by the hour, half or full day, depending on how adventurous you're feeling.
According to Scuba Diving magazine, Catalina is the World's Healthiest Marine Environment, making it an excellent place to dive or snorkel. Explore the abundant kelp forests and look out for sea lions, harbor seals, Garibaldi, sea stars, leopard sharks, and much more.
5. Relax And Disconnect
While cell service is available in Two Harbors, it's really the perfect place to put the phone away and simply enjoy the lovely surroundings. Something about the rugged terrain and rustic setting encourages one to disconnect.
Throughout the village, and along nearby trails are benches strategically placed for optimal views. If you're an early riser, walk to Isthmus Cove in the morning for sunrise. In the evening, turn towards Catalina Harbor to enjoy the sunset.
If you're visiting May through September, enjoy a classic beach day at Harbor Sands. Here you can rent lounge chairs or palapas for the day. Go for a swim, relax on the sand, and order food when you get hungry.
Where To Eat In Two Harbors
Deciding where to eat in Two Harbors will be pretty easy. Choose from the Harbor Reef Restaurant, Harbor Reef Bar, or the General Store. Fortunately, all are good options.
If you're arriving on the island around lunchtime, head to the General Store for grab-and-go items like sandwiches, burritos, chips, fruit, and beverages. It's also well stocked with souvenirs. This should also be the first stop for campers to stock up on provisions.
With its warm and cozy interior, the Harbor Reef Restaurant and Bar is the perfect place to dine at the end of the day. Choose from a selection of hearty entrees like fish and chips, steak, and pasta. Be sure to start with a cup of its excellent clam chowder. A full wine list and cocktail menu will complement your meal.
The Harbor Reef Bar offers both indoor and outdoor seating depending on the season. In the summer months, the outdoor deck provides a front row view of Isthmus Cove.
Pro Tip: Keep a close eye on your food while on the island. The island fox — a species found only on the Channel Islands — may be small, but they are daring when it comes to snatching unattended food.
Two Harbors Hotels And Camping
Like dining, the options for accommodations are simple: The Banning House Lodge or Two Harbors Campground. Sometimes it's nice to keep decisions easy.
The Banning House Lodge offers guests a classic bed and breakfast experience with the addition of gorgeous ocean views. Positioned on a hilltop, guests can face east and admire Isthmus Cove or turn west to view Catalina Harbor. Originally built in 1910 by the Banning Brothers, this Craftsman-style lodge is both rustic and charming. The centerpiece is the large brick terrace filled with comfortable patio seating, perfect for enjoying the included breakfast or evening wine and cheese. In the event of inclement weather, guests may sit inside in a comfortable living room warmed by a large fireplace.
Pro Tip: To get to the village, guests may walk via a short but steep footpath, or request a ride from the lodge's van.
Located just outside the village on a bluff overlooking the harbor, Two Harbors Campground is a seriously scenic option for accommodations. There are 47 campsites, 13 tent cabins, and 2 group camping sites. If you don't own camping gear, don't worry. Tents, sleeping bags, sleeping mats, and stoves can all be rented for the duration of your stay. For visitors bringing their own gear, a hauling service is available immediately after disembarking from the Catalina Express. The General Store also offers delivery of food and supplies after purchase.
Pro Tip: Catalina Express and Catalina Island Company regularly offer special deals that combine ferry transportation, accommodations, meals, and tours. This is a nice option, especially for first-time visitors unfamiliar with the island.
Although vacation home rentals are scarce in Two Harbors, Avalon has many options available:
Dreaming of Avalon – your dream vacation awaits you
Top guest reviews
Our party of 8 enjoyed our stay here. The house was clean quaint and beds were comfortable. The location is great; within walking distance of Avalon town, restaurants, shopping, the Catalina Express boats/port and water activities on the pier. The added 6 seat golf cart came in handy for island sight seeing, grocery store runs and transportation to and from the Jazz fest each night. Even though a view of the ocean is blocked by neighboring homes, the top deck with BBQ, table and chairs was a nice open air gathering place for our group. I would definitely stay here again.
Good for 2 families wanting to share.
I was very upset because the AC never work . I communicated to the house manager to asking her if the ac worked she told me NO. with the hot weather FUNS doesn't do much to sleep better . You charge full price in the property and the house it's not functioned at 100% Some of us have to sleep in the floor in the living room because the rooms are to hot. Very disappointed with you and the house. You never informed me before the AC is not functioning other way l was looking for another property .
Location is great. House is wonderful. Angela and crew make the rental easy and comfortable!
Read Less ∧
Read More ∨
Dreaming of Avalon – your dream vacation awaits you
Top guest reviews
They called us while we were on our way to the island to tell us we could check in 5 hours early! We were going to have to wait all day but we're able to check in right away. It was great
The view is spectacular! Overall loved the apartment. Was disappointed to learn of the 50 steps to get to the property. Also the grill was very dirty and unusable. Also we expected a working Air Conditioning system.
I loved everything about this room and the view and everybody on the island that's a fantastic place to visit
This property is amazing. Can't wait to go back in the near future.
Read Less ∧
Read More ∨
Two Harbors combines a slow pace of life with rugged beauty making it the perfect destination for a romantic weekend. Turn off the devices, head out on the trails, enjoy the sunset, and return home refreshed. With few decisions to make, there's plenty of time for relaxing, conversing and reconnecting.
Catalina Island is a popular getaway for Californians: