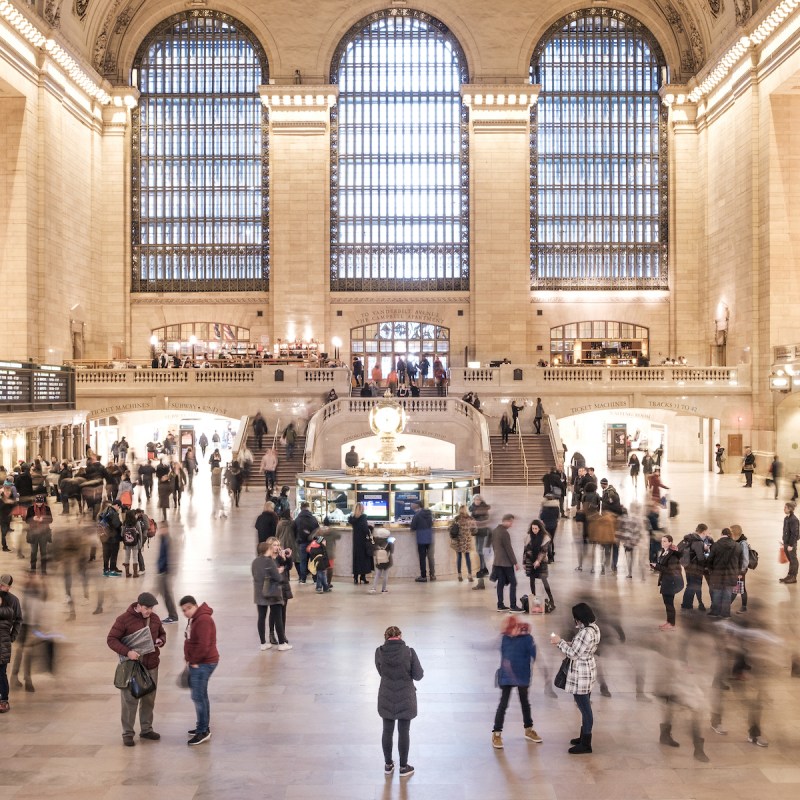 There is something about train stations that has always drawn me to them. Maybe it is simply the bustle of people going to other places, the excitement of travel, or maybe the vastness of the halls that need to accommodate long trains. Maybe it is the many books and magazine shops offering something for the journey, or, most likely, a bit of all the above.
When train travel first became a popular way to reach far-flung places, grand stations were built in all the bigger cities, many of which still stand today and count among the world's most beautiful. Just think of St. Pancras in London, the large inner-city stations in Paris, and the stunning Central Station in Antwerp. But many of Europe's stunning railway hubs have already been listed on TravelAwaits, so here I look further abroad — and at different stations within Europe as well — not just at historic train stations, but also some hyper-modern ones. Many have interesting facts or stories attached to them. Others are simply stunning, turning them into destinations in their own right.
Which is your favorite?
1. Grand Central Station
New York City
The first time I visited New York City, Grand Central Station was at the top of my to-do list. The great hall, whose ceiling features the 12 signs of the Zodiac, the beautiful windows and stairs, which I knew well from so many films and books all brought to life by the people. The commuters rushing past, the couples either saying hello or goodbye, the buzz, all was utterly magical to me. Then, there is the Grand Central Oyster Bar, a beautiful restaurant with its curved brick ceilings, which is part of history. No, it is not the best restaurant in Manhattan, but very much an indelible part of this Beaux Art building and the station's history. As is the shiny brass clock by the information booth, which has been valued by auction houses somewhere between $10 million and $20 million.
Fun Fact: Grand Central is the world's largest train terminal with 45 track platforms and 63 tracks, telling many stories to those interested to look deeper. It even offers an app-guided walking tour.  
2. Huddersfield Railway Station
Huddersfield, England
When you first see a picture of Huddersfield Railway Station, you'd be forgiven for thinking that it is a grand country mansion. Opened in 1847, this station is instead the second-busiest in West Yorkshire, after Leeds. Built in the neoclassical style and a Grade 1-listed historic building, the station's elegant sandstone frontage was described by Poet Laureate John Betjeman as "the most splendid façade in England," and a statue of former Prime Minister Harold Wilson, looking as if he is in a hurry, stands in the large, pedestrianized square outside the main entrance. Inside, not only do you find many historic details, but also two decent pubs: The Head of Steam and the King's Head.
Fun Fact: The station has two resident station cats, Felix and Bolt. They are supposed to keep the station rodent-free and have their own cat flap to bypass the ticket barriers, but they spend a lot of time on social media with their own Facebook account.   
3. Flinders Street Railway Station
Melbourne, Australia
In 1854, the historic Flinders Street Station in Melbourne was the first railway station built in any Australian city. It is not only a major building but also a well-known meeting point for Melburnians. When I lived in Melbourne, I often was told: "Meet you under the clocks." The instruction needs no further detail, as everybody local knows that this refers to the 13 clocks adorning the main corner entrance to the station. Instead of world time, the clocks tell the departure times for 13 suburban trains leaving from the station.
Inside the station, hidden from view on the third floor, lies a grand ballroom where there were once concerts, dance lessons, and ballroom competitions because it used to be Melbourne's most popular dance hall. Abandoned since early 1980, it has recently been brought back to life and renovated.
Fun Fact: Flinders Street Station's central platform, holding both platforms 1 and 14, is not only Australia's longest platform but also the fourth-longest railway platform in the world.
4. Napoli Afragola Railway Station
Naples, Italy
I have been known to travel as far as Baku, Azerbaijan, for a look at a Zaha Hadid-designed building. The late architect's play with unusually white lines within and outside of a building often look otherworldly, defying gravity and certainly defying traditional thinking. And, it is no different when it comes to the Napoli Afragola Railway station in Naples, nicknamed the Gateway to the South (of Italy). Super modern, the station looks from afar as if a spaceship has landed in the green landscape. Closer up, the play of lines, light, and shadows is mesmerizing, and the station stretches sinuously across the high-speed tracks, over several floors, all doused in light.
This incredibly modern architecture was built right next to an ancient Mycenaean village dating back to 1500 B.C., which reportedly was uncovered when the first ground was broken to build the station in 2003. The station was eventually opened in 2017.
Fun Fact: There is another high-speed railway station that nearly steals the thunder from this one: The Reggio Emilia Stazione designed by architect Santiago Calatrava. Just as beautiful, white, and sensuous, but in northern Italy.
5. Chhatrapati Shivaji Terminus
Mumbai, India
From sleek and modern back to grand old rambling Victorian design, reminiscent of St. Pancras in London, but right in the heart of bustling Mumbai. The busy façade full of domes, turrets, windows, ledges, and arches hides a vast interior with tall, vaulted ceilings held up by countless columns. Chhatrapati Shivaji Terminus, formerly known as Victoria Terminus, is a fine example of colonial architecture, designed by the architect FW Stevens and built over 10 years to open in 1887. It has been designated a UNESCO World Heritage Site. Very much part of Mumbai, this railway station sees more than 3 million Mumbai commuters rush along its concourses every day. Every day!
Fun Fact: The station has starred in many Bollywood and Hollywood movies, including the Oscar-winning film Slumdog Millionaire (2008).
6. Kanazawa Station
Kanazawa, Japan
When you first look at Kanazawa Station — with its glass and steel Motenashi-domed roof, and the imposing Tsuzumi-mon Gate that leads to the entrance which is built entirely of wood from Japanese cypress and designed with the traditional Tsuzumi drums— you'd not believe that this station was first built in 1898. The old, former station has long gone and been replaced with this modern version, which, however, is highly symbolic and worth a closer look. There are, for example, golden tops to the columns on the Shinkansen platform, representing the fact that Kanazawa supplies 99 percent of Japan's gold leaf. There are also the 24 wooden pillars along the concourse, each being inlaid with lacquer or porcelain ware, representing the city's cultural and artistic heritage.
Fun Fact: You can reach Kanazawa from Tokyo by the Shinkansen bullet train. It covers the nearly 300 miles, which would take nearly 6 hours by car, in a comfortable 2 hours.
7. Komsomolskaya Station
Moscow, Russia
Okay, so I am slightly cheating here, as this is a metro station. But an inner-city commuter metro is still a train, right? And this station blew my mind when I first saw it. The metro stops in Moscow are all pretty spectacular, from imposing and stark Soviet-style to modern and light, from Lenin on mosaics to huge statues on display. But Komsomolskaya Station would not look out of place in a Bavarian baroque castle. Vaulted, bright yellow ceilings, columns supporting pretty arches, white plaster swirls on the ceiling, and even countless chandeliers hanging from central ceiling roses are dazzling. I went out of my way to look at this station, and nearly did not leave, because apart from being probably the prettiest of Moscow's metro stations, it is also one of the busiest. And, I missed two trains because people simply rushed past me before the doors shut and left me standing. It was the platform controller who laughed at my incompetence and told me to just go and push forward, that finally got me to leave.
Fun Fact: There are vast mosaics by Pavel Korin in this station, celebrating Russian prowess in numerous wars and scenes from Russian history, complete with victorious generals, and various national heroes.
8. Estação Da Luz
São Paulo, Brazil
I stumbled across this station when I came from the Pinacoteca de São Paulo, which is one of my favorite art museums anywhere. Trying to cross the busy street, I saw an entrance to a metro station, which in turn led me into the large train station. The current station building, similar to an earlier one, dates to 1901 and was designed and produced in Glasgow, Scotland. Workers assembled the entire building in Glasgow, before taking it apart, shipping it to Sao Paulo, and assembling it again in place. The clocktower once dominated the Sao Paulo skyline, announcing the city's coffee wealth to the world.
Fun Fact: Inside the station, you will find the Museum of the Portuguese Language.
Train travel is still a popular form of transportation for vacationers: