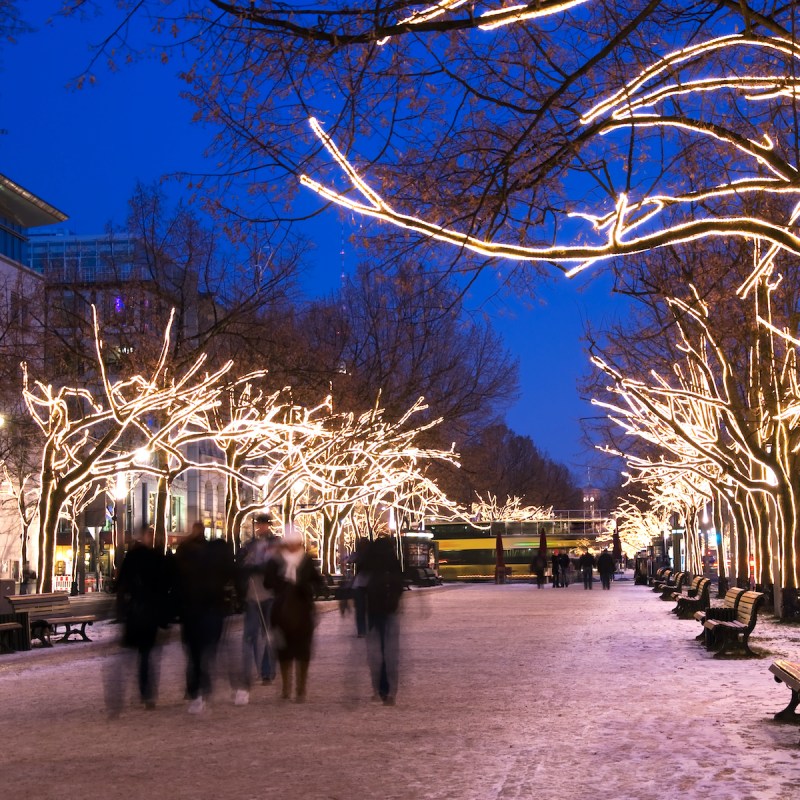 Walking is healthy, enjoyable and the cheapest form of ground transportation. The question is what makes a city walkable? Pedestrian zones help, but they are not the only criteria. The list of walkable cities I have compiled here has nearly all been chosen from personal experience. I feel happy to walk even several miles, if getting from A to B leads along beautiful and interesting sights, possibly landmarks of the city. Equally important to me is the quality of the sidewalk. If I need to constantly look down to avoid potholes and broken paving stones it is no fun. I also don't want to be in constant danger of being run over by cyclists and have to run across intersections because the traffic lights are out of sync.
Sidewalks not only should be even and well maintained but also wide so that pedestrians don't have to squeeze past each other and can easily avoid pushchairs, prams, wheelchairs, and dogs on an extension leash. If the walk leads past or through parks with the occasional bench for a short rest, so much the better. Nice shop fronts are a bonus. Modern day urban planning takes all that into account, but the total infrastructure of cities that have been around for centuries (like London), cannot be changed. Luckily there are quite a few cities around the world, where walking is a pleasure and as safe as possible. Of course, you always have to watch out.
1. Copenhagen
Copenhagen, Denmark's capital, is a prime example of a walkable city. Since the 1960s, its main shopping street, Strøget, has become a delightful pedestrian area. It is a 3,500-foot-long stretch of actually four streets, lined with historical medieval buildings as well as modern shops, department stores, and designer boutiques. All interspersed with coffee shops and restaurants, picturesque side streets, and street entertainment. Cars are allowed to pass but only at very low speed, so there is no danger of getting run over while one indulges in a long and leisurely walk. The pavement is even so you can enjoy the sights and don't have to constantly watch your feet. Moreover, the configuration of the buildings is such that they act as natural wind barriers to protect against the often icy winds in Copenhagen. Another pleasure is that Strøget is a place everybody walks — people from all backgrounds and many nationalities come together here and socialize.
2. London
For me, there is nothing more enjoyable than to walk central London, that is to say, the area between Shaftesbury Avenue, Piccadilly Circus down to Green Park and Hyde Park on a fall day. It's not a pedestrian area, but the pavements are wide and even, tree lined, and the streets are easy to cross with traffic lights that are synced to allow crossing in one go without getting stuck in the middle. There are also underpasses to allow crossing from one side to the other and to provide easy access to Hyde Park. Iconic department stores like Fortnum and Masons are along the way as is my favorite, the Burlington Arcade with its liveried doorman, New Bond Street with its designer shops, cafes, restaurants, and art galleries, and the Royal Academy of Art. Green Park and Hyde Park are both vast "green lungs" with many footpaths, ponds, and other entertainment. You don't need to set foot on a bus or the underground along the entire trajectory.
3. Berlin
In the 1920s, Berlin was famous for promenading along the two best known Prachtstrassen (glory promenades), Kurfürstendamm and Unter den Linden (in the former East Berlin). Since reunification, Unter den Linden has recovered its importance and old glory, stretching along such landmarks as the Brandenburger Tor, the Staatsoper, and the legendary Hotel Adlon.
The 2.2 miles long Kurfuerstendamm is another walkers' delight. It's considered the Champs Elysées of Germany, a wide boulevard leading from the iconic Gedaechtniskirche to the green area of Halensee formed by the river Havel. Art Deco buildings stand along the Kurfuerstendamm, the side streets are full of trees and countless exclusive shops and boutiques make the walk a shopping experience. In between, cafes and restaurants, street artists entertain the pedestrians. Cycle lanes are clearly separated from the sidewalks and traffic lights of the 'press the button type' make crossing safe and easy. People watching while having a coffee or a drink is a favorite pastime of the Berliners.
4. Miami
I have lived for several years in Brickell/Downtown Miami and spent many a weekend exploring on foot. The compact Mary Brickell Village, brimming with shops, restaurants, and art galleries is a pedestrian zone and easy to get around. I used to cross the river over the drawbridge, always a thrill when the bell rings and the bridge starts to rise, onto Flagler Street, past the History Museum to the colorful Bayside Market Place with its exotic trees, plants, and parrots. It doesn't really count as walking, but a special pleasure is a boat trip around Biscayne Bay.
More fabulous walking opportunities arise on South Beach. The boardwalk stretches for miles as does the beach itself and, next to it, Collins Avenue and the Art Deco district. You can observe the most extravagant characters walking (or dancing) along with you. For some serious shopping, turn into the pedestrian-only Lincoln Mall and Road where on weekends, there is a street market, great for art and furniture.
5. Zurich
Since 2005, a campaign has been underway, called Zuri z'Fuees, which means Zurich on Foot. The purpose is to encourage the citizens to walk instead of congesting the roads and the results are palpable. More and more pedestrian areas have been created. Especially in the part of the old town called Niederdorf, Augustinergasse, and Bahnhofstrasse, the fashionable shopping street. But that is not all. Zurich sits on both shores of the river Limmat and long walking tours are offered along the river, with murals, trees, and, in the summer, public swimming pools in the river and sunbathing on the banks.
6. Manhattan
Bisected by 5th Avenue and bordered by the Hudson, East, and Harlem rivers, the island of Manhattan is a very walkable place. In fact, walking the entire length of 13 miles is what the creators of the movie Growing Up and Other Lies did. Doing this in one go would take many hours, but exploring Manhattan piece by piece on foot is a pleasure. The grit network helps to find one's way around and the countless sights along the way invite lengthy stops. If you get tired, there is no shortage of public transport to get you back to your hotel. The pavements from block to block are in reasonable condition and the sidewalks are wide. My favorite sections are Central Park, crossed by a 6-mile long road that is completely car free and there are plenty of walking paths. Resting areas and park benches under the trees allow for rest stops. I also love to window shop along 5th Avenue and I even made it down to Fleet Street. In recent years, crime is down in Manhattan, so it's reasonably safe to walk the streets observing the usual precautions. Crossing from one side to the other is easy as there are plenty of traffic lights. If you get hungry or thirsty, there is a deli or a hot dog vendor at every street corner and your fellow walkers are often eccentric enough to provide entertainment. Often, trees and flowers are planted along the sidewalks to make it even more pleasant.
7. Florence
10 years ago, Florence, the capital of Tuscany, was deemed to be the most polluted city in Italy. The mayor was a forward-thinking politician and, since 2011, devised a program that turned it into one of the world's most walkable destinations. This was achieved by creating major pedestrian zones which now comprise Piazza del Duomo, Piazza Pitti Piazza Della Signoria, and Via Tornabuoni. Only taxis and ambulances are allowed. You can step out of Florence's central train station (Santa Maria Novella) and start exploring centuries of art and culture on foot. The streets in the medieval part of Florence are rather narrow and several vicoli (short narrow streets) are only negotiable on foot. There are wide streets with good pavements but, medieval means cobblestones, so be careful when walking, especially when it is wet. Florence is an old, historic city which means there is definitely no grid plan of the streets which doesn't make it easy to negotiate. The best way to not get lost and see all the fabulous landmarks is to book a half-day walking tour. Also, make sure you wear shoes with non-slip soles. The streets aren't only slippery when wet but also because many are made from granite and marble and wore out over the centuries.
Here are some other reasons travelers like to explore cities and towns: