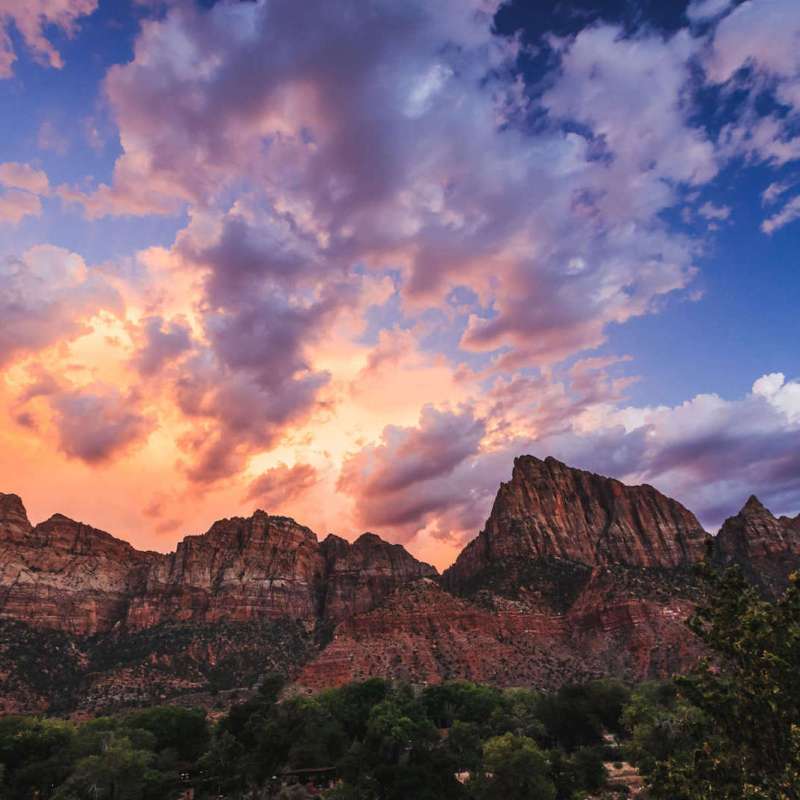 National parks have become so popular recently that several are requiring reservations in 2022. Reservations for hotels inside the parks and national park campsites fill up months in advance.
Hipcamp offers a unique solution for campers, glampers, RVers: private-land camping. Outdoor enthusiasts can find unique stays at a moment's notice within close proximity of national parks. Read on to discover cool campsites near popular parks such as Joshua Tree, the Smoky Mountains, Hot Springs, Big Bend, Zion, and Glacier.
1. S K Y C A M P
Joshua Tree National Park, California
Situated high on the hills of the Bartlett Mountain Range, just 6 miles from Joshua Tree National Park, S K Y C A M P offers picturesque panoramic views of the desert. With its hammock chairs and rustic setting, this campground puts the hip in Hipcamp. Each of its four sites has a picnic table, charcoal grill, and fire pit.
Wake up to the gorgeous desert sunrise, take an eye-opening cold outdoor shower, and set out for a day of hiking. At night, snuggle up and stargaze in the Sky Swing. Surrounded by open space, the campground sits next to BLM (Bureau of Land Management) land. The village of Joshua Tree offers unique options for dining and shopping just a few miles down the road.
2. Pinnacles Border Site
Pinnacles National Park, California
Located just east of the Salinas Valley, Pinnacles National Park is lesser-known than some of its Californian counterparts, but its mountain views, caves, and jutting rocks and boulders are absolutely breathtaking. Birdwatchers flock to the national park for a chance to spot the endangered California condor. With looks like a classic cartoon vulture and a wingspan of over 9 feet, the land bird is the largest in North America.
After a day of hiking or rock climbing, boondock at Pinnacles Border Site. The campground and its 10 campsites are just 10 minutes from the park. Car, tent, or small (less than 20-feet) RV camping is recommended. The campground is in a wide-open field, which allows for stellar stargazing, but no shade during the day. Firewood is provided for fire pits. There is a portapotty, but no potable water, showers, or Wi-Fi.
3. The Silo At Little River Barn
Great Smoky Mountains National Park, Tennessee
After a day of exploring Great Smoky Mountains National Park, crash at The Silo At Little River Barn, one of the most unique glamping experiences on Hipcamp. Located just outside Maryville, Tennessee — 15 minutes from the national park entrance — the silo and the 100-plus-year-old barn it is attached to are nestled in the foothills of the Smoky Mountains.
Pack light — a curved staircase leads up four floors. Each floor is its own room. A modest kitchen area is on the first floor, the bathroom with a shower is on the second, the bedroom with a Murphy bed is on the third, and on the top, a lounge is surrounded with 360-degree views of the countryside.
4. Erwin Estate High Point
Hot Springs National Park, Arkansas
After exploring the hiking trails, springs, and bathhouses of Hot Springs National Park, drive 15 minutes to camp out at Erwin Estate High Point in the foothills of the Ouachita Mountains. This is primitive camping — which means no water or electricity — but two little portable potties are provided. Pitch your tent on the platform, watch the sun go down from the porch swing that hangs underneath it, and build a fire in the fire pit.
Cattle roam the 250-acre property, which is home to eagles, white-tail deer, wild hogs, birds, squirrels, and other wildlife. Pack your fishing pole to rip some lip in the onsite catch-and-release natural spring pond. More fishing as well as boating, canoeing, and kayaking can be done at a nearby river and lake. Hunt for quartz in this mineral-rich area. The high elevation makes for great drone and kite flying.
5. "The Oasis" At Paisano Azul Ranch 
Big Bend National Park, Texas
Featuring mountains of immense lava rock formations, fossil-filled Chihuahuan Desert expanses, and deep, narrow canyons carved in limestone layers by the Rio Grande River, the geological wonder that is Big Bend National Park borders Mexico in southwest Texas. After hiking, backpacking, river trips, and dirt road adventures, drive a few miles to crash at "The Oasis" at Paisano Azul Ranch.
On a peaceful hillside overlooking the incredible Terlingua Creek, this quiet desert campground offers views of plateaus that lead to the Chisos Mountains at Big Bend National Park. Two flushing portable potties are provided for the campground's 11 sites. Stay connected with great cell reception and Wi-Fi.
Open skies allow for amazing sunsets, sunrises, and stargazing. Outdoor adventures include hiking and biking, canoeing and kayaking, off-roading and horseback riding, and swimming and visiting hot springs. Restaurants, galleries, and live music can all be found in the nearby town of Terlingua.
6. Ranchito Feliz
Bryce Canyon National Park, Utah
Our readers named Bryce Canyon as one of the top national parks in the U.S. last summer. Only 78 miles from Zion National Park, the smallest of Utah's Mighty Five is home to the largest collections of hoodoos in the world. It's also known for hiking, dark sky viewing, and RV camping.
Set up camp at Ranchito Feliz among birds, reptiles, amphibians, and mammals like lions, coyotes, and elk. Just 8 miles from the park in the middle of the Grand Staircase Escalante National Monument, this secluded, fossil-filled location is surrounded by red cliffs with a river to the south. The campsite does not have electricity, but it does have shared restrooms, potable water, sinks, a cold shower, and fire rings.
7. Glacier Park HipCamp
Glacier National Park, Montana
Known for its rugged mountains, spectacular lakes, and more than 700 miles of trails, Glacier National Park saw a record number of visitors in 2021. This led it to implement a ticketed timed-entry system which continues in 2022. Boasting 25 glaciers, the park also hosts the largest population of grizzly bears in the lower 48 states. Going-to-the-Sun Road is one of its most popular attractions.
Several RV campgrounds dot the area. Glacier Park HipCamp lies less than 6 miles from the park entrance. Nestled on 37 peaceful acres, the quiet campground is home to beautiful meadows, forested trails, three ponds, a creek, stunning views, and wildlife. Campers are asked to be "bear aware." While there are no hookups, campsites include a campfire ring, picnic table, and partial shade from deciduous trees. Campers share a vault toilet. Bike or drive to nearby attractions and restaurants.
8. Painted Desert Ranger Cabin 
Petrified Forest National Park, Arizona
It'd be hard to believe that the Arizona desert was once a lush tropical rainforest were it not for the 225-million-year-old fossilized trees that have been preserved in Petrified Forest National Park. Decorated with petroglyphs, the Painted Desert is full of flat-topped mesas and sculpted buttes. One of the best Dark Sky Places in the state, these otherworldly badlands offer amazing stargazing opportunities.
Technically a one-room cabin instead of a campground, Painted Desert Ranger Cabin lies 6 miles from the national park. Enjoy beautiful views of the Painted Desert wilderness from the quiet serenity of this cozy, remote cabin. Although there is a flush toilet and queen-sized bed, this is backcountry camping. Bring your own food, sleeping bags and/or linens, firewood, toilet paper, and drinking water.
9. Run With The Alpacas Camp 
Olympic National Park, Washington
Several distinct ecosystems make up the close-to-1-million acres of Washington State's Olympic National Park. The vast wilderness features glacier-capped mountains, old-growth temperate rainforests, and more than 70 miles of wild coastline. TravelAwaits writer Robyne Stevenson contends that you must visit the Olympic Peninsula in an RV.
As if this experience isn't cool enough, Run with the Alpacas Camp is adding cutie alpacas to the equation. Just 17 miles from the national park, the 20-acre Alpaca Rescue non-profit offers 20 campsites for tents, van and truck campers, trailers, and RVs. Llamas, sheep, guinea hens, turkeys, and chickens keep the alpacas company. Sign up for a 1-hour tour to hand feed and get up-close-and-personal with them. And yes, you can volunteer here too. Visit during "cria season" from mid-June to the end of August to catch the baby alpacas! 
10. Watchman Campground 
Zion National Park, Utah
The Virgin River runs through the midst of a spectacular collection of canyons and red sandstone peaks at Zion National Park in southern Utah. Zion has an abundance of activities for everyone, from experienced backpacking hikers and climbers to those who enjoy walking and visiting museums.
After a day of hiking, head to Watchman Campground less than 5 miles from the park entrance. Featuring unreal views of Zion monoliths, insane sunsets, and wildlife encounters, this peaceful campground offers 179 sites for tents, van and truck campers, trailers, and RVs. Showers are not available, but real restrooms made of tile and granite are. Shuttles run daily to and from the park. Walk to Springdale to treat yourself to a cold one, grab some gear, and peruse shops filled with Native American antiques.
Related Reading:
10 Unique Joshua Tree Homes You Can Rent