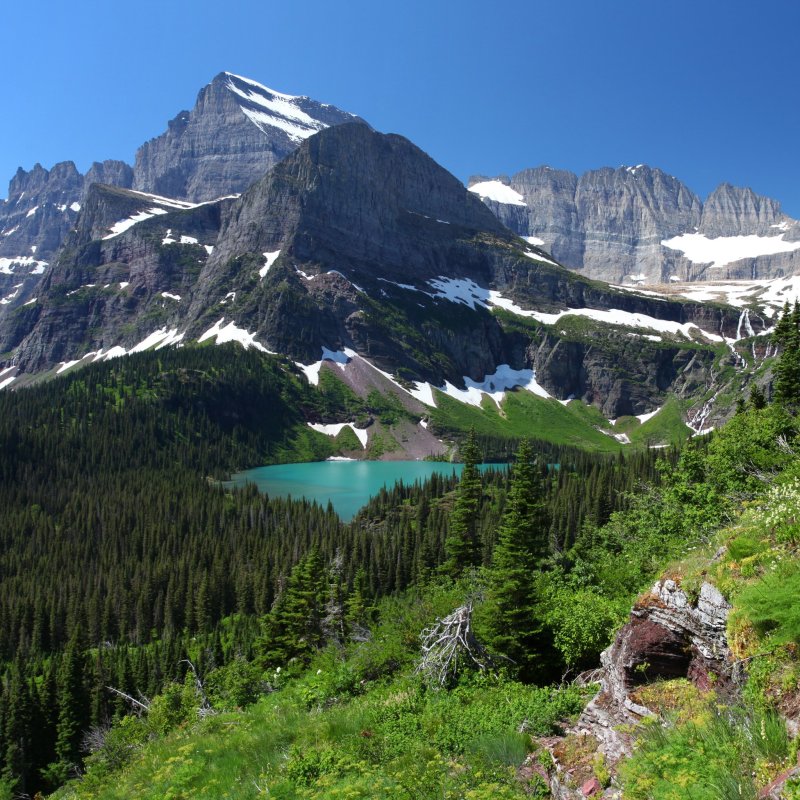 Glacier National Park is one of my favorite national parks. I wish it were a little closer to Iowa, as it's more than 1,200 miles from my home. It sits in the northwest corner of Montana along the Canadian border. But the location has not stopped my family and me from visiting over the years. We have camped in several incredible campgrounds in and around the park. When you visit Glacier National Park in an RV, you have the opportunity to step into a deep, rich forest that other travelers do not. The incredible rugged terrain makes Glacier National Park one of the most stunning national parks in the United States. Here are some tips on making the most out of your visit to Glacier National Park in an RV.
Apgar Campground
Apgar Campground is an RV-friendly campground in Glacier National Park. Lake McDonald is a short walk, which offers stunning twilight views. Apgar is the busiest campground within the park, and it's also very close to the Apgar visitor center, gift shops, restaurants, and a store. Kayak and boat rentals are available, and Red Bus tour reservations are also located in Apgar Village. There is a free shuttle service that offers access to stops along the Going-to-the-Sun Road.
With more than 190 campsites, you have the opportunity to reserve a site that fits the size of your RV and is in a location that you desire. We have camped here three times throughout the years and have always enjoyed ourselves. Potable water is available. Restrooms provide flush toilets and sinks do have running water. Showers are available in Loop A. Have boards along to place under your tires in case you're on a site that has a slant to it. Your RV will appreciate being level during your stay.
West Glacier KOA Resort
The West Glacier KOA Resort offers full-service campsites for the family that wants more amenities and to be close to a national park. We have camped here a few times, and the only downfall (not a bad one) is that it is 10 minutes to Glacier National Park. You are not camping in the national park, but you are literally right next door to the park entrance. There are several pull-thru campsites, which makes setting up your site very easy. If you want to take a break from cooking, you can enjoy a meal on-site. If you need to stay connected to the world wide web, Wi-Fi is available, whereas, in the national park, you are off of the grid.
A bonus with this KOA is that the hot tub feels wonderful after a day of hiking on the trails. If you do not have a separate tow vehicle, tours are available through this campground. A laundromat is also on-site, making this a great place to stay when you need to get caught up on laundry. Reserve your campsite today, as they will fill fast. The West Glacier KOA is one of the most popular campgrounds in the United States. It has outstanding amenities, and it's next door to one of the most beautiful national parks in the country.
Red Bus Tours
Whether you stay in the park or at the KOA, you'll be close to all the hikes and activities Glacier is known for. The first one I have to mention is the park's Red Bus Tours. Tours depart on the west side of the park in Apgar Village and several points on the park's east side, including Swiftcurrent Motor Inn and Glacier Park Lodge in East Glacier. These tours take guests across the famous Going-to-the-Sun Road. The road is curvy and offers stunning views. You will find vehicle height and width restrictions in place. There is a limit of 21 feet in length, 8 feet in width, and 10 feet in height. We have driven this road several times and taken a Red Bus Tour. The tour saves you the stress of navigating your vehicle along the cliffs.
Your tour guide will also tell you some of the history of the tours and the national park. The best tip I can give you is to camp at Apgar Campground and board the Apgar Village Bus. These tours are popular and offer a memorable experience on this world-famous road.
Avalanche Lake
Avalanche Lake is one of the most popular hiking trails in the park at 4.6 miles round trip. You can board the free shuttle bus from the Apgar Campground and hop off at the Avalanche Creek bus stop. The Trail of the Cedars meanders around before you hop on the Avalanche Lake trail. You will hike near a babbling brook and through a thick forest before you reach Avalanche Lake. This is a fairly easy hike with an elevation gain of 500 feet. Wear hiking shoes with a good grip and use a hiking stick. There is no water along the trail, so carry water and snacks with you. Once you reach the lake, find a spot where you can enjoy your snacks or packed lunch.
If you arrive at the lake to find several people, head to the right and hike a little way to find an open spot along the lake. Note that mountain goats, bighorn sheep, and bears frequent this trail. Keep your eyes peeled, as you never know when wildlife will appear. This trail does have pit toilets along the trail, which is unusual in any national park. Pack toilet paper, as the supply can go fast. Most of this trail is shaded, but it can become quite warm on a summer day. Dress in layers, as the weather can turn rapidly. I have never visited this lake at sunset, but I have been told that it is stunning at that time of day. If you choose to drive to the parking lot, you will want to arrive early in the day, as it is typically full by mid-morning.
Editor's Note: Read up on our expert tips for safely viewing wildlife in national parks.
Lake McDonald
Lake McDonald sits at the heart of Apgar Village near Apgar Campground. This lake is 10 miles long and 500 feet deep, making it the largest lake in Glacier National Park. Each time we arrive from the west side to enter Glacier National Park, we head straight to Lake McDonald. The water is crystal clear and rocks of all colors can be seen through the lake. There is parking for vehicles of all lengths in this area, but the spots can be tight. Lake McDonald Lodge sits on the shores of the lake. Ranger-led programs are held at this lodge in the evenings, and campers from the campground can walk to attend.
Horseback Rides
If you want to see the park from a view on top of a horse, you can hop on one and experience a guided horseback ride in the park. Trail rides begin at Many Glacier, Lake McDonald, and Apgar. If you enter the park from the east side, book a horseback ride that starts at Many Glacier. Lake McDonald and Apgar rides begin on the west side of the park. Trail rides vary in distance and time. One-hour, two-hour, half-day, all-day, and private trail rides are all available.
Enjoy The Solitude
When you visit Glacier National Park in an RV, you will make family memories to carry with you forever. You can choose to do as much or as little as you like. Pull up a chair and sit outside your RV and listen to the birds, as you will have the option to do that. Enjoy the quiet of the forest and look up to view one of God's greatest masterpieces, Glacier National Park. Summer is the most popular time of year to visit, but my favorite season here is fall. The vibrant fall colors are beautiful on the Going-to-the-Sun-Road once cooler weather sets in.
Winter weather can set in at any time of year and close this famous road that traverses the park. Be patient and realize that it will open again when it is safe to open it back up. We have been stuck in traffic on the Going-to-the-Sun-Road with an epic waterfall view. The wait for the road to open up did not seem like too bad of an experience. After all, when will be the next time that you will have a stunning view of snow peak mountains with a mountain goat here and there?
Pro Tips
Pack your binoculars, sunscreen, bug spray, sweatshirts, hiking gear, and a sun hat. Each of these items will ensure that you have the time of your life on your visit to Glacier National Park in your RV. Each time you enter the park, inquire at the ticket booth about road closures and any specific information pertinent to travelers with an RV.
RVshare is the world's first and largest peer-to-peer RV rental marketplace. With thousands of satisfied customers and a broad inventory ranging from travel trailers to luxury motorhomes, RVshare has the perfect RV for your vacation, tailgate, or temporary lodging needs.
New to Glacier? Consider