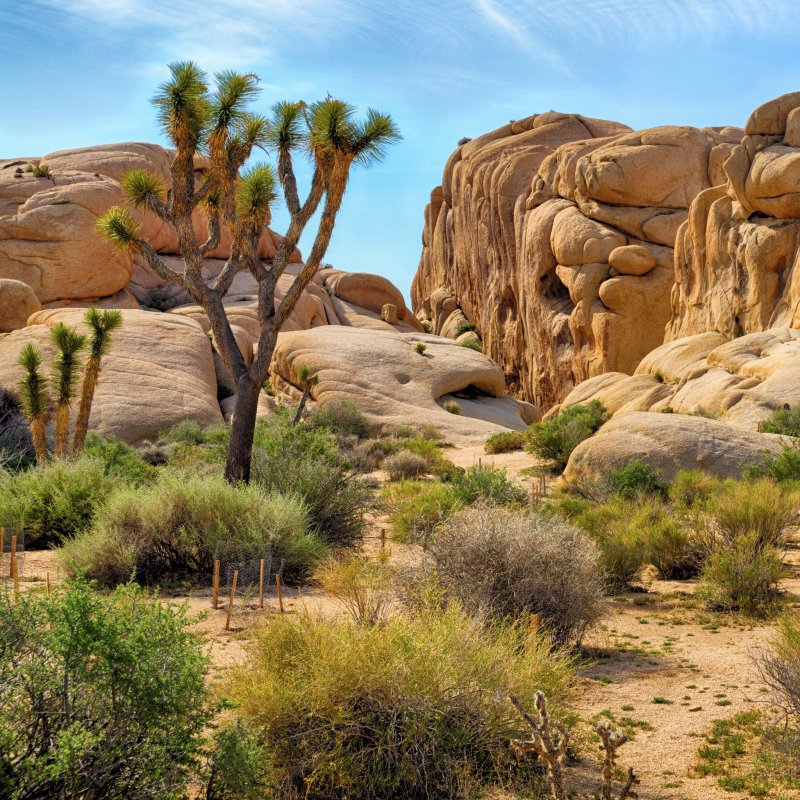 Tell anyone you're going to Joshua Tree, and they'll assume you mean the national park. But right outside the park is the small desert town of Joshua Tree, known for its fun and funky vibe. Drive along Highway 62 — the main road through town — and you'll see Western-style buildings, an old school bus painted with brightly colored murals, and a giant cowboy statue.
Venture off the main road, and you'll find even more unusual sights to explore, including an outdoor art museum, an old movie set, and a wooden dome offering sound baths. There's not a major retail store or fast-food restaurant to be seen here. Instead, there are locally owned cafes, coffee shops, and vintage boutiques ready to welcome the adventurous traveler. And when you're ready to go to sleep, don't expect a chain hotel. Instead, make a reservation at one of a variety of unique Airbnbs.
What To Do Near Joshua Tree
It's all about the outdoors in Joshua Tree. The residents here embrace the sparse desert landscape dotted with the famous spiky-branched tree. So you'll definitely need sunscreen and plenty of water while exploring this quirky town.
Explore Joshua Tree National Park
You'll definitely want to set aside a few hours to explore Joshua Tree National Park, and the best place to start is at the visitor center. Take in the exhibits about the desert plant and animal life, pick up a park map, and spend time chatting with a ranger. Then head into the park for a scenic drive or a short hike.
The two best short hikes in the park are conveniently located across the road from one another: the Hidden Valley Trail and the Barker Dam Trail. Both are about a mile long and relatively flat. The Hidden Valley Trail winds its way through an area of the park once used for cattle rustling. The Barker Dam Trail leads to a dam built in 1900 and also takes hikers past petroglyphs.
If you're not interested in hiking, head to Keys View for one of the best scenic spots in the park. Along the way, you can enjoy Skull Rock and Cap Rock — both great for photos.
For more on Joshua Tree National Park, see this page.
Appreciate The Outdoor Art
Only in a town with a hippie vibe would you drive on dirt roads to arrive at an outdoor art museum featuring sculptures made of junk. And yet the Noah Purifoy Desert Art Museum is a must-visit during your time in Joshua Tree. Artist Noah Purifoy spent the last 15 years of his life building sculptures out of junk. Many of the pieces make clear statements about issues like racism, but others aren't quite as straightforward.
Purifoy got his start with a collaborative piece entitled 66 Signs of Neon, created after the Watts Riots and intended to be a hopeful representation of change in a chaotic time. Later in life, he was attracted to the harsh and dramatic landscape of the Mojave Desert as a backdrop for his art.
The heat and intense sunlight of the desert can affect your trip to the museum, so it's definitely better to go early or late in the day. The museum is open every day from sunup to sundown.
Take A Sound Bath
If you're looking for a deeply relaxing experience, be sure to make an appointment for a 60-minute sound bath inside the Integratron. Built around 1954 by George Van Tassel, this wooden dome-shaped structure was originally built for the purpose of rejuvenation and time travel.
The sound bath includes an introduction to the history of the Integratron and its special acoustical qualities. Then there's a live performance on crystal singing bowls, with each bowl keyed to the energy chakras of the body. Reservations are required.
Hang Out On An Old Western Movie Set
In 1946, a group of Hollywood investors that included Roy Rogers and Gene Autry founded Pioneertown. This Old West movie set was intended to double as a tourist attraction offering real shops and restaurants. In the 1940s and 1950s, about 50 Westerns were shot there.
The most popular place in Pioneertown is Pappy & Harriet's Pioneertown Palace, a restaurant, bar, and entertainment venue. This is the place to go for excellent ribs and burgers. Be sure to check their schedule for upcoming musical acts.
In the past few years, Pioneertown has become a magnet for artists and entrepreneurs looking for a break from city life. As a result, you'll find some boutique shops, including MazAmar Art Pottery, Jessie Keylon's Art Gallery, and the General Store.
Visit The World Famous Crochet Museum
Most people imagine a museum to be a large, somewhat imposing building where visitors are expected to speak in hushed voices. Nothing about the World Famous Crochet Museum fits that description. Instead, it's a lime-green box (formerly a photo booth) lined with shelves of colorful crochet items. At most, two or three people can be in the museum at one time.
Shari Elf created the museum to house her extensive collection of crochet items. She did not make any of the items herself, since she has only recently learned to crochet. You'll find the museum behind her shop, Art Queen. Admission costs 25 cents and is collected on the honor system.
Gaze Up At The Stars
Designated an International Dark Sky Park, Joshua Tree offers great opportunities to view the stars and the Milky Way. Most people live in urban areas filled with artificial light at night, which makes the stars difficult to see. By drastically limiting man-made light after dark, Joshua Tree has made it possible to see millions of stars on a clear night. Even if you aren't in the park, but in one of the surrounding towns, you'll still have excellent stargazing options. So find a open spot, and follow these tips from the National Park Service:
Try to schedule your stargazing on a night with low moonlight.
Dress in layers, since the temperature can drop significantly in the desert at night.
Bring a chair and get comfortable.
Be patient, since it can take up to 20 minutes for the human eye to adjust to the low light conditions and truly see all the stars in the sky.
Where To Eat Near Joshua Tree
For a healthy breakfast or lunch, head to The Natural Sisters Cafe. This cafe serves delicious organic and plant-based meals as well as juice and smoothies. It's a great stop before a day of hiking in the park. If you have time for dessert, locals rave about their vegan carrot cake.
You can't miss the Joshua Tree Saloon as you drive through town, so why not stop for a tasty lunch and a cold beer? Definitely order a side of their very tasty sweet potato fries. If you're here in the evening, you can enjoy live music.
If you're craving Mexican food, head to the neighboring town of Twentynine Palms, where you'll find Edchadas. Everything on the menu is delicious, but what's especially important to order here is a large margarita.
Where To Shop Near Joshua Tree
Definitely set aside some time for shopping while in Joshua Tree. Whether you're looking for unique gifts, home decor, or even a cactus, this is the place to find it.
If you've ever dreamed of owning your own cactus, then your first shopping stop should be Cactus Mart. The Dig Your Own Cactus Bar has been around since the 1960s and is very popular with regular visitors to the area. Or pick out a cactus or succulent that's already in a pot and take it home to decorate your house.
You'll need to visit The Station for the perfect Instagram shot. This gas station-turned-souvenir shop is easily recognized by the giant cowboy statue out front. Head inside to explore all the shelves full of vintage glasses, T-shirts, postcards, candles, and more. Out back, you'll find a large selection of clay pots — perfect for that cactus you dug up earlier.
Vintage lovers will enjoy Ricochet, loaded with clothing, hats, scarves, shoes, and jewelry. Head out back to the charming patio, where you may find some cacti and succulents for sale as well.
Where To Stay Near Joshua Tree
Joshua Tree just might have some of the most unique accommodations in Southern California. Throughout the area are numerous fun and stylish hotels and Airbnbs.
The Moon Cabin, built in 1959, has been beautifully decorated and features modern amenities. But what makes it really stand out are the expansive views of the surrounding desert. This is the place to go for a peaceful, quiet getaway. For something luxurious, reserve Hawk & Mesa, a four-bedroom home situated on 120 acres of land near Pioneertown.
If quirky is more your style, book a trailer at the Hicksville Trailer Palace. Each trailer has a theme like "Pioneer," "The Pony," and "The New World." You'll find plenty to do, including a saltwater pool, a hot tub, fire pits, and a variety of games. Come expecting something closer to a camping experience than a luxury hotel — the bathrooms are shared and no food service is available.
Most people will drive right through the small town of Joshua Tree on their way to the national park. But those willing to stop and explore this desert oasis will be rewarded with unique, fun, and unforgettable sights.