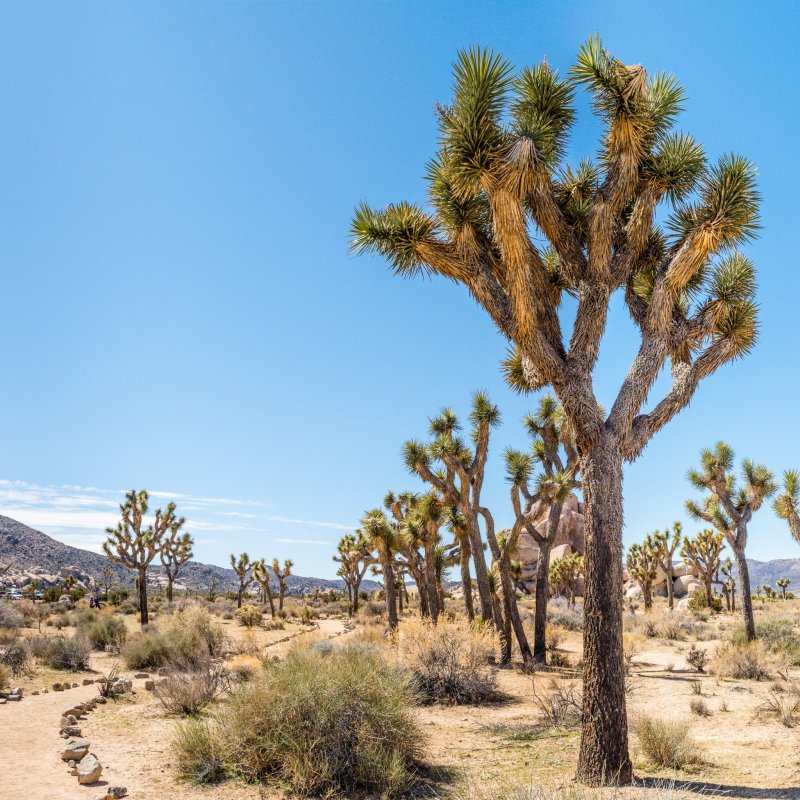 The open desert skies, the abundant wildlife, and, of course, the namesake Joshua tree all inspire wonderment and admiration in those who visit Joshua Tree National Park.
The Joshua tree, part of the Agave family, is found in a certain part of the Mojave Desert. Its unique, twisted shape makes it a distinct part of the landscape — and makes Joshua Tree one of the most spectacular national parks in the United States. Almost 3 million people visit Joshua Tree National Park each year to see these unique plants, camp under the stars, and hike through massive boulders.
Here's everything you need to know before planning a visit to this wonderful place.
Where Is Joshua Tree National Park?
Joshua Tree National Park is surrounded by mountains and considered part of the Mojave Desert, which encompasses parts of southeastern California, southern Nevada, and western Arizona. The park contains 792,623 acres of boulders, cacti, plants, and animals.
Joshua Tree National Park is about 2 hours from Los Angeles, 2.5 hours from San Diego, and an hour from the Arizona border. Palm Springs, the closest city to the park, is about a 50-minute drive from the main entrance.
How To Get To Joshua Tree National Park
The remoteness of Joshua Tree National Park is a large part of its appeal and beauty, yet it can also make the park more challenging to visit. However, a visit is certainly worth the effort!
Getting To Joshua Tree By Plane
Even for those living in California, flying might be the easiest way to get to Joshua Tree National Park. The closest airport to Joshua Tree is Palm Springs International Airport (PSP), which offers direct flights from many nearby cities and states. However, not all airlines fly to Palm Springs, and not all of them offer direct flights. In some cases, it might be easier and cheaper to fly into Los Angeles, San Diego, or Las Vegas.
The routes from Los Angeles to Joshua Tree, San Diego to Joshua Tree, and Las Vegas to Joshua Tree are all lovely in their own way. For example, even though the Las Vegas-to-Joshua Tree route is about 50 miles longer than the others, the drive cuts straight through the Mojave Desert, a quiet place to enjoy the open road.
Getting To Joshua Tree By Bus
Unfortunately, there is limited public transportation available in the desert. There used to be a Roadrunner Shuttle that took visitors to the park, but the two-year pilot program ceased operations in the fall of 2019.
The Morongo Basin Transit Authority provides buses to the area near Joshua Tree National Park. Along the Twentynine Palms neighborhood route, Utah Trail & Sunset is the closest stop to the park, but it's still miles from the park's main features. If you're flying into California to visit Joshua Tree National Park, it's better to rent a vehicle for your trip.
Getting To Joshua Tree By Car
The best way to get to Joshua Tree is by car, which provides the most flexibility and convenience. Joshua Tree National Park is covered under the America the Beautiful National Parks and Recreational Lands Senior Pass, so if you've already purchased one, you can enter for free. If not, you can purchase one to gain access to more than 2,000 national parks and sites. Otherwise, the entrance fee is $30 for seven-day access.
Joshua Tree National Park has three entrances: the West, North, and South Entrances. For those driving in from Los Angeles and San Diego, the West Entrance — off of Highway 62 — is the most convenient. However, the West Entrance is extremely busy on weekends and holidays. To avoid long lines, visit during the week (consider starting on Thursday if you're planning on staying for the weekend) or use one of the other entrances.
The roads within the national park are paved and well groomed, so there is little chance of getting lost. Many animals become active at night — like coyotes — so it's important to drive carefully at dusk, dawn, and nighttime to avoid hitting protected wildlife. Due to construction or other activities, some roads may be closed. Stay in the know by checking out the alerts from the National Park Service before you begin your trip.
The Best Time To Visit Joshua Tree National Park
With so many hikes, climbs, and stargazing opportunities, you'll need at least two full days to enjoy this national park.
Although each season at Joshua Tree National Park has its own pros and cons, generally the best time to visit is October through May. Both fall and spring have milder temperatures and great hiking and rock-climbing conditions. If you're a fan of wildflowers, visit between February and May. Temperatures peak in July and August, when the park can exceed 100 degrees. It is recommended that visitors avoid hiking during these times.
What To Do At Joshua Tree National Park
Each season in Joshua Tree National Park offers something different for travelers. Camping, hiking, rock climbing, biking, bird-watching, horseback riding, backpacking, stargazing, and photography are just a few of the things visitors can enjoy at Joshua Tree.
Here are some of our favorite things to do in the area.
Go Hiking And Rock Climbing
One of the best ways to enjoy the unique natural landscape of Joshua Tree National Park is to explore it on your own two feet. The park's many trails range from short walks to challenging hikes that shouldn't be attempted during hot weather. Popular hiking trails include the Skull Rock Loop, the mile-long Hidden Valley Loop, and the Lost Palms Oasis Trail.
Rock climbing is another popular activity at Joshua Tree National Park. Thanks to the amazing large boulders throughout the area, there are more than 8,000 routes for climbing.
Marvel At The Cholla Cactus Garden
Although it's a short loop trail that should only take about 20 to 30 minutes to complete, the Cholla Cactus Garden Nature Trail offers views of a unique type of cactus. Cholla (pronounced CHOY-ah) cacti are very sharp, so make sure not to brush up against any during your walk. It's best to visit the garden as the sun starts to dip toward the horizon, making the yellow-orange cacti glow. It's also a great spot for wildflower viewing — a variety of flowers bloom there throughout the year.
View The Milky Way
Since Phoenix (the closest city to the east) is 300 miles away, the eastern side of Joshua Tree National Park is one of the best areas in the country for viewing the stars and the Milky Way. Although many areas in Joshua Tree are great places to stargaze, the most popular spots include Skull Rock, Arch Rock, and the Ocotillo Patch. For a guided stargazing experience, visit Sky's the Limit Observatory, where you can look through telescopes, crash a star party, and even participate in the annual Night Sky Festival in September.
Visit The Town Of Joshua Tree
If you've made the trek out to Joshua Tree National Park, don't forget to stop by the Western-style town of Joshua Tree, California. Although you won't find any fast-food chains, you'll enjoy unique local establishments. You can pick up a local brew at Joshua Tree Coffee Company, relax at Instant Karma Yoga across the street, and enjoy live music at the Joshua Tree Saloon.
What To Know Before You Go
There are no shops or restaurants within the national park, so make sure to bring food and water with you. Generally, a gallon of water per person per day should be enough. However, if you're active (for example, if you're a hiker, climber, or cyclist), bring at least 2 gallons of water per day. There is a water fill-up station near the West Entrance.
In the desert, it's important to be sun-conscious — wear sunscreen, bring a wide-brimmed hat, and avoid dark-colored clothing. Wear sturdy shoes for uneven surfaces and bring layers for cold evenings. Also, be aware that there is no signal within the park. GPS and cell-phone service are not reliable, so make sure to bring a map.
Where To Stay In Joshua Tree National Park
The closest towns to Joshua Tree National Park are Yucca Valley, California; Joshua Tree; and Twentynine Palms, California. In any of these places, you'll be able to find vacation rental homes and hotels. In recent years, rental homes have become very popular, and you can find many artistic and creative homes, Airstreams, and RVs to rent for your visit.
However, if you don't want the hassle of driving in and out of the park and want to enjoy the incredible natural landscape, then by all means, set up a tent! There are eight campgrounds and several hundred campsites within Joshua Tree National Park. Half of the campsites are available on a first-come, first-served basis, including Belle Campground, Hidden Valley Campground, White Tank Campground, and Ryan Campground. If you would rather book your campsite in advance, you can reserve one at Black Rock Campground, Indian Cove Campground, Cottonwood Campground, or Jumbo Rocks Campground up to six months in advance.
Most of the campsites come with picnic tables, fire grates, and pit toilets. Black Rock and Cottonwood are the only two campsites that have water and flush toilets. It's important to note that some campsites close during the summer months of June through August.
If you're traveling in an RV, there are two main spots to camp: Joshua Tree Lake RV and Campground and Twentynine Palm RV Resort. Both have full hook-ups plus facilities and community events.