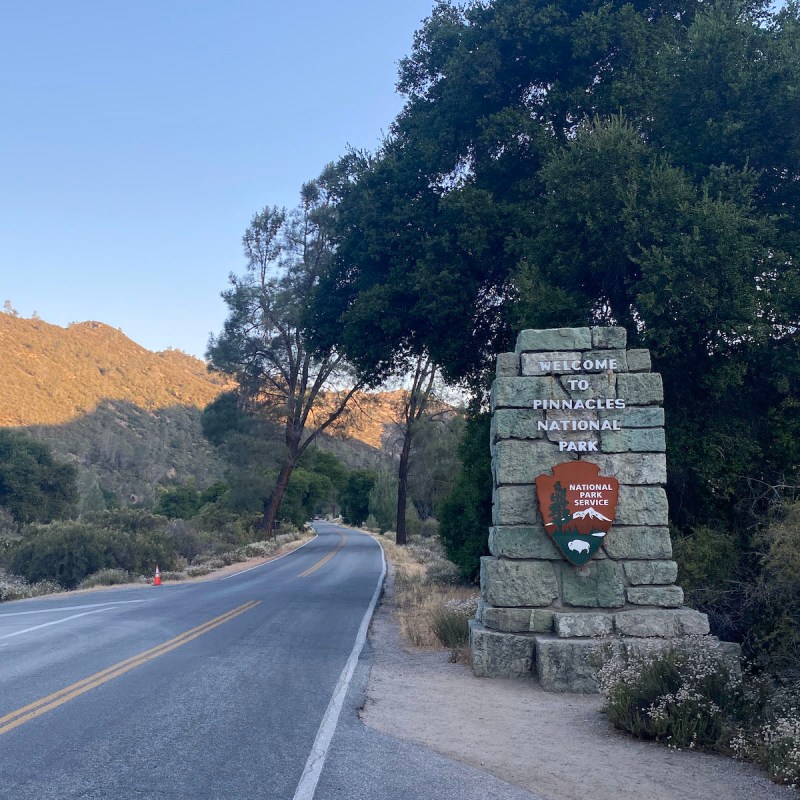 California's Pinnacles National Park may be overshadowed by the state's other bigger and more well-known parks like Yosemite, Death Valley, and Joshua Tree. But if you're looking for a laid-back place to recreate where you can take in mountain views, explore cool caves, and maybe spot the endangered California condor, Pinnacles is certainly worth a visit.
This park operated by the National Park Service (NPS) is east of the Salinas Valley in central California, roughly 270 miles northwest of Los Angeles and 130 miles southeast of San Francisco.
There are some quirks and interesting things about this particular national park that you'll want to know about before you arrive. Here's the scoop.
1. The Park's Two Sides Aren't Connected By A Road
This is important to be aware of before you make a plan to visit Pinnacles National Park: There is a west entrance about 10 miles northeast of Soledad, California, that's accessible via CA 146, a windy, one-lane road not recommended for RVs, trailers, or large vehicles. There is also an east entrance about 35 miles southeast of Hollister, California. These entrances are not connected by roads that cross the park.
So unless you want to hike across the park on maintained trails (the shortest route is about 3 miles one way), you'll have access only to the services on each side. The west side of the park has picnic and parking areas, plus restrooms and trailheads. The east side is more developed, with a campground, visitor center, general store, and access to more trailheads than the west side.
2. Pinnacles National Park Is Small
Established in 2013, Pinnacles is one of the country's newest national parks. At 26,685 acres, it's also one of the smallest — the seventh smallest of the 63 national parks in the United States to be exact.
You don't need a ton of time to get to know this national park. You could dip into the park on either side (see above!) and make a day trip out of picnicking, hiking, and bird watching. Or, you might camp overnight in Pinnacles Campground on the east side and plan on a couple of different day hikes over two days.
But unlike some large national parks that require several days to do more than scratch the surface of their offerings, Pinnacles can be covered pretty well in two days.
3. Hiking Is Awesome And Varied
Thirty miles of hiking trails ranging from easy to strenuous wind their way through the park, whose diverse landscapes and interesting rock formations are a result of an ancient volcanic eruption. On a June RV camping trip at Pinnacles during a heat wave — daytime temperatures reached an incredible 105 degrees Fahrenheit — my husband and I managed a couple of hikes.
One night after dinner, as the sun set, we strolled along the mellow Bench Trail that begins in the campground and ultimately leads to the Bear Gulch parking area. We didn't make it that far — it's 2.3 miles one way — but appreciated the opportunity to walk in the shade of large cottonwood trees on a flat path. At one point we crossed over a fenced area and learned, interestingly, that there's a 30-mile perimeter fence to keep out destructive wild pigs.
We also cobbled together a few different trails to make a 5-mile loop that began and ended in the Bear Gulch parking area. First, we ascended about a mile along the moderate Condor Gulch Trail to a lookout that afforded great valley views. We ascended further up the trail and across the High Peaks trail, weaving around giant rock formations while appreciating the shade they cast — a welcome break from the hot sun, even though we'd set out before 7 a.m. Here, we enjoyed 360-degree views of the surrounding mountains and towering spires.
Our loop also included ascending and descending the "steep and narrow" section of the High Peaks Trail, where metal rails and steps carved into the rock can help hikers steady themselves. Along the way back down, we passed a few spots specifically marked for rock climbers. We appreciated the cooler foliage as we decreased in elevation and found ourselves at the Moses Spring parking area before heading back to where our vehicle was parked in Bear Gulch.
If we had more time to spend at Pinnacles, or if we visit again, I'd like to sample the hiking trails that originate from the Chaparral Parking Area on the west side of the park. For example, the easy-to-moderate trail that loops together the Balconies Cliff Trail and the Balconies Cave Trail is 2.4 miles and features a scramble through the talus passages of Balconies Cave. While on the trail, it is necessary to carry a flashlight or wear a headlamp.
4. Summer Is Hot In Pinnacles National Park
As noted, we happened to visit Pinnacles National Park as steamy temperatures swept across California and Nevada in mid-June. However, it seems high summer temperatures aren't that unusual, according to the park's website.
It can regularly reach 90 degrees Fahrenheit and soar above 100 degrees Fahrenheit in the summer. There are no cooling coastal breezes since the park is located sufficiently inland (e.g. a 50-mile drive from Monterey). Carrying plenty of water while hiking is key, as is getting out on the trail before the sun peaks in the sky. Spring and fall are actually more popular times to visit Pinnacles National Park since the temperatures are milder then. Wildflowers are also abundant between March and May.
5. The Campground Is Basic, But There's A Pool
Pinnacles Campground on the east side of the park is operated by an outside vendor, Pinnacles Recreation Company. It offers RV spots, individual and group tent campsites, and tent cabins with beds, but those are BOYB (bring your own bedding). RV sites have 30 amp electrical hook-ups and there are communal water spigots (bring your own water jugs).
Significantly, this campground does have a swimming pool — quite unusual for campgrounds found in national parks. No surprise, it was packed with campers when we visited during a heat wave — a welcome respite from the hot temperatures.
Restrooms with showers are located next to the pool, available to overnight campers and day-use visitors. Showers are coin-operated — 50 cents for 3 minutes. They looked pretty grungy, so I had little interest in using them. We'd planned ahead and had plenty of fresh water in our RV tank for cool, refreshing showers at the end of a hot day.
At the campground is also a ranger-staffed visitor center and a campground office, where you can pick up park maps. There's also a small store offering basic supplies, snacks, drinks, ice, and souvenirs.
6. You Can Explore Bat-Filled Caves
Two big draws at Pinnacles National Park are Bear Gulch Cave and Balconies Cave, both home to bat colonies. These are talus caves, which are openings that are created by piles of boulders. Hiking trails lead to and through the caves, and you'll need a flashlight to make your way through the dark tunnels.
Bear Gulch Cave is closed seasonally while the mama Townsend's big-eared bats, a protected species, give birth and raise their babies. Be sure to check the status of the caves before heading out on your hike. Unfortunately, both caves were closed when I visited in June.
7. California Condors Live Here
California condors are North America's largest bird, with wingspans about 9-and-a-half feet long. They can live up to 60 years. These majestic creatures became an endangered species in the 1960s, and in the 1980s there were only 25 known condors left in the world. The wild birds were trapped and bred to avoid extinction.
Eventually, the captive-bred condors were released in five different areas of California, including Pinnacles National Park. Today, dozens make their home in the park, and if you can get close enough to one, you might spot their numbered tags, which help wildlife conservationists keep track of them.
Keep in mind, however, that the California condor is easily confused with its much smaller cousin, the turkey vulture. (Hint: The condor has large white triangular patches under its spread wings.)
While hiking, my husband and I were convinced we'd spotted a handful of condors roosting in a tree, and we excitedly told a pair of other hikers on our route. "Yeah, those are probably vultures," said one gentleman with a pair of binoculars, who went on to describe the numbered condors he'd seen earlier in the day. (Clearly, the man knew what he was talking about.)
While you keep your eye out for the endangered California condor, there are plenty of other birds to observe in Pinnacles National Park, including falcons, golden eagles, hawks, wrens, and swallows.
8. Parking Lots Can Fill Up Early
Prior to the COVID-19 pandemic, a shuttle operated between the East Pinnacles Visitor Center and the Bear Gulch parking area, among other spots on the east side of the park. The shuttles have been suspended, with no signs of returning anytime soon. That means parking spots fill quickly at parking areas that service popular hiking trails.
The National Park Service notes there may be long lines and delays getting into the park between 9 a.m. and 3 p.m. If you want to secure parking to hike the Condor Gulch, High Peaks, or Moses Spring trails, arrive by 8 a.m. (plus, you'll beat the worst of the heat in the summer months).
9. Cell Service Is Limited
Cell service is basically nonexistent throughout Pinnacles National Park; a few texts and emails came through on our phones while we were hiking above the valley, but we didn't have any service in and around the campground on the east side. (Wi-Fi is available to purchase at the campground.)
We found it helpful to download maps and information about Pinnacles National Park via the National Park Service app available on the App Store and Google Play. That way you can access some details about the park while you're offline.
For more on California's most popular attractions, check out these articles: