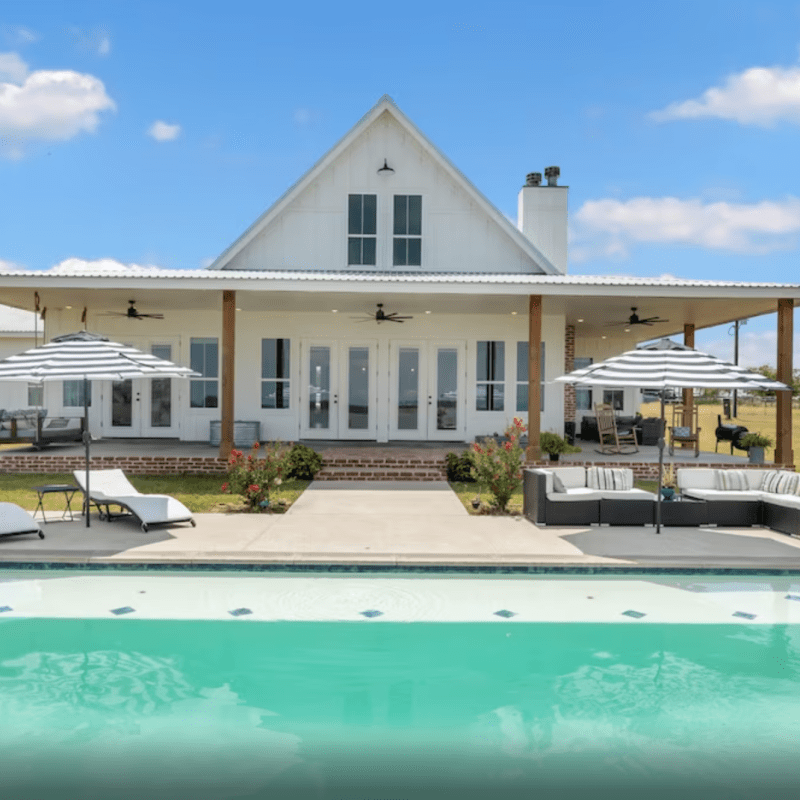 Autumn adventures are right around the corner. What says fall more than a cozy farmhouse? Traditionally, a farmhouse is exactly what it sounds like — a house on a farm where a farmer and his family might live. However, farmhouse-style vacation rentals are not necessarily located on real working farms. Some may not be farmhouses at all but simply embody the style of one. If you're ready to embrace your farmhouse era, we've rounded up some highly rated farmhouse Vrbos below!
Escape the hustle and bustle of the modern world and embrace a rustic retreat in the heart of nature. Timeless charm and simplicity beckons you off the beaten track. If your vacation vision is of gathering with family and friends around a farmhouse table sharing stories and laughter, then this list is for you!
Georgia: Where Adventure Meets Southern Charm
The Peach State beckons adventurous souls seeking an off-the-beaten-path vacation. In the north, farmhouse escapes border the majestic Blue Ridge Mountains, offering rentals nestled amidst wooded Appalachian hills and along the winding Savannah River. As you venture southward, you'll immerse yourself in true southern charm, discovering historic buildings amidst bayous and azalea-filled landscapes.
Escape to a serene goat farm about 10 miles from Blue Ridge, Georgia, in the Chattahoochee National Forest. Revel in mountain vistas, watch playful goats, and spot deer and cows from the inviting sunroom and porches. This family-friendly farmhouse offers a peaceful getaway and a fire pit for sunset moments. Experience generations of history amidst lush fall beauty, ensuring a memorable retreat.
Pro Tip: Tank Town USA, one of the places in the U.S. where you can drive a tank, is located nearby!
Dreaming of Morganton – your dream vacation awaits you
Top guest reviews
We thoroughly enjoyed our stay at this property, it was absolutely beautiful! We had everything we needed to cook with, grill, and enjoy ourselves. The only cons were the hot tub wasn't working, however, the owner communicated this with us prior to our arrival and gave us the opportunity to cancel and my husband is a large man,6.4 and the bed wasn't what were used to sleeping in. Overall it was a perfect trip!
It was ABSOLUTELY AWESOME !
The hosts went above and beyond to help us get settled and ensure we had a good start to our vacation, at a level I have never experienced before. Truly wonderful people! Easy to contact and always polite and helpful. The house was very clean and had everything we needed. I have back problems and am usually suffering from back pain after a day or 2 most places I rent, however, the beds were SUPER comfortable here! I was amazed I had zero discomfort, and my girls said their beds were amazing. The kids loved staring out the large window to watch the animals, and all the space to run around. The location is nice as it is not a busy area but also close enough to get to bigger towns within 30-60 minutes, including Blue Ridge and Blairsville. My daughter loved staying at this house so much, she has already asked when we can return. I would highly recommend this property and the hosts! Thank you
The setting was picturesque, the home was perfect, beds extremely comfortable, fully equipped kitchen with plenty of room for a large family gathering. The dining room was suitable for seating 9-10. Loved our special family memories made! The farm animals were a bonus! Our hosts were the best and very accommodating!
Read Less ∧
Read More ∨
Discover the enchanting Boardtown Farms in Blue Ridge, where a lovingly remodeled vintage farmhouse rests on a sprawling 5-acre pasture with stunning views. Immerse yourself in its unique character, from the refurbished wooden stairs made from a 100-year-old church to the antique cast-iron pot belly stove.
Step outside to multiple seating areas and experience the beauty of the outdoors. Enjoy the surrounding wineries, apple orchards, and must-visit barbecue spots. Boardtown Farms offers a one-of-a-kind escape for your autumn adventure.
Dreaming of Ellijay – your dream vacation awaits you
Top guest reviews
The house was actually really clean. Even the floors. Dyson hand vacuum available for quick clean-ups: HUGE deal for us after feeding young kids.Fantastic kitchen. Comfortable beds. Good washer/dryer and dishwasher.Wide open spaces. Kids ran free in the grassy fields and fenced in yard. It's 15 mins to downtown Blue Ridge and 15 mins to downtown Ellijay.
Experience the allure of Savannah with this meticulously restored Carriage House located just a block from Forsyth Park. Situated on the second floor, this spacious apartment is bathed in natural light and features farmhouse accents such as white shiplap and sliding barn doors.
Step out and explore Savannah's attractions, including Mrs. Wilkes Dining Room and charming antique shops, all within walking distance. Take a leisurely stroll through the squares towards the river, making delightful stops at local gems like Chocolat and Collins Quarter. Metered, on-street parking is available only. This captivating getaway perfectly blends historic charm and modern comfort for your Savannah adventure.
Dreaming of Savannah – your dream vacation awaits you
Top guest reviews
Walking distance to many places. Easy access and parking. Download Park Savannah app. Bring slippers – two rugs need cleaned but otherwise a really nice place to stay. Would stay again.
Girls get away with adult daughters – shopping eating and drinks. Fun!
Rating Details:The property manager was very helpful.The vacation rental was spotless.I was very happy with the location.I was very satisfied with the condition of the vacation rental.Overall, I recommend this vacation rental.Reviewer Comments:Awesome place close to everything
The place was as described, but we did not relized it was up a long flight of stairs. The small couch is cute but is not made for relaxing very long. We did had an issue with the bedding, but it was corrected. We never could get the wifi to work, so we just tethered off of our phones for work during our stay.
Rating Details:The property manager was more than helpful.The vacation rental was spotless.I was very happy with the location.I was more than satisfied with the condition of the vacation rental.Overall, I recommend this vacation rental.Reviewer Comments:Lucky Savannah Vacation RentalsJanuary 2023Great location and nice small space. Although the place was clean, the furniture was uncomfortable, aside from the bed, which was very nice. The bathroom was also very clean and well stocked. The kitchen however had nothing except cooking utensils. No coffee or creamer to welcome the guest, and no salt spices or cooking oil. For the price and what's available from other Airbnb properties it wasn't that great a deal in my opinion. I hope that Lucky Savannah takes this criticism onboard and makes adjustments. It could be a very nice place to spend a few days. (Other issues: No number on the door, and incorrect Wi-Fi info)
Read Less ∧
Read More ∨
Pennsylvania: Embrace Simplicity In Amish Country
Experience the allure of Pennsylvania's famed Amish country, where time seems to stand still and simplicity takes center stage. Lancaster County, the heart of it all, boasts rolling hills, green fields, and iconic grain silos and barns dotting the horizon. Quaint village centers offer a glimpse into Dutch and German settlements from centuries past, transporting you to an era of yesteryears.
Experience the historic charm of Fontinalis, a stone farmhouse dating back to the 1700s, nestled in the vibrant mill village of Springfield just outside of Philly. Situated by the renowned trout stream, Big Spring Run, this home is a haven for fly fishermen and wildlife enthusiasts. The house has been meticulously restored, preserving Colonial details such as wide plank floors, deep window sills, and original hardware.
Cozy up by the fireplace in the living room during winter and enjoy the outdoor seating area with a lush garden in summer. Revel in the tranquil ambiance of the Amish neighbors and explore nearby attractions like the Appalachian Trail and historic battlefields. Conveniently located between Dickinson College and Shippensburg University, Fontinalis offers a blend of history, nature, and modern comfort, making it the ideal destination for an enriching escape.
Dreaming of Newville – your dream vacation awaits you
Top guest reviews
My whole family really enjoyed this stay. The house is so unique, with so much history you can feel staying there. I am familiar with the area and love the location. You are not far from any amenities you need but tucked away in a truly beautiful spot to enjoy nature. The house and yard offer such a comfortable stay. The owners have really thought of everything and take such good care of the property and guests. I didn't realize the Amish were close enough that we could listen to the horse-drawn carriages "drive" by. I very highly recommend and hope to stay again down the road. Thank you!
Tennessee: Country Music, Whisky, and Farmhouse Bliss
For a farmhouse adventure infused with country music and whiskey, Tennessee delivers. Cottages and cabins nestled within the rural farmlands create the perfect base for exploring Nashville honky tonks and the surrounding distilleries. Seclusion and privacy await within the forests of the Great Smoky Mountains.
Indulge in a farmhouse escape like no other at the HGTV-Renovated Farmhouse Retreat. This 145-year-old farmhouse offers an oasis of tranquility with water features, pergolas, a fire pit, and lush flowering plants and trees. Yet, it's a mere 20 minutes from downtown, offering the best of both worlds. Renovated by HGTV's Nashville Flipped in 2015, this retreat features three inviting porches to enjoy the crisp fall weather. While the road outside the house can be busy, the rest of the property is cocooned by serene farmland.
Dreaming of Nashville – your dream vacation awaits you
Top guest reviews
Nearly everything we could have needed was there. The only thing we didnt find was flyers of things to do and attractions. No big deal. We picked up several and left them there.
Discover the timeless allure of The Wallingford House, just across the border of South Carolina outside of Greeneville, Tennessee. Originally from Wallingford, Kentucky, the 1832 log home has been relocated to this perch atop a hill, offering breathtaking panoramic views. Crafted from American chestnut in a classic farmhouse style, this axe-hewn log home boasts a unique history. Wrap-around porches invite you to savor the surrounding beauty, creating an unforgettable setting for relaxation and tranquility.
Dreaming of Chuckey – your dream vacation awaits you
Top guest reviews
The home came from Kentucky & was rebuilt on the site. It is beautiful. Both bedrooms were upstairs & had their own bathrooms. Furnishings & décor are simple & minimal, but perfect. The walls are the only décor it needs. We watched Fireflies every night while listening to the frogs. We ate breakfast on the oversized front porch while looking at the beautiful scenery. It was peaceful & quiet. This place is exactly what we have been looking for for our forever home. We will be back for sure. The property manager was very responsive. Check-in was very easy. I HIGHLY recommend this property.
This cabin is amazing, and the views from the front porch are incredible. It's like stepping back in time, but with all the modern conveniences. We really enjoyed sitting on the front porch and listening to the sounds of nature while enjoying the spectacular scene of mountains in front of us. We were a little disappointed that it wasn't actually located on the river, but we couldn't have asked for a more peaceful or relaxing setting. It was very clean, with a comfortable mattress and plenty of hot water. There were lots of thoughtful touches and beautiful antiques and handmade furniture in every room. We would definitely stay here again and highly recommend it!
I had an awesome time at this home and everything was pretty much the same as described in the listing. Views were amazing house is beautiful. Had an awesome time.
Great view. All amenities. Clean.
We enjoyed our stay here. The views from the porches are spectacular. We loved the historical aspect of this place. The stairs to the second floor were a little treacherous for us since we both suffer from arthritis, but we held on tight and made it through. Manager was very responsive to our needs.
Read Less ∧
Read More ∨
Texas: Unleash Your Inner Cowboy
In the Lone Star State, farmhouse rentals take on the spirit of Wild West ranches, inviting you to embrace the cowboy way of life.
It's just country boys and girls getting down on the farm at this farmhouse on 8 acres outside of Fort Worth, where tranquility meets countryside living. Nestled atop rolling landscapes, this adorable farmhouse offers a serene retreat complete with a working windmill, barns, and a sprawling pond teeming with fish.
Embrace the cozy seclusion and expansive space to roam, all while enjoying easy access from I-20 and mere minutes from urban conveniences. Ideal for horse enthusiasts, the property boasts stalls with auto-water for your convenience. Downtown Weatherford is just 10 minutes away while Will Rogers Memorial Center is a half an hour drive.
Dreaming of – your dream vacation awaits you
Experience history and charm at The Morrow House, a 130-year-old home that was featured in the final season of Fixer Upper. This historic gem features original trim, pocket doors, and 33 hand-refinished windows. Enjoy close proximity to the wonders of Waco, such as Chip and JoJo's Magnolia Market, aka The Silos.
Dreaming of Waco – your dream vacation awaits you
Top guest reviews
The home is gorgeous and perfect for family or friends to stay together. Very quiet and enjoyed every minute. Kim and Nolan are great and very responsive. Would recommend it!
My friends & I had a great stay. The house was perfect for us and within 3 to 7 miles of everything we did. We highly recommend!
Beautiful home & great location!!! We had a very relaxing stay! Location is perfect for amazing entertainment in the area. Thank you so much for allowing us to stay in your Beautiful home!!!
Great trip with family – house was beautiful, the dish towel and cookies were a nice touch! Location to many things made things easy – would recommend.
Read Less ∧
Read More ∨
A central meeting spot between Dallas/Fort Worth, Houston, and Austin, this Lake Limestone farmhouse offers tranquility and serenity as well as unmatched views of Lake Limestone. Located on 5 acres in a family-friendly neighborhood about 45 minutes outside of Waco and an hour from College Station, the rural setting offers plenty of space for you and your loved ones to roam. Access Lake Limestone by car in just 5 minutes.
Take in those famously breathtaking Texas Hill Country sunrises and sunsets while sipping your morning coffee on the porch or indulging in a refreshing swim in the in-ground pool. Rest, relax, and create unforgettable memories amongst awe-inspiring vistas at this idyllic retreat on Paradise Cove.
Dreaming of Groesbeck – your dream vacation awaits you
Top guest reviews
We had the best time! Great views of Lake Limestone from main rooms and large patio. Lots of sleeping spaces & large living & dining.
Great place, wonderful views and relaxing!
Property was fabulous, had a great time!! Host was wonderful!
We had a very fun and relaxing weekend with friends. So great to sit by a fireplace in the peace and quiet while also having all the comforts of a beautiful house and kitchen.
Was a great space with lots of room to spread out. Amazing kitchen for cooking and eating for a group. Very clean. Very nice vibe to the space. And very peaceful location.
Read Less ∧
Read More ∨
Escape to this charming abode nestled on 10 acres outside of Dallas in Mesquite, the Rodeo Capital of Texas. Enjoy the serene pond, forested creek, and outdoor activities on the property. The shared pool, spa, fire pits, and herb garden add to the experience.
Dreaming of Mesquite – your dream vacation awaits you
A haven on 9 acres with stunning views, oak trees, and a pond, the Sheridan farmhouse is an ideal getaway for family and friends. Enjoy outdoor games like frisbee golf and cornhole, a hammock for relaxation, and a ninja course for adventure. Birdwatch, cook in the fully equipped kitchen, and end the day with s'mores around the fire pit under starlit skies. Explore nearby wineries, a distillery, shopping, tubing on the Colorado River, or the Splashway waterpark.
Dreaming of Sheridan – your dream vacation awaits you
Top guest reviews
Loved this place! Great place to stay for a family getaway. Our young girls loved playing with the friendly kitty, the swing, the ropes course and fishing in the pond. It's also really close to the water park. The whole family enjoyed our stay here.
3 generations of family stayed in this lovely home & we all enjoyed our visit. It was peaceful & cozy, with plenty of space for everyone. The kids loved the tree swing & having their own space in the super cute setup upstairs. Our only criticism would be we all wished the grass were cut lower a little further out along the property, but overall we had a wonderful experience & definitely recommend this place to others!
Absolutely gorgeous inside and out! Relaxing yard with a pond, grill, outdoor games, fire pit, lovely porch and beautiful trees! Everything was extremely clean and the kitchen is fully stocked. Highly recommend!!
Straight out of a book farm house. Property is amazing, the kids loved the yard games and fishing in the beautiful blue pond. The sunset on the patio was picture perfect. The location was great just a short 5 minute drive to Splashway water park. Everything you could ask for and more included, definitely would book again!!!
The house was so pretty, the property amazing! Nine family members had such a fantastic time each day. We never left the property, it's more than what we expected! We want to make this a yearly trip going forward.
Read Less ∧
Read More ∨