The Blue Ridge Mountains earned their name from the idyllic blue mist that hangs over the peaks, and they're one of nature's most beautiful creations. This stunning segment of the Appalachian Mountains rivals the clouds all the way from Pennsylvania to Georgia, with its highest point in North Carolina.
This mountain range graciously accommodates an abundance of wildlife, many national forests, and breathtaking waterfalls. The Blue Ridge is full of family-friendly activities for the adventurer and city dweller alike! From must-see mountain towns to fly-fishing, there is something for everyone to enjoy.
We have taken the time to select the most spectacular vacation rentals for your first — or next — trip to the Blue Ridge Mountains. If the idea of romantic scenery and ultimate peace in nature has yet to convince you, then these rustic yet modern cabins will surely do the trick. Check out these incredible, top-rated mountain cabin rentals with extraordinary views, listed by affordability for your convenience.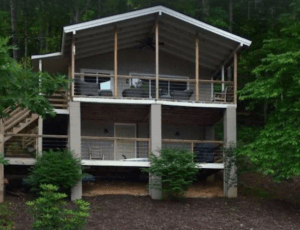 Tucked away in the heart of the Nantahala National Forest, Cottage Santeetlah boasts all of the fixins of a modern home and a covered outdoor space. This lakeside cottage features beautifully staged decor, neutral shades that are sure to bring you serenity, and your very own private dock — complete with canoes, kayaks, and stand-up paddle boards for your enjoyment.
Connect with nature by spending your getaway nestled in the comfort of this quaint contemporary cottage, or venture out to Great Smoky Mountains National Park and Fontana Lake! 
Dreaming of Lake Santeetlah – your dream vacation awaits you
Top guest reviews
We really enjoyed our time here, perfect for two people. The porch and the dock were excellent, the kitchen well stocked, the beds comfy (and the internet good enough). Clean clean clean. A lovely property!
This is a beautiful cottage with a gorgeous view. We found the property to be well-maintained, clean (including the outside porch and furniture!), and equipped with everything needed for our stay. We thoroughly enjoyed using the kayaks and paddle boards that were provided with our stay. Our interaction with the hosts/owners was minimal (arrival/departure); however, you could tell they are nice people, available if you need them, and that they want you to enjoy your stay.
Santeetlah is the perfect temp for swimming. The cottage is well stocked and peaceful.
Lovely place in a perfect location in a cove. We spent most of our time on the large comfy porch watching the clouds and mountains. We kayaked, swam, hiked Joyce Kilmer and took evening strolls around the beautiful neighborhood. It's a sweet place thoughtfully remodeled. We would definitely stay there again.
This cottage is well furnished and well maintained. They furnish a nice dock and kayaks, a canoe and paddle boards also. We throughly enjoyed our stay and would rent this location again when visiting the area! Thanks for a great stay!
Read Less ∧
Read More ∨
Calling those who are looking for a luxurious, modern getaway: Pie in the Sky is the luxury cabin for you! This cabin seamlessly blends nature and modern amenities with its smart-home technology, boho-chic design, and never-ending mountain views. There are two outdoor decks — one for dining, one for lounging — so you never have to peel your eyes away from nature's beauty.
If mother nature has other plans, the large windows are perfect for observing the range from the comfort of the indoors. Best of all, though, is the unbeatable location! Pie in the Sky keeps you close to all of the best attractions, including Banner Elk Winery, Grandfather Mountain, and Sugar Creek Gem Mine.
Dreaming of Seven Devils – your dream vacation awaits you
Top guest reviews
We rented this cabin as the third stop on a week across the mountains, and it was a perfect end to a great week. The home itself is both tastefully decorated and very comfortable. We chose it because the style appealed to us, but we also picked this rental because of the amazing view. It didn't disappoint. We needed to adjust our plans a little bit because of the weather, but we enjoyed quality family time playing games and talking with the backdrop of the Appalachian Mountains through the windows. Communication with the host was easy and quick. If you're looking for a place with a scenic view within easy driving distance of Boone, Blowing Rock, and Banner Elk, this is a great choice.
We really enjoyed our time at Pie in the Sky! They did an amazing job modernizing the house, keeping it super clean, and made sure to include everything we needed. The sunrise can't be beat and the back deck is perfect for star gazing at night. While the neighboring houses were quite close the neighborhood was very quite and just perfect for our short trip to seven devils!
It's a breathtaking view from on top of Seven Devils! The vintage roundhouse has been updated with a modern flair and is cozy and comfortable. We had a problem with the door code (it was not what we were told it would be). But the hosts let us in remotely and quickly squared up the issue. The location was perfect for us to go between events and activities in Banner Elk, Boone, and Valle Crucis.
Recently stayed here for Labor Day weekend with my husband and our two teenage sons while visiting our daughter at App State (and attending the football game). House was really one of our favorites we've stayed over the past two years! It was well organized and perfect for the four of us! Even my husband enjoyed the quirky layout of a roundhouse! Communication was efficient and we had no issues during our stay. The location was easy to find as well! The views were absolutely breathtaking…especially when the sun is just peeking out in the morning. We will definitely stay here again in the future!!! Thank you!!!
The home was very cozy and comfortable. Close to all the summer time activities.
Read Less ∧
Read More ∨
From the inside out, Bear Pawz has triple-checked every box for the most spectacular mountain vacation. This exquisite vacation home is easily accessible with only three stairs up to the covered front porch. Rich wood ceilings pair beautifully with the floor-to-ceiling Native Stone fireplace, and the leather furnishings are perfectly placed to cozy up to the fire while gazing at layers of mountains.
Cook a delightful dinner in the gourmet chef's kitchen, then stroll out to the spacious deck and sit in the rocking chairs to see the sunset and stars like you never have before. After an action-packed day of sightseeing in Bryson City, there is a lovely fire pit and sparkling hot tub where you can unwind to the sounds of nature.
Dreaming of Bryson City – your dream vacation awaits you
Top guest reviews
This property was stunning. When we arrived the views were even better in person. We did come a week with a lot of storms and that was actually even beautiful to see the lightning in the mountains.
Can not say enough about the veiw! Relaxing peaceful time. Close to hiking, white water rafting, kayaking. About 30 min to smokey mountain national park. The cabin is stocked with everything you need. Great place to relax!!Joe
The home is as listed, we had no complaints. While we enjoyed getting away for a weekend we just didn't love the house or the location. FYI if it's cloudy and raining the internet is very spotty and slow as we believe it's provided via Direct TV. The house is clean but lacking in charm, it feels like a rental. Not that this is a bad thing just not what we were hoping for. But still a 5 star get-away based upon the house accommodations. BTW the house manager delivered salt to our front door when I mentioned there was none to be found in the house and I never think to bring salt! This was very kind of him.
Beautiful place! Definitely recommend!great views. Super clean.
My wife and I spent 6 nights at this beautiful home. The views of the mountains are amazing. The beds were comfortable, the kitchen was very well stocked, and everything was just simply comfortable. One of the best mountain homes we've rented. The fireplace, large deck, and hot tub made for a very nice relaxing vacation. About a 15-20 minute drive to downtown Bryson City. If it's snowing, you'll probably need a 4WD.
Read Less ∧
Read More ∨
Vista View lives up to its name with a wrap-around deck, plenty of seating, and amazing views. The pinnacle of outdoor family fun, this cabin has a spacious fenced-in yard, cornhole, horseshoes, and a fire pit just waiting for you to roast s'mores and tell campfire stories. It's pet-friendly, so you are welcome to bring Fido, too! (And the fenced-in yard will put your mind at ease.)
This cabin, complete with airy fixtures and multiple living areas, is paired with a large shed-turned-game room with ping-pong and shuffleboard, perfect for a family vacation. Take your family or friends to visit Apple Hill Alpaca Farm and Foggy Mountain Gem Mine, then let the cabin-side games begin! 
Dreaming of Sugar Grove – your dream vacation awaits you
Top guest reviews
A large house and we loved having the fenced yard for the dog. However, the house wasn't completely clean (especially the kitchen) and the house and furnishings are showing a lot of wear and tear. Outdoor furniture needs replacing (missing cushions, dirty).
It was an easy experience to rent with good communication with the rental agency. The cabin was as pictured and was very nice and spacious. It was well stocked for kitchen needs and Linens and towels. We enjoyed our stay and will definitely recommend staying here for a mountain adventure.
We came up for the Highland Games and this was the PERFECT spot for our family! We enjoyed the amenities the house provided and the view was beautiful. We were never bored and really enjoyed our time! The couches were so comfortable and I ended up napping every single time I laid on them. It was well stocked with items in the kitchen for cooking and we didn't need a thing while we were there.. the hot tub was a DREAM and just perfect for the cooler nights.. we roasted s'mores out by the fire pit and made the best memories. Beautiful, clean and every one enjoyed it!
Great location and view. Well stocked.Internet speed was greatGreat deck and yard for the dog. Grill was great No complaints
Beautiful place to visit.. very private and do many great amenities!! Will definitely be back!
Read Less ∧
Read More ∨
Truly as unique as its surroundings, the eye-catching Watia View is absolutely out of this world. This stunning cabin with modernized lodge-style decor features an open-concept floor plan, stainless steel appliances, a hot tub, and multi-level decking. There are two Romeo and Juliet-style balconies flanking both bedrooms as well as a loft and covered decks so you can enjoy the panoramic views from anywhere you please.
Stay on-site to play the provided yard games or head down the private, gated access road to the Nantahala Outdoor Center for a day's worth of activities — from restaurants and shopping to white water rafting! You are also just a short drive away from a private swim and sun platform on Fontana Lake.
Dreaming of Bryson City – your dream vacation awaits you
Top guest reviews
This was a great property for our Honeymoon. The house and the scenery was absolutely stunning. There were some wasps and hornets (as to be expected for outside) that we let the property management know were building a nest just so they could be aware of for the next guest and They came out that day to get rid of them for us. We really appreciated it even though it wasn't necessary.
Watia view does not disappoint! In fact it exceeded our expectations (and I'm pretty picky). Beautiful, clean, well-appointed home. An absolute dream to be there. There are beautiful views from every window, even the bathrooms. There is a new extension of the deck that is not pictured, and it doubles the size of the outdoor space and provides a lovely space to sit any time of day. The kitchen was well stocked for cooking. The bed and linens were excellent. We loved the hot tub and the outdoor shower. We had the lake to ourselves! Loved this spot so much we rebooked the same day we got home. These are NOT negatives, just some notes to next guests:-The drive up from the gate is not easy. It's gravel and steep. If you don't have 4-wheel drive like us, then use low gear for the steepest parts. You'll want to have decent tires. But it's well worth it. The location is remote and private.-Bring your groceries. You may not want to tackle that hill too often for a week-long visit.-The drive to the lake was also steep, but there is space for parking and you will likely be the only people there. Bring your own lake floats. The water off the swim dock is deep. You can't stand up there. The water is crystal clear and the view is stunning. You can also wave to the Great Smoky Mountain RR train.-The rental is pet-friendly but not worn out like other pet-friendly places. It was clean, smelled great and people have obviously taken care to protect the home from abuse. What a pleasure.-Also pet owners: the upper deck is completely enclosed. It's hard to tell from the photos, but there are no stairs, large openings, etc. so your dog can be on the deck with you safely.-You will be responsible for hauling away your trash unless you make arrangements with Steve. He was awesome and will take good care of you, just give him proper notice.Can't wait to come back to Watia View!
We had an amazing vacation! This place had gorgeous views and awesome access to the private boat dock
Such a relaxing and tranquil getaway! Would definitely stay again!!
Amazingly peaceful remote cabin in the mountains. Listing is very accurate, no surprises. Cabin is clean, everything is conveniently ready for you to settle in for fun and relaxation. Remember to grab items from the store BEFORE starting your 20 min ride up the mountain! We didn't pack coffee grinds (filters were provided) so went without a cup on the first morning to avoid a trip.
Read Less ∧
Read More ∨
The Cozzi Lodge offers seclusion and convenience — the best of both worlds. This contemporary farmhouse lodge is perfectly positioned to enjoy Smoky Mountain Vista views while staying close to cozy mountain towns. From sunrise to sunset, the Cozzi Lodge is well-appointed with amenities that are sure to impress all of your guests.
Take the opportunity to explore the five nearby lakes and Nantahala National Forest, all while being just minutes from markets and restaurants. Whether you are here for a relaxing Blue Ridge vacation or have a trip jam-packed with outdoor activities, you can end your days in the hot tub or gathered around the large deck fire pit! 
Dreaming of Marble – your dream vacation awaits you
Top guest reviews
Beautiful property with a ton of space! The hosts were quick to respond. We enjoyed the firepit, pool table and beautiful views.
Well appointed and spacious!! Beautiful views! Will definitely return!
We absolutely loved our stay! This home is beautiful and well decorated. The accommodations were incredibly comfortable. The home is well stocked with all the things other rental properties usually lack and more than we expected. We will definitely be back in the future! Thanks for having us!
My family absolutely loved staying here! The house was beautiful, and everything was sparkling clean. The views from the deck were spectacular! We also appreciated the little touches such as laundry soap, dishwashing liquid, shampoo, conditioner, soap, etc. If you want to use the grill, remember to bring your own grilling utensils. Overall, I highly recommend the Cozzi Lodge!
Read Less ∧
Read More ∨
Melt your stress away with a romantic mountain experience at All Decked Out. Surrounded by panoramic range views, this cabin was thoughtfully designed for guests to marvel at the mountains as far as the eye can see — no matter the season. From plush lounge chairs on the outdoor deck to a beautiful gas fireplace in the living room, this cabin provides amenities and designer accents that will make every moment of your experience absolutely luxurious.
All Decked Out is indeed "decked-out" with a fabulous game room as well! Even the kitchen windows provide unobstructed mountain views, so the chef of your group won't miss out on nature's beauty. Should you choose to venture out of your peaceful paradise, you will find that you are just a few minutes from Downtown Bryson City and Tsali Recreation Area!
Dreaming of Almond – your dream vacation awaits you
Top guest reviews
The place was great. We couldn't tear ourselves away from that deck! Awesome views just like the description but even better in person! Plenty of room for our family reunion. Everyone could spread out.
We truly enjoyed our stay! The view was amazing and the house was nice. The host was very respite and commutative, definitely recommend staying there!
The cabin was by far the best we have stayed at in the area and the views were spectacular. The cabin was well stocked and had everything our family needed for a wonderful and relaxing week. Great proximity to Bryson City. Definitely looking forward to a return trip next year!
This property is absolutely gorgeous! We had four couples and plenty of room. This is the type of place that you can bring all your food and spend your time enjoying the cabin. We had an amazing time and will be rebooking again soon.
Read Less ∧
Read More ∨
Tastefully designed with equal space to entertain and unwind, the Murphy Cabin has it all: multiple game rooms, a two-story wrap-around deck, and views you will never forget. This upscale cabin was created with luxury in mind, complete with immaculate furnishings and luxurious outdoor areas.
Floor-to-ceiling windows bring in the natural light while also providing a never-ending view of the mountains, game rooms boast a variety of games for friendly competition, and a screened-in porch is just waiting for you to watch the sunrise with a cup of coffee.
Dreaming of Murphy – your dream vacation awaits you
Top guest reviews
View is breathtaking! Pros: Great view, great location, beautifully decorated, very comfortable beds, great price for size, reliable wifi/cell service. Cons: Could use a deep cleaning, water smells like rotten eggs and needs to be run for a while to make smell go away (well water), broken towel bars, one shower did not work, kitchen pots/pans are very worn (needed to purchase a few pots, pans, utensils at Walmart). House has a lot of games and activities (pool table, arcade games, ping pong, etc. ), but we spent all our time outside exploring the area. There is so much to do within short driving distance of the house. Overall, recommend the property.
The home was beautiful! The view was to die for! It was close to town, and had everything we needed! We enjoyed the pool table, all of the games and the hot tub! The space was great, to all be together, or have our own private spaces! Loved it! We will be back! Thanks!!
We had an amazing time at this beautiful cabin. The mountain views are incredible and every space in the cabin is beautiful and thoughtfully planned to make you feel welcome and comfortable throughout. We stayed with two families, including three young boys and there was plenty of room for everyone. The views of the Blue Ridge Mountains are amazing, and the porch is spacious and comfortable to spend time disconnecting outdoors. The game room has many options and offers hours of fun for children and adults alike. The cabin has everything you need for an extended stay and the space is so beautiful you will not want to leave. A beautiful, and just challenging enough, hiking trail is right outside the front door and the location is close to a park with a recreation area, grocery store, and cute Downtown Murphy with great dining options. This is a wonderful place to stay and one we look forward to for a future mountain vacation.
This was an amazing place. Pictures are not enough. It was just as advertised only better and the location and views were over the top. 5 stars for sure.
It was just as described. Beautiful views, nice kitchen with plenty of cooking essentials, and very convenient to town.
Read Less ∧
Read More ∨
At the Blue Ridge Mountain Club's Tree Tops Cottage, you will be located in the phenomenal Blue Ridge Mountain Club (BRMC) with all of the benefits of exquisite high country living. Perched at over 3,000 feet, this stunning custom-built home features high timber ceilings with expertly decorated lodge decor and supreme finishes. Of course, the expansive outdoor deck features a lovely hot tub to relax in while you admire the wide-open mountain views.
The accommodation includes all of the BRMC amenities with 6,212 acres of waterfalls and natural terrain, dining, and a state-of-the-art fitness club. Hike the extensive trail system at the BRMC, or venture out to Blowing Rock to dine at the spectacular Bistro Roca, then end your day at Tree Tops with loads of fun in the garage-turned-game room! 
Dreaming of Boone – your dream vacation awaits you
Top guest reviews
The house was really well appointed. The kitchen was stocked with everything we could need and more. We loved the neighborhood and all the outdoor activities. The only issue we had was with the barbecue not having an automatic starter. The owners were super quick to respond with a solution but we just found it easier to cook indoors. I would definitely book this house again in the future and highly recommend it.
Great views and wonderful home.
Great host and amazingly quick answering questions. We loved every minute. I would encourage anyone looking for a place to stay you can't go wrong with this cottage. Love the pinball!
This is a very nice home in an amazing neighborhood. A guidebook that describes the area and every switch thoughtfully labeled make it easy to settle in. With incredible views, an inviting hot tub, plenty of neighborhood hiking trails, and a game room for the teens, there is something here that will appeal to everyone.
Blue Ridge Mountain Club was the perfect location, and this was the perfect house, for our 'girls' getaway to celebrate my best friend's birthday. The house was spotless and had everything we needed, including amazing long range views of the Blue Ridge Mountains! The amenities offered by BRMC made our trip even more special! The owners always responded immediately to our every question and provided valuable information prior to our arrival to make planning our trip the absolute best experience! Blowing Rock was such a special place – we enjoyed great shopping and fabulous restaurants! And – Grandfather Mountain should not be missed!
Read Less ∧
Read More ∨
The Heart of High Country Cabin is a mesmerizing mountain estate ready to host the mountainside getaway of your dreams. This impeccably designed property is straight out of a farmhouse fairytale — inside and out! The rustic wooden beams, eclectic furnishings, and cozy game room give this cabin a unique personality. Though the interior is quite charming, the outdoor amenities are what give this cabin its magic.
The covered patio — complete with a built-in grill, bar, hearth, and flat-screen TV — gives "outdoor entertainment" a brand-new meaning! Dine beneath the stars at the picnic tables or the pavilion at the banquet-style dining table. Spend your days exploring Banner Elk and the Watauga River, then head back to your high country paradise to gather around the fire pit while listening to the sounds of the nearby bubbling stream.
Dreaming of Banner Elk – your dream vacation awaits you
Top guest reviews
We really loved the house and the outdoor space.
This house was in an enviable position and very spacious. The house was immaculately clean and the beds were very comfortable. When we needed anything Erin was very prompt with her communication. A great place to stay for a big group.
This house was great for our large group. Very clean and communication with owner and rental company was excellent. We enjoyed making meals in the large kitchen and the pizza oven was a great addition.
We had both friends and family stay for our four day stay, and we had a small event on the third night for the rest of our family who was visiting. The house felt like a cozy mountain home should, but with the extra comforts that set it over the top. Everyone from adults to teens enjoyed the game room and the easy access outside to shoot some hoops or play some Cornhole (all provided). Each room had a unique feel, and everyone loved the open kitchen and living room to start our mornings drinking coffee and taking in the wonderful view of the mountains nearby. We enjoyed large dinners both inside and outside, as both accommodated large groups like ours. If you are looking for a place for a small and authentic event that also has all the comforts of home, look no further.
Phenomenal accommodations for a week of delightful memory-making experiences at this home and in the surrounding area. The spacious rooms, seating–inside and out–as well as a well-stocked kitchen of dishes, silverware, etc., was a welcomed plus. Parking space was plentiful! Backyard amenities–seating, grilll, fire pit, hot tub,…the list goes on!!–were inviting and fun. The positive remarks could go on and on about this beautiful mountain home. I'm not sure what the highest rating is, but whatever it is, we would go at least 10 HIGHER!! We're already talking about a future reservation! But for now, the umpteen pictures we've taken will have to tide us over. THANKS TO THE OWNERS FOR SHARING THEIR AWESOME HOME!! *******
Read Less ∧
Read More ∨
No rental exudes mountainside luxury more than Timberstone Lodge! This unbelievably stunning timber frame cabin is situated at an elevation of 4,300 feet and provides some of the most breathtaking panoramic views of the mountain ranges. You have the uninhibited privilege of overlooking the mountains from the majestic outdoor living area, from the two-story great room, or while relaxing in the sparkling hot tub.
The floor-to-ceiling windows in the lodge's great room are just spectacular for watching the sun rise and fall over 13 immaculate acres each day. Each room is well-appointed with the finest details in mind, all the way from multiple luxury suites and an outdoor grill to a gourmet kitchen and downstairs billiards den!
A kitchenette in one of the suites, five full baths, and a bunk-bed room make this location a no-brainer for large family gatherings. With Elk Knob State Park and other sightseeing nearby, this lodge in a gated community cannot be beat!
Dreaming of Zionville – your dream vacation awaits you
Top guest reviews
The home was beautiful and we had a wonderful time together.
The kitchen was fully equipped. Enough refrigerators that we never needed to use our coolers during the stay. Enough games to keep the whole family entertained. Plenty of room. The young adults enjoyed the "bunk bed" room. Perfect place to have our family of 18 enjoy a vacation together.
Just a beautiful property.
The cabin was exactly as pictured. It was so pretty and nicely furnished. Views and weather was spectacular.
We had an absolute wonderful time at this property! It was the most beautiful place I have ever stayed in. It was a wonderful time with family. The views were so amazing, that we got married in front of the huge windows. We willdefinitely be staying here again!
Read Less ∧
Read More ∨
To read more about visiting the Blue Ridge Mountains: