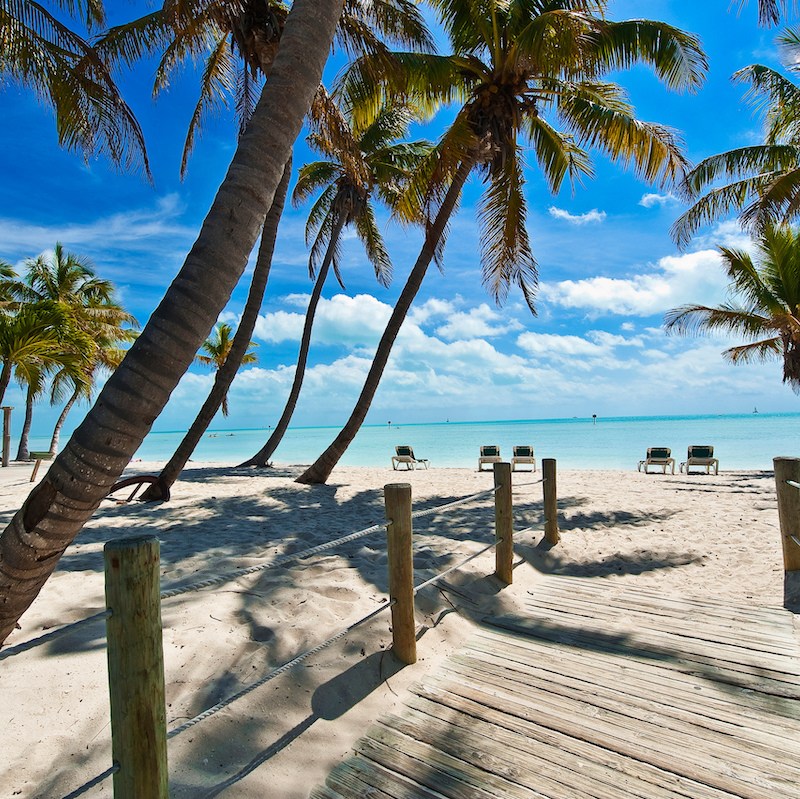 By the time March rolls around, we are so over winter. Escape cold temps and celebrate the fact that spring will be here soon with a baseball game in Scottsdale, a California wildflower drive, or something a little more tropical. Below, TravelAwaits writers share their favorite warm places to visit in March.
1. Scottsdale, Arizona
"If days full of wildflower walks, sunny afternoons at baseball stadiums, and dining at chic open-air patios sounds like the perfect vacation scenario, then Scottsdale, Arizona is the place to be in March. In fact, the entire Phoenix-area Valley of the Sun is synonymous with spring via the Cactus League spring training's packed schedule of Major League Baseball games.
"And, with an average high temperature of 76 degrees Fahrenheit in March, Scottsdale features the perfect weather for a range of other activities as well — from hiking the stunning Pinnacle Peak Park Trail (often bordered by beautiful wildflowers in the spring) to browsing the cool shops in the downtown/Old Town area to golfing the world-class courses to taking a dip in the pool at one of the luxurious resorts.
"Of course, the beauty of springtime in the Valley of the Sun is far from a travel secret, so you'll have traffic and peak-season hotel prices to deal with. Still, as a frequent visitor to Scottsdale from my northern-Arizona home, March is my favorite month, and I believe the spring splendor makes it worth dealing with the crowds." — Cindy Barks
2. Malibu, California
"Escape to this beach city just outside of Los Angeles where most days are in the 70s. March is a lovely time to visit Malibu as the maddening summer traffic and summer people have not arrived yet, so you will get a more local vibe. Due to the heavy rains California received, wildflowers are sure to dot the dramatic hillsides and canyons, making hiking to waterfalls even more breathtaking.
"Watch surfers and sunsets on numerous beaches (Carbon Beach, El Matador, El Pescador) or the Malibu Pier where you may become one with the waves, dolphins, and birds as you'll find barely a soul in sight during the week. You're sure to spot a celebrity shopping at the Malibu Country Mart or dining at Nobu. I live there most of the year. It's hard to find a better place." — Melissa Curtin
3. Palm Springs, California
Folks in Palm Springs are thrilled when March comes around, as longtime resident Kathy Condon can attest. "Cooler evenings give way to nearly perfect temperatures to visit one of the many restaurants that offer outdoor dining under the star-filled sky," she says.
"Hikers plan longer treks because the weather is conducive to hiking," Condon tells us, "This year's rainfall is sure to produce what people call a 'super bloom.' The seeds of wildflowers have been lying dormant, but it appears that because of our plentiful rainfall, there will be a profusion of wildflowers everywhere in March.
"Tennis enthusiasts can go to the 2023 BNP Paribas Open at the Indian Wells Tennis Garden. Even if you aren't a tennis fan, the gardens are spectacular," says Condon. "Strolling the grounds and dining here with friends is a magnificent experience."
4. Quepos, Costa Rica
"Costa Rica is the ideal choice to escape the last vestiges of winter;" according to Sharon Kurtz, who got into the pura vida spirit on a paradise getaway at Karahé Beach Hotel last March. Less than 3 hours by car from San Jose, it is situated on the rainforest hillside between the nearby town of Quepos and Manuel Antonio National Park. She tells us, "It has a laidback vibe with shady relaxing spots under swaying palm trees."
"Espadilla Beach's broad swath of white sand stretches out for more than a mile across the Manuel Antonio coastline, yet the cerulean blue waters aren't the only attraction people come for," Kurtz says. "Manuel Antonio (closed on Tuesdays) is the smallest park in Costa Rica, but abundant with wildlife. Capuchins, howler, and squirrel monkeys are some of the most social creatures, but I spied a bashful sloth and her baby on a tree branch just off the path."
5. Fort Lauderdale, Florida
Located on Florida's southeast coast, a trip to Fort Lauderdale in March offers visitors a tropical ambiance without the sweltering heat, according to Amy Piper.
"While you're there, explore the city using the Water Taxi. The waterway is a fun way to get around, and you're likely to see those lizards sunning themselves along the coastal walls.
"With the grandkids in tow, you'll find several places they'll enjoy. First, Sistrunk Marketplace is an excellent place to take the kids for lunch or dinner. They have a wide variety of local restaurants in a casual, kid-friendly environment. When everyone wants a different cuisine, they'll all find something they'll enjoy here.
"Then, be sure to check out the Museum of Discovery and Science. The museum showcases more than 300 interactive exhibits, immersive films, and experiential programs. The littles will love the play area, and the pre-teens will enjoy the aviation-themed Makerspace."
6. Key West, Florida
"With temperatures averaging 70 to 78 in March, Key West is perfect for thawing out after a long, frigid winter," says Sandi Barrett.
She recommends sipping a piña colada with an added rum float while strolling along Mallory Square during the nightly Sunset Celebration. Between the beautiful dipping sun, the dock filled with happy vacationers, and the "insane" street performers, visitors won't have a care in the world.
For dinner, Barret suggests El Meson De Pepe's. "The outdoor patio is just steps away from the Mallory Square action and filled with happy diners," she tells us. "They don't take reservations, so plan accordingly. The Cuban cuisine is heavenly and the atmosphere is festive — right down to the roosters wandering under and around the tables. Order some small plates to share and let the party begin."
"Key West is perfect for the outdoor enthusiast," Barrett says. "Enjoy the gorgeous beaches, explore Dry Tortugas National Park, snorkel, or simply sail out to sea."
7. Longboat Key, Florida
While there are warmer places outside of the U.S. in March, SJ Morgensen contends that the Florida Gulf Coast is a perfect place to spend time. "With an average high of 78 degrees in March, it's warm enough to hit the beach, but not sweltering hot like July and August can be," she says.
"Longboat Key offers pretty beaches, upscale restaurants, and a small-town feel, she tells us. "The perfect place to stay in Longboat Key is Zota Beach Resort. You'll love the beachfront access and infinity pool." Morgensen suggests watching the sun go down from the resort's private beach.
Pro Tip: "If you go, make a reservation at Euphemia Haye for one night," suggests Morgensen. "Get the Caesar salad. Made fresh, this is the best Caesar I've ever had!"
8. Ocala, Florida
"Located in north central Florida, Ocala is a special place," says Kathleen Walls. You may be amazed to find out that there are canyons here. "The Canyons Zip Line and Canopy Tours created a zipline over Sky High Canyon and Gator Lake," she tells us. "When I saw this beautiful landscape, I couldn't believe it was an ugly limestone mine at the turn of the 20th century," recalls Walls.
One of America's famous female gangsters died in a gunfight near Ocala. Walls recommends visiting Ma Barker House to learn facts about Kate Barker that differ from Hollywood's depictions.
"Fort King Visitor Center's reconstructed fort with live reenactments is fun," Walls tells us. "I learned things about the Seminole Wars that are not taught in school."
"Silver Springs State Park with its glass-bottomed boats is another favorite," says Walls, "It's hosting a Springfest March 4 and 5. Don't miss the museum and Cracker Village. Another festival is the Strawberry Festival, also on March 4. There will be a car show, petting zoo, entertainment, and lots of strawberries."
9. La Paz, Mexico
"Located in Baja California Sur, Mexico, La Paz sits on the Sea of Cortez, which Jacques Cousteau allegedly referred to as 'The World's Aquarium.' Also known as the Gulf of California, this area is home to hundreds of unique marine species and it's the perfect place for animal encounters. Visiting in March ensures warm weather, and an opportunity to swim with whale sharks, the world's largest fish.
"If you prefer staying on dry land, there's plenty in La Paz to keep you busy. Head to the Museo de Arte de Baja Sur to admire the work of local artists, take an off-road adventure in an ATV, or go sandboarding on the Dunes of El Mogote. The beaches in La Paz rival those of the Caribbean, so don't miss Balandra Beach, with its shallow waters and tide pools. La Paz is a fantastic destination any time of year, but go in March to avoid the intense heat of summer." — Kirsten Maxwell
10. San Juan, Puerto Rico
"Traveling from the United States to Puerto Rico has all the ease of domestic travel but travelers still get that Caribbean-getaway vibe," says Jill Robbins. I last traveled to Puerto Rico in January 2023 and the beach weather was perfect. The water was slightly chilly (but not unbearable), so March should offer some beautiful beach days.
Robbins recommends staying in the Isla Verde district, which is home to several beachfront resorts. "Isla Verde is a 10-minute drive from the airport and about a 30-minute drive to historic Old San Juan," she says."Wander along the blue cobblestone streets and admire the unique, colorful buildings. Be sure to check out the local shops and restaurants. Sample some street food if you get a chance. You'll always find a party here. March brings a jazz festival, a rum festival, and many more events.
"Puerto Rico is a U.S. Territory, so no passport is required for U.S. citizens and no currency exchange. Direct flights are available from Dallas, Miami, New York City, and other major U.S. hubs."
11. Palestine, Texas
"Palestine, Texas, is located in beautiful East Texas, about 1.5 hours from Dallas, where the tall pine trees outline both sides of the highway. The town of Palestine is my choice for you to check out in 2023 between March 17 and April 2 for the 85th Texas Dogwood Trails Celebration. It's when the dogwood blooms come out to play. Every year around this time, the dogwood trees sprout their small clusters of four white petal flowers with pink to reddish centers. Even the green buds of the tree are beautiful.
"Not only will you see the beauty of these popular East Texas trees in Palestine, but the city also celebrates special events such as the Texas State Railroad Dogwood Lunch Train, Dogwood Fly In Fair, Piney Woods Express diesel train adventure, and many more. But of course, the siting of the Dogwood blooms plays a significant part, so you'll want to be sure to visit the Davey Dogwood Park.
"Keep an eye on the Official Dogwood Bloom Watch for 2023 — they say the best time for the blooms to fully appear is April 1 to 3, but you know Mother Nature — that could change and come even earlier." — Kim Croisant
Related Reading: